Play Time 2 (Adam & Vi)
short story m/f erotica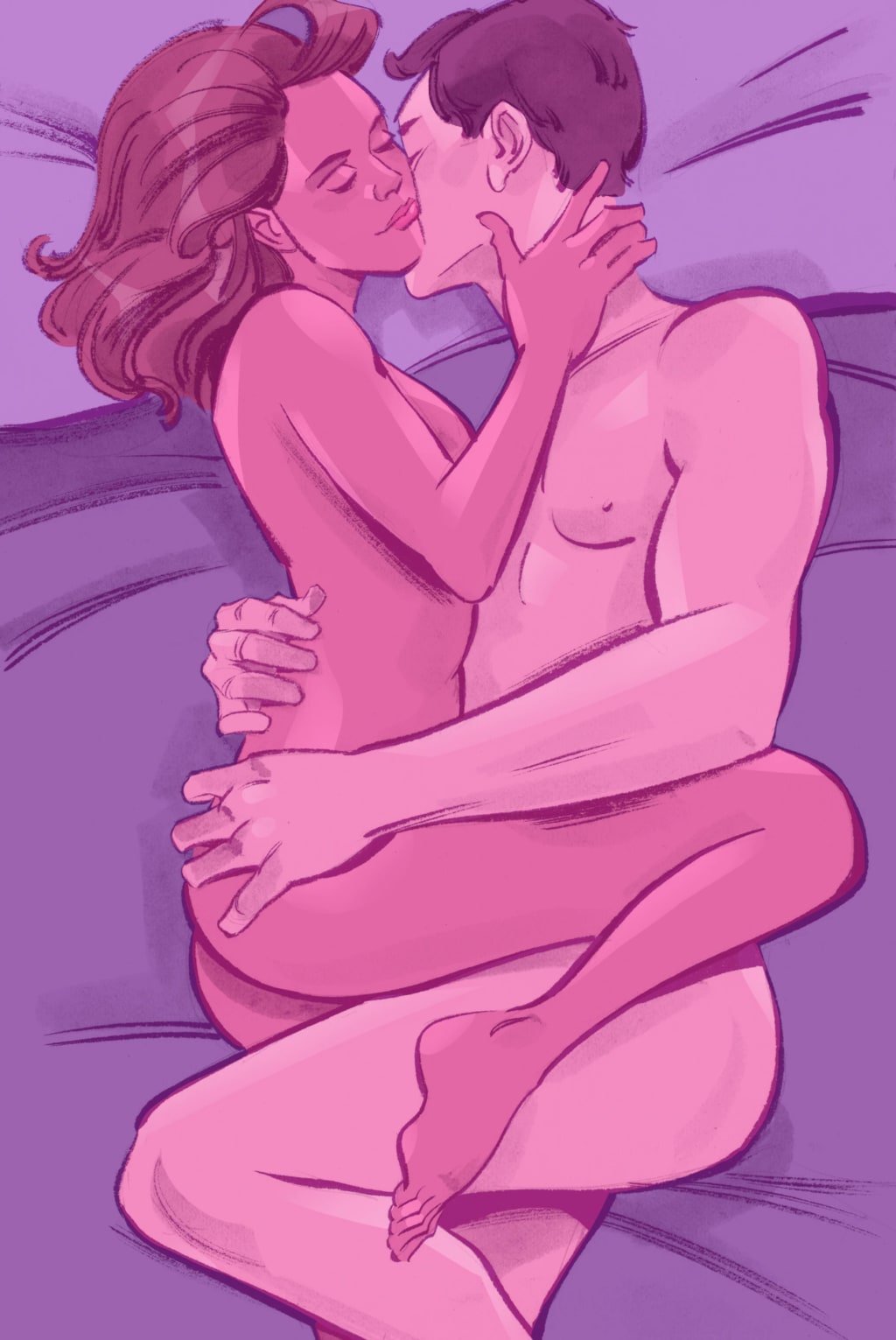 He smiles at me as he leans against the closet, eyeing the open door and my chance to get out of here. Not that I want to get far.
"Door's right there."
I grin back and try not to eye up his muscled body, the effort he puts into the gym is admirable. Outside the window, a kid runs across the street and for a moment my eyes follow him, and Adam quirks a brow at me then follows my gaze. I grin and sprint toward the door, knowing he probably gave me the out.
I squeal as his arms stop me dead in my tracks, wrapping around my waist and lifting me into the air, I hadn't even reached the frame.
He spins us around and drops me onto the side of the couch, pinning my arms behind me and running his hand along my back underneath. He reaches up to the base of my neck and holds it tight. For a moment I gasp, but the pressure feels amazing and soon the squeeze eases the tension always residing in me.
I grind up against him and his fingers trace their way back and forth across my sensitive skin, going under my loose shirt and making me arch as the nerves burn with his touch. Soon his hands are grabbing hold of my ass, giving the whole cheek a good deep pinch.
Smack!
"Oh," the moan comes out and he spanks each cheek over the pink underwear, growing in intensity until the heat spreads, and I am quite sure my ass is now the colour of the lingerie.
He pulls on my arms gently and I come up easy, the carpet thick enough that my older knees are fine. One hand on my wrists still behind my back, the other wraps around my neck and tightens until I try to breathe and only "ggccch" comes out.
I feel my own thighs close and I don't want him to move his hands. He keeps his hand around my neck but loosens his grip so I can breathe fully. Not that I want to.
His other hand releases my wrists and I reach backward against him to run my fingers across his dick. Which already feels big to me and for a moment I wonder if he'll fit. He traces his fingers across my bare stomach, causing me to curl in and choke myself.
He lets go and uses both his hands to cup my breasts, his fingers touching my body while the flesh fills his hands. He massages them from bottom to top, and back again. I follow the same movement over his southern area until he is moaning.
One at a time, his hands trail down my stomach, and both push against my crotch with welcome pressure. I moan and my legs try to close around his hands.
"I get the feeling you want this," he whispers in his deep voice, "am I right?"
I smile back, "get inside me and find out."
He chuckles and pushes me back down with one hand on my shoulders. I grip the couch cushion and move my legs further apart, he pulls my underwear down and takes it off. When his hand touches me, I'm pretty sure I'm already slick, and when his finger slips in with ease, I groan at the sensation.
He maneuvers his finger, my pleasure building with each stroke as he adds another one. He thrusts back and forth and my body moves from the sheer force of him. My moans grow louder and guttural and soon I look down at him, fully erect and ready to go.
He grins as I whipser, "you better be inside me in the next 30 seconds."