Part V: Hot Summer Bods in Womens Sports & Fitness
Real life Superwomen of Instagram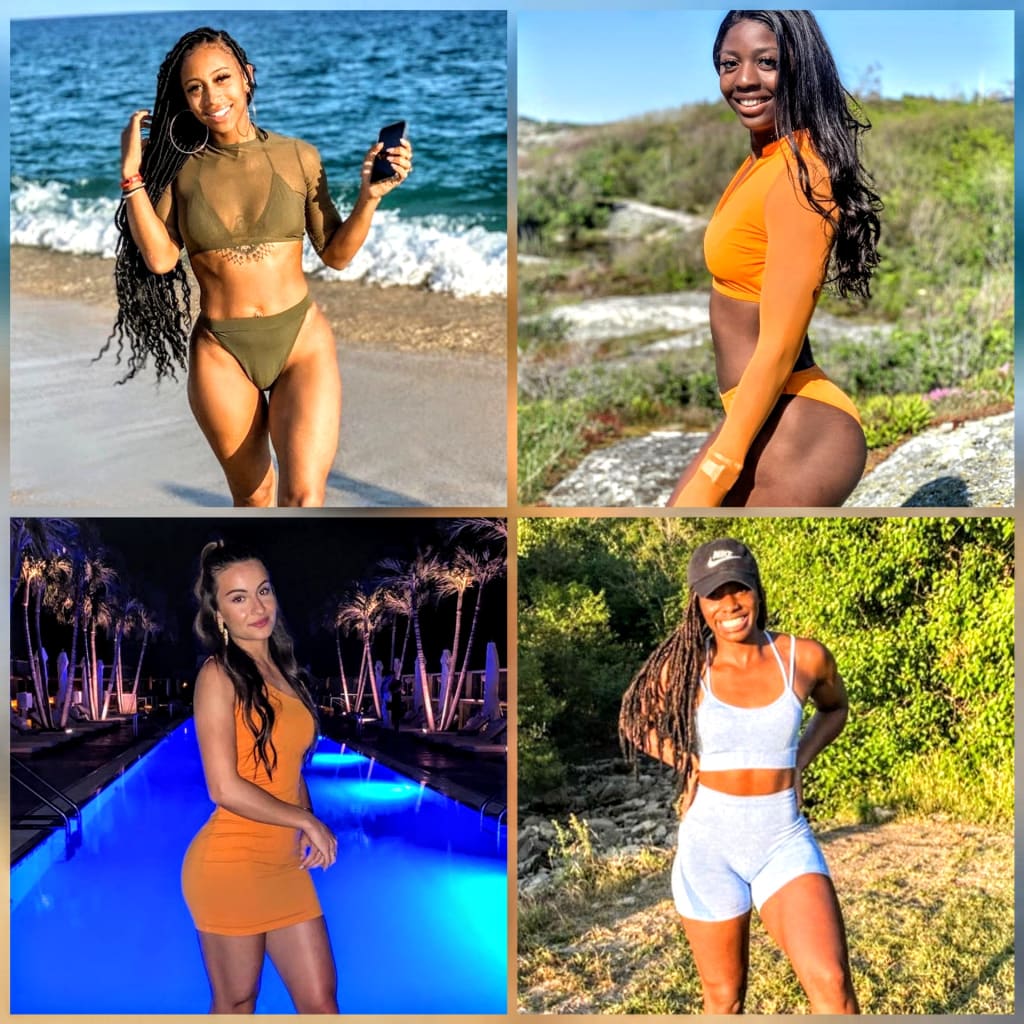 Micha, Khaddi, Adrianna, Ayoleka
The fifth edition of our series includes three powerful and beautiful women who are making their impact on the world in various ways.
As promised we're continuing to showcase and support the best women in sports and fitness who have stayed fit and are inspiring others to become healthier mentally and physically. Welcome to our fifth installment of "Hot Summer Bods in Womens Sports & Fitness." We will run this series throughout the summer.
Micha Auzenne
These days Micha Auzenne is a mom and a player development coordinator for the pyramid sports group. Once upon a time she was one of the top collegiate hurdlers in the country.
In 2017 she qualified for the NCAA Outdoor Track & Field Championship meet where she placed with the 11th best time in the preliminary round. Auzenne also was a part of the fourth place squad in the 400-meter relay at the national meet.
During that same season she won the 100-meter hurdles and 400-meter relay at the Mountain West outdoor championship meet. Prior to her senior year in 2017, she snatched a combined six Mountain West championships over her career.
Adrianna Letros
A senior at Villanova, Adrianna Letros is shining with her new Instagram fitness page @Letrosfit. Her workout clips showcase how one can develop great abs, toned legs and glutes. She also shows those interested how to workout with bands as well as weights. Letros also shows educates viewers on food and drinks that can contribute to a healthy diet.
During her career at Villanova she competed in the 200 meters, 400 meters and 400-meter hurdles. Prior to her collegiate career Letros was an accomplished high school basketball player where she was the MVP of her team all four years.
Khaddi Sagnia
With over 144,000 followers in Instagram, Khaddi is constantly growing her fanbase through the use of social media. Born in Sweden, Sagnia has won four outdoor national championships in the long jump, along with a championship in the 100 meters, 100-meter hurdles as well as one in the triple jump.
On the indoor side she's won another three long jump titles to go along with a triple jump crown. During the quarantine due to COVID-19, fans get a look at her workout clips which usually get over 40,000 views. When she's not working hard on the track you can see photos of her having fun in the sun showcasing her fit body some awesome two-piece bikinis.
Ayoleka Sodade
After a four-year college basketball career with the Buffalo Bulls, Ayoleka has become an even more interesting follow on social media with her new page @fitwithleks. She's been doing workout videos on Instagram Live as well as posts on her feed that show you how to develope certain parts of the body.
I've never even heard of a "single leg eccentric glute bridge," but if you follow Ayoleka you can become aware of various ways to tone up and get in shape.
Some of her top workout series are "Glute Activation," "Full Body Gym," and "Hiit Workout." She also posts inspirational quotes encouraging others to "Reminisce wisely." The quote reads, "Every time you look back on a moment and wish it could be different. You're wasting the current one you have now."
If you missed the first four, "Hot Summer Bods in Womens Sports & Fitness" releases, click the links to check out part one and two!
Part One
https://vocal.media/filthy/part-i-hot-summer-bods-in-womens-sports-and-fitness
Part Two
https://vocal.media/filthy/part-ii-hot-summer-bods-in-womens-sports-and-fitness
Part Three
https://vocal.media/filthy/part-iii-hot-summer-bods-in-womens-sports-and-fitness
Part Four
https://vocal.media/filthy/part-iv-hot-summer-bods-in-womens-sports-and-fitness
This list is brought to you by the Track Stars App.
Click the links below to download the world's first women's track and field video streaming app for iPhone and Android users.
Track Stars App, available for iPhone and iPad users https://apps.apple.com/us/app/track-stars/id1489617224
Track Stars app is also available for Android users at: https://play.google.com/store/apps/details?id=com.app.trackstars