OnlyFans Vs Fansly: Which Is a Better Platform for Creators
The comparison of OnlyFans and Fansly: How they are providing good features for creators to make more money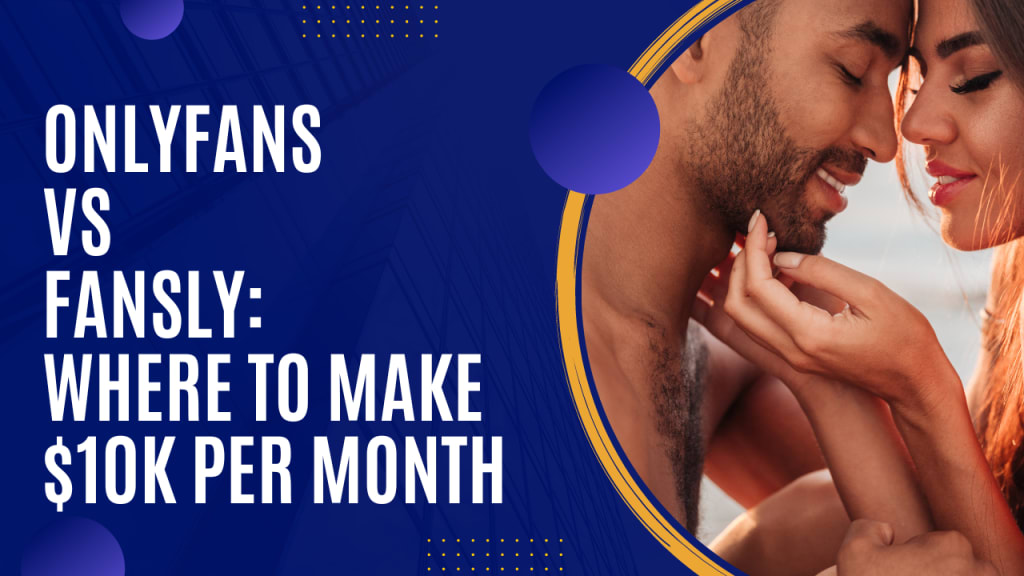 OnlyFans and Fansly are two prominent adult subscription platforms that provide opportunities for adult content creators to monetize their content through paid subscriptions, PPV sales, and Tips. However, recent developments have led creators to seek alternative platforms to diversify their income streams or explore new options. In this article, we will delve into the differences between OnlyFans and Fansly and help you determine the best platform for adult content creators.
The OnlyFans Controversy:
In a surprising move in August 2021, OnlyFans announced a ban on adult content creators, causing widespread shock and concern within the industry. This sudden policy change left many creators searching for alternative platforms to continue their adult content ventures.
Exploring Alternative Platforms:
Given the need for alternative platforms, creators have been actively seeking websites that offer similar services to OnlyFans. These alternatives provide opportunities for creators to generate income and connect with their fan base. The alternative to Onlyfans includes Fansly, Fanvue, Admireme, Feedfinder and Funwithfeet.
Before jumping into the comparison, we should explore what are the adult subscription platforms, how they work, and how they have been used by the consumers.
What is OnlyFans
OnlyFans, founded by Timothy Stokely in 2016, is a London-based adult content-sharing platform that has gained significant popularity. While it doesn't have official applications, creators can leverage the platform to share videos, images, and even engage in one-on-one chats for a fee. In this article, we will explore how you can monetize your content on OnlyFans and unlock its earning potential.
15 OnlyFans Content Ideas To Keep Your Subscribers Happy
How can you make money on OnlyFans?
Adult Creators can make money on OnlyFans by selling their Pictures, videos, and gifs by getting paying subscribers on your OnlyFans page, selling your PPVs, and receiving Tips from your fans. The best thing about making money on OnlyFans is you can build a loyal fans club and can a lot of money by getting custom orders.
Is OnlyFans Safe To Make Money
Making money on OnlyFans through custom orders is very simple, and you can get paid $100 to $400 for just under a minute of video.
Uploading and Selling Content:
One of the primary ways to make money on OnlyFans is by uploading and selling your content. Whether it's videos, pictures, GIFs, or other forms of adult content, you can set a subscription price for your page, attracting paying subscribers who gain access to your exclusive content. This ongoing revenue stream allows you to generate income based on the number of subscribers you accumulate.
How Much Can You Make on OnlyFans?
Pay-Per-View (PPV) Sales:
In addition to the subscription-based model, OnlyFans provides the option to sell pay-per-view (PPV) content. This means you can offer special videos or exclusive content for an additional fee beyond the subscription cost. PPV sales enable you to monetize specific content that you believe holds high value or caters to niche preferences, thereby maximizing your earning potential.
Tips from Fans:
Engaging with your fan base is crucial on OnlyFans, and one way to encourage interaction and receive additional income is through tips. Fans have the option to tip you for your content or engage in personalized interactions. Building a loyal fan club by consistently delivering high-quality content and fostering a connection with your audience increases the likelihood of receiving tips, boosting your overall earnings.
Custom Orders:
A unique aspect of OnlyFans is the ability to offer custom orders to your fans. This presents an excellent opportunity to monetize your skills and cater to specific requests from your audience. Whether it's creating personalized videos, fulfilling fetishes, or providing tailored experiences, custom orders can command higher prices, with creators earning anywhere from $100 to $400 for short, personalized videos.
Fansly: The Rising Star:
One platform that has gained significant popularity recently is Fansly. It experienced such a surge in new sign-ups that its servers struggled to keep up with the demand. This growing user base highlights the increasing appeal of Fansly as an alternative platform for adult content creators.
Start Selling Feet Pictures On OnlyFans
If you are very new in their fetish industry, you can start selling feet photos on onlyfans and Fansly as well. The two platforms are for highly exclusive content, but if you want to become a foot fetish creator, you can start wioth funwithfeet. The Leading platform for selling your feet pictures to the fetish people.
Is Selling Feet Pictures Dangerous?
OnlyFans vs. Fansly: The Showdown:
When comparing OnlyFans and Fansly, several factors come into play, such as user experience, platform policies, revenue sharing, and audience reach. Evaluating these aspects can help creators determine the best platform for their specific needs and goals.
User Experience:
Both OnlyFans and Fansly provide user-friendly interfaces for creators to manage their profiles and content. However, personal preferences and ease of navigation may differ from one platform to another. Exploring the features and layouts of each platform is crucial to ensuring a seamless experience for both creators and subscribers.
Platform Policies:
The recent policy change by OnlyFans has raised concerns among creators about the stability and long-term viability of the platform. On the other hand, Fansly has emerged as a more welcoming platform, explicitly catering to adult content creators. Understanding and aligning with a platform's policies is vital for creators to feel secure and confident in their chosen platform.
Revenue Sharing:
The revenue sharing models of OnlyFans and Fansly vary. Creators should carefully examine the commission rates and fee structures of each platform to make an informed decision. Maximizing earnings is a key consideration when selecting the platform that aligns best with their financial goals.
Audience Reach:
Both OnlyFans and Fansly boast substantial user bases, but the composition of their audiences may differ. Creators should analyze the demographics and preferences of each platform's user base to ensure their content aligns with their target audience.
Exploring the Pros and Cons of OnlyFans and Fansly
OnlyFans:
Pros:
Bandwidth and Customer Support: OnlyFans provides the necessary bandwidth to handle high volumes of content and offers fast customer support for creators.
Large User Base: With over 100 million users, OnlyFans offers great branding and a wide reach, making it easier for users to monetize their content.
Free to Use: OnlyFans is free for creators to join and use the platform.
High-Quality Content: OnlyFans is known for hosting high-quality adult content, attracting users seeking premium content experiences.
Diverse Monetization Options: Creators on OnlyFans can leverage features like subscription-based fan pages, selling pay-per-view videos, and receiving tips from fans.
Cons:
Commission Charges: OnlyFans takes a 20% commission fee from creators' earnings, which can impact overall income.
Limited Exposure for New Creators: While OnlyFans has a large user base, new creators may struggle to gain exposure without actively marketing their OnlyFans page.
Fansly:
Pros:
Flexibility and Quality Content: Fansly offers creators flexibility in creating and monetizing their content, allowing for a diverse range of content options.
Earning Potential: Fansly provides a favorable earning scheme, enabling creators to generate income based on their content's popularity and engagement.
Subscription Tiers: Fansly offers different subscription tiers, allowing creators to cater to various audience preferences and offer customized content.
Cons:
Higher Subscription Charges: Fansly may have slightly higher subscription charges compared to other platforms, potentially impacting the number of subscribers.
Limited to Adult Content: Fansly exclusively focuses on adult content, which may limit its appeal to creators seeking a broader range of content opportunities.
Both OnlyFans and Fansly offer unique opportunities for adult content creators to monetize their work. OnlyFans has a larger user base, provides customer support, and has diverse monetization options.
On the other hand, Fansly offers flexibility, quality content options, and a favorable earning scheme. Creators must consider their specific needs, content preferences, and target audience to determine the platform that aligns best with their goals and objectives.
OnlyFans provides adult content creators with a versatile platform to monetize their content and earn a substantial income. By uploading and selling content, offering pay-per-view options, receiving tips from fans, and fulfilling custom orders, creators can tap into the earning potential of OnlyFans.
It's essential to consistently provide high-quality content, engage with your fan base, and leverage the platform's features to maximize your earnings. With dedication, creativity, and a loyal fan base, you can turn your passions into a lucrative venture on OnlyFans.
When deciding between OnlyFans and Fansly, creators must weigh the pros and cons of each platform. While OnlyFans has faced recent controversies, Fansly has emerged as a rising star in the adult content creator community. It offers an alternative that caters specifically to the adult content niche.
By carefully considering factors such as user experience, platform policies, revenue sharing, and audience reach, creators can make an informed decision on the best platform to maximize their earnings and achieve their goals.
Read More
Fanvue Review: Can You Actually Make Money?
About the Creator
"Step into my world of feet and discover the beauty in every toe, arch, and sole. Follow for daily foot pics and inspiration."
For More Follow Us On
Feetpicreviews.com
Reader insights
Be the first to share your insights about this piece.
Add your insights