My Daughter's Hot Friend
Starring Gabbie Carter & Eric Masterson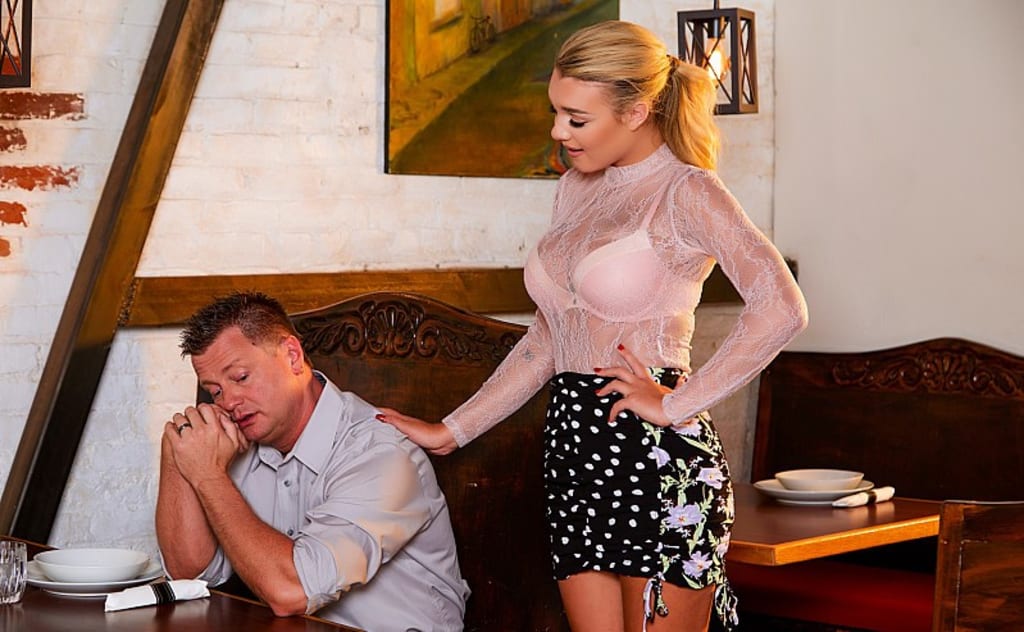 I won't lie as being in doors all the time is actually sending me off my rocker. So it's lucky for me that I'm able to bring you these articles about your favorite porn scenes. I thought I was reviewing too many of the same type of genre in terms of porn so I decided to mix it up a bit. While browsing the Naughty America site there was a genre I seem to have overlooked in terms of reality porn. Naughty America has a series called 'My Daughter's Hot Friend' which was begging me to take a look at. Aimed towards those older guys with a fetish for young girls the 'My Daughter's Hot Friend' series is produced at the same great quality Naughty America's other shows are shot at.
So the scene I had a look at seems to be the one they're pushing at the moment starring 19 year old Gabbie Carter & 50 year old Eric Masterson.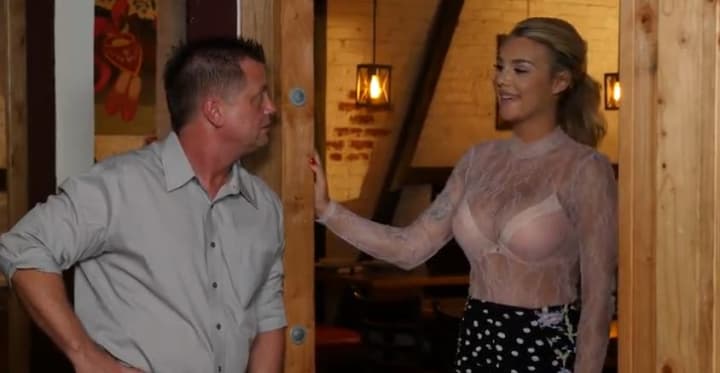 As you can see from the age difference it's a recipe for some taboo happenings in the scene. I found out about Gabbie Carter while browsing Youtube believe it or not. There's a guy on there doing interviews with pornstars before they get famous. I can see how that might be profitable for someone as thousands of people may search for that particular star daily. It's from here that I decided to have a look at her work for myself and I was blown away. It's both ironic & taboo just how innocent Gabbie looks yet she describes herself as being 'extremely bisexual.'
I wouldn't have known if I hadn't read about it but if you read about her there seems to be a lot of controversy surrounding the girl's past.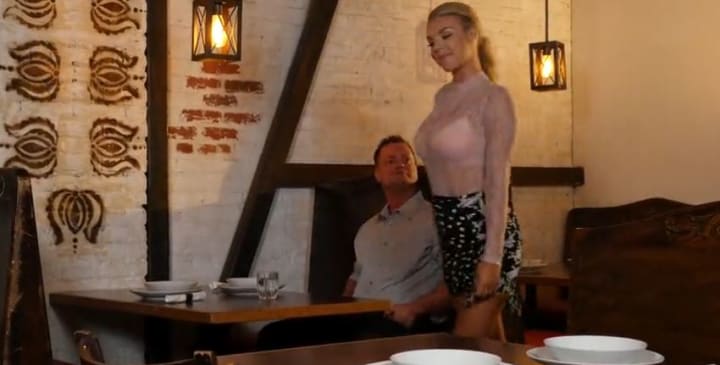 Eric Masterson has been in the porn business for many years but you wouldn't know it from looking as he seems like an everyday type of guy. He's actually a self confessed comic book geek which is where his 'Masterson' name actually comes from as well. Apparently it is some type of reference to the Marvel comic 'Thor.'
The 50 year old is actually married to fellow pornstar Maya Devine so the guy is going to know a thing or two about sex. His everyday look actually adds to the believability of the scene and makes the scenario that much more real.
The scene kicks off with Eric waiting to be seated at a restaurant as he is taking a work client out to dinner. Gabbie is his waitress who informs him that the kitchen will be closing soon but she would be happy to see him. Gabbie has a very 'cute' aura about her and it's surprising to see her doing pornographic work but is pretty hot at the same time.
Eric's client is a 'no show' and he's visibly disappointed. Gabbie comes over to console him and see if he is OK. She informs him that she's sent the kitchen staff home but also that she recognizes him from somewhere. Gabbie informs Eric that she actually goes to College with his daughter Susan to which Eric recognizes her instantly. They sit and check how each other are doing at life in general but Gabbie is still keen to serve Eric in some way.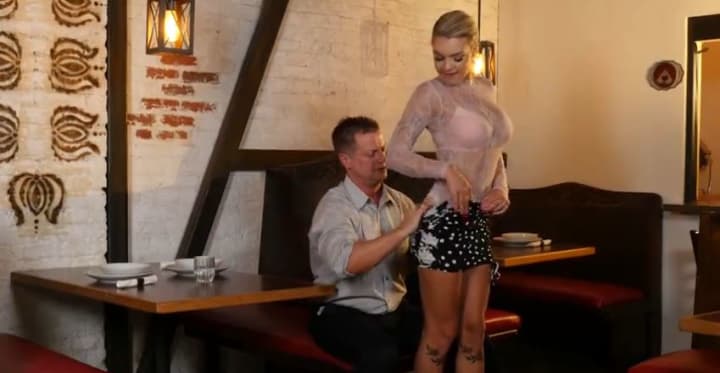 Looking quite cosy in the booth , Gabbie insists serving Eric something from the 'special menu.'
He doesn't initially catch her drift but soon does as Gabbie runs her hands along his thighs. Masterson is a pretty good actor here as he comes across shy but it works as it adds to that realism of the situation. Eventually he succumbs to Gabbie's advances and the two are smooching at the table. There's good chemistry there between the two and it appears the age difference is a big turn on for the pair of them. Masterson shows his experience smooching on Gabbie's ass and pussy while Gabbie shows her eagerness sucking his cock during the position change.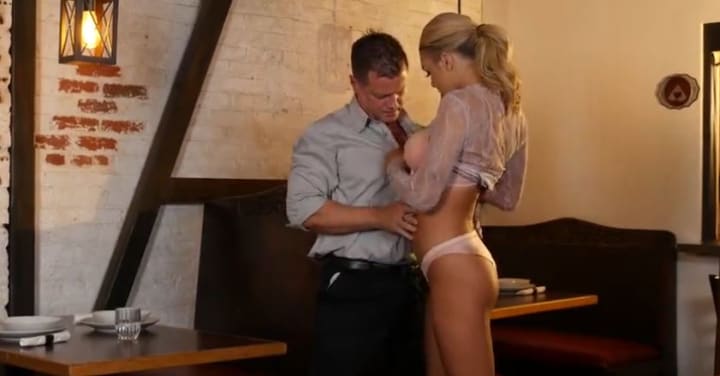 Gabbie has a natural look and watching her give a 'tit job' is a thing of beauty with her giant nipples. You'll enjoy watching her natural body bounce from all positions. The pair properly go at it as well and at one point Masterson wipes up his sweat so Gabbie is able to lay down comfortably. From there he dives face first into her pussy and makes her cum.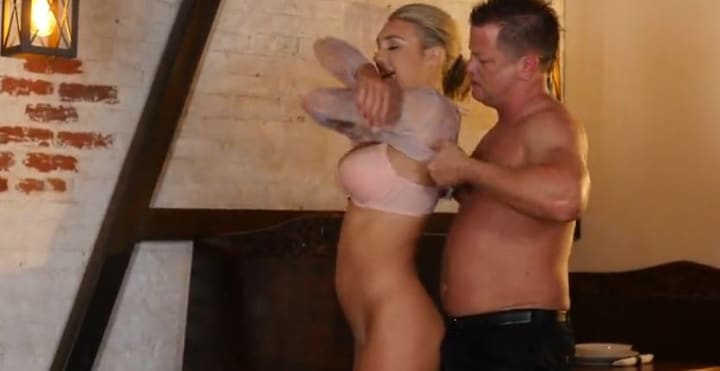 That said it appears Gabbie climaxs a lot during the scene as her eyes 'roll' a lot. It's a really good scene, a good use of stereotypes and good acting. I have to give this a 5 out of 5 as I thoroughly enjoyed it.
5 out of 5
A quality scene worth a watch.