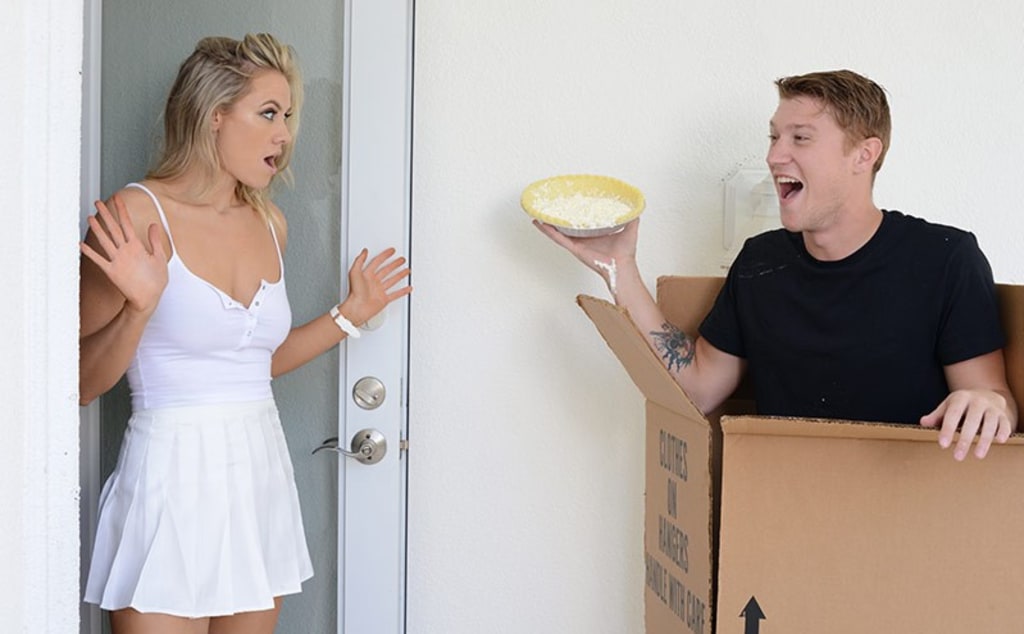 Oliver's first Creampie to Addie.
You've probably exhausted every internet outlet there is by now with this world wide lock down we're all experiencing. True it's getting pretty repetitive and everyday will feel like 'Groundhog Day.'
Fear not though as providing you still have an internet connection you can still browse the library of porn the 'World Wide Web' has to offer!
It's true the saying 'you get what you pay for' as is the case with pornography. While you can get a lot for free by just doing a video search on 'Bing,' the quality is always better on a subscription site. A favourite of mine is Brazzers who offer a yearly subscription for around $95 which is pretty reasonable. When they do scenes like the one I'm reviewing today that deal seems a hundred times more appetizing. I stumbled across an absolutely gorgeous blonde on Youtube doing a video with her room mate and fellow pornstar Robbie Echo.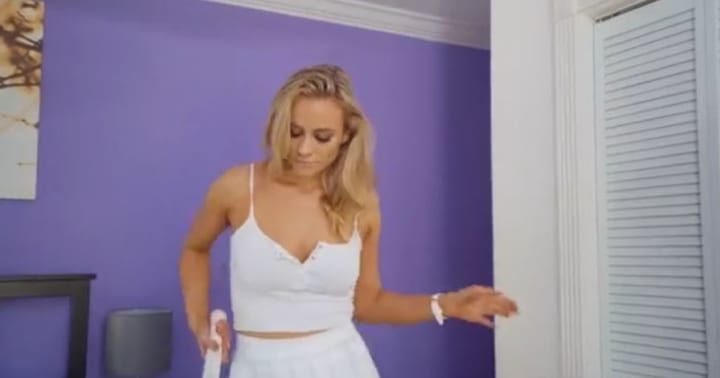 Her name is Addie Andrews, a 30 year old native of Washington DC and from the video I found her quite charismatic. Intrigued I watched her in another video on Robbie Echo's official Youtube channel and it appeared the pair are a couple now. They are very likeable though and may even be more suited to Youtube than they both are to porn. Not that their work is bad by any means; I watched Robbie Echo in some scenes for MissaX and he's a pretty good actor. Anyway scandalously I wanted to have a look at some of Addie's work now that I had seen her here and it was as sexy as I imagined.
I won't lie there's something hot about watching someone present something on Youtube and then have sex on film. I think it's because you see them acting very professional and then obviously at their most intimate (buck naked and getting fucked.)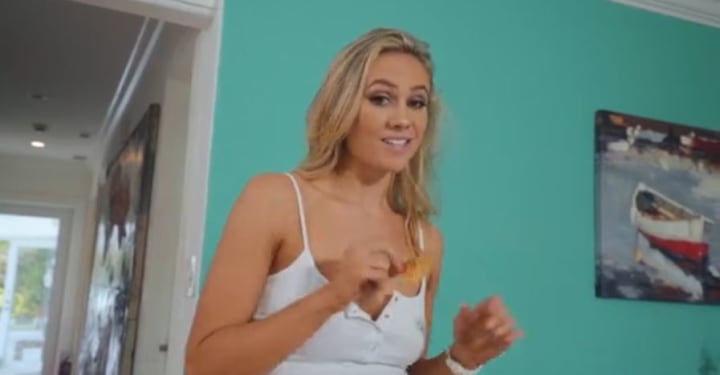 The scene of Addie's I had a look at was titled 'Fooling my stepmom' and had the blonde bombshell starring as said stepmom. She's a fairly decent actor to say she only started in the porn business last year. The confidence is certainly there for Addie who has had a pretty eventful life serving as a Mormon and even helping on a mission at some point. Originally she tried to be an actress but it seems the modelling took poll position in her life. She was Penthouse 'Pet of the month' back in June 2019.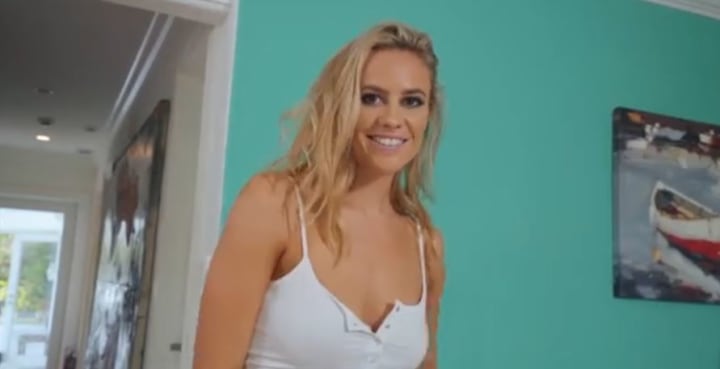 Her co-star in this scene is Oliver Flynn from Chesterfield. Brazzers must how just picked two of the best looking people they could find for this scene; as like Addie, Oliver is pretty good looking too. The guy is 165Ibs, built like Adonis and performs sexually to match. He's not a bad actor but you can tell these two are pretty new to the business. Still he does a good job as the stepson and overall it's a good scene.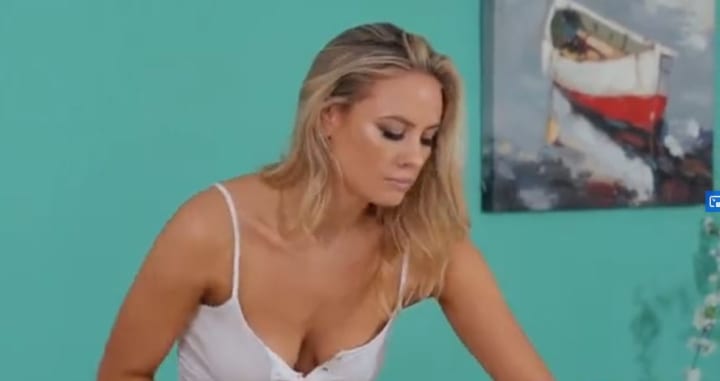 It begins with Addie preparing for her tennis match; the audience gets a good look at her gorgeous 32D-25-36 curves and she changes into her outfit. The scene cuts to where she goes to the kitchen fridge and it appears he stepson has prepared her breakfast. Oliver tells Addie how grateful he is for her and his Dad letting him crash there. Addie mulls over the advantages of being a stepmom a bit prematurely as she goes to pour a glass of squash. Unknowingly it's been sabotaged by Oliver who chuckles as his stepmom spills it making a mess on the floor. Addie is not best pleased and gets him to mop it up. Oliver then decides to have another pop at Addie as he stares at her underwear from beneath the kitchen table. He decides to tie Addie's shoe laces together; unknowingly Addie stands up and trips hitting her wrist against the wall. Oliver chuckles as a disgruntled Addie gets angry with him, stating she is going to have to cancel her tennis match. She throws her shoes at him before storming off in a strop. I won't lie I did find it kind of funny, so the acting must be OK if it made me genuinely chuckle. It appears as if Oliver is not done yet though as he decides to hide in a parcel and jump out at Addie with a creampie. She answers the door for him to deliver the shot straight to her chest. Addie is furious and storms off to her bathroom to clean herself up.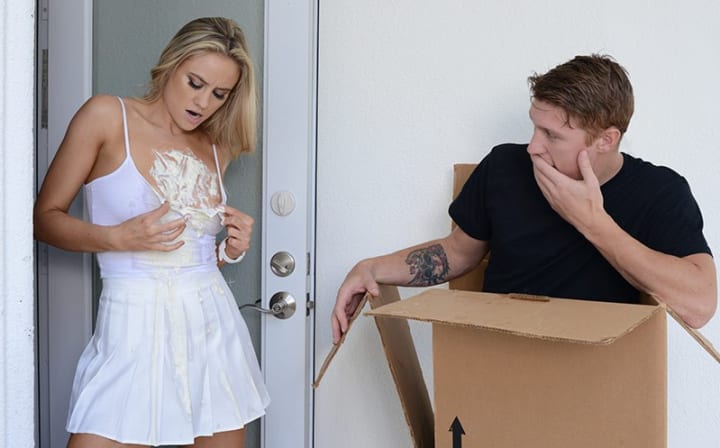 While in the bathroom, Addie strips to reveal her gorgeous body and gets a soak for the camera. Oliver sneaks into the bathroom in the meantime, seeking a different kind of satisfaction now. He gets out his cock and starts masturbating. Addie is quick to find him at the shower curtain and while she is angry with him; she's equally turned on. She demands he makes up for inconveniencing her that day; Oliver states he's sorry but Addie has something else in mind. She pulls him close to her breasts and has him suck on them. He gradually works his way down to her pussy which is where the sex begins.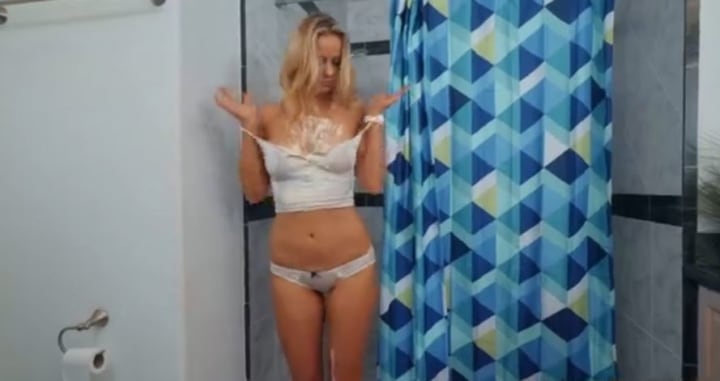 It's quality stuff and there's definitely a chemistry between the pair in this instance. While most scenes are limited to one blowjob; Addie can't seem to leave Oliver's cock alone sucking it at every position change. Oliver is equally into her giving Addie a good smooch when he can. It makes for a good scene when the actors like each other; Addie even squirts once while in the shower. Couple of criticisms I can make is the acting seems to stop when they are having sex. It might not seem like a bit thing but someone would watch a scene like this for the acting. The sex is hot though and the pair seem to get pretty intimate as they switch positions. The action only gets hotter when the pair go to the bedroom and Oliver has Addie bent over doggy.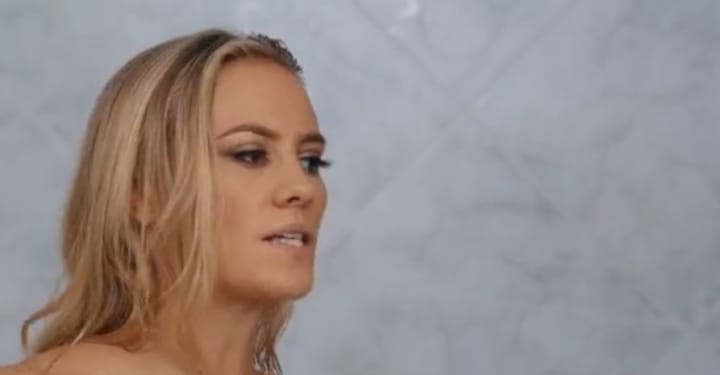 He even slips some lube on which Addie appears to enjoy running down her arsehole. So what do you rate a scene like this; I'll give it 5 out of 5. I think both men and women can enjoy this one but the pair might want to work on their acting if their scenes are to get better.
5 out of 5
Great scene.