Misha Cross - Getting Dirty, Directing, and Deportation
An Insight Into the Directorial Debut From Polish Porn Superstar Misha Cross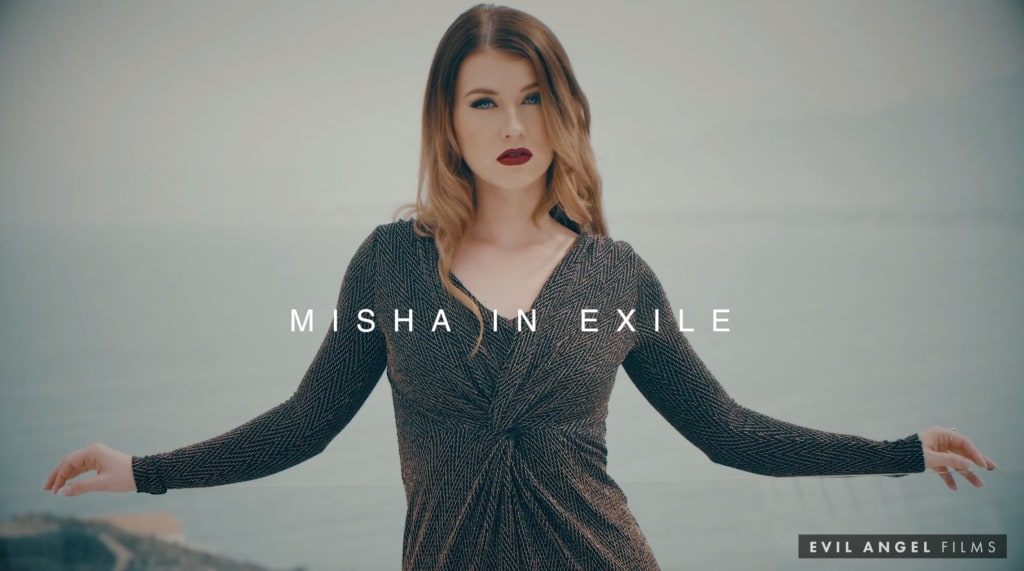 I first met Misha Cross in April 2014. I had recently returned from states and was shooting in Prague, and there she was: Chipped blue nail varnish, messy hair and a Marilyn Manson shirt. This girl was a bit of me. I had heard of Misha. She was the new slut on the block, I had watched her trailers on Evil Angel and thought 'damn this girl goes as hard as me.' We were put together with Nacho Vidal for what can only be described as one of the nastiest scenes of my career (a pretty impressive title, if you know my back catalogue) from that moment I knew we were going to be friends.
Misha headed to LA shortly after we met and her career quickly spun out of control, landing her an Evil Angel showcase and numerous AVN and Xbiz nominations, including Best New Starlet. An incredibly hard award to be nominated for ESPECIALLY as a foreign performer. There seemed to be no stopping her. In January 2015, Hard Rock Las Vegas hosted the 32nd Annual AVN awards, where both Misha and I were nominated and booked to sign for Evil Angel at the convention. Unfortunately, that did not happen. Misha flew into the states and was instantly detained. Immigration officers knew her performer name and were waiting for her. She was sent home and banned from returning to America.
I know many girls that have been deported after trying to enter America to work without a Visa, Misha was not alone in this. What she was alone in, was her sheer passion and determination to continue, no matter what. Being deported is a career ending moment for most girls, but not for Misha. If anything, it made her stronger, more determined and more hard working to PROVE she was still in the game.
Misha has racked up and impressive number of awards and nominations globally over the last four years. She adds showcase after showcase to her repertoire, but what is so special about her latest showcase? She directed it.
One of the first things Misha told me was that it was her dream to direct for Evil Angel, so when she told me it was finally happening, you better believe I was on the receiving end of months and months of anxious messages and calls. Over time, she wanted to give up, or something went wrong, or she ran out of money I would push her to continue. Misha In Exile is her tribute to the hard work she has put in over the years, it is her story, it is her tell all. It is the first time she has publicly opened up about being deported and she has done it in the most beautiful and most dirty way she knows how: With graphic sex and gorgeous imagery.
Misha's vision is brought to life with Spanish backdrops, and clean, beautifully shot gonzo sex, each tease is individually perfect with an original five-track soundtrack, composed entirely by myself. Misha tops off her masterpiece with an in-depth interview about her career, her experience, the deportation and the vision behind each scene.
The movie opens on a balcony in Valencia, incredible panoramic drone shots capture the surrounding area and cut to Misha walking along a completely empty beach in (what should have been) her AVN dress. The irony and little details may be lost to those that watch the movie simply for the fucking, but for her die hard fans, it is an insight in to her mind, her struggle and her art. Misha's start to the movie is elegant, dark and eery, it could be a music video for anyone unknowing…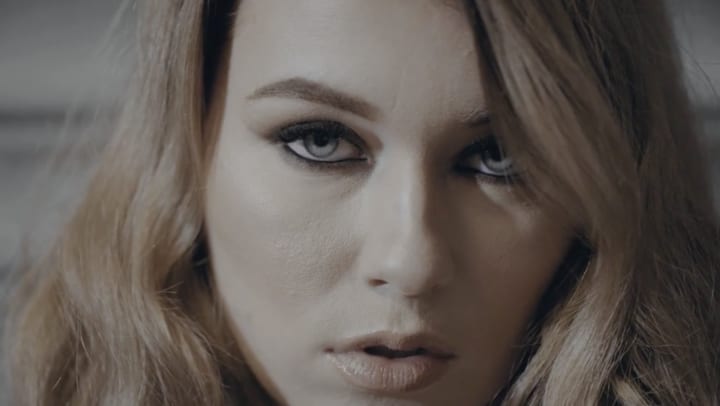 Scene 1 features Misha's first sexual experience with Erik Everhard. Misha messaged me after this scene completely elated, and it is rarer and rarer for her to be excited by a scene or a performer these days, as you spend longer in the industry, the day to day becomes fucking and travelling, so to have your mind truly blown by a scene partner is a lovely awakening. Misha takes a good anal drilling from Mr. Everhard in a clean white room after an industrial style intro in an elevator.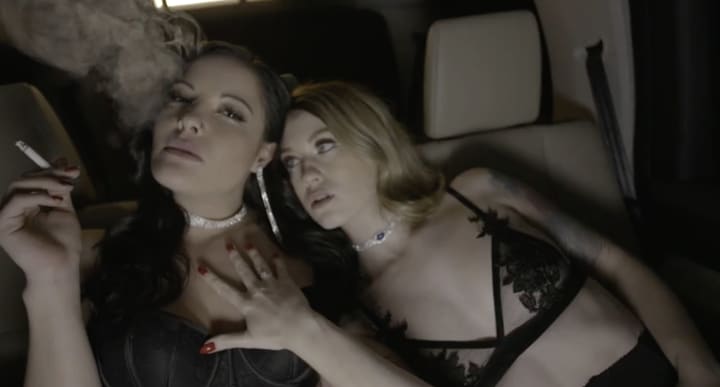 Scene 2 Features Misha and Dolly Diore taking on Ramon Nomar, The last time Misha and Ramon met was on the set of her first ever Evil Angel showcase, a bitter sweet reunion. The scene starts with the girls travelling to meet Roman to a synthy 80s style soundtrack, blowing some into each others mouths as they kiss and tease, this leads on to a beautiful threesome with Misha obviously, taking it in the butt again.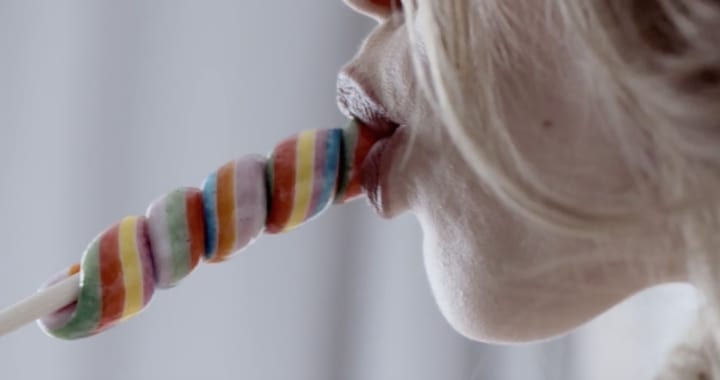 Scene 3 is a DP with Erik and Lucho, this was my favourite scene to watch, but I'm filth, I love a double penetration scene and Misha definitely does them well. The guys manhandle her in her pretty white lace, just the way it should be done. After an orally fixated, lollipop sucking intro, there is even more oral fixation before the double hole drilling main event.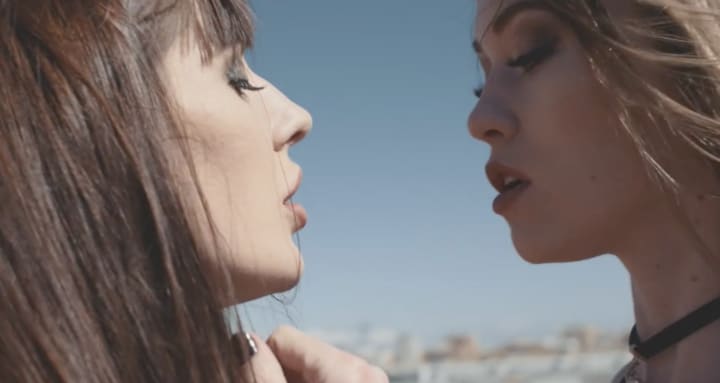 Scene 4 is the only scene where Misha doesn't take it in the butt, but I do, so it's OK. An aggressively passionate girl-girl scene tin myself to bring the movie to a close, it's a short but sweet scene and a true Misha and Samantha special with as much spit and slapping and fingers in my butt as possible. The scene starts with a rooftop tease accompanied by one of my favourite pieces of music and coloured smoke bombs.
An all round solid showcase with incredible images through out and of course, sex that will make you… very happy in your pants, isn't that all you could ever ask for in a porno?
Follow me on Instagram
Follow me on Twitter
Follow Misha on Instagram
Follow Misha on Twitter
You can buy Misha In Exile via Evil Angel, or, alternatively, join their site and watch it all there!
About the Creator
Born and Bred Londoner, Mother to baby Roman and my two pooches, Plant Eater, Yoga and Aerial Teacher + Learner, Music Maker... was once in Game Of Thrones, was once a Penthouse Pet, used to win awards for getting naked.
Reader insights
Be the first to share your insights about this piece.
Add your insights