So, What Kind of Porn Do Pornstars Watch?
A Real Insight into What Turns on Pornstars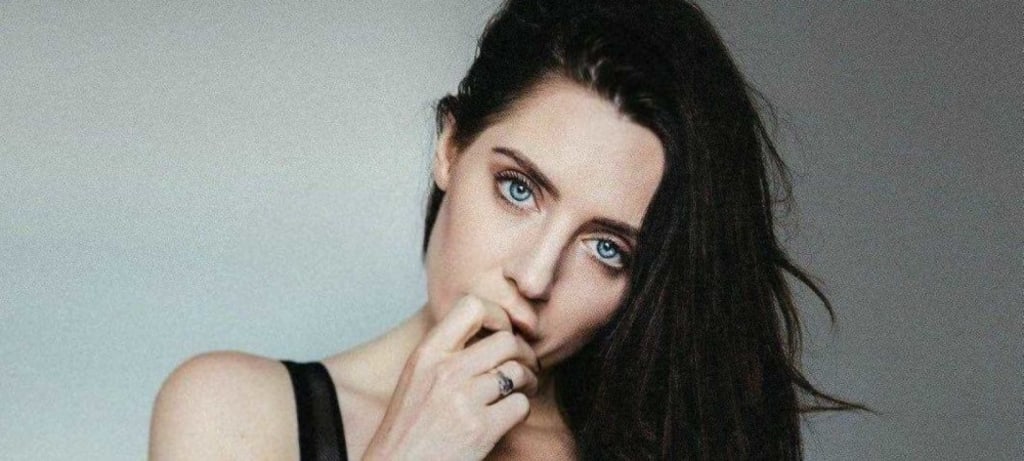 Me. hi.
When I originally had the idea to write this piece, my plan was to hit up all my friends and ask what kind of porn they were into and why. But, upon doing so I realised that ALL of them are just like me. They don't watch porn.
That's not necessarily true for me anymore, I have been retired from performing for a good while now and finally settling back into what it's like to have a normal sex life. Which, believe me, takes a long time after you've spent the best part of your adult life doing it on camera with your mates and getting paid for the performance.
I messaged around 30 of my nearest and dearest porn girls including Misha Cross, Dani Daniels, and Jasmine Jae, and ALL of them replied with the same thing, "I don't watch ANY porn." SO there you have it, the kind of porn Pornstars watch is "none at all." But this would be a pretty brief and rather pointless article if it just stopped there so I'm going to tell you guys the reasons that porn girls do not watch porn.
We watch porn, but just not to get off...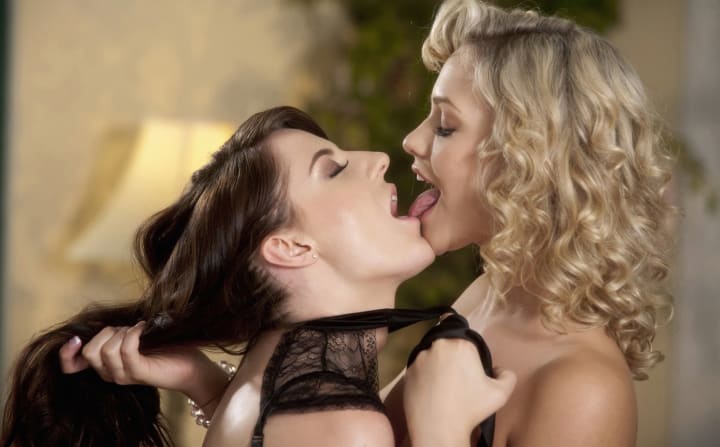 So, when I was performing I used to watch my own scenes, not in their entirety but at least the trailer or half the scene just to see how it turned out, what looked good, what I should definitely never do again, etc. Kind of like a self evaluation of my work…I like to improve, so I go back and look at what I've already done.
I would also occasionally watch other girls or performers I liked, or work by directors I want to work with so I can see what they do, how they perform, great positions to copy and also work out who I'd like to work with/for in the future. I like to learn about which companies are shooting great stuff, getting awards, shooting the top girls. Which girls are at the top of the game, this is usually the girls in the best new comer, best foreign and best female performer categories at AVN (of which I was nominated six years in a row. Just a humble brag).
So porn was more like a study and research than a pleasure session.
I'm too tired to watch porn.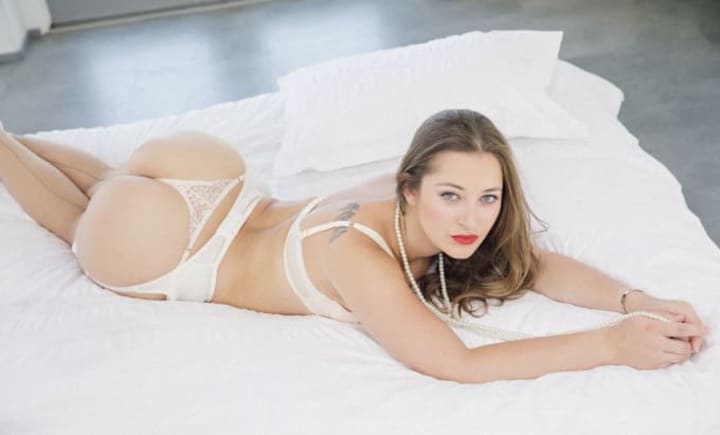 Picture this, girls at the top of the game work fucking hard…get it 'FUCKING HARD' literally, physically, metaphorically…in every sense of the statement. We do that. When I was at my peak shooting period I would be shooting every single day for sometimes a month, without a day off, sometimes more than one scene or for more than one company in a day. Thats a lot of sex and/or masturbation, depending on the movie.
Set days are long, especially for bigger companies or if you are shooting a feature, we have to fuck for the photos, fuck for the film and if directors are particularly annoying, fuck for the software swell…separately…like a whole other scene that is actually the same scene you just did but again and you're not getting paid extra, also your vagina or buttonhole is now red raw.
Sound good? Sound sexy? Sound like I get some and feel like throwing on some porn and getting off? No. I want to have a bath, eat everything in sight and go to sleep, I barely have the energy to talk after I've been paid.
Days off would usually be spent traveling to my next destination or maintenance (taxes/emails/hair/nails/cleaning) doing porn is not an erotic lifestyle. Trust me. I have never felt less inclined to fuck then when I was at the top of my porn game.
I don't want to watch my friends fuck.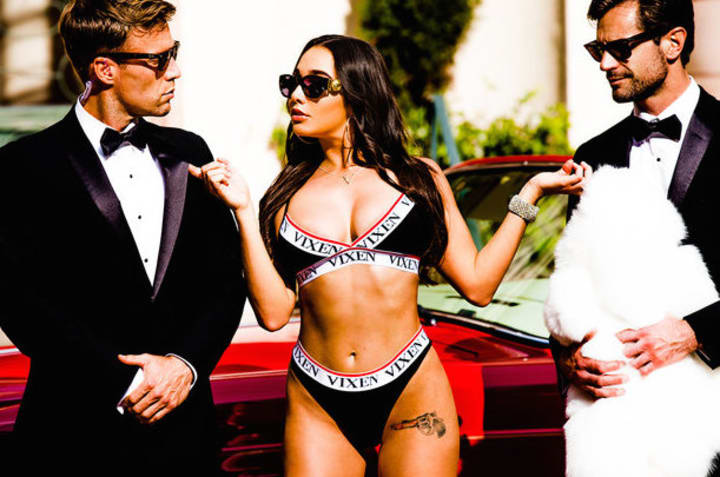 Seriously. I watch them fuck at work, I have to fuck them at work, why would I want to go home and get off to my friends having sex…it's just a little creepy and weird, if I masturbated over my friends I don't think I could look them in the eye again…is that weird? Considering I've literally had sex with most of them anyway?
I kinda know it's all fake.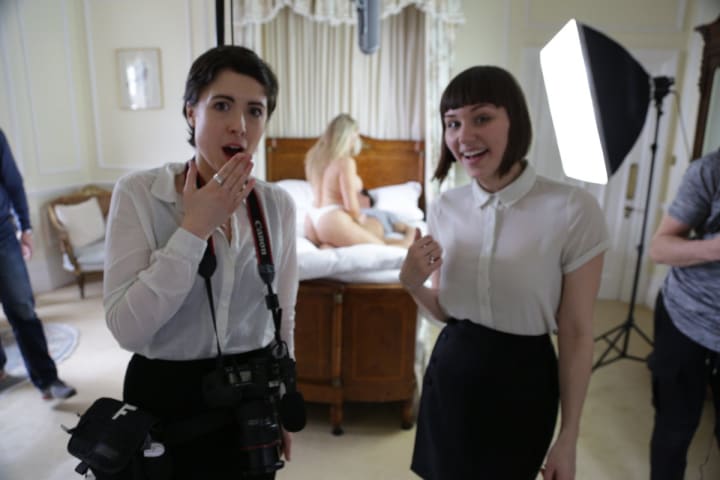 I want to believe that not everyone is stupid enough to think porn is real, but there are always the ones that send ridiculous messages on social media or think that Fake Taxi isn't retired porn actor Ian Tate in a black cab he bought off eBay for £500 fucking multiple UK porn girls both known and unknown...but there we go. I hate to break it to you, PORN IS FAKE.
I shot upwards of 1,000 scenes in my career, or thereabouts, that included solo, websites, features, VR, gonzo, DVDS, girl girl, anal, boy girl, threesomes, gang bangs, blow bangs, reverse gang bangs, fetish, bondage, feet, toys, JOI, sploshing, blowjobs, watersports...if the fetish existed I've pretty much covered them all (aside from the obvious nothing illegal and no scat, thank you very much). Amongst those scenes I can count on one hand the times I GENUINELY got off. That's pretty poor outcome with the amount of time I spent having my genitals fiddled, don't you think? You know why? Because it's work, it's a performance, I'm not there to get me off, I'm there so that when you watch it, you get off. Unfortunately, knowing what I know and being on set as much as I have been makes it very hard to see past the over the top screaming, the bullshit dirty talk (no one does that) the insanely stupid positions (PILE DRIVER? ANAL PILE DRIVER I MEAN REALLY?) and the fact I know they have probably been on set for hours already and all she is thinking about is food and all he is thinking about is that he hopes he can pop on demand.
Sorry to burst ye bubble.
However, there is light at the end of the tunnel. Recently I found myself in a position of increased sexual tension, my other half was on tour, I hadn't been this aggressively horny in a long time, and I turned to porn. I have now been away from the industry for long enough to actively want to watch people fucking to get off... but I am very specific, it has to be real, so I usually go for totally amateur, badly filmed stuff. The girl HAS to cum and it has to be a legit orgasm or a fake so convincing even I can't tell. I love watching pussy eating (literally no idea why) and anything with a genuine build up to orgasm. So, I guess this Pornstar does watch porn, it just took me leaving the industry completely, waiting a few years, being in a long-term relationship with someone that spends a lot of time on the road and being settled into a completely new career.
About the Creator
Born and Bred Londoner, Mother to baby Roman and my two pooches, Plant Eater, Yoga and Aerial Teacher + Learner, Music Maker... was once in Game Of Thrones, was once a Penthouse Pet, used to win awards for getting naked.
Reader insights
Be the first to share your insights about this piece.
Add your insights