Kitten in Heat: Part 3
Whimsical Rides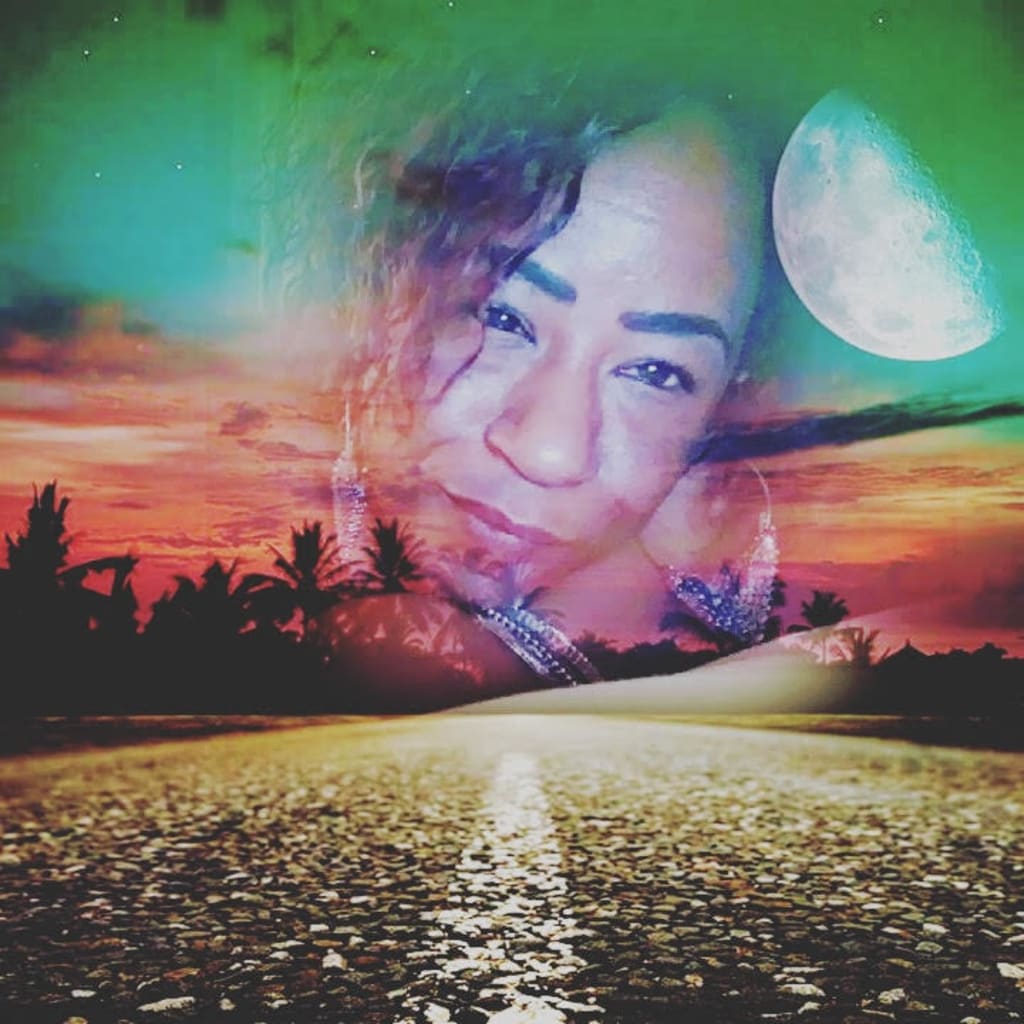 Whimsical Rides
Mateo and Umi were the like little cubs I wanted to take on an adventure. I had just recently been released from the cage of monogamy. I had consequently held a few terms with two domestic relationships and a half- termed with another but resigned from the latter for marriage would cement a forever. One partner forever! Our sexual numbers were so disproportionate. I couldn't and I ran like an expertise Sprinter. I had fantasized about riding on the white horse into a land like Nymphs. I chose to take Mateo and Umi on the whimsical ride with me. The two were polar opposite yet they both sparked a vigor of youthfulness within my being.
The trendy saying, " Forty is the new twenty." I've come to agree with yet it is quite possible that I exude high energy and a knack for living comfortably in my innate being. When you're twenty, you live life without regrets and on the edge, while when you're forty, you just live life. Most would describe me as being a free spirit and spontaneous in my sexuality. I felt the most liberated before I become a mother. I have embraced my bi-sexuality since my earlier twenties. I tried it all from being a "Unicorn" in threesomes to exhibitionist sexual encounters. I almost always get my choice of pickings and I'd go to the hollow to of the soul to seduce evening the most closeted. Magically, whispering into their lower desires to rise and be intertwined rather for a night or many. Oh..Yeah, romanticizing a great ride and fuck to be had.
Soaked in skin confidence shifted into those lacking the power to let go. I sparked the will of free will and brought forth healing like Magic! I was not afraid to dance with the wolves under the moon and stars. Counting those lucky stars and it looked like twenty-five would be my lucky number. I literally met them both thirty days after my release. My hypersexual behavior had been on hiatus due to, the good cheerleader's try at love. Perfect mate with a grudge and masturbating in obsessive routine. I had done an eight-year bid on mediocre fucking while practicing with my vibrating double-headed dildo. Awaking from the dreadful dream of trying to be perfect consequently, I was ready, set, and go! In gear and ready for them both.
 Mateo, mi Guapo was a former street boy turned Blue- Collard. He was still a lil grimey around the edges. He was 6' feet, solidly built with tattoos, and with curly brown locks. What a Stallion, a Texas Breed Boi. Those Amber-Brown eyes drew me in an instance. The admiration in his eyes stimulated the curious kitty into a frenzy. Not wanting to look or seem thirsty, I pruned my paws and listened intensely in his adoring and compliments. His admiration of my skin tone to each coil of my hair and my way of speaking; take into his own curiosity. I drew him in more with my lines of erotic poetry. Each click in my tongue wanted to taste him. When I did, he tasted so sweet and spicy like my favorite Moscow Mule. The perfect ingredients- Tito's Vodka, Ginger Beer and Lime to top it off, Salute! Those solid, submissive, and easy to bind hands of Mateo were titillating. He'd sent the butterflies in my tummy into shivers. Two different brown people blending in creamy and saucy, sensual lust-filled sex.
Round 1:
Some in-between the aisle of Non-Fiction and Reference Materials, we engaged in the exploration for erroneous zones. Slightly and carefully raising his work shirt to tickle the small of his back with my tongue. His turn and his tongue teased me on the back of my knees; catching the slow drip of my dew at the tip of his tongue. I almost wanted to scream, I wanted to but not typically my way of showing approval. Definitely, not the place to try out for sure. Hmmm…..we returned to the nook fiddling through the random books to divert the book browsers. It did not take long for us to feel the dopamine and oxytocin in our bodies. He brushed my hand a few times as I skimmed through the titles of the books. He made sure to provide good eye contact with each word he or I spoke, he kissed me again. It was so intense and almost liquifying; he trailed each kiss and fingered directly up my inner thighs. Inhaling the lady pheromones. I almost always wear a dress and no undies. The next kisses were too intense for the librarians; we needed to make a haste exit.
He presented himself as seemingly and incredibly not bothered by others' views or perceptions of us, I being an African American woman in my forties and he being a young Hispanic in his twenties. "....according to a 2017 study from dating website EliteSingles,... 450,000 of their male users between age 20 and 29 preferred dating an older woman (with 11 years being the most desirable gap)....." (Vincenty,2019) I had always dated older suitors. He had awakened the Lioness urges within the cave for intriguing play.
Round 2:
Riding in the Lyft with slow kisses on my thighs to wet lips to end up at some Irish Pub at Mueller Park. We sat at the end of the bar which held only ten customers including us. He ordered two shots of Tequilla; my fav Moscow Mule and his must-have Modelo Beer. I felt like he slipped a Mickey in on me. My knees unlocked as his fingers were like a set of bailors keys while the patrons gleamed or frowned at our openness. Their disapproval could have been possibly due to their personal racist or too conservative ideas. Leaving a bitter taste in their mouths but I was slowly slipping into a zone of pleasures. We just paused to snicker at the bittered bitties. After finishing our drinks, we disappeared into the atmosphere for more illuminating space.
Immaturely he came before entering me. I made sure to keep a calm demeanor surely I was a little irritated. But so anxious to feel him, I played it cool. We sat on the wall near the pond and talked frankly about our fantasies and lucid dreams. Time seemed timeless while being magnetically pulled by the universe. Like a meteorite, it seemed like those stars started the engine. They shifted us back into blazing rendition. He was packed in width. At this moment size in the inches did not matter. We were fucking on the wall like we were on a cliffed mountain and ready to erupt; we were erupting all passbyers beliefs. Ashes to ashes and dust to dust.
I thought the ringing was just in my ears when I realized it was Umi chiming in Oh shit, Umi was requesting a video chat. Of course, I ignored but she was relentless in her attempts. My mind was twirling and somehow, she was in the midst of Mateo and I fantasy. He was fucking me like a wild breed and Umi was on my face and I was cumming so dam hard. I had the best fucking ride of my thirties and new forties. He whispered some Spanish phrases in my ear that brought my back to the present time and space. Surprisingly and in reality, I did not want to have them both at the same time. I am too greedy and selfish at this moment of my life.
"...The theory that men's sexual peak hits decades earlier than a woman's....however, ...for a man at any age, contributing to a sex life Sherman deems "energetic.""...."(Vincenty, 2019) We gave a theory the validity in the levels of the sexual energy in our heated and intense fuck; proving theory to be a fact! Consequently, ... As Vincenty implies," ... The kid conversation is complicated..., the young cub wants to demonstrate his vitality and prove his male role ; "...eagerly awaiting fatherhood, and you're a happy empty-nester going through menopause......" It's impossible!!!! So, Umi was only a call away and we'd never have to go through these conversations. She was young but knew what she wanted with us. So, I thought.....
Umi picked up the pieces where Mateo left off. She was in transition from FTM; female to male. I had mostly stayed in the spectrum of dating what someone would label as soft to butch studs. I was intrigued by her photos on a Facebook group for lesbians. "The Picture" a sexy physique and posed like Magic Mike; I DM her with a request. Oops, I am still learning to use the appropriate pronouns; considering Umi is the name change to match the gender and self -identify. We discovered a common trait; a free-will ideology of sex and little boundaries.
Umi disclosed his participation in being under a Mentoring Dom and wanted to try some new things out with me; if I was willing. Hell to the yes!!!! Explicit domineering sex. I, of course, was intrigued by Umi openness and offering to add me to "the Club." Umi wanted to be dominated as well and what better position to have. Umi, was my wish. More adventure and I was purring for more pleasure.
Kitty In Heat to be continued..........
For more juicy details of Kitten in Heat to Cum. Again, I am open to comments and likes; email me [email protected]
Bree Z. Love 2020
Work cited:
Vincenty, S. (2019, October 18). What to Know About Dating Younger Men. Retrieved from https://www.oprahmag.com/life/relationships-love/a28213457/dating-younger-men/.