Kitten in Heat: Part 3
Whimsical Rides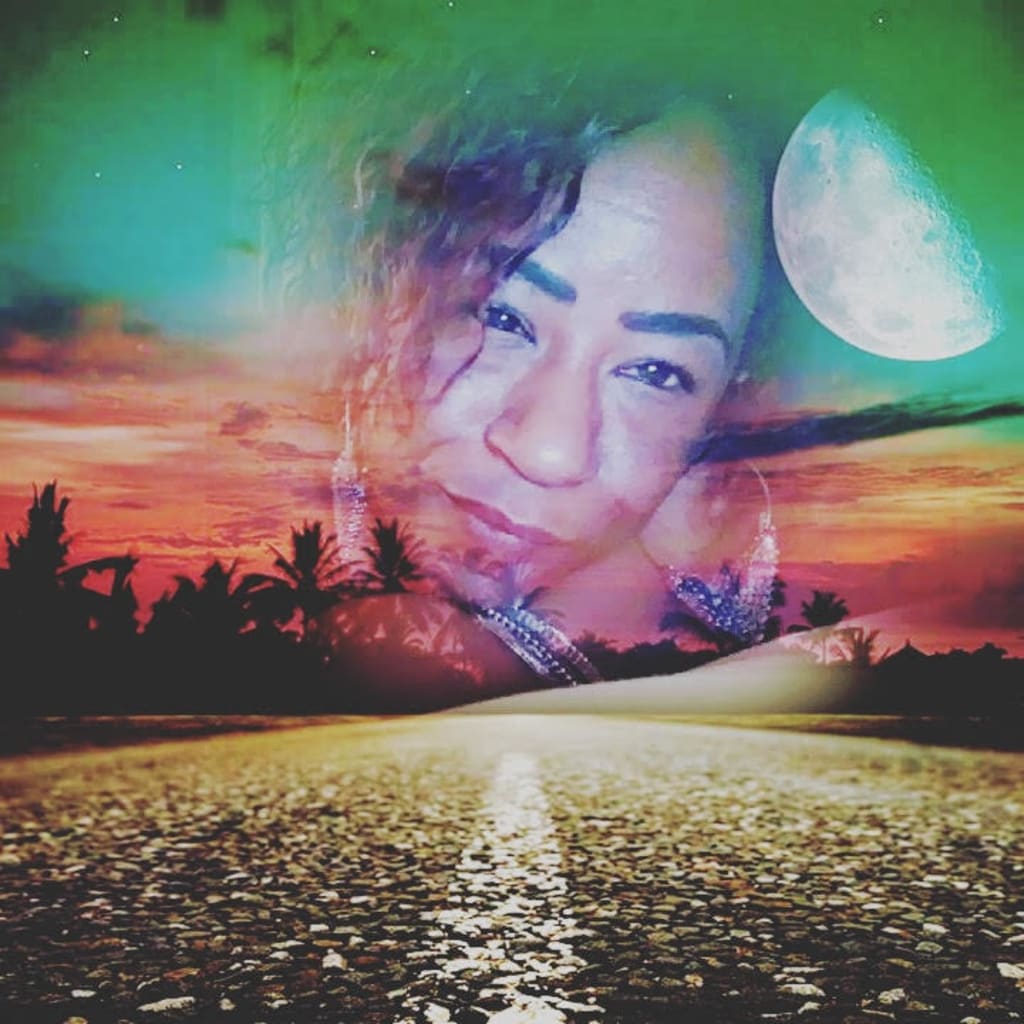 Mateo and Umi were my true adventures that I chose, to take on the whimsical ride. Polar opposite; yet they both spark my bi-sexuality and liberated my libido. Both were fresh and vigorous at twenty-six of age, almost half of my age. They were seeking to play the game of D & S, literally to metaphorically.
My hyper-sexual behavior had been in hiatus; due to, the good cheerleader's try at loving. I was the common-law and dutiful wife; alternative with grudging, perfect mate. I had done an eight year bid for mediocre love. After, realizing I could not be a caged bird; I flew for the sky's limit at forty. Wisdom and practice makes perfect; the perfect reality of what is desired and wanted for the fullness of my sexual appetite. I am Woman. I love women and men; alike sexually for I love power and pleasure of touch.
My turn on's are most fueled with matching attitudes of confidence, sensuality and not least, muy sexiness. I love me and strive to meet my personal needs which is essential. As I'm discovering the women in me; I have to question, " why I feel like the typical women lives in denial?" With my poking into research for the neurotic ,impulsive behavior and sexual promiscuity for maturing women; seemingly I have made some correlation with being a Narcissist or BPD. Many of the traits lineup and things are looking condemning for me. Yet, I scream to "let me, be Me!"
Mateo, mi guapo papi! He tasted so sweet and spicy like my favorite Moscow Mule; the perfect ingredients- Tito's Vodka, Ginger Beer and Lime to top it off, Salute! Those solid, submissive and easily to be bind hands of Mateo were titillating; he'd could send the butterflies in my tummy into shivers. The admiration in his eyes stimulated the curious kitty into a frenzy. Those brown eyes drew me in; invited me to come play. He was 6' feet, solid built with tattoos, and curly brown locks. Two different brown people but the connection from my generations came through to meet the familiar for us both. Saucy, sensual slaves to fiery lust became our way of love. My tenure of experience was different than his previous, "Cougars/Teachers." Lessons began quickly for us. A tantric sex experiences is too subtle but the intensity and our exhibitionists nature; exploded.
Our May/December affair began at the ending of my engagement, October 30. I felt so vulnerable and lost for I had been in an long distance relationship for two years and with anticipation that I was marrying the women/friend of my dreams. I was in shock with myself because I had went all the way to Chicago, to close the door on my relationship of nineteen years with the stubborn, closed minded and sexually repressed girlfriend. I had become frustrated over many things. I needed to feel free and loved on a whole different level.
A shock to myself, three weeks later I was in the bed and arms of Mateo. I was browsing books in the the neighborhood library. When he approached, he introduced himself and asked what were some good books to read. Of coursed, I plugged my own books and offered to show him my books. I carry on hand like any self-marketer. He found is favorite poem quickly and asked me to interpret the meaning behind, " Make Me Your (Mke) Wife." It did not take long for us to feel the dopamine and oxytocin in our bodies. He brushed my hand a few times as I skimmed through titles of the book; he made sure to provide good eye contact with each word he or I spoke.
He presented himself as seemingly and incredibly not bothered by others views or perceptions of us, I being an African American women in my forties and he being a young Hispanic in his twenties. "....according to a 2017 study from dating website EliteSingles, 450,000 of their male users between age 20 and 29 preferred dating an older woman (with 11 years being the most desirable gap)....." (Vincenty,2019) I had always dating older suitors. He awaken another option for intriguing play.
Mateo's, kisses and touches began in the movie theater: to the Irish Pub with hands in between my knees, fingers in and out of me with a tongue on my earlobe; teasing me and others. The other patrons gleamed or frowned at our openness; possibly, due to their personal racist or too conservative ideas. Riding in the Lyft with slow kisses on my thighs to wet lips to end up; at his older brother's extra room. The house was quiet and he guided me through the dark space; step by step to the bedroom from the PDA to the secludes. PDA is a cool, beginners kink but as bad as I wanted to be; I knew I wanted to do more than what the law would allow.
It turned him on that I played with my pearl tongue as he eased in and out of me for the first ten minutes. I had been a virgin to heterosexual sex for sometime. He found the erogenous spots that had been eclipsed by faulty love. He whispered , those Spanish words in my ear that sent butterflies through my body. It's was his lusty tone that turned me on. I mumbled words back for him to keep fucking me. Mateo, the Stallion had me purring and unleashing my kitty powers. I especially enjoyed the intermittent play turns me on to watching, the self-pleasuring and the dirty talk. His length grew and the anticipation of watching grew my pulsing and throbbing clit. His tongue game was phenomenal as well as his pretty brown....ohhh. I gave him tongue lashes to beckon moans and groans to a point; where we woke his brother. We were in such a twist; literally and metaphorically. Words could not respond to the door knock. Multiple orgasms for us both. Screamed out!
Yes, I had almost forgotten; the power I had years before. I gave him the old and new version of me. Lights on we fucked for hours; no music but the rhythm of the rocking headboard and bed springs. Four to be exact with only an hour of sleep before his work shift; I had three hours before work. "...The theory that men's sexual peak hits decades earlier than a woman's....however, ...for a man at any age, contributing to a sex life Sherman deems "energetic.""...."(Vincenty, 2019) We gave a theory the validity in the levels of the sexual energy in our heated and intense fuck; proving theory to be a fact!
The phoenix within me arose. Each session will Mateo and I was so intense and the more we came close with simultaneous orgasms; he declared his love. He declared it everywhere we went. I did want to love. I wanted to screw and fuck until all my aches were dissolved from my ex. Our cuddle season ended quickly with the hint drops of kids and love.
As Vincenty implies," ... The kids conversation is complicated..., the young cub wants to demonstrate his vitality and prove his male role ; "...eagerly awaiting fatherhood, and you're a happy empty-nester going through menopause......" It's impossible!!!! So, Umi was only a call away and we'd never have to go through these conversations. She was young but knew what she wanted with us. So, I thought.....
Umi picked up the piece where Mateo left off. She was in transition from FTM; female to male. I had mostly stayed in the spectrum of dating what some would label as soft to butch studs. I was intrigued by her photos on a Facebook group for lesbian. "The Picture" a sexy physique and posed like Magic Mike; I DM her with a request. Oops, I am still learning to use the appropriate pronouns; considering Umi is the name change to match the gender and self -identify.
We discovered a common trait; a free will ideology of sex and little borderies. Umi disclosed his participation in being under a Mentoring Dom and wanted to try some new things; if I was willing.
Sex and bad domineering sex. I of course was intrigued by her openness and offering to add me to "the Club." Umi wanted to be dominated and what better position to have. Umi, was my wish. Our kiss ended so abruptly, by a urgent phone call. Kitty with heat to be continued..........
For more juicy details of Kitten in Heat to Cum. Again, I am open to comments and likes; email me [email protected]
Bree Z. Love 2020
Work cited:
Vincenty, S. (2019, October 18). What to Know About Dating Younger Men. Retrieved from https://www.oprahmag.com/life/relationships-love/a28213457/dating-younger-men/.