How to Choose a Movie to Have Sex To
Choosing a movie to have sex to is a minefield that can only be navigated with experience and intuition.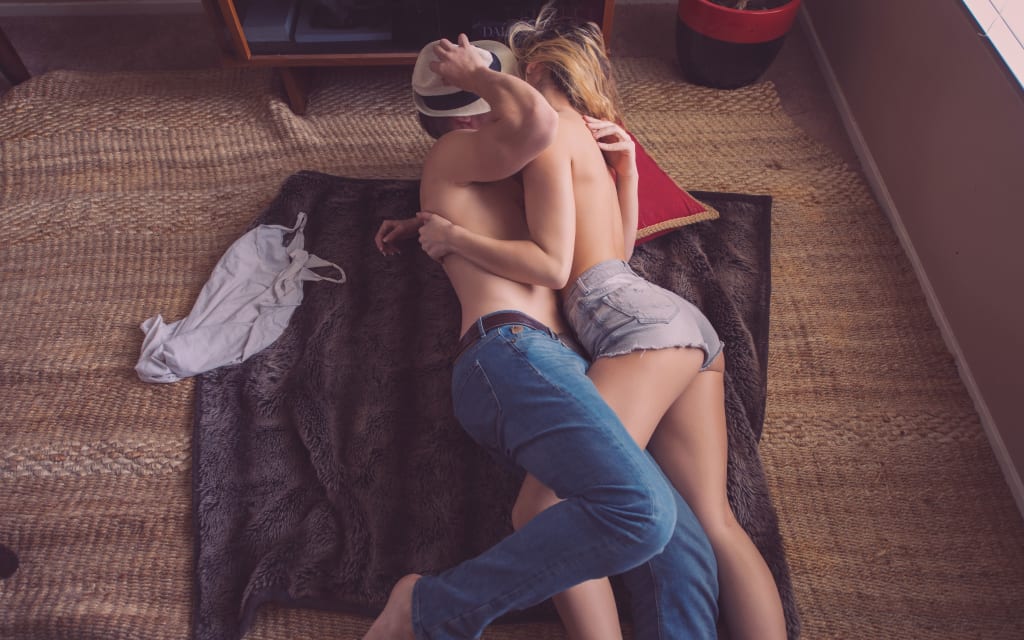 It's date night. Whether that means you have shipped the kids off to Grandma's for the night or you really are still at the dating stage (aww), date night doesn't have to involve going out. Let's face it—when the clock comes at a premium and you want uninterrupted sexy time, going out just isn't worth it.
So you decide to stay in, cook a nice meal or get takeout, and watch a movie. Which is, of course, code for having sex on the couch. And that's where the dilemma comes in—picking a movie to have sex to is a minefield.
Your first thought would probably be something bordering on soft porn to get you in the mood, but let's be honest here—you already know some action is inevitable, so setting the mood isn't always necessary. A roommate/parent/child-free evening? One way or another, there is going to be sex.
So, how do you choose a movie to have sex to? The thing is, if it's too erotic, you risk you or your partner paying more attention to the TV than the matters at hand. If it's too scary, you risk literal shrinking back in fear. Too sad and it'll kill the mood.
As this phenomenon can be a little complicated, we've decided to wade through several films and figure out which ones work best for doin' the dirty.
Choose Something Sexy, but Not Too Aggressive.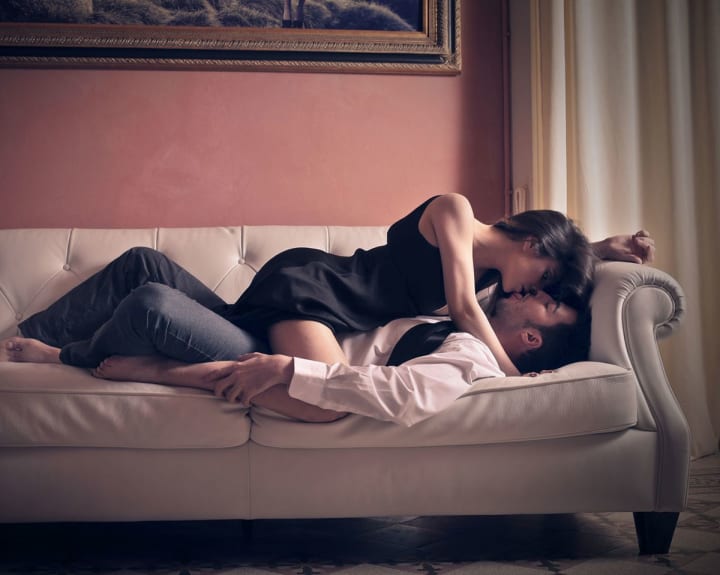 The obvious choice would be a steamy shag fest, but this is a rookie mistake. If you want a bit of titillation without the fake tits, you can't go wrong with a film called Elles. It's not a new flick (and the dialogue is in French with subtitles). You won't be distracted by what's being said onscreen, but the language of love will add a certain je ne sais quoi to coitus.
The story itself is about a writer (Juliette Binoche) who is researching prostitutes for an article. She is deeply unhappy with her marriage and her home life in general and, well… you can guess what happens. This is actually a great film, so you might end up watching it properly another time.
There is more than enough sensuality to constitute a hot film, but because of the language barrier, you may not be invested in the plot. However, the odd glimpse of sexy scenes will keep you in the mood.
Boring Stuff Might Do the Trick
On the pretense of watching a war film, The Men Who Stare at Goats is the ideal choice to make a man think his woman is making compromises by choosing a lad's movie rather than a chick flick. But this film is so boring that, once he has gotten his testosterone rush from watching a "macho" movie, and you have had your fill of eye candy (George Clooney, Ewan McGregor anyone?), you will turn boring into boning... even if it is just to while away the 94 minutes it takes to finish.
Long Is Always a Good Thing…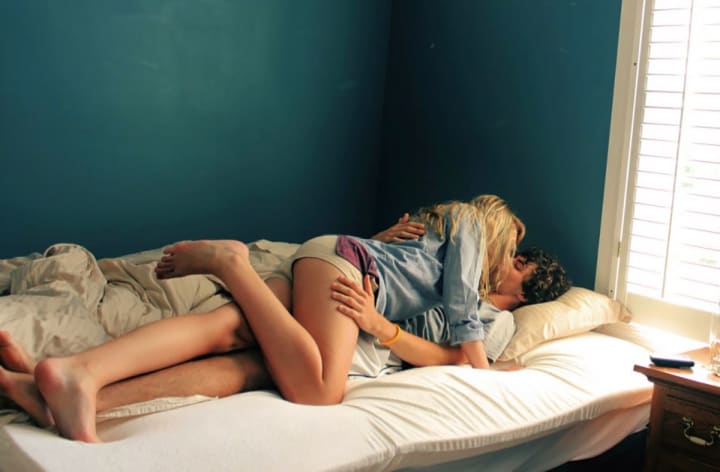 Titanic: Stick this in the player and you'll both have time to go down long before the ship does. The thing is, it was a good(ish) film when it first came out, but now it's just old hat.
It's a little bit—well—dreary.
Running at over three hours long, your fella will have plenty of time to play with your "man in the boat" before he sinks… into you.
Time for a quick break, and then back to it again—and you will be able to reach your climax for the second time before the film has reached its own.
Scare Your Pants Off
There's something about the fight or flight reflex that makes us just a little turned on by fear. But where do we draw the line when it comes to choosing a horror movie to make us go hump in the night?
Don't choose something that revolves around copulating couples getting slaughtered by some crazed one-man dogging show, or as soon as the music starts building up, your libido will be deflating faster than a burst balloon.
Bram Stoker's Dracula is a great film to get necking to. Gary Oldman isn't your typical hot leading man, but catch a glimpse of him in his top hat and little blue glasses, and you'll want to be up all night, too. The scene in which Keanu Reeves is seduced by the Brides of Dracula might just tip you over the edge.
However, when choosing a horror film—do not, and I repeat do NOT—watch Teeth. You will never have sex again. Ever. The idea of a vajayjay having the ability to bite off a man's penis is just too much. If you do watch it, you might find you've bitten off more than you can chew.
A Great Soundtrack Always Helps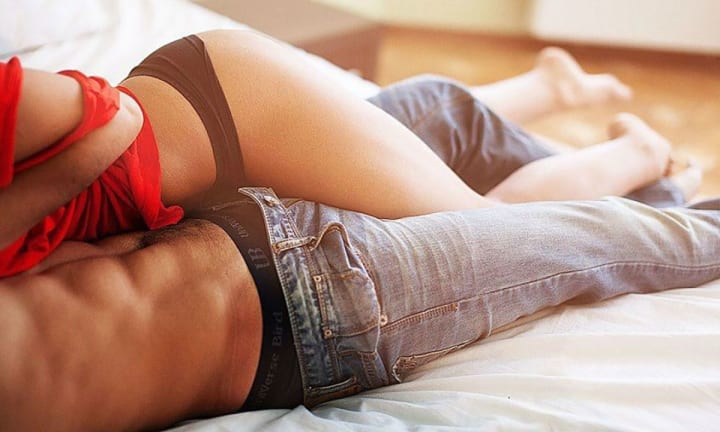 An oldie but a goody, Risky Business came out in the 1980s. The film features a young Tom Cruise and Rebecca De Mornay. By today's standards, it may be considered an innocent coming-of-age flick, but the soundtrack has some truly wank-worthy warbling. "Love on a Real Train" by Tangerine Dream is the song that Cruise and De Mornay did the nasty to on the train. A little on the nose, but I suppose it did the trick. "In the Air Tonight" is another part of a great soundtrack that will be the perfect accompaniment to your night of pash.
Try Not to Giggle While Getting Jiggy with It.
Yes, we know that a sense of humor is an attractive thing, but there is danger in hilarity. If you have a really funny film playing merrily in the background, you are liable to convulse into laughter at the most inopportune moment. There's nothing funny about merriment with a mouthful of manhood—at the very least you are likely to snort snot all over his cock. And let's face it, your other half might think your mirth is directed at his girth. Bless him.
You're far better off having something like Meet the Parents playing to itself— it's mildly funny, but not enough to keep you captivated for long.
Dipping the Wick with a Classic
Some films never go out of style, but there are a few which should never be used as a backdrop for bumping uglies. Never—and we repeat—never use anything with James Stewart. It's wrong and irreverent and just… no! He might have played The Glenn Miller Story to perfection, but In the Mood is one for the dance floor, not the lounge floor.
Likewise, It's a Wonderful Life won't be so wonderful when you want a film to get sentimental over, and you can no longer watch it without thinking about your night of playing on all fours.
Those films are innocent. Leave them that way. You're much better off stroking your G-spot to G.I. Blues or pumping his cock to Jailhouse Rock. Either way, Elvis Presley can play happily in the background without ever distracting you.
But whatever you do, please, I'm begging you… don't use Fifty Shades of Grey!
About the Creator
Ailish is a single mother, freelance writer, and past life regression therapist, which means she gets to time travel on a daily basis.
Reader insights
Be the first to share your insights about this piece.
Add your insights