Craig's Visit to His Therapist
He will be returning.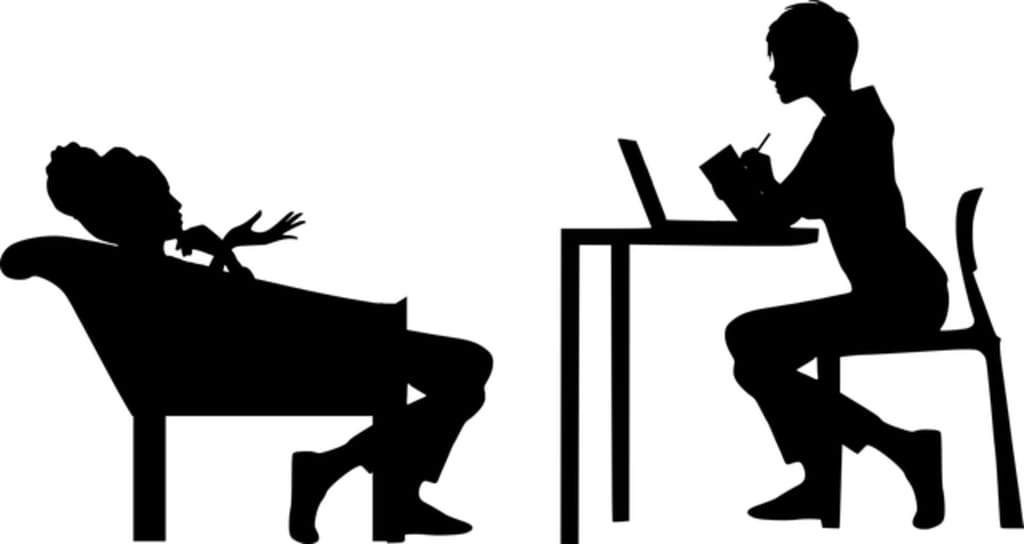 Today, Craig had to go meet with his therapist. His wife threw him out due to his sex addiction and always wanting to feel on his penis (even out in public). She tried working with him, but he would not try on his own. She demanded that he go see a therapist.
When he reached the office and sat in the waiting room, he thought he would be seeing a man, but when a woman walked out and called him back, he felt his penis begin to grow in his pants. So, he covered it with his hand.
Once they reached her office and he was asked to sit down, he found it hard because of the thing in his pants being hard. He stood for a moment before sitting down. They got acquainted first and then talked about his problem.
His therapist, Irene, was an attractive young woman. She chose to wear short skirts that were form fitting to her body which made it difficult to talk about sex. Craig could not keep his penis under control, and she noticed it and asked him what made it that way?
He explained to her his problem with sex and how he feels the need to want it all the time. Seeing an attractive woman makes his penis stand at attention. She laughed a little as she flung her long, dirty blonde hair over her shoulder exposing the cleavage that it had hidden. This was a little hard for Craig to take. He still tried to hide his penis with his hands.
Irene noticed his issue with his penis and quietly got up from her chair and walked over sitting down next to Craig. She took her hand and removed his hands from his penis. She eyed the hard-long bulge in his pants and gently took her hands and unzipped his pants which came as a shock to him.
Once his zipper was down, she took her hands and slipped them inside his pants pulling his penis out to look at it. He felt embarrassed at first. But then again, it was arousing to have his therapist who he just met holding his penis in her bare hand. He listened to her talk as he watched her hand slowly stroke his penis. She even gave the helmet a gentle squeeze every now and then.
It felt so good to have his therapist massaging his penis that it wasn't embarrassing anymore. He began to relax a little more. She spoke about his fears of getting an erection in public and it felt good to have someone understand him. She began stroking it harder the more he relaxed.
Craig wasn't nervous or upset or anything, he was just enjoying the fact that she had control of his penis. That seemed to be his problem. He needed to feel someone else in control of his shaft and it seemed after a few minutes that he needed some orgasm control.
Irene stroked it until it came to the point of him wanting to have an orgasm and that is when she stopped and left him with the feeling. She did this several times until he became frustrated and began begging her to allow him to orgasm. She refused him several times more.
Craig needed penis control and Irene was there to help him. When his time was almost up, she got him to the point of wanting to have an orgasm and made him beg for it. Once he began begging for it, his sticky but creamy load thrust from his penis and the remaining dripping cream fell over her freshly manicured fingers.
It was more arousing to watch his load shoot over a strange woman's hand than having sex. Once his cream stopped flowing, she cleaned his penis up and then her hands as he zipped his pants back up. Irene announced that his time was up and made another appointment for him to come back for more penis control.
About the Creator
I'm a forty-eight-year-old woman who became a published author back in 2016. I write fiction and nonfiction in many different genre. I love to write and tell stories to the world and hope that everyone enjoys them.
Reader insights
Be the first to share your insights about this piece.
Add your insights