The Hidden Fetish Within
That Huge Pregnant Belly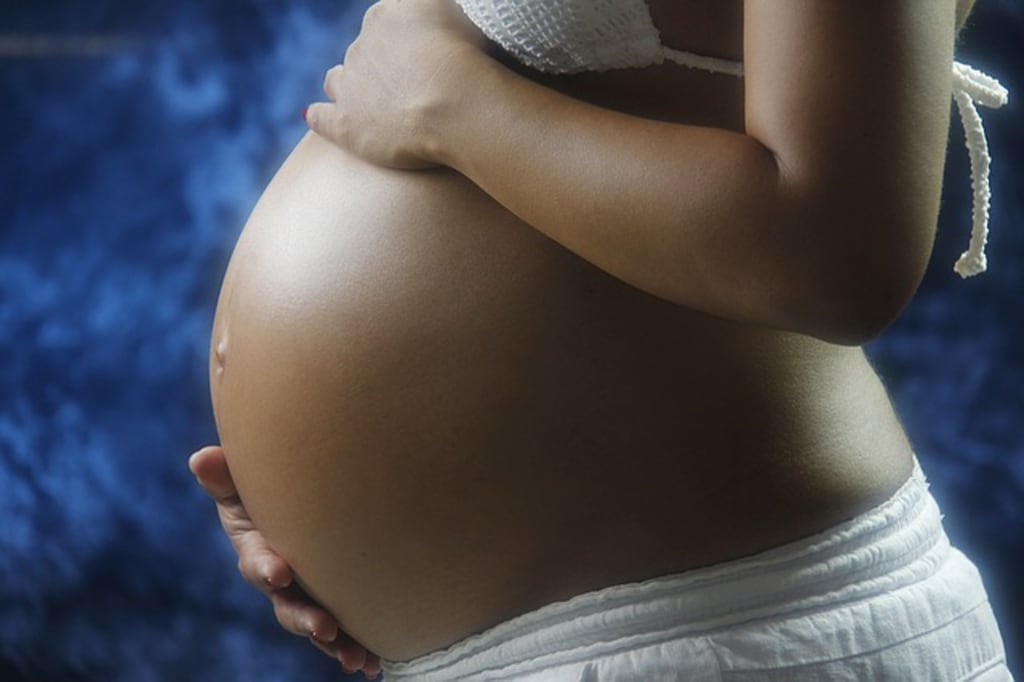 Stephanie and Bryan were a happily married couple of four years and they hadn't thought about becoming pregnant, at least not until they were career set. Both were in their early 20s and still in school obtaining degrees, until one day Stephanie began feeling ill.
She had called out of school sick for a few days, but it lasted longer than a few days. She seemed to be sick every morning, but felt fine later in the day. It was very unusual and boggled the minds of both Stephanie and Bryan. So she decided to take a pregnancy test and it came back positive.
Both Stephanie and Bryan were happy, but also not happy because they didn't want to have children until they were financially ready. Now, it put a strain on them to start saving money and putting away for the baby. It was going to be a stressful nine months for them, but they had no choice but to do it because abortion was not in the equation.
A few months had gone by, and as Stephanie's stomach began to get bigger, Bryan would stress more because he knew the baby would be coming soon. When she was six months pregnant Bryan saw something different in Stephanie.
He noticed that she had this beautiful glow about her. She looked radiant and happy, and the first time he felt their child kick also made him very excited. Now, he was becoming addicted to his wife's pregnancy. When he made love to her, he always rubbed on her belly, and would sometimes just lay and stare at it smiling.
They began going to pregnancy classes and Bryan would be looking at every pregnant woman there with fresh new eyes. He now saw pregnancy as something erotic and sexy. Sitting there, looking at all those pregnant bellies, he found himself aroused and his penis growing. He tried everything to hide it from the group and from his wife.
When the class was over and they went home, Bryan was in the mood for some sensual fun. He knew he couldn't get down and dirty because she was pregnant and he didn't want to hurt the baby. He was very aroused and wanted to pleasure himself and his wife because that hadn't been intimate in a couple of months.
He got Stephanie to go into the bedroom with him and lay on the bed. He slowly took her pants off and then her panties. He was now looking at a pregnant vagina, which looked sexy with a trimmed bush that was so soft. He spread her legs gently and looked at those pink lips and her clitoris. She whispered softly how much she wanted him.
He walked around to the foot of the bed and laid down close enough to her that his face was close to her bushy pregnant vagina. He took his hand and massaged her legs before reaching up and rubbing her big belly. He then began licking her swollen vagina and clitoris. She began moaning because he was so good at it.
He laid there for several minutes, licking her vagina and then reached up to rub on her pregnant belly as he did this. He was becoming more aroused and then stopped licking her vagina and then kissed her from there up over her belly. Bryan began kissing, licking, and then talking to her big belly. It was turning Stephanie on as well.
He stayed away from her breasts because the baby would need the milk, so he went directly up to kiss her red silky lips. He felt his penis rub against her belly and then the baby kicked, which caused his penis to harden more. He loved the way it felt against her and after that, he softly and gently pushed it inside her.
She moaned out as he went deeper, and his penis was becoming harder as he leaned on her belly and felt the baby continuously kick his penis. They were both becoming aroused, but Stephanie was not as aroused as Bryan.
He was finding that her pregnancy was making him aroused and he liked it very much. He slowly penetrated her repeatedly, until he could feel her vagina tighten and then quiver knowing that she was having an orgasm. This made him so excited that he pulled out and shot his semen all over her pregnant belly. By his excitement, there was a lot of semen ejaculating.
When they were done, Bryan got up and grabbed his shorts to wipe up the milky white cream that was dripping down her big belly. After the baby was born, he was in a hurry for her to get pregnant again because the sex was awesome while she is pregnant.
About the Creator
I'm a forty-eight-year-old woman who became a published author back in 2016. I write fiction and nonfiction in many different genre. I love to write and tell stories to the world and hope that everyone enjoys them.
Reader insights
Be the first to share your insights about this piece.
Add your insights