Between the Sheets
Entangle me in your sexual web.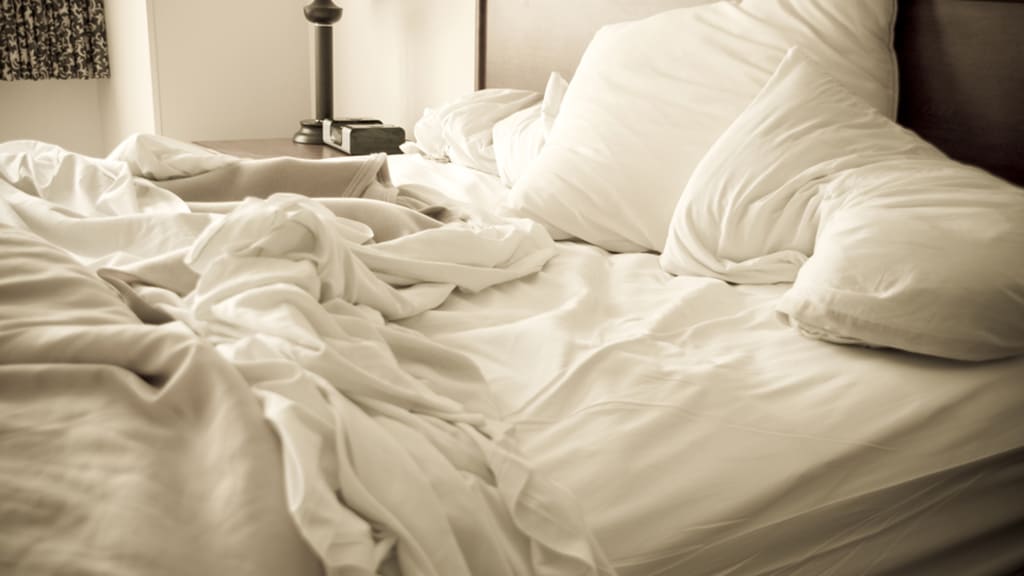 We met in June of 2016. I remember distinctly the day we met because I thought he was an asshole. Being the asshole that he is, is what attracted me to him.
I came in for an interview, which took place at the very front of the store, where all the workers behind the counter were able to make their initial judgements before I even spoke. Going through the interview, I glanced up and caught a glimpse of those beautiful brown eyes under that black hat that shaded your handsome face. In that instant, we had made a connection, whether we wanted it or not.
I started work there roughly one week later. You were my boss at that point. You taught me the ropes all the while we were learning that all we wanted to learn was each others' bodies. You began scheduling me to work the late night shift with you a couple nights a week. There were many laughs, many flirtatious comments, many bumps on the hand and hips, and many glances up and down each others' bodies.
As time went on, we began to text each other, which became a daily occurrence. We would talk about anything and everything. All of our conversation eventually led to our sexual thoughts for each other. We would stay up until 4 AM teasing each others desires and asking what we would do to one another if we were together in that moment. The talk of these sexual acts became too much to bear.
On December 24, 2016, we had worked the night shift together, but got off early around 8 PM. You had texted me earlier that day saying that you wanted to kiss me goodnight before I had went home. We walked out to our cars and the nerves got the best of both of us. There was no kiss before I went home that night.
You had texted me when I got home saying you wished you would have kissed me. I replied that it wasn't too late. You then told me to meet you back at the store in an hour. I drove up to the store and put my car in park. You were already there waiting for me. You got out of your car and into mine. We talked for hours. We listened to our favorite music and made fun of each other for our likes and dislikes. We then became antsy with the feeling of being so close to one another. You then leaned over the seat and kissed me. You kissed me with your hands wrapped in my hair and your tongue exploring my mouth. We were both out of breath at the end. You then invited me over to your apartment to "hang out" for a while.
I followed you to your apartment and we rushed inside to escape the December air. When we reached your bedroom, I took my shoes and coat off. You had already reclined onto your bed and were turning on the TV to watch a show. I sat awkwardly at the edge of your bed, not sure where this was going to go. You chuckled and told me to "come here" with your arms open. I excitedly crawled into your arms and dove under the covers with you. You held me at first and then your passion exploded.
Your hands sprang to my face and your tongue leapt into my mouth. My pussy grew wetter and wetter and your kisses grew harder. I felt your erection on my thighs while you laid on top of me. You whispered in my ear, "I want you." That was all it took. The next thing I know, our clothes were on the floor. You had entered me so softly and gently at first. We had wanted this moment for so long and we didn't want to waste a single second of it.
After a couple minutes of fucking me softly, a switch flipped inside of you. You grabbed me by my hips and slammed your thick cock into my tight little pussy. Your eyes were burning into mine with the need of a release. I was begging you to cum for me and eventually you did. Your body slumped against mine as we were both trying to catch our breaths. That was by far the best sex I have ever had.
As we lay there in silence, him stroking my hair, we both new that this newfound relationship was going to be the best most difficult relationship we've ever encountered. We didn't talk much for the rest of the night and I eventually went home around 4 AM.
The next morning I woke up with the fear that I wouldn't hear from him. I was terrified that I would have to go to work the next day and look into the face of someone who didn't want me. What did I get myself into?
To be continued...