Best Sex Furniture for Couples
Want to turn your home into a love nest? The best sex furniture for couples can prove that your bed isn't the only good furniture investment you need in your love life.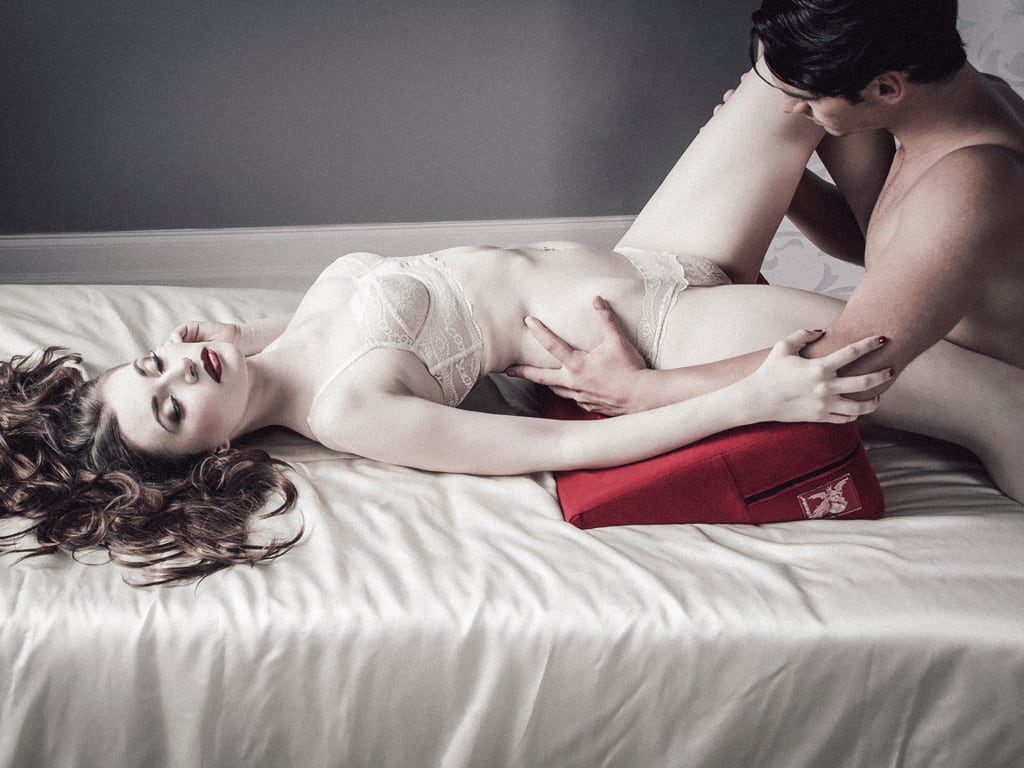 Sex furniture seems like the kind of thing you'd always expect to see in dungeons, sex clubs, and maybe one or two goth clubs. Believe it or not, much of the best sex furniture for couples can look perfectly at home in your bedroom, too.
Getting the right furniture for sex can help you get more out of your sex sessions and make it even easier to enjoy your partner. If you're new to the idea of buying sex furniture, these items can make the money you pay well worth the investment.
Liberator is one sex furniture brand you will see on this list a lot, so get used to their name. Their brand is all about making sex and everything else more enjoyable — all while making it happen with discreet furniture items no one would take a second glance at.
The Fascinator Throe looks like a blanket, precisely because it is. Well, it's a moisture-proof blanket that's velvety on one side and silky on the other. So, it's a way to help avoid grossness after the deed — making it a super secret sex furniture product for anyone's home.
Have a love puddle problem? It's the best sex furniture for couples who don't want to have a wet spot or sleep in the wet spot after sex sessions.
Love having BDSM sessions that play fair, but get dirty? Well, Liberator has what you need. This is the best sex furniture for couples who are into kink as well as sex position exploration.
The ramp and wedge allow you to try new positions and also get better angles for foreplay. The little straps at the side of the pillows are great for gripping, but are also there for bondage sessions. Cuffs are included.
So, if you're feeling a little bit bondage-y and want to see if you can make your partner squirt, this highly compact, easy to hide sex furniture is sure to please.
Liberator's other top product is a simple ramp pillow that can be used for a number of different things. If you have back pain or just want something to lean on your side with, this will actually prove useful in that manner too.
So, it's the best sex furniture for couples who want to explore positions — but who also want to keep them as low-key as possible. It's subtle, can be hidden on your bed, and also can be tucked into a closet in a pinch.
Sportsheets came up with one of the coolest ways to turn your bedroom into a dungeon — bondage bed sheets. This sheet set allows you to turn a bed into a bondage lair.
All you need is to use the restraints included to tie down your partner to the velcro pads on there. Fans of light bondage and BDSM play will find these to be an awesome gift.
They also double as regular sheets when the bondage pads are removed, making them an awesome dual-use product capable of flying underneath the radar in a pinch.
Babeland does a good job of choosing its top BDSM products for beginners. One of their products, the Under the Bed Restraints set, make it easy to tie your partner to the bed — and make it pretty hard to actually get out of the restraints, unlike the bondage bedsheets items.
This restraint set is great for casual users as well as for experienced couples who want something easy to store and easy to use. It's the best sex furniture for couples who love bondage, but don't want to make their house look like a dungeon.
At first glance, these handles really don't look like sex furniture — and you'd be right to think that, too. These are actually meant to be handles for older people to avoid slipping and falling when taking a shower. However, that is actually what makes them some of the best sex furniture for people who want to have shower sex in crazy positions.
Simply put, when you have something to grip during sex, many slippier positions stop being so dangerous. That's why they're such a smart pick for fans of shower sex.
Cythera is a sex furniture company that is known for making overtly kinky and sexy things. Their Bounce Stool Chair allows you to take facesitting and orgy sex positions to the next level with multiple use options.
An inflatable pillow makes it possible to use this stool for facesitting. Handlebars make it a great Doggy Style option for threesomes. Needless to say, it's the best sex furniture for couples who want to get serious about their sexploits.
If you've ever wanted to do Stand And Deliver, but simply weren't fit enough to do it, then the Door Jam Sex Sling has a gift for you. This sex sling fits comfortably and securely over any door — and is easy as pie to use.
Multiple difficult sex positions get unlocked with this gear, and when you're done playing, it's a breeze to store. Needless to say, it's one the best sex furniture for people who are just beginning to unlock their sexual side.
Admittedly, many of the sex furniture pieces on this list are kind of intimidating — or downright scary, if you think about it. These candles are not that type of sex furniture.
Like any other candle you'll see, they're lightly scented with a warm, homey aroma. Unlike other candles, though, when the wax in these melt, the wax turns into warm, sensual massage oil.
Ideal for foreplay and for those who want a gentler side of sex toys, Babeland's Body Massage Candles are the best sex furniture for folks who want gentle, mellow foreplay... or who just aren't ready to get into sex furniture.