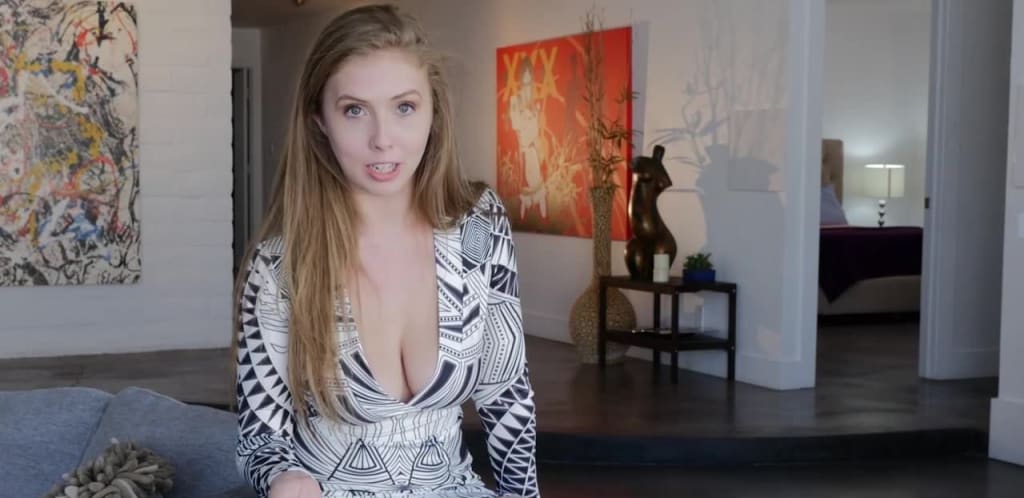 Lena Paul looks absolutely delicious talking to the camera.
With that much competition on the internet, to make a good porn scene one often has to think outside the box. A lot of big porn companies are doing just that to try and promote their product. They often look at new ways of shooting a scene with an exciting new concept. One concept which has been flying since the late nineties is the 'reality television' concept. You could even argue that modern day porn is built on such a concept as many fantasies use the reality TV concept.
Porn company 'Bang' have used this concept for their series 'Bang Confessions' which uses a format similar to reality TV. What happens is a pornstar narrates a real life situation and then it's re-enacted by the same performer and other actors. It's really good and definitely a breathe of fresh air when it comes to pornography. 'Bang' is pretty reasonably priced to if you do happen to visit their website currently their two day trial is free and they do have a sale on too!
Their 30 day membership which was £29.95 has been slashed by 35% and now costs £19.95 a month. That's pretty damn reasonable when the going rate for pornsites tends to be around £30 a month. For a full year's subscription it works out at £8 a month but is billed as one payment of £96. It's all pretty good for a porn site subscription and Bang's content is of a high quality too. The scene I'm reviewing today stars Florida native Lena Paul; a 26 year old with natural curves of 32DDD-25-36. Allegedly she looks like professional French tennis player Alize Cornet which must get her plenty of views in France. The previous scenes I've watch of her she really has demonstrated her acting ability. In one particular scene she played a guy's wife and was filming a naughty video for him. She ends up jerking off her stepson by accident and as a result has sex with him on film. She's done some pretty naughty stuff on film such as double penetration, girl-on-girl, gangbangs etc.
I've got to be honest; I love her stuff normally but this certainly adds a new dimension to her pornographic material.
So basically she's explaining to the camera that she use to be a private investigator and that a scorned wife had paid her to spy on her husband. I'm not 100% sure how true the story is but it makes for good entertainment none the less. Lena's having a hard time finding dirt on this guy as he seems 'squeaky clean.'
The scene cuts from Lena explaining the situation in a black and white dress to her investigating her client's husband. In a desperate attempt to find some kind of dirt of the husband she goes inside of the residence only to be caught by him. She kind of has to explain who she is or face criminal charges. Turns out he's actually a nice guy and it's his wife who has been doing the dirty on him.
One thing leads to another and the pair end up having sex on the marital bed in his bedroom. It's a good sex scene and Lena really goes for it throughout the duration. The pair do an eager '69' position which looks epic on Lena's naturally curvy body. Unfortunately the male performer isn't credited but does a good job throughout the scene. She always gives a good blowjob and this scene is no different as she really does go for it. The whole new concept make this porn scene for me and if you can afford to join 'Bang' I recommend you do. I give this scene 4 out of 5; Lena Paul at her sweaty best!
4 out of 5.