White Hart Lane
A father and son thing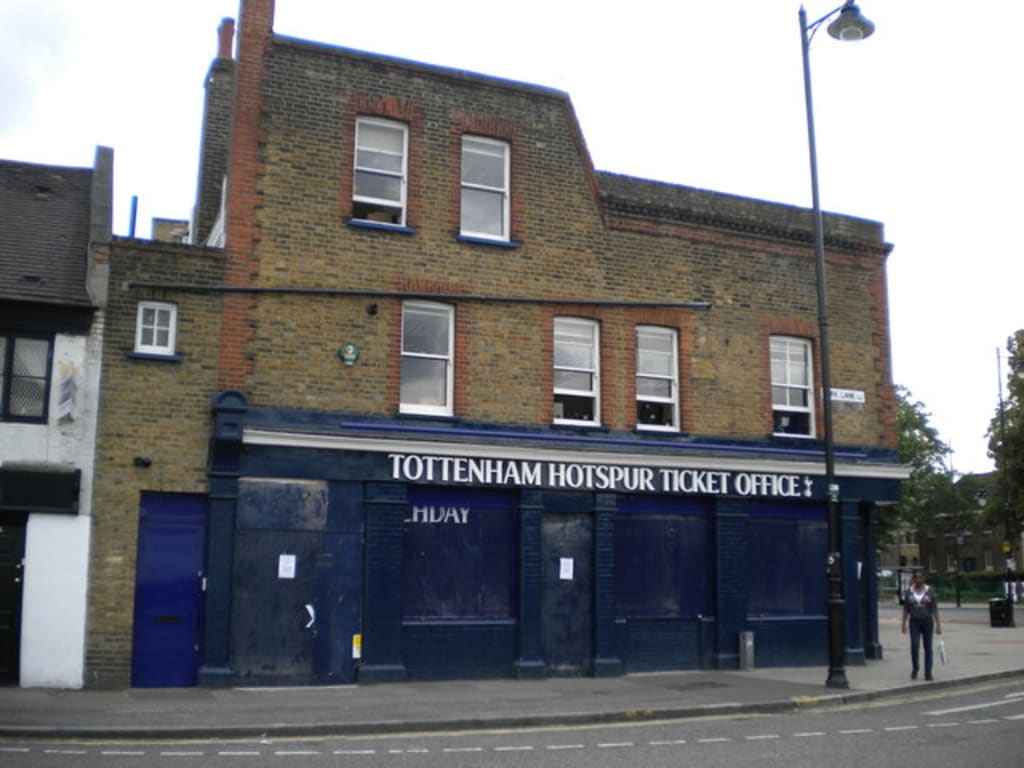 Tottenham Hotspur Ticket Office, Park Lane N17: Robin Sones / Wikimedia Commons
Big match today.
"Have you ever missed a game, Dad," his son had asked, the first time they walked White Hart Lane together, hand in hand.
"Never," he had said. "Not since I was your age." It was a proud moment for both of them, each wearing the black and white scarf. That was four years ago. He thought of many happy Saturday afternoons since then, together watching The Spurs.
Today, holding his son's scarf loosely in his hand, he waited for the crowd to filter in. Alone at last, he tied the scarf to the gate.
"See ya buddy."
~ ~ ~ ~ ~
White Hart Lane is a drabble - a story written in exactly 100 words. Here are a few more:
Blizzard
"You'll never get away with it."
"No? Keep walking," he said, as he pointed the automatic.
"They'll easily trace the bullets to that fancy piece you are carrying."
"You think so?"
Both men staggered into the howling wind, snow being driven into their eyes, half blinding them. Only one was dressed for the weather.
"C'mon Greg, can't we talk, buddy?"
"Sure, go ahead. Sit down there and let's talk."
"Please don't shoot me."
"I ain't gonna shoot you, buddy."
Sitting, shivering, on the snow-covered ground as the icy wind cut through his light clothing, Rob, suddenly understanding, slipped into unconsciousness.
~ ~ ~ ~ ~
Bonfire
"Build a bonfire, build a bonfire.
"Put the teachers on the top.
"Put the prefects round the middle
"And then burn the …."
The silence as Mr Brady entered the classroom was deafening.
"Taylor!"
"Yessir?"
"Headmaster's office."
"Me, sir? It wasn't me singing."
"Don't argue boy. Headmaster's office, now."
After waiting outside, imagining the swish of a cane, I was ordered in.
"Ah, Taylor," said the Head. "I hear you are an expert on bonfires."
"Sir?"
"I have a little job for you. The School Governors want a Guy Fawkes celebration. I am putting you in charge of collecting firewood."
~ ~ ~ ~ ~
Creepy
I sat bolt upright, as the thing floated there, right before my very eyes.
"What is it?"
"Ah… ah… ah…" I could not form the words. I could feel my blood run cold, hairs erect, my breath taking rapid short gasps. The question was repeated. "It's a spider!" I eventually blurted out, as I tried to push myself back against the pillow behind me. The spider, unconcerned, began to tiptoe up the bedspread.
"Phooeee! it's not that scary."
"No," I agreed, as I continued to tremble.
With that, the boney jaw stilled, as the skull drifted back behind the curtain.
~ ~ ~ ~ ~
Game
Stuart sat facing Death. Death sat opposite, a sardonic grin animating his otherwise fixed expression.
"You know you can't win against me."
"I'd like to try."
The chessmen were arranged on the board. Death, of course, took black."
"Have you ever been in love?" Asked Stuart, as Death's grin grew across his grim face.
"Don't you think that move has been tried before?"
"Well, have you, or haven't you?"
"As a matter of fact, I have," said Death, "and, by the way…"
Stuart followed his opponent's gaze down to the board, noting the white king at checkmate.
"… time's up!"
~ ~ ~ ~ ~
Read more microfiction stories here:
~ ~ ~ ~ ~
About the Creator
Author based in Kent, England. A writer of fictional short stories in a wide range of genres, he has been a non-fiction writer since the 1980s. Non-fiction subjects include art, history, technology, business, law, and the human condition.
Reader insights
Be the first to share your insights about this piece.
Add your insights