Yalla Yalla
A Taste of London's Lebanese Diaspora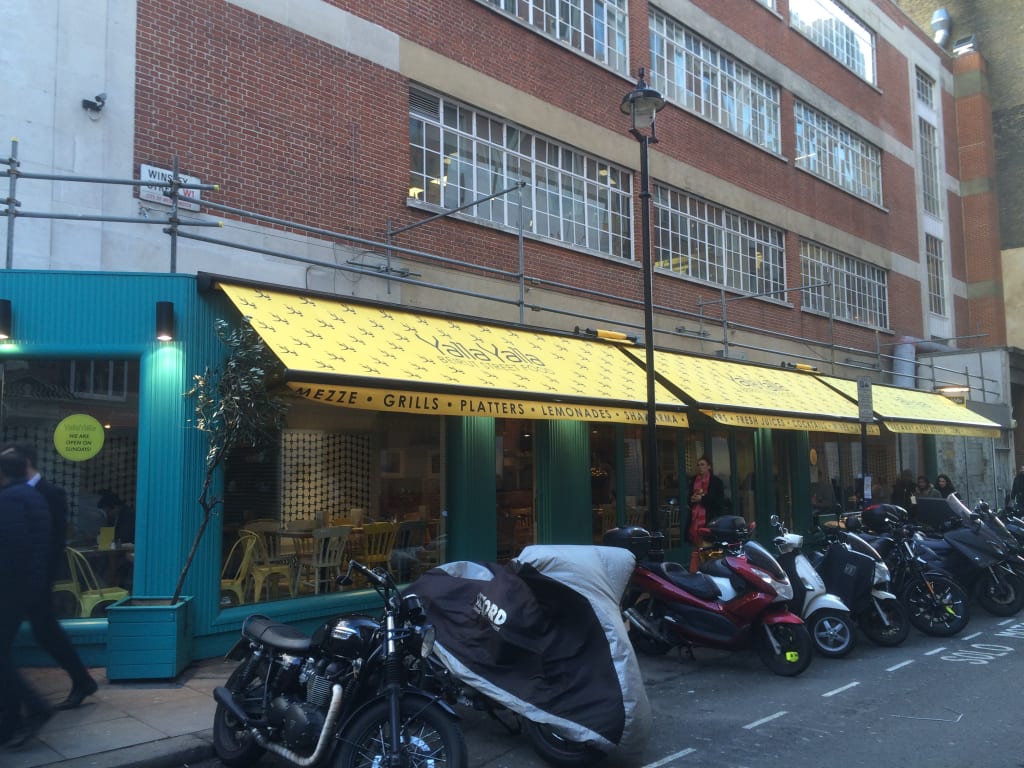 Just a few steps away from London's hectic Oxford Street in Winsley Street is a restaurant called 'Yalla Yalla' specializing in Lebanese street food.
A huge yellow awning runs the length of the frontage and there are benches and tables for those who want to eat al fresco or have a smoke with their drinks and meals or admire the range of motorbikes parked outside. This was not for me, as I had probably already walked eight miles around London and I just wanted to sit somewhere other than a fast food outlet for my lunch. It was also a very cold day with wind and rain attacking anyone outdoors and around the city.
As soon as I walked in I began to warm up and the mist cleared from my glasses. My first impression was of a bustling and vibrant restaurant with nearly all of the tables already taken. Within seconds I was greeted and welcomed by one of the front house team and shown to a table tucked away in a corner. The welcome and my selected place to eat made me feel even warmer.
I had already checked the menu outside and knew what I was going to have. So, as soon as I was seated I placed an order for the 'Kafta Meshou' which is mildly spiced lamb kaftas and a Lebanese pilsner lager.
While I was waiting for my lunch I watched the floor show. No, Yallah Yallah does not have a lunch-time cabaret. I was sitting in one half of the restaurant which must have seated at least sixty covers and nearly all of the places were occupied. This whole area was being looked after by the man who greeted me and one other colleague. That was the floor show watching them meeting, greeting, seating customers, taking orders, clearing tables, serving meals and drinks and then collecting payments. Everything flowed seamlessly including the arrival of my lunch and beer.
A couple of diners were shown to the table next to me. They had just come from their office for a quick lunch which was being paid for by the company they worked for. Once they had got over their review of the weekend and ordered their lunches they then started to bitch about their colleagues. There is no privacy at Yalla Yalla.
My Kafta Meshou arrived on a standard dinner plate which was just a whisker away from overflowing. The Kafta Meshou consisted of two ample strips of lamb kafta served on a bed of vermicelli basmati rice with a sumac onion salad and half a grilled tomato. Not a cherry sized apology for a tomato but a half tomato cut from something just a bit smaller than a cricket ball or baseball. I did have one kafta a while ago which was well cooked on the outside but was completely raw in the middle. It put me off having one again but today I was brave or forgiving and decided to give the dish a chance to redeem itself. The two kaftas were perfectly cooked. Well done on the outside which shaded to the lightest shade of blush pink in the middle. The Yalla Yalla kafta had the sweetness of the lamb in the background complemented by the various herbs and spices the meat had been marinated in. All of the flavors competing with one another but without any one flavor coming out on top. The rice was light and fluffy. Generous portions and full of flavor right down to the last piece of red onion from the salad. A good, warming plate of comfort food on a bitterly cold winter's day.
My main course and beer cost £17.82 (approx $25) including a ten percent service charge.
The furniture is rustic and chunky. The tables are crammed in just a bit. So, if you are going there to eat hoping to whinge about colleagues in private for an intimate dinner privacy over a kafta, then forget it.
Service was excellent. It was smooth, energetic, personable and totally efficient.
Would I recommend Yalla Yalla to friends or strangers? If they are near Winsley Street then, 'Yes,' I would strongly recommend. They have two other branches in the group and I understand from the comments about it that it is quite small but the food is good.
'Yalla yalla' is an Arabic expression with more than one meaning. It can be used to urge people to 'hurry up' or 'come on.' It can also be a way of saying things are 'all right.' Things certainly were this last interpretation of yalla yalla at Yalla Yalla in Winsley Street when I ate there.
Food 8/10
Service 9/10
Value for Money 9/10
Ambiance 10/10