What We Ate #1
Fried Pork Chops, crescent rolls, mashed potatoes. AND GRAVY!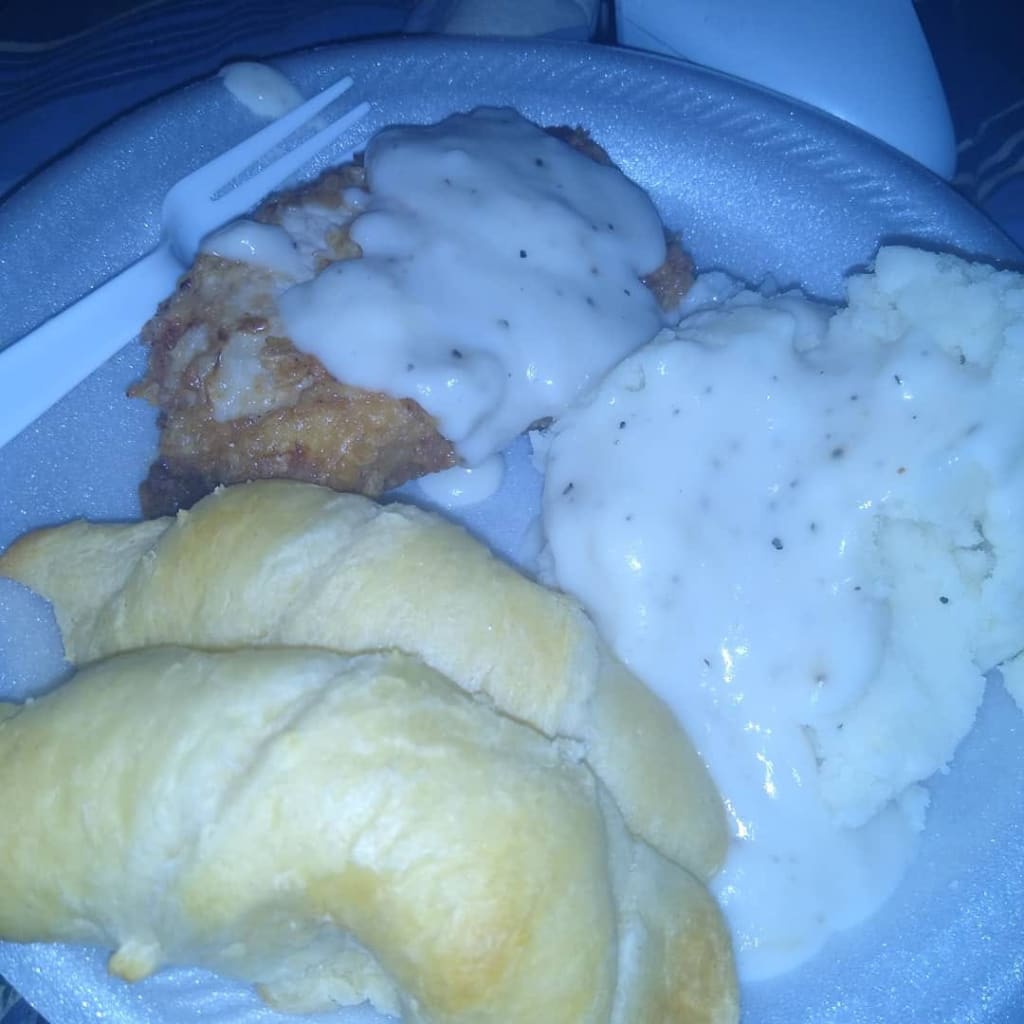 I have been a southern girl my whole life, even before I actually lived in the south. Ask anyone that I grew up with and they will tell you that if they could place me anywhere as an adult it would be somewhere in the south.
They of course were right. I have lived in Florida since 2009, and in the eleven years that I have been here I have learned to adore cooking southern food. In fact one of my favorite things to tag my dinner posts on Instagram with is #ifitsnotfrieditsnotfood. I do cook all kinds of stuff, but there is something different about frying something and smothering it with gravy.
That is exactly the kind of meal that this post is about. The other night, it was just the other half and I, the kids were off at grandmas. So I decided to make fried pork chops. The kids would of eaten them if they were home, they can be picky- but they usually aren't when it comes to fried anything- however it's easier to cook two pork chops instead of four. Especially in the billion degree heat.
So I took two inch thick pork chops from Winn Dixie. Made a egg and milk mixture in one bowl, and a flour and Byron's Butt Rub mixture in the other, heated up some vegetable oil in one of my deep frying skillets and went to work. It took I would guess about 8 minutes for each chop to fry to the perfect goldenness.
I had to make gravy, because duh. Fried, breaded meat just needs to have gravy on it. And if you think that's wrong, then you better just stop reading my entries now. There's a lot of gravy at our house. Of course because there was gravy, there was also mashed potatoes. Now, I'm not gonna lie to you, usually I make homemade mashed potatoes and do bacon and cheese and stuff to make them super bad for you but super good tasting. However we had been running around the whole day, and I just didn't have it in me to make the homemade ones. Instead I used the dollar package of Idahoan buttery homestyle mashed potatoes. I added some seasoning, and then piled on the gravy.
We are big carb eaters here. There's always tubes of rolls, crescents, cinnamon rolls and a few other things for easy breakfasts or additions to dinner in the fridge. Well this night was no different. Although we opted for the Hawaiian crescent rolls that particular night. They are super bomb. If you haven't had them, I highly suggest you run out and get some. They are amazing. I have a couple different recipes that I will share with you guys over time using them.
I know what a lot of you are thinking, that there are no veggies on the plate. Let me go ahead and address that now. No they weren't on a different plate or serving dish. We didn't have veggies. Usually the only veggie that is consumed as a side in this house is corn, and we had had it a couple of nights semi recently. So we went all protein and starch that night.
As you can see, it wasn't a super difficult meal to make. But it was super delicious. For sure a comfort food meal, which a lot of the ones that I share with my followers on my blog, and on instagram are. I am big on good food that tastes good, even if it isn't always healthy for you. My philosophy is you only live once, so it might as well taste good. Am I right?
About the Creator
A lot of ramblings about kids, art, food, pets, life and work and trying to make it all make sense.
Feel free to laugh at me and the dogs on Insta @dirtfloorfamilyliving
Reader insights
Be the first to share your insights about this piece.
Add your insights