What's in Your 'Gobble Gobble'?
There Are Advantages To Having Turkey On Your Table...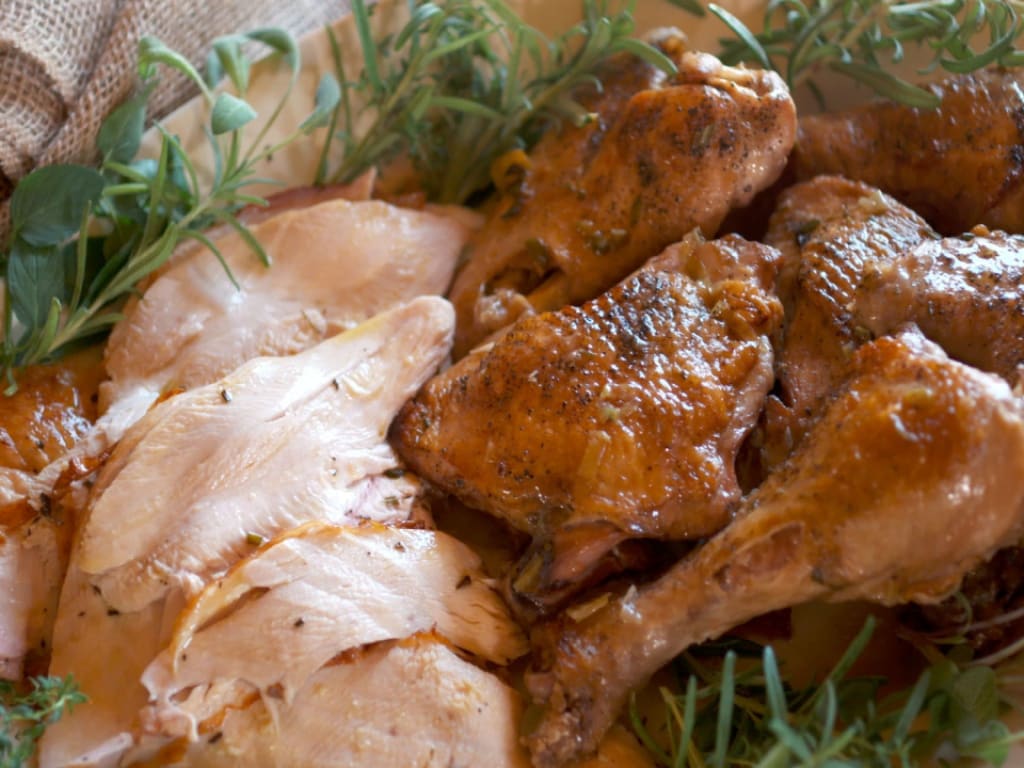 Photo credit: Eventbrite
Turkey has a place at family tables, with traditional fixtures and drippings. As turkey has been a classic food staple during the holidays, the large bird native to North America has many reasons for you to "gobble gobble."
Turkey has many vitamins and minerals, including but not limited to lots of vitamin B, niacin, choline, selenium, zinc, and phosphorus.
Welcome to the holidays, with knowing what turkey brings to your table.
Factory-farmed turkey vs. pasture turkey
Each family has a turkey preference, for their reasons.
No, no, no—We're not passing if we want to fry or bake the turkey. Today, the debate is whether to bring home a traditional factory-farmed turkey, containing the inner giblets pre-packaged, or a pasture turkey.
Pasture-raised turkeys contain more Omega-3 content than factory-farmed turkeys, whereas traditional factory-farmed turkeys contain dark meat with more vitamins and minerals, but have a higher fat content and calories.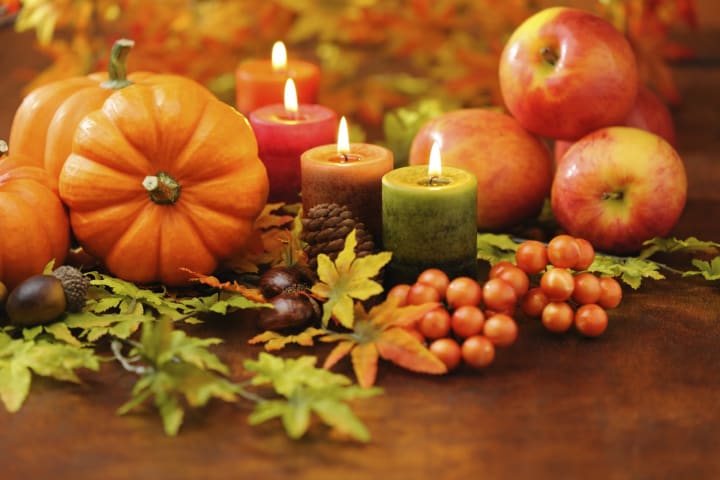 Turkey is a mood-enhancer and sleep aid
I know I'm not the only one that suffers with depression during the holiday season.
Just as you say grace over my Thanksgiving spread, I'm grateful to know turkey is alternatively, a mood enhancer.
According to Dr. Axe, turkey breast helps reduce depression. Turkey breast is packed with selenium, a mineral that functions as an antioxidant in the body. A review in the Cochrane Database of Systematic stated tryptophan was effective at treating depression.
Tryptophan, a sleep-inducing amino acid, is found in turkey (and many other proteins). According to Medical News Today, the amino acid, tryptophan, may support healthy levels of serotonin, and promote alertness and positive mood balance.
According to Dr. Axe, an analysis report of 19 studies shows melatonin can increase sleep time in reduced time, necessary to fall asleep and improve overall sleep quality.
Turkey plays a role in preventing cancer
Turkey contains selenium, which is essential for healthy function of the thyroid and immune system. Selenium plays an active role as an antioxidant, blocking free radicals from the body. The powerful mineral increases immunity, and can reduce the risk of coronary heart disease.
As mentioned, tryptophan found in turkey promotes an increase in serotonin, a neurotransmitter located in the brain and digestive tract.
Niacin found in turkey has many roles! This powerful mineral increases HDL cholesterol, also known as "good cholesterol". It's also beneficial in regulating blood sugar levels, alongside vitamin B3.
According to Dr. Oz, vitamin B12 found in turkey prevents homocysteine buildup.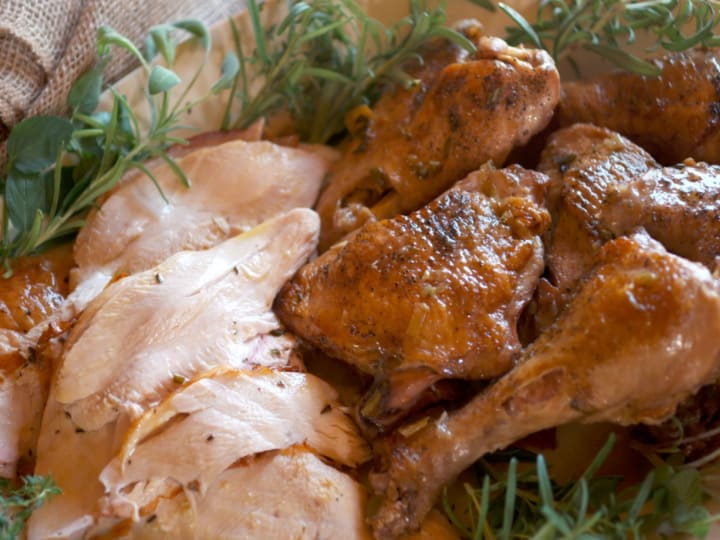 Serve It Up!
It doesn't matter if you enjoy turkey during the holidays, or for a picnic lunch; the food dishes for turkey are limitless!
Turkey breast is great for cold dishes, like turkey salad, or with Thanksgiving leftovers. For warm dishes, use the meat of the turkey legs for pot pie, casseroles, soups, or stews. Pair the native bird with starches, like sweet potatoes. Brown rice is a healthy starch alternative.
Want one meal? Sautee a sliced sweet onion with the oil of your choice. For extra flavor, I like to use seasoned oil from frying chicken. I use about two to three tablespoons, to cook the sweet onion to a translucent shade, for about eight to 10 minutes. Add a cleaned and shredded head of cabbage by handfuls. Season your cabbage to taste with desired spices. Cook down the cabbage to a translucent shade, for about 15 to 20 minutes. Add and mix in your shredded turkey. Pair with Thanksgiving's cornbread to complete as a meal.
Turkey is a bit bland in taste, so spices and seasonings are essential. I like using Stella Bistro Foods Sultry Spices, like Rustic Italian, Universalt, Lemon Pepper, and Noches Mexicanas. Each sultry spice brings personality to your turkey dishes, no matter the day or holiday.
Gather around the family table knowing your tasty and flavorful turkey dishes bring longevity and more memories.
Love what you read? Spare a tip to continue reading the latest food discoveries and review!