What It's Like To Be: Celebrity Chef Josh Capon
Chef Josh Capon goes big in everything - the way he cooks, eats and talks. The celebrity chef behind Lure Fishbar and Bowery Meat Company dishes on Chrissy Teigen, pottery with his daughter and his own favorite places to eat.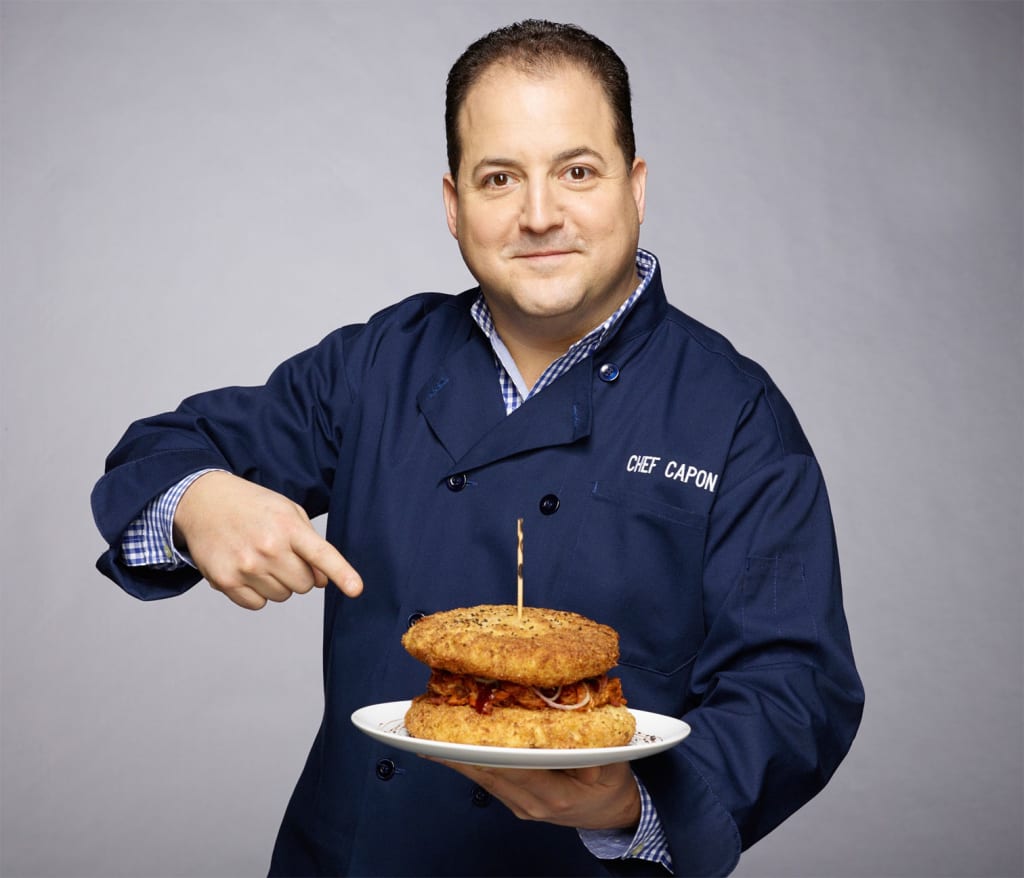 With 5 successful restaurants, a popular sandwich stand at Citi Field and a slew of loyal celebrity clients, Chef Josh Capon seems to have it all. But being a celebrity chef - especially one with such a passion for food, people and family - is not nearly as easy as it seems. Capon lets us in on his own career secret sauce.
Why did you go into the food industry?
JC: The story goes that I complained about my mom's brown bag school lunches one too many times and finally she just said "make it yourself!" Truth is I love to eat and food and everything about it. Most importantly it brings people together. It doesn't matter where you are from, what religion or ethnicity you are, food is the one thing we all have in common. Gatherings and all occasions take place around the dinner table. Breaking bread is what life is all about.
What's the most difficult part of running restaurants and the most rewarding?
The toughest part is building a team both in the FOH (Front of House) and the BOH (Back of House) that is gonna go into battle for you every day and give you 110%. For a lot of the waitstaff this is not what they want to be doing. Most of them, especially in New York, are aspiring musicians, actors and writers; getting them to give you everything they have is tough, especially when they are out there hustling, auditioning etc. trying to make their own dreams come true.
For the kitchen guys you gotta find the good ones. The ones that take pride in every plate they put in the window as if they were cooking for their mom. And that ain't easy. There are a lot of hacks out there that are looking to take shortcuts.
The most rewarding is often providing the same people with a stable and positive work environment that they can call home and be treated like family. You hear that word a lot in the restaurant business and to me it has real meaning. We spend a lot of time together, often taking care of other people; but we have to take care and respect each other first. If a cook makes a lousy family meal, he is gonna hear it, and not just from me.
The other rewarding part is just seeing people enjoy themselves. Doesn't matter if it's a birthday, anniversary, big business dinner or just some friends having lunch. When people gather and enjoy some good food and drinks and the hospitality we provide, that's what it's all about. When they come back time and time again, you know you are doing something right.
Who are your mentors?
I would say Charlie Palmer and David Burke. I did my externship from culinary school at the original Aureole and it was a life-changing experience. Charlie was a true visionary and restaurateur.
Burke, among many things, taught me how to have fun with food. How to make sure your guests and cooks were always having a good time, and that serious food doesn't have to be served in a serious setting. He was often called whimsical which I always thought was a great word. From his flavors to his presentations, when you ate his food you smiled, and that's a skill. Food should be fun and delicious!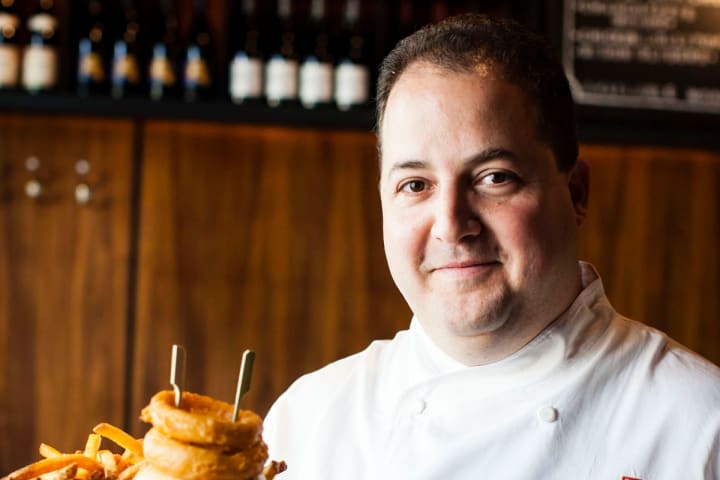 If you weren't a chef what would you be doing?
Either an oceanographer studying dolphins - I like to believe I was a dolphin in a former life - or an agronomist living in Montana studying the soil and conservation of the environment. That was actually my major at University of Maryland before my mom called me one day and after asking what my major was, said "great, what are you going to be? A fucking forest ranger!?" My mom very rarely uses the F word so I decided it was time to chose a more suitable major. I later transferred to Johnson and Wales University and like to say I made a very mature decision at a young age to start the rest of my life and have never looked back. Except I do try and swim with dolphins whenever the opportunity presents itself and I do love a good camp/barn fire! The bigger the better! Let it burn baby! I almost burned down my house (twice) but would rather not talk about that...
Advice for people looking to break into the chef business?
Get your feet wet first and don't quit your day job just yet. You may love to cook but that might not mean for hundreds of people all night long and on weekends and holidays. There are a lot of different jobs in the food space. Before you dive in or enroll in an expensive culinary school, call a chef like myself and ask if you can come "stage" for a couple of weeks - which basically means work for free and see if it's for you. I have done that with many friends and regulars and most decide they love to cook but would rather do it at home for their friends and family. Most people do enjoy the fact that they don't have to clean their own dishes.
What sports teams do you root for?
I'm a New York fan through and through: Giants! Rangers! Knicks (as tough as it these days) and the M-E-T-S... and the Yankees and Jets. I am a New York guy and a lot of the players from all the teams regularly visit my places and support me so I support them right back.
Running a kitchen is like running a sports team. You gotta have the best person in each position, play together like a team and have each other's back if you want to win the championship!
Chrissy Teigen used your burger recipe in her book. (We don't have a question, we just love her and thought that was cool.)
Chrissy is cool as shit. She is not just smoking hot and sexy as hell but trust me she is the real deal. She loves to eat, drink and laugh! Whenever she is in town she will always swing by Lure for a Bash Burger even if she just had lunch. She can't help herself. Her and John are an amazing couple and I consider myself lucky to call them friends. When she asked me for a burger recipe for her debut cookbook I was honored. She changed up the bun to a pretzel bun and it WORKS! My girl knows what's up.
She even called it Capon's Chrissy Burger in the book! I am still working on my own book but often sign my recipe in hers when I do events. It's a great book and I am just doing my part to keep it on the bestseller list!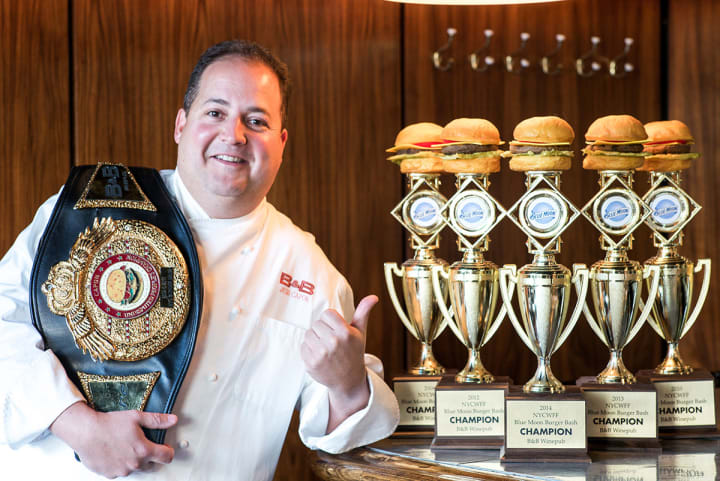 How did you manage to win 6 Burger Bashes?
First I created the GREATEST burger of all time with a caramelized onion and bacon jammy jam, shaved pickles, american cheese (Chrissy and I agree there is no other cheese) and secret sauce on a toasted sesame seed bun.
Then I put together the dream team to execute. I won every one with the same 5 guys: all Hall Of Fame guys.
Then I made sure that everyone who waited in line with a token in their hand for voting purposes, when they tasted that burger , hot, juicy and Deeelicious.... Got a taste of me!! Of the dream! I engaged everyone of them, and when I asked them to STICK THERE TOKEN IN MY Box, for voting purposes of course... They did again and again and again. They called me the PEOPLES CHAMP! And I wouldn't want it any other way.
How do you balance work and family time?
It ain't easy with 2 young kids and an amazing wife but you gotta manage your time and be in the moment. If I am with my son then I try to be with my son. If I am painting pottery with my little girl, then we get really into it. Cell phones are evil, trust me; a necessity yes but you gotta control it. Last time my daughter and I were at a painting studio painting a BADASS hippo together, I watched another dad on his phone the whole time while his sweet little girl painted away. She kept looking at him to get involved and connect with her and it broke my heart. I was very close to saying something - my wife says I have no filter - but I didn't.
Are celebrities like us?
Not sure how how I feel about that question, but I guess not. They are in the spotlight - always expected to be "on" and smiling and who you expect and want them to be. But they are people and have great days and bad days like the rest of us. Just be respectful and remember they are people too. While you might want a selfie or an autograph remember they might just have lost a big role or a loved one or maybe are just enjoying some quality time with their spouse or family. That being said, they know what they signed up for so just try and be cool.
Go-to restaurants? (Besides your own)
Really? That's like asking me my last meal - it would be a 3 day affair.
In no particular order:
Katz's Delicatessen: Hot dog with mustard and kraut and a pastrami sandwich on rye; half with mustard, half with russian dressing and coleslaw; half sour pickle and Dr John's Black Cherry soda.
Marea: White is a BADASS.
Speedy Romeo: Trust me. Get the pastrami pizza!
Hometown BBQ: Billy will change your life.
New York Noodle Town: Classic Chinatown haunt.
Emmy Squared: Still haven't been but trust me. I know it's that good!
Pig and Khao: Leah Cohen is a beast of a chef and her food will be calling your name!
Brooklyn Bowl: Bowling, live music, fried chicken, french bread pizza and ribs? Sounds like a sick time to me!
Beauty and Essex, Stanton Social or Vandal: My boy Chris Santos is doing fun sharing food in gorgeous settings. If you don't have a good time, call me. No chance.
Avra: Killer Greek food by my boys at Tao.
Casa Mono: Grab a couple of stools at the kitchen counter and order everything. My daughter and I do it all the time.
Mailiano: Great Italian and lots of gluten free options for my kids.
Bar Primi: Sal kills it.
Emilio's Ballato: Old school Italian.
Gato: Bobby is back doing some killer Spanish food.
The Bao: Soup dumpling supreme.
Bocca: For the chicken wings.
Sushi Seki: Best late night sushi in the city.
Eataly: So much to love.
I could keep going but I'm getting tired. And really hungry...
Hungry?
Follow Chef Josh Capon's adventures at: instagram.com/chefcapon/
Or visit him at one of his restaurants:
About the Creator
Rick Schwartz's producer credits include The Departed, Black Swan and Lip Sync Battle. He is the Founder of Jerrick.
Reader insights
Be the first to share your insights about this piece.
Add your insights