Medium Is Broken
Medium Founder Ev Williams is right. A firsthand example of why the system doesn't quite work and an idea on how to fix it.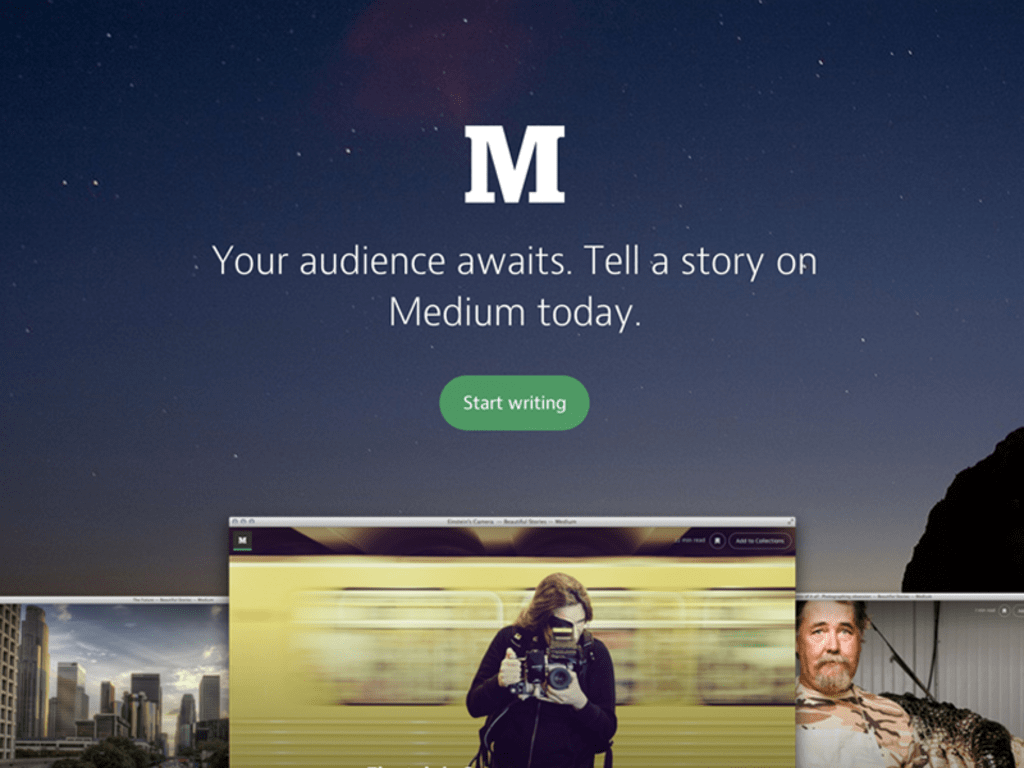 Like millions of other people. I wrote a piece on the publishing platform Medium. Lots of people read it.
I won't write for them again.
Over the years, I've written for Huffington Post, Daily Beast, Grantland, even something called "newspapers" from the Paleolithic Era. It's not my primary vocation, but I've always enjoyed writing and I work in a field where people ask about my work a lot. I find it helpful to write as a way of sharing my experiences. I also enjoy reading about other people's experiences in their fields, which is why I initially loved the idea behind sites like Medium. To me, it's the online equivalent to living in New York - there are so many interesting people doing interesting things that you can't help bumping into someone every day and learning new stuff.
My piece was about producing movies. When I finished, I was presented with tags - you can choose up to five. I went with the obvious - Hollywood, Movies, etc. "Hollywood" had thousands of people already following it, which seemed promising.
I hit "publish," andimmediately got emails from random people on Medium, asking if they could "add my story to their publication." I didn't know what that meant but soon found out; they wanted to take the piece for themselves - change a word or two and then post it under their publication - so that the views would count as their own.
First red flag.
For whatever reasons, the story seemed to do well; a lot of people commented, said insightful and compelling things, there were lots of hearts and comments. I was notified by Medium that they'd recommended it as an "Editor's Pick." They send you the statistics for your pieces, so I was able to see that over the course of a few weeks, it was viewed roughly 10,000 times.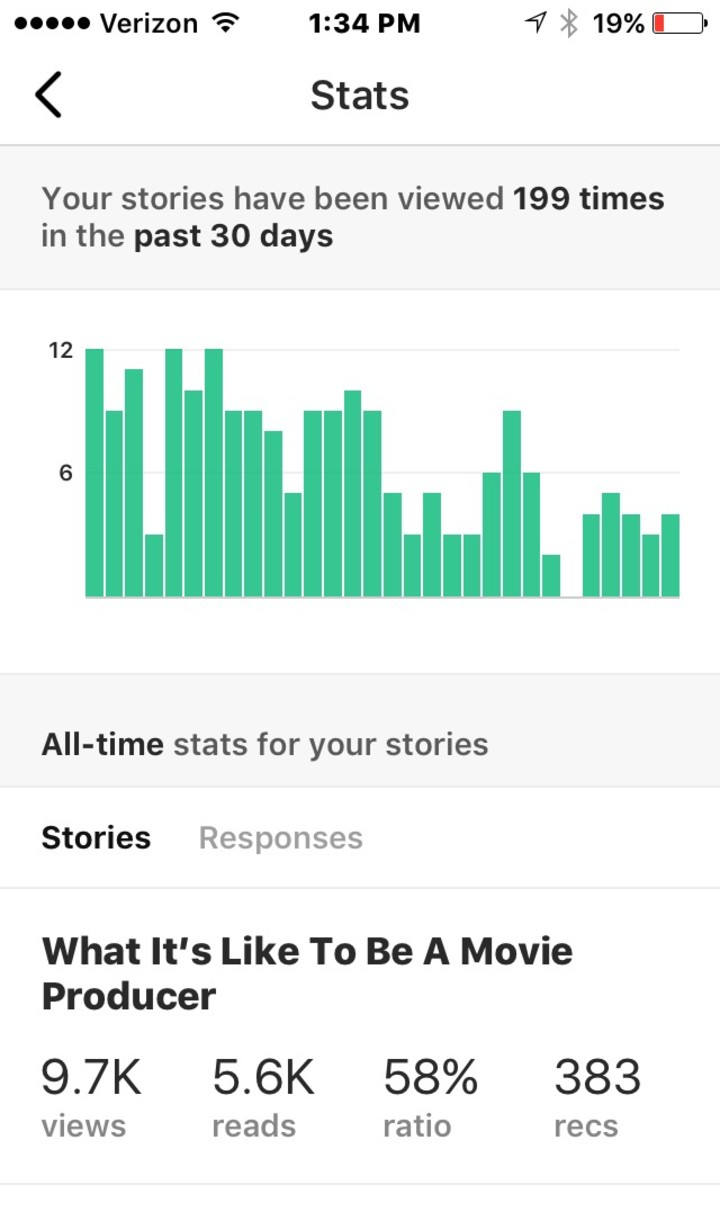 Looking through other pieces with the tag "Hollywood", it was clear that it was viewed more than any other article in that category. Ever.
A week or two later, several people who'd heard about the piece asked me to send them a link. I went back on the Medium site and looked under the Hollywood tag - there were two choices: "latest" and "top;" I hit "top" and searched for my piece. Scrolled through pages and pages of pieces, but couldn't find it. Hmmm.
Second red flag.
I could see by the number of views and comments that the articles that came up before mine weren't well read at all; one was published months before and had seven comments, others had similarly modest numbers.
Most of the pieces on this list were from publications like Film School Rejects, The Ringer, Bullshitist, The Black List Blog and Freadio. These were Medium's branded content partners; even though most clearly weren't being read, the financial arrangements between the sites and Medium's platform apparently dictated that they'd come up first.
What was going on?
I emailed and asked. Here was their answer, from someone in charge of "User Happiness:"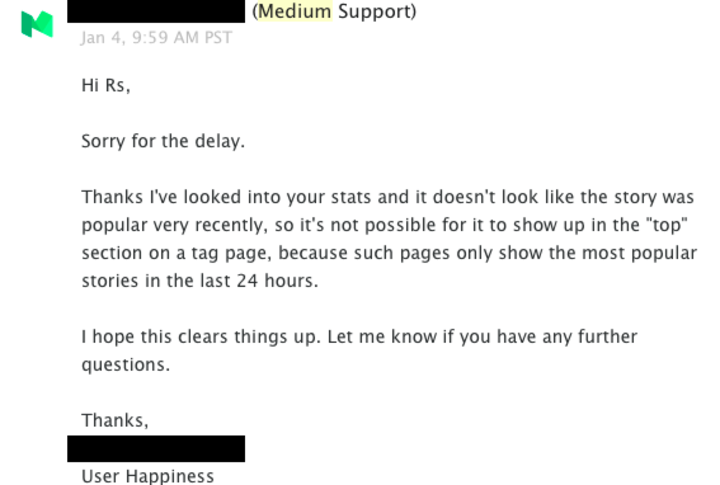 So essentially, since my piece wasn't "popular" that particular day, it wasn't included in their list of top selections. And by that peculiar logic, it wouldn't ever be. One of the "top" five stories the day I received that email was from a story posted on March 4th. Of 2015. Looking at the site again today - weeks later - the piece from 2015, with its 5 hearts and no comments, remains firmly in place.
Final red flag.
I began to wonder why people contributed their hard earned pieces to Medium in the first place. When YouTube first came out, people uploaded their videos to share them with the world - but they were also compensated for their views. Why shouldn't it be the same for this kind of content? It felt like a one way transaction; we write, post and promote - and Medium benefits.
Most of us write because we have something to say, and we want our voices to be heard. Whether it's Medium, the Huffington Post blog (a subset of Huffington Post where anyone can contribute), or any site that amalgamates content, the creators seem to have the least value. Producers in Hollywood have been saying for years that content is king; it's ironic that in this golden age of content, it's being treated more like a plebeian than royalty.
I love the idea behind Medium. For years, I've been looking at a way to help people get their voices heard and earn money for it, albeit in a more democratic way. Like the early days of YouTube - the more your piece gets viewed, the more money you make. Advertisers, branded content, robot employees - all that stuff shouldn't detract from the primary goal of these types of sites; level the digital playing field and let everyone have an equal shot at getting heard.
No matter who's popular on that particular day.