What? $369 billion by 2030! That's a whopping figure. Pretty unbelievable, right?
Digital food deliveries are picking up pace. When is your restaurant going to find a digital place for itself?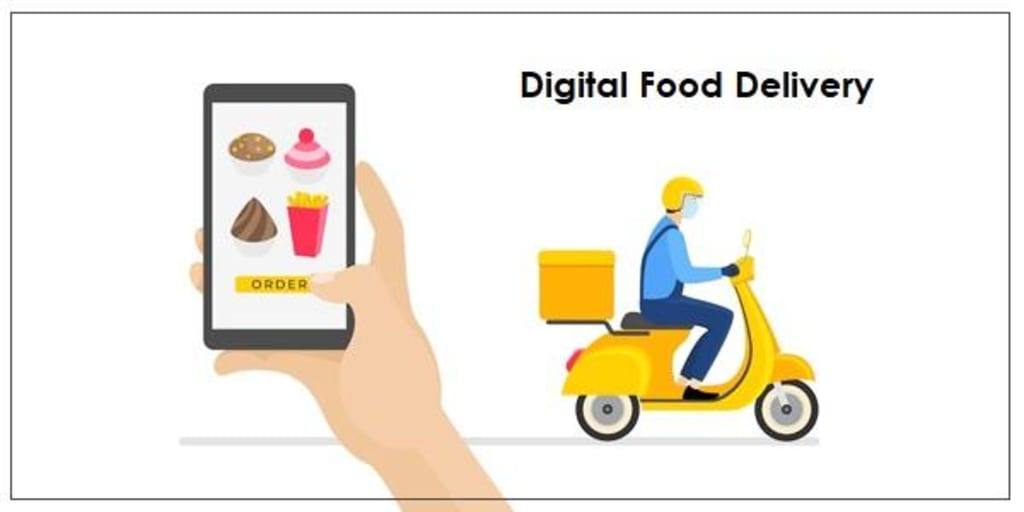 Online food deliveries- Scooting their way ahead
Before you start wondering what that figure is all about, let me be explicit without any procrastination. These are the expected figures of the worldwide digital food delivery industry. Surprised? Shocked? Or in a state of disbelief? Whatever state of mind you are in reading this, it won't be for long because by the time you finish reading this post, you will have ample facts, statistics and reasons to believe what lies ahead for the digital food delivery industry.
If you ask me about one thing that has until pretty much recently gained significant attention of the masses and is increasingly becoming popular, it is the digital food delivery platforms. Yes! Food deliveries have somehow struck the right chords with the global customers and people from different walks of life- namely food entrepreneurs, restaurateurs, and other people who may be benefitted from the online food delivery ecosystem.
The most obvious reason for such a colossal growth of digital food delivery is the fact that they offer a convenient and hassle-free way to order delectable food and delicacies from restaurants and fast-food chains. What's more to the curiosity and luxury of customers is that these platforms, backed by efficient food delivery software and apps, also provide an efficient delivery system that ensures instant yet timely delivery of food orders. Moreover, these platforms allow users to track their order status in real-time, which further adds to the convenience factor.
Technology, the outbreak of the covid19 pandemic and the rise of digital food deliveries
One thing that has permeated our personal lives and has influenced our buying choices to the core is technology. Technology, as a matter of fact, has played a pivotal role in the restaurant industry and is blurring the lines between restaurants and other businesses, as customers can now order their favorite foods from any number of establishments without ever leaving their homes. As a result, a new delivery system business model has emerged in the foodservice industry, with companies like GrubHub, Foodler, and Seamless leading the charge. This new model is based on convenience and ease of use, and it is quickly gaining popularity with consumers.
Moreover, with the penetration of cutting-edge technology at the helm of modern-day business affairs, digital food delivery service providers have been making enough hay while the sun is shining.
As long as the ingression of internet continues, smartphone adoption rate rises, urbanization continues to scale up, growing number of dual income families, more and more digitalization takes over and there is an increasing want to lead a sedentary lifestyle, fondness for digital food delivery does not seem to be waning anytime soon. From the glimpse of how they have been performing over the last couple of years, it appears that food delivery software and apps are just going to make things easier for the customers and economical for the onboard restaurateurs.
In the first quarter of the year 2020, that spelled strict home quarantine and isolation protocols due to the outbreak of covid19 pandemic across the globe, food deliveries were seen making their way into the homes of people and later into their hearts. Yes! Contactless deliveries were made possible due to the digital food delivery model in place.
When people were perplexed and undecisive about what would happen over and about their next meal, because of strict lockdown measures in effect and with looming concerns over how not to make contact with anyone coming from outside, digital food delivery companies were making it all happen. In fact, it would not be wrong to say that while the world was at a standstill, it was the digital food delivery model that was on wheels, moving around meeting all legal stipulations, and yet reaching out to and satisfying numerous households' hunger, courtesy to their contactless deliveries.
Now as the world sees itself almost through with the fears of the pandemic, the digital food delivery model has just stepped up the game. Food deliveries have become the favorite go-to destinations for the ravenous consumers of today and it has been the much-needed model for all the restaurateurs and businesses in the food industry. The model just continues to overwhelm. Perhaps, it's nature to overwhelm is the reason why a report published in GlobeNewswire, asserts that "the global digital food delivery market size is expected to reach USD 369.97 Billion in 2030 and register a revenue CAGR of 13.2% during the forecast period."
Some other key highlights of the report
• In August 2021, Just Eat Takeaway.com announced it had entered into an agreement to acquire Foodpanda from Delivery Hero. The acquisition will enable Just Eat Takeaway.com to become the world's largest online food delivery company with a network of over 1.3 million restaurants in 29 countries.
• With the coming into being of 5G technology, the adoption of digital food delivery services is expected to increase, as it will provide high-speed internet connectivity, which is essential for these services.
• North America is expected to witness significant growth in the digital food delivery market during the forecast period. The US and Canada are the major countries contributing to the growth of this market in the region. The presence of a large number of digital food delivery service providers, such as DoorDash, Grubhub, and UberEats, is one of the major factors driving the growth of the digital food delivery market in North America.
• The Asia Pacific digital food delivery market is expected to grow at a CAGR of over 16% during the period 2019-2025. The growing preference for online food ordering and home delivery services among consumers in the region is driving the market growth. In addition, the increasing number of smartphone users and Internet penetration are further fueling the market growth in the region.
• The presence of a large number of food delivery service providers in the Asia Pacific region is providing consumers with a wide range of options to choose from. This market is expected to emerge as the fastest-growing regional market at a CAGR of more than 19.80% during the forecast period. Moreover, the increasing competition among these service providers is leading to the introduction of innovative services and features, which is expected to further drive the market growth in the region.
In addition to all these highlights, the rapid adoption and increased use of advanced technologies, such as voice assistant apps, are also significantly contributing to the regional market growth and adoption of food delivery apps across the globe.
Food delivery companies and strategies undertaken: A case of Swiggy India
Not just the restaurants are interested in joining hands with the efficient food delivery partners, but the food delivery companies too are leaving no stone unturned in putting their best foot forward to stay competitively afloat and be regarded as one of the best in the industry.
Given the increasing fondness for food delivery, companies are engaging in several inorganic growth strategies, such as mergers & acquisitions, partnerships, and geographical expansion, to stay afloat in the competitive market scenario. For instance, in May 2022, Swiggy entered into a partnership with Garuda Aerospace to deliver groceries with the help of drones in the city of Bengaluru in the Indian state of Karnataka and the Delhi-NCR region. Apart from expanding the business size and reach, companies emphasize on research and development to develop technologically advanced and differentiated products to gain a competitive edge.
Moreover, companies also focus on developing products that comply with regional regulation norms to eliminate the risk of losing business because of regulation violations. For instance, in June 2020, Swiggy, an Indian food delivery company, in collaboration with ICICI, launched its digital wallet, Swiggy Money, to allow a single-click checkout experience on its platform. This allowed customers to store money and use it for ordering food.
Wrapping up
As the online food delivery model becomes more reliant on smartphones, other technological gadgets and improved internet connectivity, food delivery services are surely going to go a long way.
As statistics reveal and the hunch of industry experts make it obvious, online food delivery is a destination that we all, in some capacity, are travelling towards. Be it for customers, restaurateurs, investors, entrepreneurs or delivery persons, the digital food delivery model is just bang for the buck.
The futuristic and a discerning mindset, industry anticipations and associated statistics after all reveal the enormity of the online food delivery space.
Yes! It is going to be humongous.
About the Creator
Finding comfort and learning in expression, I have been a pedagogue, a guest columnist, soft skills trainer, freelancer and a tech blog writer. I have devoted years on delivering discourses on corporate strategy and digital marketing.
Reader insights
Be the first to share your insights about this piece.
Add your insights