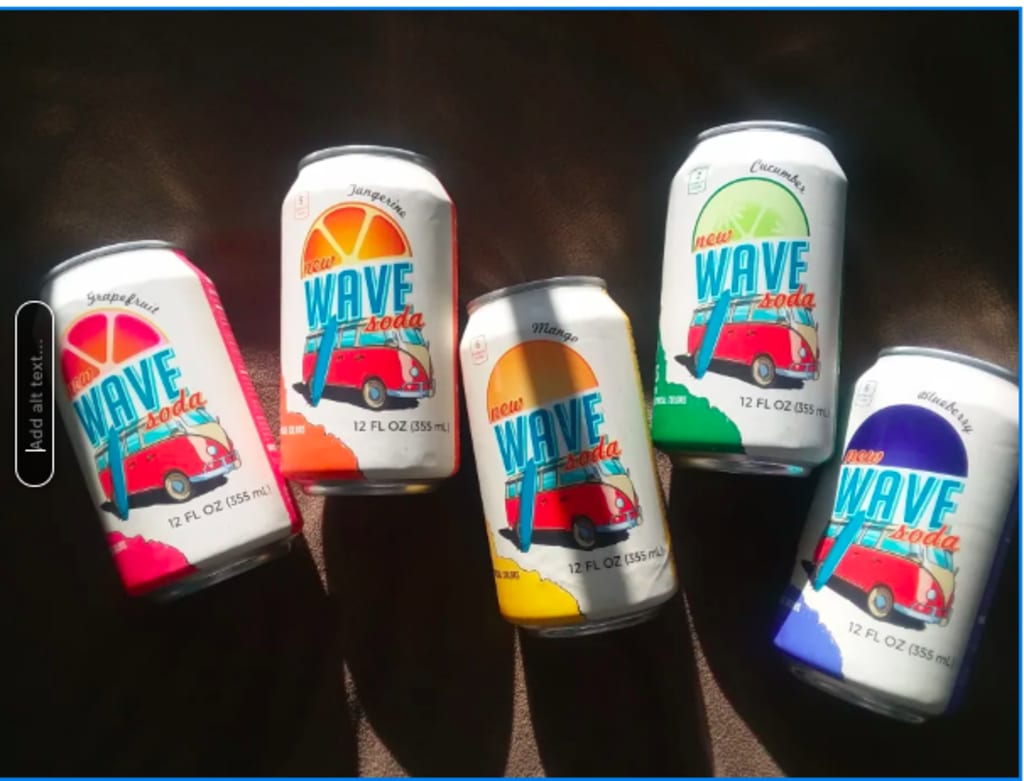 Wave Soda boasts few ingredients, but the ones they use pack a punch. Before I read more about the flavors and beverage, I expected this one to be more like a natural soda (similar to Hansens), but it's different, in a good way. For me, the definition of this drink sits between being a sparkling juice and being a soda. If I were to parallel it to another (excellent) brand on the market I'd say it's closest to Spindrift. Sparkling juices don't seem to have harnessed the right carbonation to juice ratio, and the fizz sparks a little more than the fruit juice does... sparkling juices haven't been perfected yet. I'm willing to argue about this, but the facts (my opinions) remain. Across the board, in a universal sense, sparkling juices haven't gotten the formula right. Soda has that perfect ratio, usually in part due to the devil ingredient high fructose corn syrup. High fructose corn syrup is probably one of the most controversial food ingredients, and concern about it has only increased over decades. While some soda brands (like Hansens and Wave) are proud not to use it, other beverage brands (like Snapple), sneakily put it in their beverages and include it under the tricky umbrella of "natural ingredients." Though around 2013, Snapple claims to have removed high fructose corn syrup from its beverages, there's no way to know for sure—because of that "natural ingredient" listing. I could talk about this more, and will in a later post, but for now I'll stick to the matter at hand.
Wave Soda is the real deal. There's no high fructose corn syrup, the ingredient listing is transparent and short. The few ingredients listed are ones that are easily recognizable. It doesn't feel like they're trying to play a game. They don't need to. The ingredients and beverage speak for itself. All of the flavors featured in this post are lightly caffeinated (Wave calls it "politely caffeinated," but because Wave isn't cutting me a check, I don't have to do that). It's a light buzz of caffeine that slowly rumbles for a bit and then has a small burst kick in. It isn't off-putting, and each flavor has the same effect. Now let's talk flavor.
Tangerine
This one is my least favorite, which means nothing. They're all good, but if I absolutely had to rank them, this would be last. It is exactly what I expected and it's pleasant. There's nothing more noteworthy to say. It hits the mark.
Blueberry
It's perfect. Blueberry is one of the more neglected flavors in the beverage world. Listen, blueberry is great on its own. It just has to be used right. In this case, it absolutely is. Blueberry is too often mixed with lemonade or pomegranate (if I see another blueberry pomegranate flavored drink I'm going to scream) and not often utilized as a standalone flavor. This is done right.
Grapefruit
Again, perfect. If we're being honest, grapefruit and orange are the easiest flavors to do. Citrus in general, really (with the exception of lime, lime on its own can do some wicked things on either side of the spectrum). It smells like I peeled a grapefruit with my bare hands and satisfies the same way.
Mango
Man, go ahead and get this flavor! I'm not a fan of puns really but that one was right there. Anyway, this is very good. I was expecting this one to be my favorite, because mango sodas in general are not good. (Fanta, what the FUCK was that? Fix it!) This was. It has the perfect amount of sweetness and doesn't detract from the mango flavor.
Cucumber
Let's talk about a fucking WILD CARD, dude. I was so afraid to drink this that I tried it last. I'm not a fan of pre-made melon drinks. They almost always taste like plastic or a melon rind. I know cucumbers are not melons, but they are in the same family (look it up, nerd) and have the same flavor profile as melons, so from here on out I will be referring to it as such. There are SO many bad melon flavors out there and I've had so many negative experiences with them. I could NOT believe that not only did I LOVE this flavor but it's my #1, out of the entire group, absolutely incredible. It's slightly sweet and it does taste like cucumber but in a refreshing, pleasant way. More companies should use the amount of restraint and dedication with regard to melon drinks.
I'm giving these a 10/10 because they're fun, they're what they claim to be, and I will absolutely drink them again outside of a review context. I love them so much that I made a playlist for them here.
Reader insights
Be the first to share your insights about this piece.
Add your insights