#Veganuary: From Carnivore to Meat No More
Spoiler alert: it wasn't actually that bad.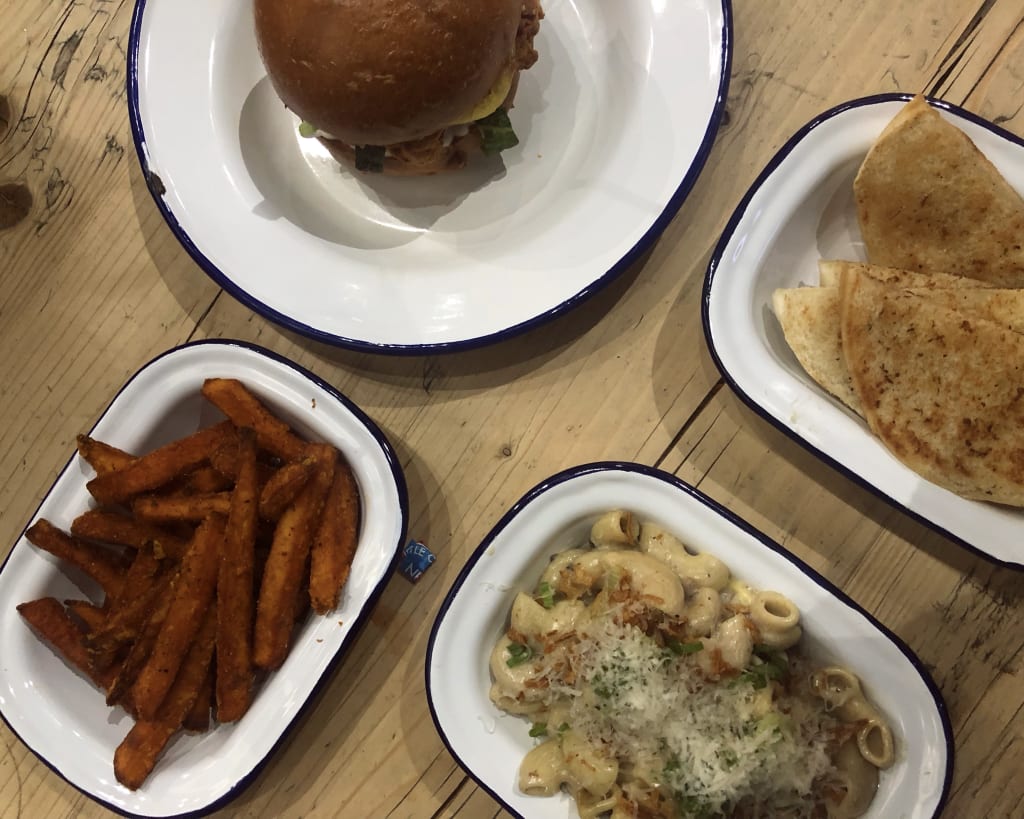 At the end of last year, I decided that I would try out Veganuary—one month free from meat, dairy or eggs. I had been eating so badly for ages which had been fulled by my move to London in May so I thought I would get 2019 off to a healthier start!
I need to admit that I did cheat once or twice for the sake of chocolate and cheese (specifically, parmesan on pasta one time). But credit where it's due—over half of my meals previously were chicken based and I would never ever say no to a burger.
But anyway, what were the positives?
It wasn't actually that hard.
I was pleasantly surprised at the amount of vegan foods I could get so easily at Lidl and Aldi, and the overwhelming amount of simple recipes available online and in cookbooks.
In terms of eating out, I didn't actually do that as often as usual for the sake of saving money. However, I found that most places had a few vegan options and that I wasn't short on veggie/vegan restaurants in my local area or around my central London office. My favourite places were Biff's Jack Shack in Boxpark, Shoreditch which is centred around the flexible jackfruit and offers amazing poutines and burgers, and the Wicked Vegan in Balham which had a good range of meals for little money!
I learned how to cook better and enjoy it.
I am a terrible cook. The worst. Ask my housemates about the halloumi fries incident of summer 2018 and they will reflect on the time I nearly burnt the house down. Due to the presence of actual flames, this is not an exaggeration.
However, by cooking more meals with simple recipes, I have come to improve my skills in the kitchen and cook a bigger variety of food (as opposed to chicken and rice 4 out of 5 days).
I felt generally healthy.
On the whole, I didn't feel bloated, unwell or fatigued. I took supplements for iron, B12 and iodine as recommended by a nice gent in Holland and Barrett. I also still went to the gym regularly and played in my weekly netball game without passing out, so I was clearly still getting the calories that I needed.
Money-wise, I 'broke-even.'
Of course, I wasn't buying steaks and chicken anymore, but I found that my weekly shop from Lidl was around the same price plus the tofu, dairy-free milk and vegan burgers from Sainsbury's which pushed it up a little. Not by too much, but definitely by a noticeable amount.
However, as I was cooking more, I took leftovers into work every day for my lunch which stopped me spending a king's ransom on street food and Pret wraps!
And the negatives?
A vegan diet isn't automatically a healthy diet.
Replacing butter with hummus was probably not a healthy alternative and there are hundreds of junk foods that anyone should probably cut out for a healthy diet.
I also fell into the trap of loading up on carbs sometimes as it was easy to cook a week's worth of pasta and bulk up my soups with bread. My fitness goals are to become toned and build lean muscle which can be difficult to do with a carb-heavy diet. However, I know there are ways of following a vegan diet sans-carbohydrate but I assume this can be difficult if you're just starting out.
If there is ever one invented that has the same smoothness and flavour as a Galaxy Ripple, then I can get on board. Otherwise, I'm sorry, but they don't quite satisfy my frequent cocoa cravings.
...and that's about it, to be honest!
So what's next?
Whilst I found this experience easier than expected and enjoyable for the most part, I don't think I'll be sticking to a strict vegan lifestyle forevermore. However, I will definitely be making a more conscious effort to eat more plant-based produce. For example, I think my first step will be to have vegan lunches when I'm at work, and aim to cook two vegan dinners a week whilst reducing my dairy intake overall and shopping more locally. It's not a full overhaul, but it's definitely a change!
If you want to check out my future food snaps, or have a browse at what I ate over #veganuary, follow my food Instagram @hungryscottie.