Vegan Sweet Potato and Lentil Curry
Cooks in minutes, eats in seconds.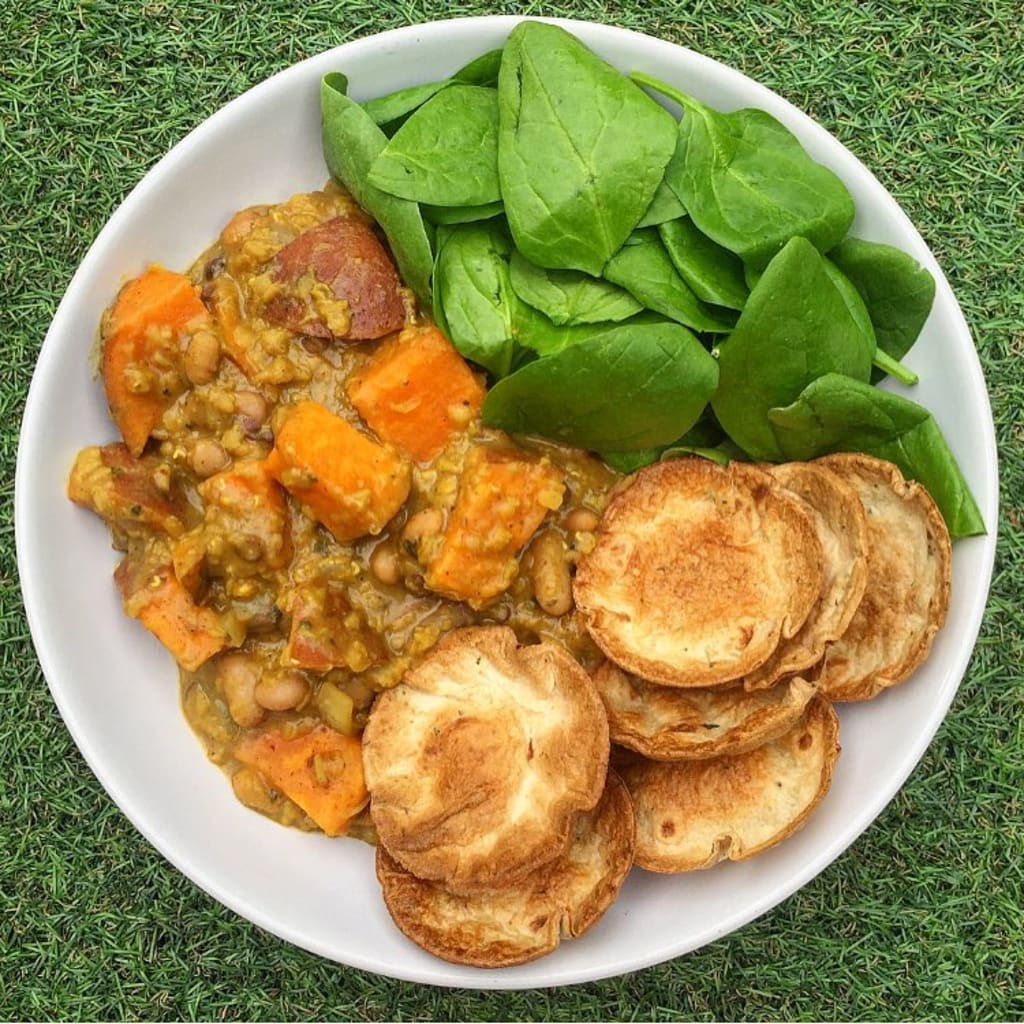 Vegan Sweet Potato and Lentil Curry
This quick and easy vegan curry is exactly what you need to cure any takeaway craving. Its thick, creamy, coconut milk based sauce surrounding tender chunks of sweet potato and plump lentils is enough to get anyone's mouth watering; This paired with crunchy mini tortilla poppadom's and fresh green spinach is the ultimate vegetable based combo!
This recipe cooks in absolutely no time and the hardest part is just waiting for it to thicken! It's simply a case of assembling a few ingredients and letting them do their thing to give the best vegan curry you will ever have.
The vegan and vegetarian food scene has some of the best food in the world in my opinion, and for someone who doesn't eat a lot of meat this recipe is perfect. Anyway enough of me blabbering, lets get started…
Ingredients:
1 tin light coconut milk
2 medium sweet potatoes
1 cup red lentils
1 tin mixed beans
1 onion
1 bell pepper
2 vegan tortillas
Spinach
Olive oil
2 tsp tikka powder
2 tsp korma powder
¼ tsp cumin
½ tsp garlic powder
1 tsp garam masala
¼ tsp salt
¼ tsp black pepper
Method:
Chop the 2 medium sweet potatoes into large cubes with the skin on and place them into a microwavable dish or bowl with a splash of cold water.
Microwave them for about 2-3minutes until they are just soft but not soft enough to mash. You want them to have a bit of bite to them still.
Dice the onion and bell pepper into small pieces.
In a large wok, heat 1 tablespoon of olive oil on a medium heat, add the onion and pepper and cook until they have softened.
While these are cooking, boil a kettle and add 1 cup of red lentils to a medium saucepan.
Add enough water to cover and heat on a medium heat until the lentils have softened and plumed up.
Drain the tin of mixed beans and add these to the wok with the onion and pepper, cook this for another few minutes.
Drain the microwaved sweet potato and add this to the wok.
Add the coconut milk and give it a stir.
Now it's time to add the spices, add all of them in, in no particular order and stir well so everything is evenly dispersed.
Cook for another 10 minutes or until the sauce has thickened.
In the meantime, use a glass or circular cutter to cut circles out of the tortillas and press these circles into the base of muffin tins. Then bake these at 180-200˚ until they have browned.
By this time, the curry should be thickened and its time to assemble.
In a wide set bowl, add some of the luscious curry and a handful of the mini tortilla poppadoms. Add a handful of spinach for some extra health and there you have it!
ENJOY!
(Serves 2)
This curry sauce base is the one I use all the time, even for meat curries! It's thick, creamy, coconutty, and can be spiced up if you like things hot!
The mini tortilla poppadoms are perfect to get a scoop full of curry and a bit of spinach for the perfect texture filled mouth full. I layer a few spinach leaves on top of my mini tortilla poppadum and then add as much curry and chunks as I dare and then try to fit it all in my mouth!
I hope you enjoy this recipe as much as I do and if you give a go please let me know! You can contact me on facebook @absolutefitnessJ and Instagram @jtrfitfood.
Have a great day!
vegan
I spent 5 years working as an engineer before following my passion for food, nutrition and fitness. I now work as a fitness class instructor, personal trainer and study food science and nutrition at university.