Vegan Pumpkin Pizza with Roasted Tofu
My favorite fall dinner recipe:)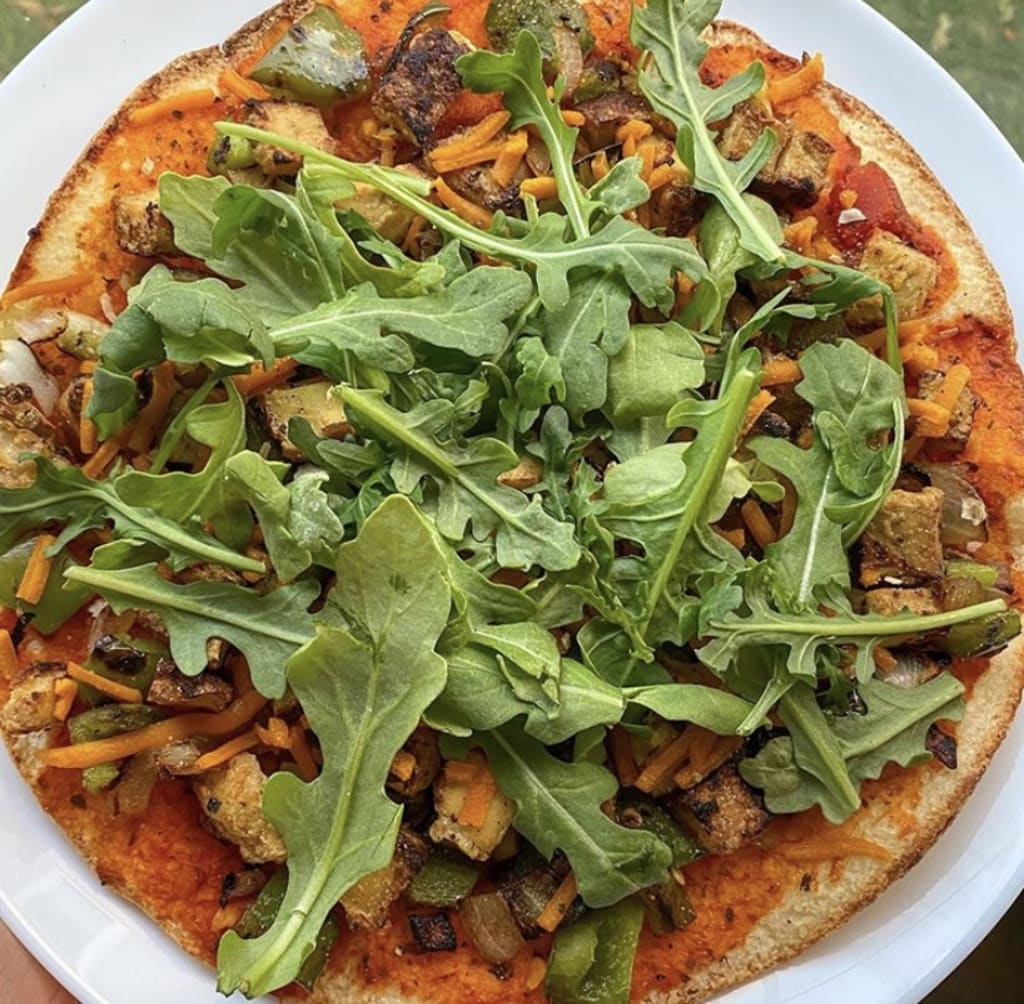 Okay. Y'all. If you haven't tried canned pumpkin as a sauce base for your pizza... you're missing out! I have been making a pumpkin pizza every October since I was in high-school. I discovered it when I ran out of marinara sauce and was cravingggg pizza. I saw that we had a can of pumpkin in the pantry and asked myself "why not"? I mixed the pumpkin with fresh garlic and some olive oil, before spreading it on the crust. GAME CHANGER. Back then, I topped it with chicken, vegetables and arugula. Since I have gone vegan though, I substituted the chicken for Oven Roasted Tofu that I had already meal prepped. That said, I feel that the toppings for this pizza are very versatile and if you don't like an ingredient, easily omit it or replace it!
I love to cook and have my own foodstagram where I document allll of these recipes. If you're interested feel free to check out @90_dayvegan on instagram. But enough of that... let's get to the recipe!
VEGAN PUMPKIN PIZZA WITH ROASTED TOFU
Serves: 3-4 people
Serving Size: 2 pieces of pizza
INGREDIENTS
Crust
- 1 pre-made pizza crust or pizza dough (I used the cauliflower pizza crust from Trader Joes)
Pumpkin Sauce
- 15 oz. can of pure pumpkin not the pumpkin pie filling
- 3 cloves of garlic
- 2 tbsp olive oil
- 1 tsp garlic powder
- 1 tsp onion powder
- salt& pepper to taste
Roasted Tofu
- 1 block of extra firm tofu
- 1/4 cup coconut aminos or soy sauce
- 2 tbsp corn starch
- 1/4 cup nutritional yeast
Toppings
- Bell pepper
- onion
- whole garlic
- mushrooms
- vegan cheese (I used mykonos cheddar style cheese. SOOOO good!)
- arugula
- balsamic vinegar and olive oil
DIRECTIONS:
PIZZA:
First, prepare the crust as directed. As the crust is heating in the oven, begin to prepare the pumpkin sauce. In a blender empty the 15 oz can of pumpkin, 2 tbsp olive oil, garlic powder, onion powder, and salt & pepper to taste. Blend on low speed until combined. When crust is ready top with pumpkin sauce, roasted tofu, bell pepper, onion, garlic, mushrooms and vegan cheese. I returned to the oven at 350 °F for 10 min or until cheese is slightly melted. Remove pizza from oven and top with fresh arugula and a drizzle of balsamic vinegar and olive oil. Cut into 6 slices and serve.
ROASTED TOFU (PREPARE BEFOREHAND):
First, pre-heat the oven to 425 °F. Evenly cut the block of tofu into 15 cubes and add to a medium-sized bowl. Using paper towels, press down on the tofu to eliminate the excess liquid and drain from the bowl. Add the 1/4 cup of coconut aminos or soy sauce to the bowl and set aside for 15 minutes. After 15 minutes, drain any extra sauce from the bowl. Add cornstarch, nutritional yeast, salt, and pepper to the bowl and toss to coat. Line a baking sheet with parchment paper or spray a baking sheet with olive oil. Arrange the tofu in lines and cook for 30-40 minutes turning every 15 minutes.
I hope you enjoy this recipe as much as I have. Pumpkin is honestly such a yummy addition to any pizza and especially a vegan pizza. I may have made it on a cauliflower crust this time, but I have found Trader Joe's pizza dough to be a great second. Or, if your feeling really ambitious, hand-made pizza dough is always a move. In the past, I made this recipe on a white vegan pizza dough I found on pinterest and it was amazing. So, sit at the table, take a slice of your homemade pumpkin pizza, and find yourself in a perfect fall harmony!