Ultimate Vegan/Gluten Free Pancakes
Oh yes, it can be done!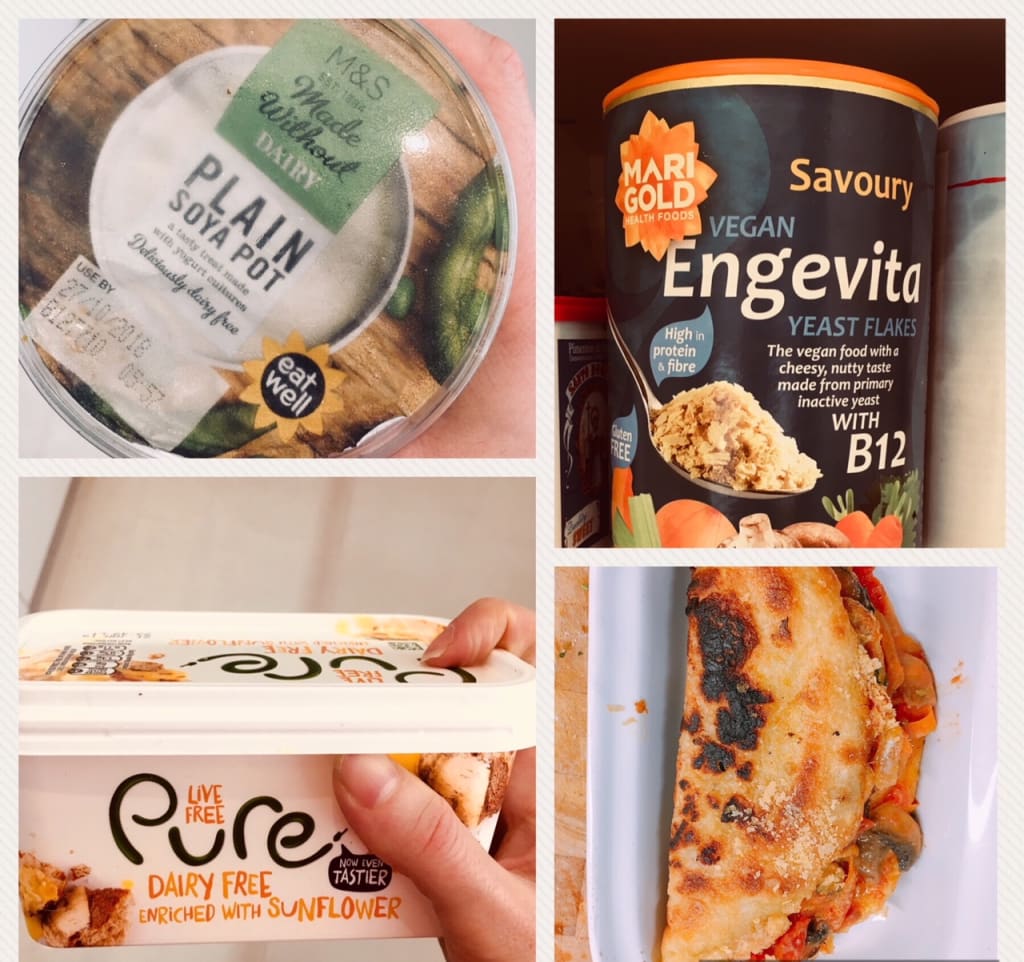 Evolution of Pancake
Hello, all! I'm back after a few months away, experimenting and dreaming up ways to eat the food I used to love before veganism in a plant-based, healthy way. I used to love pancakes but really struggled with the idea of holding it all together—without eggs, what do we got? The alternatives seemed a little frightening and overwhelming to just use freely and my cooking is all about adapting, not replacing. And so after some false starts and nearly misses, I got there, without fuss and without a compromise on taste. It just so happened I was having a coeliac sufferer over for some supper, and I love a challenge, me. So without further ado...
The recipe is for one savoury pancake (repeat again for another helping):
Prep time: 10 mins
Cooking time: 25 mins
Ingredients (pancake)
250g of gluten free flour
20g of salt
40g of dairy free margarine
300g of soya milk
40g of nutritional yeast (add more if needed)
Step One
Add the flour, salt, and margarine to a small mixing bowl and really get your hands in it—break down the marg and make it as smooth as possible, getting out all the blobs. Then add the soya milk and the nutritional yeast
Step Two
Get out a non-stick saucepan—and get a size that would suit your desired pancake size. Once spilt in the pan, the mixture will obviously form to the furthest edges of your nonstick. Make sure there is oil in the pan that has been lightly heated.
Step Three
Once the oil is heated, then add the mixture to the pan. Make sure to keep the heat regular—I would advise a medium setting, not too high yet able to cook quickly. Spread the mixture in the pan, and make sure it is spread evenly, and leave to fry. Now, onto the filling.
Ingredients for pancake filling
1 onion, peeled
2 cloves of garlic
1/2 tbsp of smoked paprika
pinch of rock salt
1/2 tbsp of white pepper
3 tbsp cooking oil
2 medium sized white mushrooms
50g of spinach
1/2 tin of chopped tomatoes
40g of dairy free yogurt
1 tbsp of dried herb
Step Four
After peeling the onion, cut it into rings, along with thick slices of mushroom. Have a pan ready with oil and add the onion and mushroom. After they have started to soak the oil, add the salt, pepper, and paprika and cook until crispy. At the last moment, add spinach to wilt in the pan, add the salt, the garlic, and the paprika. Fry until crispy.
Step Five
Add the half tin of tomatoes to the filling mixture and add the dried herbs; let it soak in all the juice and cook thoroughly. Move the mixture to the mixing bowl used earlier and then add the spoonfuls of dairy free yoghurt, and mix together generously. Your filling is complete, you lucky so and so.
Step Six
You are checking on that pancake, right? It will need a traditional flick (or tender fishslice flip, as I do) to cook both sides—and this is the trick, if it splits *do not worry*—add some flour and extra nutritional yeast and it melds back together like a good un. When the pancake is thick and crispy, spoon your filling onto half of the pancake and then delicately fold over the other half.
Step Seven
Place your pancake/sorta calzone into an oven dish and blast it for about 10 mins in the oven/microwave—just to reheat the filling and meld it together some more. It really works! Then, when you are ready, serve with a garden salad.
Et voila!
Good times!
Best of luck, and happy eating!
Until next time,
Jess x
About the Creator
I am a freelance writer, playwright, director and lecturer from London. Self professed nerd, art lover and Neurodivergent, vegan since '16, piano player since 7 - let's see...oh and music, lots and lots of music
Reader insights
Be the first to share your insights about this piece.
Add your insights