Trying my Hand at Viral Apple Pie Cinnamon Rolls
Of course I tweaked it a little bit.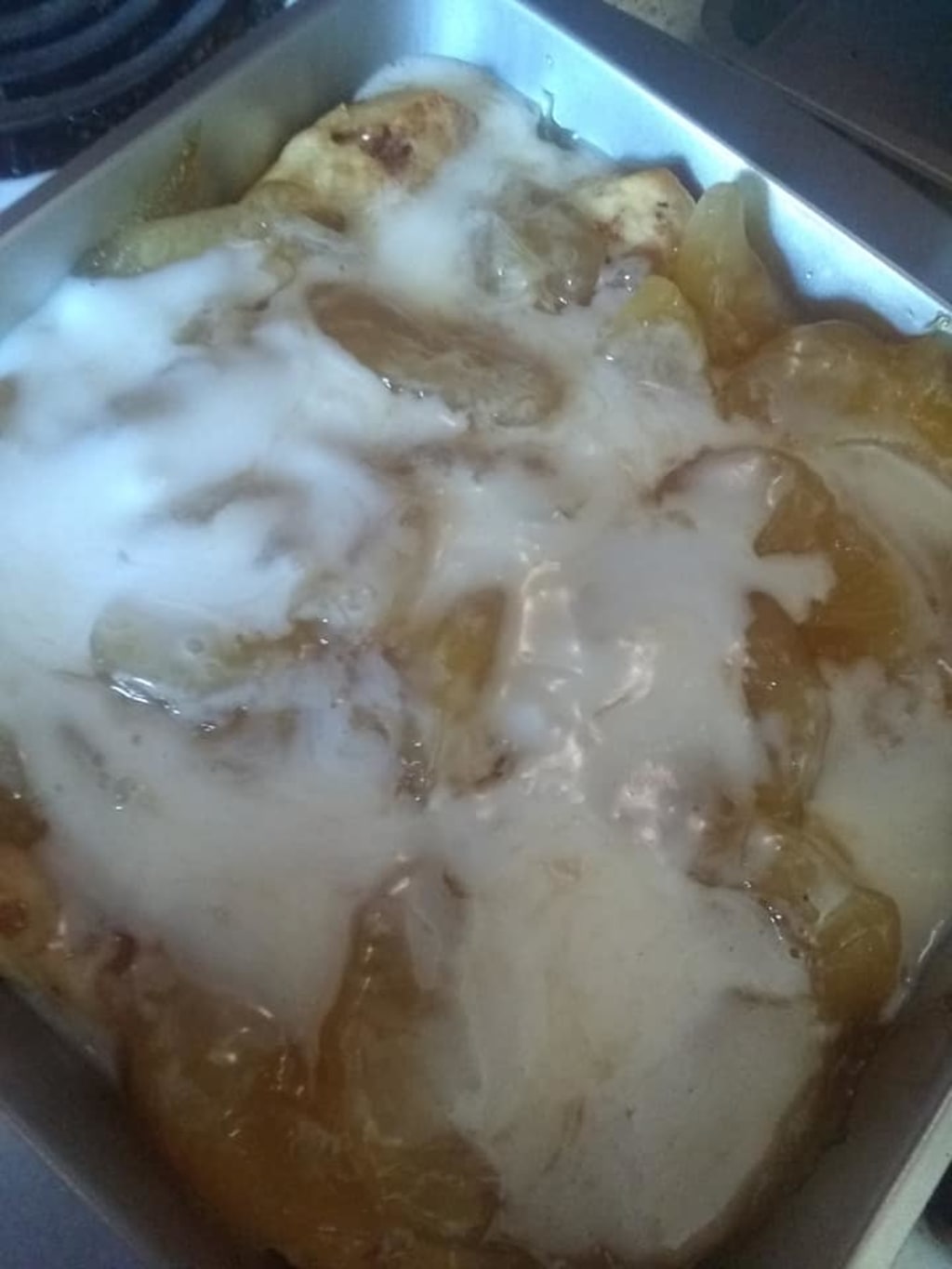 A few weeks ago a meme or photo or whatever you want to call it started circulating around social media. This is nothing new, there is some new viral something that makes it way into our social media bubbles just about every day, but this one was different. This one involved food, was fairly simple and was something that I knew both myself and my other half would enjoy.
I am of course talking about the apple pie filled cinnamon rolls. I'm sure at least a couple of you have tried to make them, they are after all fairly easy to make. I did take some creative liberties and change how I assembled them a little bit. Mostly because all of our muffin tins/cupcake pans were dirty and I really didn't feel like washing them at that point. But this is all besides the point.
I took out a square cake pan. Sprayed it down with butter spray, and then lined the bottom with the cinnamon rolls. I flattened them out so that they would actually cover the whole bottom and make a nice vase to the concoction that I was about to create. On top of that bottom layer, I loudly and proudly plopped a can of apple pie filling.
I bet you can guess what the next step was. That's right baking in the oven. It took a little longer than I had anticipated to get the cinnamon roll crust to the right amount of done-ness that I wanted. After that was accomplished, I poured the icing that came with the cinnamon rolls on top and we dug in.
I thought it came out pretty, but then again I am one of those weird people who takes pictures of just about everything I make, especially if it is something new. So the verdict was that it looked good.
It tasted kind of like a sweeter topless apple pie. I wish that I had thought to get more icing, because the amount that came with the cinnamon rolls was almost not enough, but it worked out in the end. Now I will warn you all who aren't as big of sweet tooth's as my crew is, these may not be the ideal treat for you to whip up. They were a little on the sweeter side. But overall they were good, and I can see us making them again.
Besides getting additional icing before the next time that I make these apple cinnamon goodies, there are a few other things I would like to get or do to make them in my mind a little bit better. The apple chunks in the apple pie filling were a little large, which made it a little bit harder to eat. So next time I am going to either hand chop the apples or stick them through the food processor for a few seconds, to make them a little smaller. I would also like to try it the way I saw them done on Facebook.
I have never really been one to follow viral food hacks or trends, well not usually. But this one was too good to pass up and it kind of changed my opinion. Now I'm not saying I'm going to bake a cake that skittles waterfall out of when you cut a slice, but I am a little more apt to try some of the other ones that I have saved to Pinterest.
This is a easy or beginner baking recipe. Since there is no measuring/ no mixing. I consider myself a little more advanced, but sometimes this tired momma just wants to take the easy route.
diy
About the author
A lot of ramblings about kids, art, food, pets, life and work and trying to make it all make sense.
Feel free to laugh at me and the dogs on Insta @dirtfloorfamilyliving
Reader insights
Be the first to share your insights about this piece.
Add your insights