The World is Your Whelk
You can really do a lot with whelks.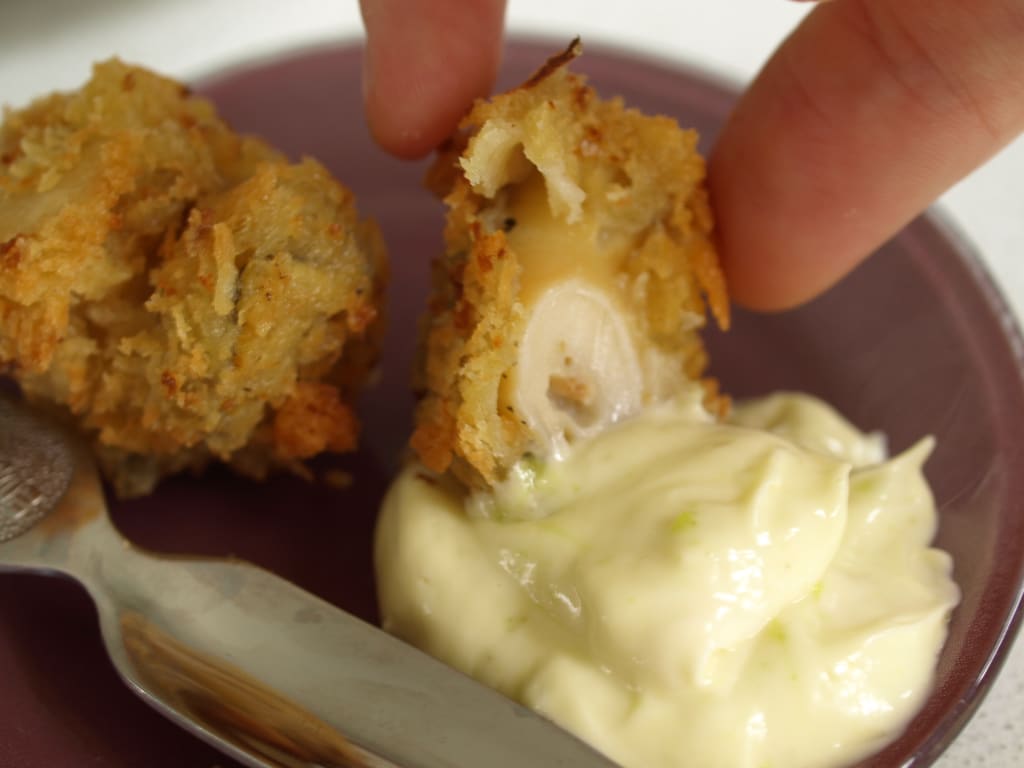 Whelks in Panko
We taste whelks and cockles as part of my food and drink walking tour of Norwich City Centre; there I was, munching my way through another whelk and I thought 'you could do a lot with these.'
I might be exaggerating a little, but imagine a succulent lobster tail, with the bite of perfectly cooked squid, add the aroma of prawny-mussels, toss in a tad of salt and you have a whelk; of course, it looks like something from outer-space (with a slight chewiness to match) but it's tasty nevertheless.
But then again, maybe they are like marmite – I told my husband I was going to try some whelk recipes, adding that on the internet you couldn't find many whelk recipes for love nor money – "No wonder," he said "they are disgusting," but don't listen to him, what does he know!
Whelks are essentially a pointed sea snail; if ever found fresh, they are at their best between September and February. But usually they are found pre-boiled (10 minutes in salted water) and served East End style with vinegar and a slice of buttered bread.
Sea snails are a huge hit in Asia where in Japan you can find them raw in sashimi, in Vietnam you can find them in vermicelli noodle soup and in Korea eaten as bar tapas with beer – they also love them swamped in soya and tinned.
Us Brits used to consume them literally by the barrow load, 6 for a penny after a night on the gin in the poorer areas of East London in the good ole Victorian days.
Now we pull over 10,000 tons of them from the salty seas around Britain but export 95% of them.
Good for exports - bad for us – they are delicious and there is so much you can do with them, as I've been finding out in my experimental kitchen here at Lodge Farm.
The humble whelk is low in fat, high in vitamin B12 (10x the amount in beef), omega 3, copper, zinc, iron, magnesium, vitamin E & phosphorous with no sugars and about 37 calories per plump whelk. Plus, a portion of whelks counts as 1 of your '2 fish per week' recommendation–and to top it all off, Whelks are an aphrodisiac! Wahoo.
Forget slimy, slippery, fishy ole' raw oysters – these have a bite and work well with an array of flavours.
Sherry Battered Whelks (4 for starters)
This is a Mediterranean recipe I usually use with mushrooms, but it works a treat with whelks, too. I like the consistency of the crisp batter, yet airy in the middle with the bite of the hot steamed whelk in the centre.
Ingredients (batter):
1 large egg – separated
1 teaspoon caster sugar
200 g plain flour – sieved
1/2 teaspoon baking powder
2 tablespoons sunflower or rapeseed oil
1 teaspoon vinegar
100 ml / 6 -7 tablespoons sherry
120 - 150 ml cold water
Seasoning
Other:
1 x lot Norwich Market whelks
2 tablespoons seasoned flour (to dust)
oil (to deep fry)
Whisk the egg white along with the sugar until firm and set aside.
Place the flour and baking powder in a bowl and whisk through to lighten.
Whisk in the rest of the ingredients, including the egg yolk (apart from the egg whites) into flour to create a smooth batter.
Gently fold in the egg white.
Season well.
Rest the batter for 10 – 15 minutes.
Dip the whelks in flour first, and then dip in the batter, shaking off any excess before cooking in hot oil.
Deep fry at 180 - 190*C (350 - 375*F) until golden on both sides.
Ginger Panko Fried Whelks with Wasabi Dip (4 starters)
Crispy infused batter with a firm textured surprise in the middle. The mayonnaise tones down the kick of wasabi, making it moorish and creamy with a slight zing!
Ingredients:
1 x lot Norwich market whelks
Milk
Flour
Panko breadcrumbs
Ginger
Eggs
Toss Whelks in 1 heaped tablespoon flour – shake off excess.
Dip into 1 large beaten egg with equal parts milk – shake off excess
Roll in 60g panko crumbs with 10g freshly fine grated ginger and a touch of seasoning (make sure the ginger is evenly distributed in the crumbs).
Deep fry in hot oil until golden at 180*C (350*F)
Serve with:
½ teaspoon wasabi paste
1 heaped tablespoon mayonnaise – mixed together
Tandoori Whelk-Babs

What's better than a spiced whelk on a stick? Tandoori paste is easy to make and tastes delicious. The nature of the whelk makes them perfect for robust flavors which can take a good smoky BBQ (or a simple grill).
Tandoori paste:
½ inch fresh ginger (grated)
1 x fresh red chili (finely chopped)
2 x cloves garlic (crushed)
1 teaspoon ground cumin
1 teaspoon ground coriander
½ teaspoon garam masala
½ teaspoon paprika
good pinch pepper
150g natural yogurt
pinch red food coloring (optional – real tandoori is deep red from the colouring)
Other:
4 pre-soaked bamboo skewers (or they'll burn)
1 x jar Norwich market whelks
Make up the paste by either mixing, crushing or blending all the ingredients together.
Marinate the whelks in the paste for a minimum of 30 minutes or preferably overnight.
Thread 3 – 4 whelks on to the skewers and BBQ for 4 – 5 minutes, until slightly charred and warmed through – alternatively, grill them for 2 minutes on all 4 sides.
Gratin au Whelk! (serves 2 as a starter or side dish)

I love dauphinoise or cheesy bakes, and thought a whelk version would go down well for all you whelk lovers, like me!
Ingredients:
1 x jar Norwich market whelks – sliced long ways into 2-3
1 x onion – thinly sliced
1 x pot / 200ml double or whipping cream
1 x clove garlic – crushed
20g butter
Crumb topping:
30g natural breadcrumbs
good pinch chopped parsley
good pinch ground cumin
salt and pepper
20g grated cheddar cheese
Toss the whelks and onions in an oven-proof dish.
Pour over the cream and crushed garlic.
Knob the butter on top.
Simply mix all the crumb ingredients together and pour on top of the gratin.
Bake in a preheated oven at 180*c (350*F) for 15 - 20 minutes – until heated through.
Mallorcian Fritto (Makes 1 main course, or 2 starters for 3 if served as tapas)
This is a simple classic Spanish stir fry – you can add anything you fancy or enrich this by adding chorizo, carrots, chicken livers, celery, etc. – the world's your whelk!
Ingredients:
1 tablespoon olive oil
100g small-dice potatoes
50g small-dice onions
½ teaspoon paprika
¼ teaspoon dried oregano
1 x crushed clove garlic
50g small cubed black pudding
50g whelks small diced / chopped
50g small diced tomato
seasoning
Heat the oil on a medium heat and cook the potatoes for a few minutes to soften without too much colour.
Add the onions followed by the paprika, herbs and garlic – cook for a minute to soften.Add the black pudding, cook for a minute to colour and warm through.Add everything else and cook for another minute or until everything is soft and cooked – seasoning to taste.I like mine sprinkled with chopped coriander or served with a fried egg and a dollop of chilli sauce on top.
Spaghetti N Whelks (serves 2 as a main, or 4 as a starter)
This is a quick-cook pasta dish I usually make with crab but I've replaced with – you've guessed it – Whelks!
Ingredients:
200g spaghetti
3 - 4 tablespoons good olive oil
1 x red chilli (finely diced)
1 x clove garlic (crushed or thinly sliced)
8 – 10 cherry tomatoes (quartered)
1 teaspoon mini capers
½ jar Norwich market whelks (sliced into about 6 – 8 pieces each)
1/6 grated lemon zest
1 – 3 tablespoons fresh chopped parsley
Seasoning
Cook the pasta as per instructions – although I like to cook for 1 minute less than directed.
Drain, run under the hot tap and set aside.
Meanwhile, heat the oil in a frying pan and gently warm through the chilli and garlic on a low heat for a minute.
Add the tomatoes and capers and cook for a minute to infuse all the flavours together.
Add the whelks and warm through for a few minutes more.
Toss in the spaghetti – along with the lemon zest and parsley.
Season to taste and serve.
All recipes by Zena Leech-Calton ©
Cookery tutor, food writer, blogger and foodie tour guide at
recipe
diy
I'm a cookery tutor & food writer with a passion for all things food, with over 30 yrs experience in catering. I trained at Norwich College & again at Westminster London while working as a chef + food tours www.lovenorwichfood.co.uk