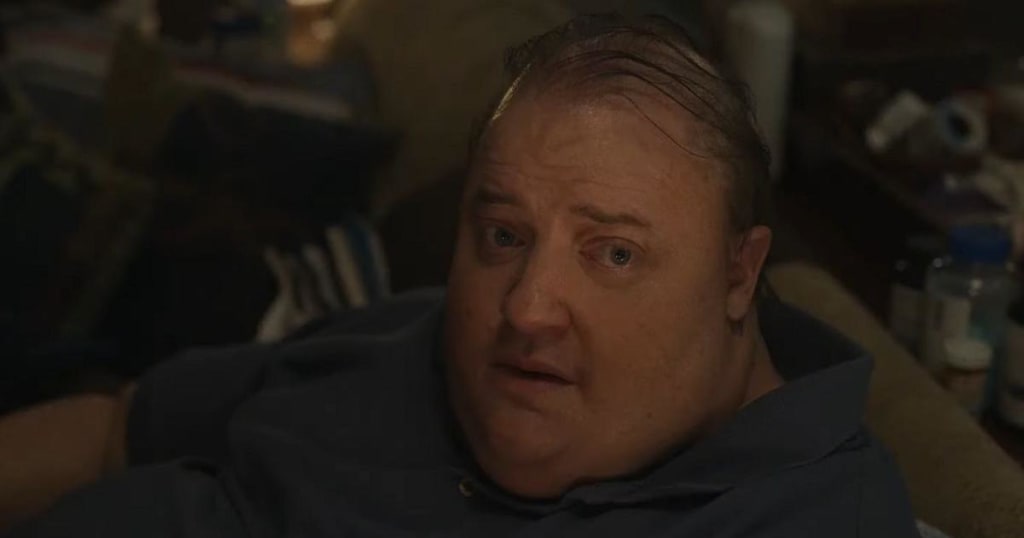 Whale Movie Review
STORY: "Experience the emotional journey of Charlie, a reclusive English teacher, in the heart-wrenching play 'The Whale'. As portrayed by the talented Brendan Fraser, Charlie's battles extend far beyond his struggle with obesity. Follow him through a challenging week in his life as he navigates through his pain and loneliness."
REVIEW :
"The Whale" is a controversial film that elicits mixed emotions from its audience. On one hand, it is a film that you should see for its exceptional performances and thought-provoking discussions. On the other hand, it is not an easy film to watch. The film is directed by Darren Aronofsky, who is known for creating films that are challenging and sometimes provocative. His films are unique, often with unexpected twists and daring images that leave a lasting impression.
"The Whale" is different from Aronofsky's other films, as it focuses mainly on Brendan Fraser's character, Charlie, who is encased in a fat suit that makes him appear to weigh 600 pounds. The film follows Charlie's physical and psychological deterioration and is meant to evoke pity or sympathy by its conclusion.
However, it can often come across as a morbid spectacle, as the audience is asked to wallow in Charlie's deterioration. The film's overall vibe is one of fascination rather than empathy, with viewers left thinking, "Thank God that's not me."
In this film, Aronofsky doesn't seem to be as interested in understanding Charlie's impulses and indulgences as much as pointing and staring at them. He depicts Charlie's isolation in a squalid Idaho apartment with a scene of him masturbating to gay porn. Fraser's performance brings warmth and humanity to the role, despite the limitations of the screenplay.
His contradictions make him an engaging screen presence, and he does a lot with his eyes to give us a glimpse into Charlie's sweet but tortured soul. However, the screenplay spells out every emotion in clunky ways, making some moments feel forced and groan-inducing.
Visitors interrupt Charlie's loneliness, including Hong Chau as his nurse and longtime friend, Liz. She is caring and no-nonsense, adding a crucial spark to the otherwise dreary film.
Matthew Libatique's cinematography is brilliant, lighting Charlie's apartment in a relentless dark and dim fashion to signify his sorrow. The film is told within the confines of Charlie's apartment, which is oppressively dark and claustrophobic.
Sadie Sink also makes an appearance as Charlie's rebellious, estranged daughter, Ellie. Although her arrival adds a fresh energy to the film, "The Whale" remains a film that is difficult to watch but important to discuss.
"The Whale" may leave a bitter aftertaste, but it's a film that's not easily forgotten. Its unflinching gaze at the grotesquerie of its central figure is sure to spark debates and discussions, making it a film that should be seen, despite its flaws.
Brendan Fraser gives a standout performance as the 600-pound Charlie, and Hong Chau and Sadie Sink bring some much-needed levity and humanity to the film. Despite its dark and oppressive atmosphere, the film is a triumph of acting and filmmaking, and it marks Darren Aronofsky's continued bravery in tackling difficult and controversial subjects.
If you're looking for a film that will challenge you, make you think, and leave a lasting impression, "The Whale" is a film that shouldn't be missed.
performance :
At its core, "The Whale" is a film about love, conflict, and emotionalism. It masterfully explores the themes of love through its depiction of a same-sex couple, the bond between Charlie and his ex-wife, the relationship between a father and daughter who have been apart for too long, and the deep friendship between two best friends.
Despite its powerful themes and moving performances, however, the film is not without its flaws. Some may find that it tries a little too hard to demonstrate Charlie's suffering and struggles, and may feel that the film is a bit heavy-handed in its emotional content. Additionally, the film can be quite slow-moving at times, which may be a turn-off for some viewers.
Final Thoughts:
Overall, "The Whale" is a film that is best enjoyed by fans of Brendon Fraser, lovers of powerful and emotional storytelling, and those who are willing to invest the time and attention required to fully immerse themselves in its rich themes and characters.
So, if you're up for a thought-provoking and deeply moving cinematic experience, then "The Whale" is definitely worth checking out.
Reader insights
Be the first to share your insights about this piece.
Add your insights