The Perfect Pairing
Not Exactly A Recipe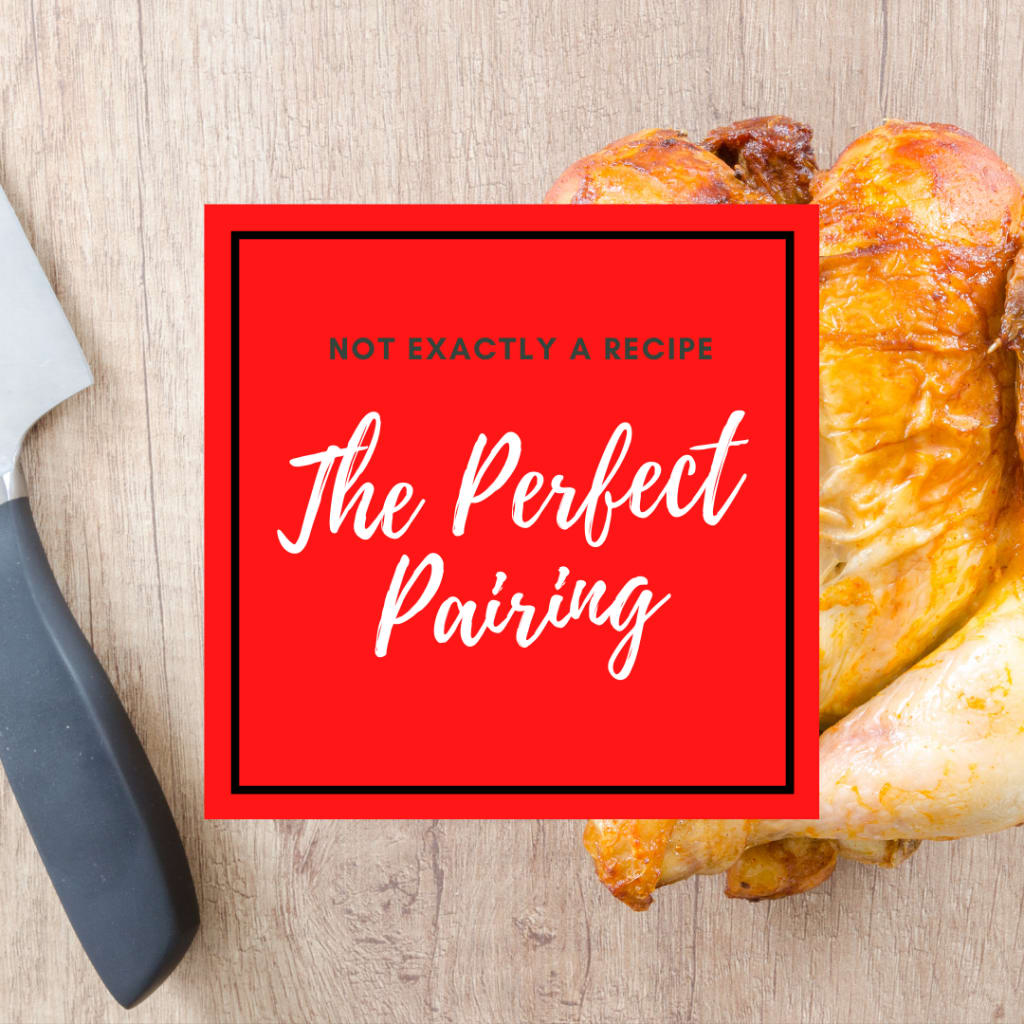 With the days getting shorter and the winter feeling like it might become endless, we are all searching for comfort as we close out 2020. There's a reason why we've been living in sweats and eating for sport since March…
It feels good, and distracts us from life totally sucking for a minute.
At least with the temperatures dropping and the days getting shorter, we can warm up the house with some simple comfort food. A dish that has been such a comfort to me since I was small, (and the only thing my mother could cook without a microwave) has been simple roast chicken and potatoes. Only now that I'm old enough to have more than a glass of milk with dinner, I now enjoy this favorite with the staple for many of us these last nine months…
Wine.
Roast chicken and wine checks all of the boxes. It's cheap, easy to make, everyone loves it, and you get to look like a culinary rock star even if your main accessory has been your bathrobe most days of the week.
We'll get to the food in a minute, but for me we have to start with the wine. After all, this is your solo happy hour while you prepare a meal. That is the best part of cooking! The 'preparation' wine!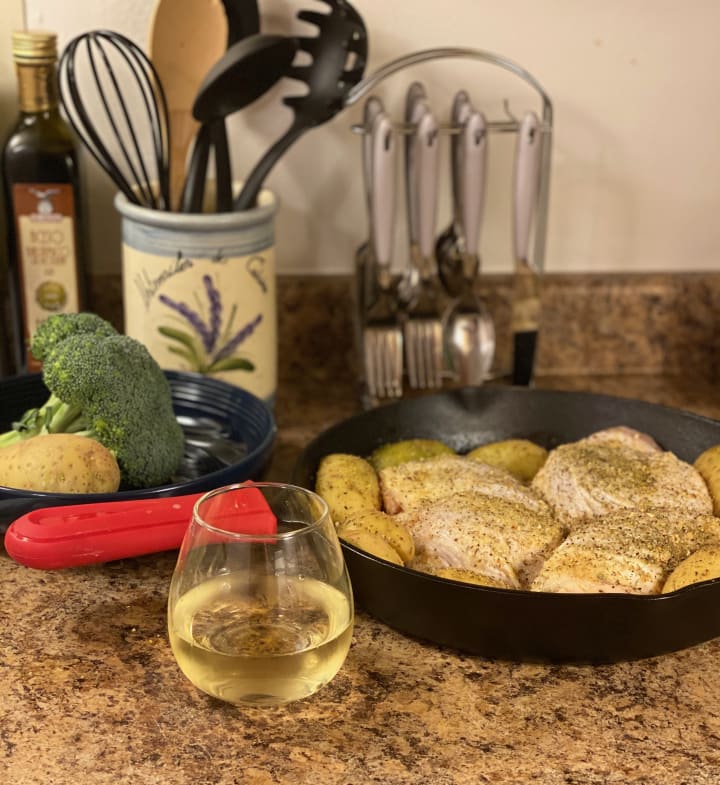 For me, I like to go with a crisp and chilled chardonnay with this meal. While some would like a rich and bold red wine to pair with the spices and fat of the chicken, and the rich potatoes, I prefer a dry Chardonnay to add a bit of acid to cut through the richness of the chicken and potatoes.
Once you have your wine figured out, don't just stare at it, pour it!
Now let's talk about the main course.
I traditionally like to cook dark meat chicken, because it doesn't dry out with the long cooking time required, and the skin just gets the perfect amount of crispness to it. I also like to use a cast iron skillet rather than a traditional baking pan. It insulates the chicken and potatoes into their juices while also allowing the skin to get good and crispy. As my ex-husband always says, "Nobody likes a dry bird with tough skin!"
He's fun. A man like that still being single is a shame.
As for the potatoes, I prefer Yukon golds halved or quartered depending on their size. You can use any potato you'd like depending on your preferred taste and texture, really, but keep in mind you want a potato hearty enough to withstand the amount of roasting time necessary. Baby red potatoes or something similar will disintegrate in the pan, and you'll have a whole lot of oily baby food on your hands. Which, I mean, if that's your thing... no judgment. But I am judging, because ew.
Ok! So you're going to want to preheat your oven to 350F (I don't know the Celsius equivalent because I am American and we are too self involved for conversions unless it's imposing arcane societal norms on marginalized people.)
In your seasoned iron skillet, because your life of unearned privilege has afforded you one, or your older sister got divorced and she never used it anyway, arrange your chicken quarters or thighs (I used thighs) around evenly. Work your inner child into it however you see fit.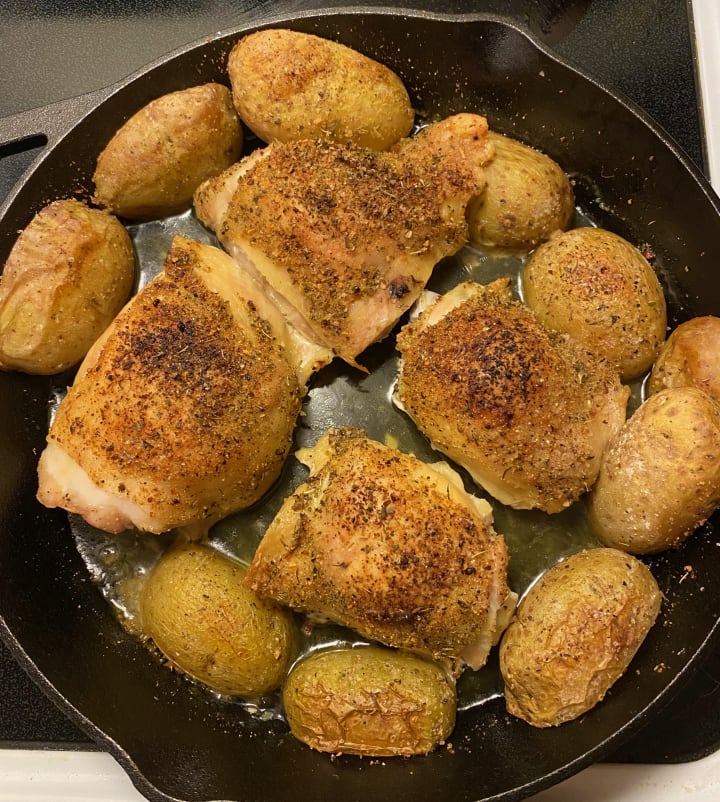 Drizzle some olive oil over the chicken and potatoes. No need to brush it in, it's mostly there so you feel fancy. Now you're gonna season everything. Not salt and pepper, Karen. Get it dirty with salt, pepper, garlic powder, oregano, thyme, and rosemary. If you're feeling extra sexy, get a little heavy handed with that garlic!
Pour yourself another glass of wine, because you've worked hard, and put that skillet in the oven where you are going to let it roast uncovered for an hour. Yes, an hour. It's fine. Trust me. Underdone chicken is a sin, and probably great way to get salmonella. After an hour, you're going to want to crank the oven up to 400F for about 10-15 minutes depending on how done you like your chicken and how crispy you like the skin.
By the way… it's so odd to type out 'crispy skin' so many times in this piece and not have this be some kind of gory horror story. How do the foodies do it? Gastronomy, I take it.
Now, if you're really a mad man into that crispy crispy flesh and want the meat to fall off the bone, you're gonna give that oven another turn to 425F and roast the chicken and potatoes for another 5 minutes.
When it's at the level of doneness you prefer, take the pan out to rest on a cool surface, but don't do something stupid and scorch your countertops. Keep in mind the iron skillet will hold heat for quite some time and keep cooking the chicken as well as the potatoes. If this terrifies you and will ruin your evening, remove the chicken and potatoes from the skillet and place them on a dish. Hey, do more dishes. I don't care.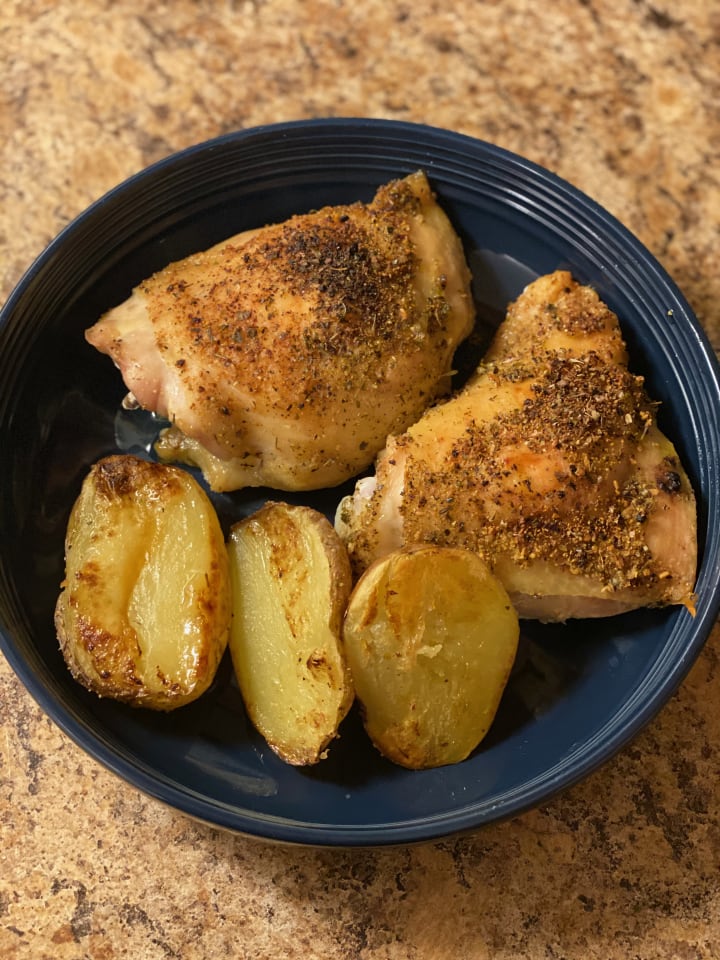 When the food has rested about five minutes, plate your food pour yourself the 'eating time' glass of wine, fire up that Netflix and eat! You are about to experience the perfect pairing.