The OG chocolate cake
AKA the one I judge all others by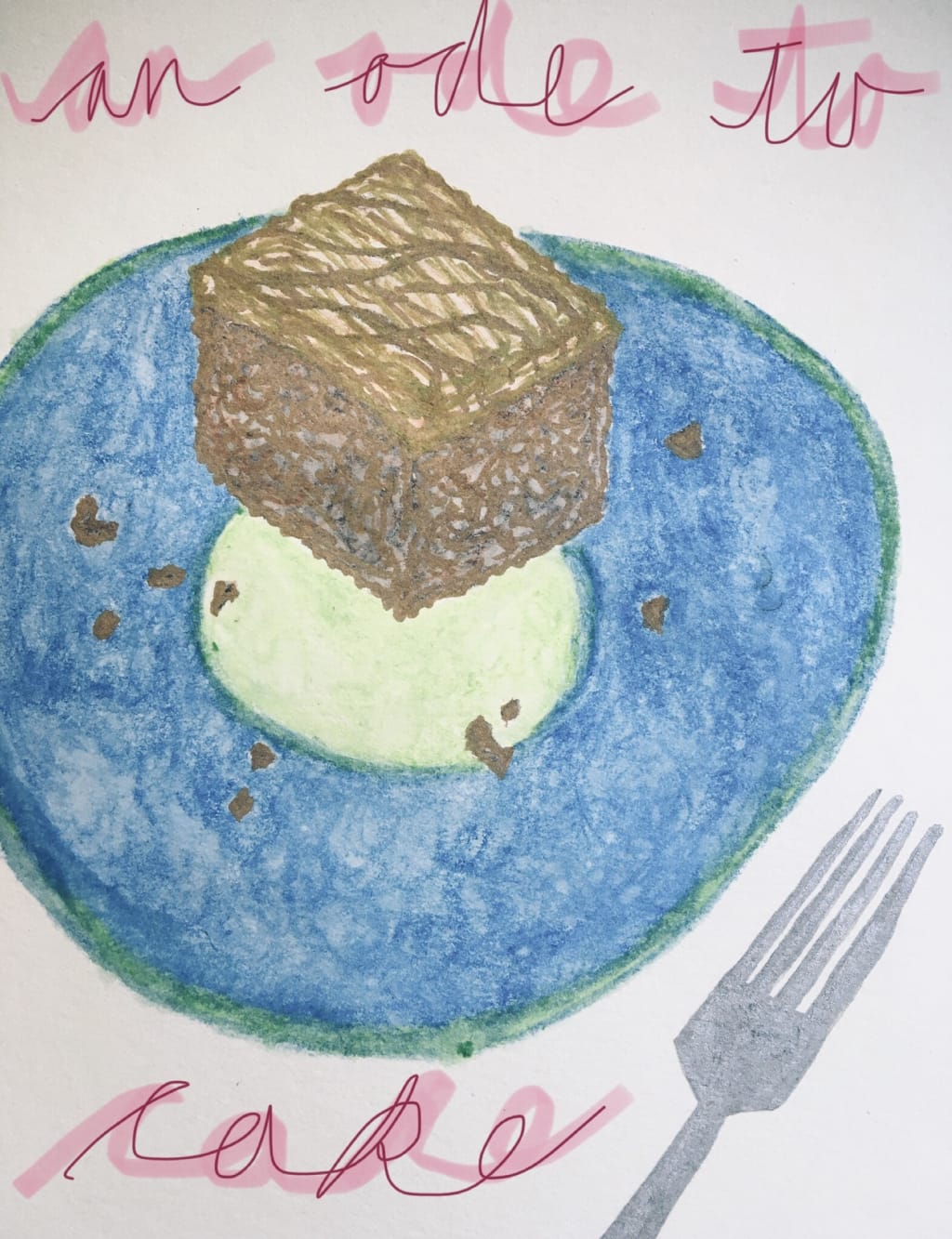 The joys of a simple, delicious tray bake.
This is an adapted version of my mom's OG recipe. When I was growing up the original (already vegan) recipe was a quick and easy, foolproof staple in our house. I have experimented with the ingredients over the years and subbed the refined sugar for maple syrup, which aside from making it a little bit healthier also adds a wonderful flavour. It also works well with some gluten free flours, but it depends on the consistency and requires a flour that behaves as closely as possible to a traditional cake flour.
Directions and ingredients
First things first: Pre-heat the oven at 180° (google tells me the equivalent is 356 Fahrenheit.
Sift together in a medium or large mixing bowl:
3 cups Cake flour or Spelt flour (not wholewheat)
4 teaspoons (tsp) Baking Powder
1 tsp Bicarbonate of Soda (Tip: Do not mix up the baking powder and bicarbonate of soda - it will dramatically change the taste of the cake. It won't really be edible. I mention this because it happened once and my pre-teen self was devastated to have a cake that looked delicious but tasted anything like it)
3 heaped tablespoons (tbsp) Cocoa powder (Add one or two extra tbsps if you would like an even chocolatier taste)
A pinch of salt
Shake the following ingredients together in a 1 liter bottle or jar with a tight lid:
2 cups of Water
1 cup Maple syrup
2 tbsp Vinegar
2 tsp Vanilla essence
250ml Olive oil
Slowly whisk the liquid ingredients into the mixing bowl with the dry ingredients until you have a smooth batter.
Pour it into a greased (I usually use coconut oil for this but olive oil also works really well) "tray bake" pyrex-type dish and bake for 30 minutes.
While the cake cools, prep the frosting if you would like to add that.
Otherwise you can also just serve the cake with fresh berries and coconut cream (or any other accompaniments you like - it also goes very well with any of the B&J vegan ice creams).
Choc peanut butter frosting:
1 cup cocoa powder
1/2 cup Coconut oil (softened)
1/4 cup Smooth peanut butter
2 tsp Vanilla essence
1 cup Maple syrup
Soften the coconut oil and peanut butter over a very low heat until you have a smooth mixture. Add the maple syrup and vanilla essence and let it cool before sifting in the cocoa powder and thoroughly mixing it. Add more coconut oil or cocoa powder to achieve the desired consistency.
If you have a food processor you can also blitz all of these ingredients in there until you have a smooth frosting.
Frost the cake in the baking dish/pan and tuck in.
- - -
Please let me know if you try this recipe out. I have enjoyed this cake countless times over the years and it truly has the most wonderful texture, which has turned me into a real chocolate cake snob when sampling any other cakes. Also, it keeps well in an airtight container in the fridge and tends to become even more delicious on day two (and even three).
Enjoy!
PS. I moved from Germany to Scotland at the beginning of this year and during the lockdown I've been staying with friends. They have a gas oven and so I haven't been able to bake over the past months. In lieu of a photo I have included a watercolour "ode" to the humble chocolate tray bake :)