Summer Palate
The First Sign of Summer
Or That Time I Ate Like a Hipster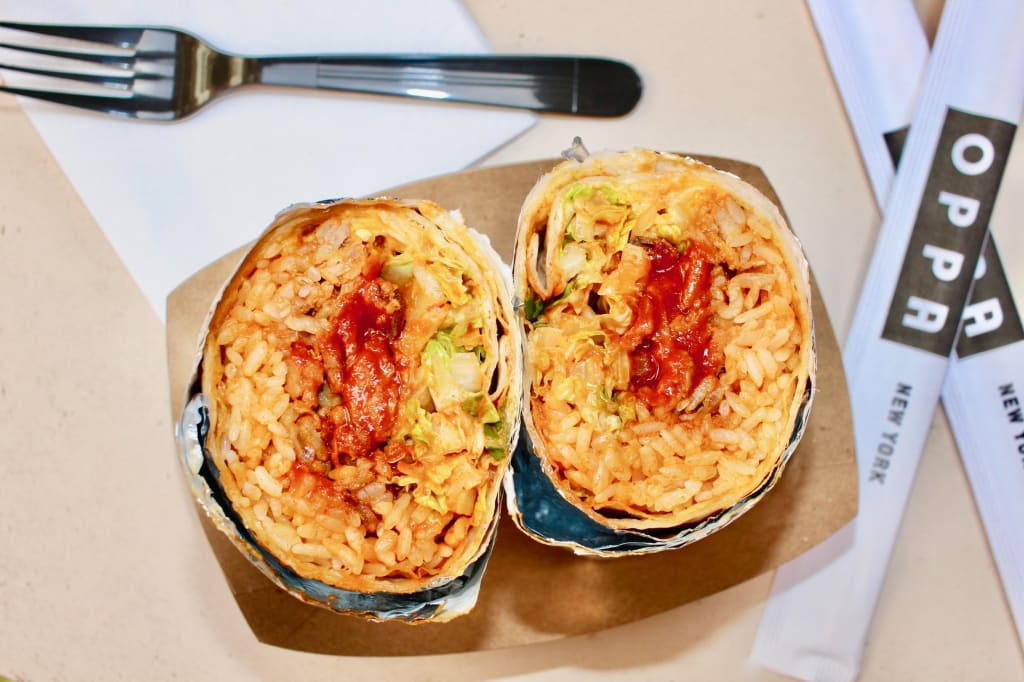 Photo courtesy OPPAnewkoreanbbq.com
Recently, as the NYC weather finally starting getting better, my boyfriend and I began the season-long "what do you want to do today" argument, because warm weather means emerging out of the comfort of your Blanket Burrito and Netflix, and returning to the outside world. As always, I'm going to want to go out to eat. The issue with that though is the simple fact that neither of us is the richest person alive—or even richest in our neighborhood. The struggle to find good food on a budget is super real, and oftentimes leads to some sort of bickering.
So that day I'd found a promo for free sushi-ritos on Pulsd, for the new Canal Street Market grand opening. Obviously, I'm pretty hyped up about this because this would've been my first time trying a Sushi Burrito. Also come on, what's better than free food? Unfortunately, as excited as I was about having a sushi-rito, Uma Temakeria (the vendor that was said to be having the promotion) broke my hungry little heart by saying they "would not be honoring" the content posted by Pulsd.
My dreams dashed I was pretty much ready to head back home. But, in an effort to feel like we hadn't wasted the fare to Manhattan, we decided to stay and check out the other vendors at the market. So we walked to the retail section of the market (which was actually really cute tbh), but I'm pretty hangry at this point, and it's showing.
Ultimately—after some distress—we decided on Korean BBQ. One of the retail vendors suggested a place called OPPA. We each got a Jeyuk Bokkeum Pork Burrito. And, let me tell you, it was so good. We were not disappointed. (I've been looking for the ingredients online so I can describe this better but can't find them.) While our food was being prepared, they took a blowtorch and charred your meat in front of you, which really added to the experience. It came with white rice, gochujang sauce, your choice of meat—ours was the Jeyuk Bokkeum pork—and what I can only assume was cabbage, which gave each bite a subtle crunch. The gochujang (Goh-choo-jahng) sauce was a little spicy, but entirely tolerable if you don't mind a little pepper.
The service was super chill. The guy that made our burrito joked that the burrito was so packed that if we took the foil off the wrong way it would fall apart. This was 100% true, as we neared the bottom of our respective burritos and had to discard the wrapping, we each started grabbing handfuls of napkins for the juice and rice that was now all over our hands.
The only negative thing about the experience, in my opinion (outside of the arguing) was that you couldn't sit down to eat. This only bothered me a little bit because I'm so used to eating while walking. But, call me crazy, if there are tables... I'd like to sit. I just thought the standing tables in the dining area were a little too hipster. At the same time, I understood the design was intended to keep people moving throughout the space and checking out the different vendors.
Overall; great food, great atmosphere. I'm planning on going back soon to try some of the other foods they had there. I specifically want to try Davey's Ice Cream, because, Duh! Ice cream.