The Disappointments of Mexican Food in London
A good taco is a rare find in a city that is clearly one of the world's culinary capitals.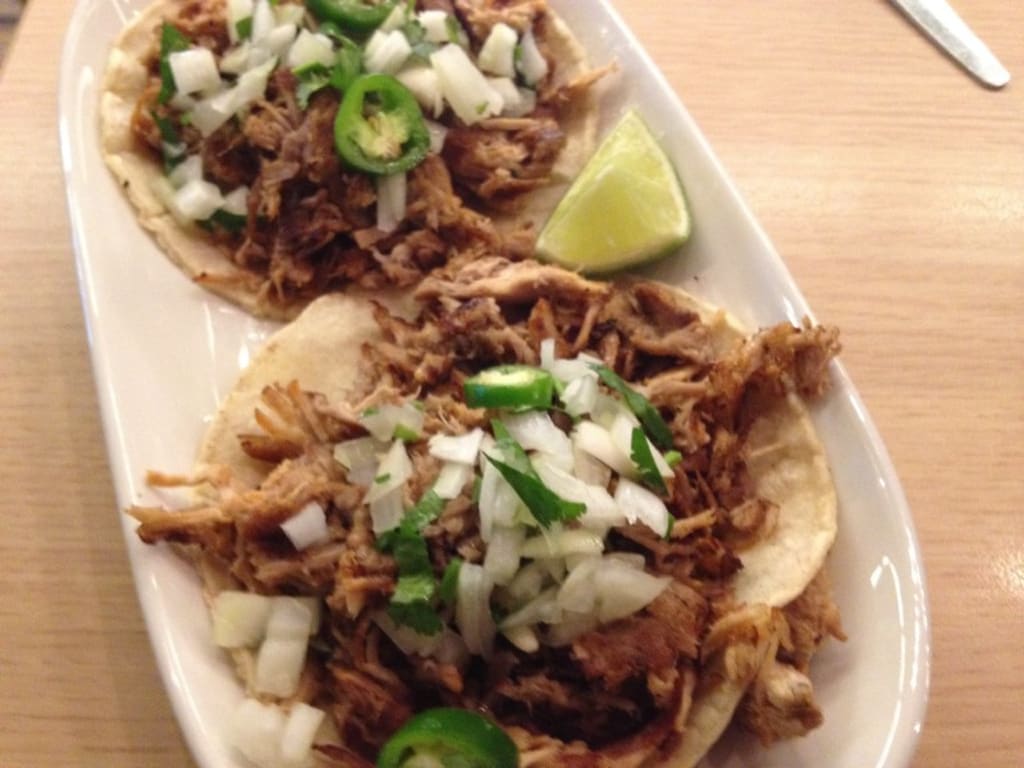 I love Mexican food. Done well, it's the the kind of food that instantly puts me in a vacation state-of-mind – firing my imagination with beach-side memories of margaritas and food trucks dishing out simple but delicious flavour sensations.
When it comes to food, London is a city that gets a lot of things right. Cuisines from around the world are showcased in everything from high-end restaurants to relaxed neighbourhood cafes, but if you have a hankering for Mexican food in London then things can be a bit hit or miss.
David Calderon, London-based model and Mexican food lover (find him on Instagram @driftingdcal) confirms that he finds that: "...London's Mexican food choices are distinctly lacking..."
If you're looking for a quality Mexican food fix, Calderon recommends Mestizo near St Pancras train station – this is a tequila bar that has been serving up Mexican-fusion food since 2004. Fifteen different types of taco to choose from is a good starting point, but but you could easily just feast on antojitos (small snacks to share) or their signature Molcajete Mestizo which is a big meat stew served in a volcanic stone bowl and designed to share.
Here's a quick guide to some of the other options available:
Wahaca
Wahaca is successful chain of restaurants, with numerous outlets across London. It's not the best Mexican food that you'll ever eat, but it's pretty safe and reliable. My favourite way to enjoy Wahaca's food is to grab a burrito from the food van that they operate in London's South Bank arts precinct – there's something immensely satisfying about enjoying a hearty wrap of meat, rice, and guacamole while staring wistfully into the murky waters of the Thames river. The guac costs extra, obviously.
Lupita
A small chain of Mexican restaurants, Lupita has three outlets in London. I have a feeling that Lupita used to be better – service is still friendly and professional, but I was at their Charing Cross branch recently and the food was a bit dry and bland. It's an open-plan kitchen in the centre of the restaurant, and the chefs and kitchen staff seemed to be lacking a bit of energy or enthusiasm. I always think of Mexican food as being the kind of cuisine that needs music and laughter to be at its best. You should feel some sense of sunshine and light from what you're eating, even if you are anchored in the dark, grey reality of a grim London winter. Maybe the team at Lupita were just having an off day.
Bodega Negra
One of the more successful interpretations of Mexican cuisine in London, Bodega Negra adds a bit of sex appeal in its Soho location. This is an operation with a definite split personality – a light, airy cafe upstairs, while downstairs there's a hacienda-style cellar restaurant that you enter through a door designed to look like an adults-only sex shop. Bodega Negra has the kind of urban edge that London generally gets right. I tend to favour the upstairs cafe – often calling in for a margarita and some quesadillas while mooching through London's inner-city gay neighbourhood. Calderon disagrees, insisting that the food is better in the downstairs restaurant.
Bad Sports Taqueria
Hackney Road, in London's inner-east, is a long way from Mexico – literally and figuratively – but if you're looking for some authentic Mexican flavours then this is about as good as it gets. It's a small space, with the rough and ready feel that suggests it was probably a Turkish kebab shop before Bad Sports moved in. Last time I was there we ate Yuca Fries with a pineapple relish, and tacos that were bursting with fresh, tangy, lime-splashed mouthfuls of joy. It reminded me a little of the kind of taco joint that you find in San Juan in Puerto Rico – relaxed, a bit rough around the edges, but satisfyingly focused on serving up tasty food.