The Bronx Vegan Eats: Vegan Pho + Banh Mi
Vietnamese soup for the soul, right in the heart of The Bronx.
Vegan Pho + Bahn Mi at Com Tam Ninh Kieu
There are times when eating vegan food leaves me feeling like I truly put something good in my body. It's almost as if my mind, body, and soul is refreshed. That's the kind of feeling I had when trying pho for the first time. It's warmth travels through your body, healing you along the way. The decadent smell is invigorating with a taste that matches. Pho takes hours to create, and luckily you can get a filling, delicious bowl of vegan pho right in the Bronx.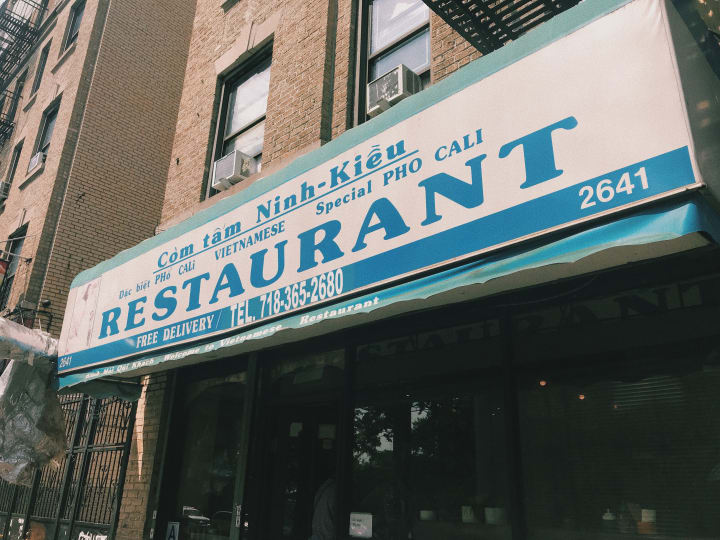 Over at Com Tam Ninh Kieu, traditional Vietnamese cuisine is sold in a peaceful and calming restaurant setting. According to The New York Times, "Com Tam Ninh Kieu opened [in 2009] in the shadow of the elevated No. 4 train in the northwest Bronx. (Com tam is broken rice; Ninh Kieu is a waterfront district in Can Tho, in southern Vietnam, where the owner and chef, Sinh Lee, grew up." Right off the Kingsbridge Road stop in the Bronx, this busy restaurant has been serving fresh and delicious Vietnamese food to residents for nine years. There's something about this restaurant that feels like home as soon as you walk in.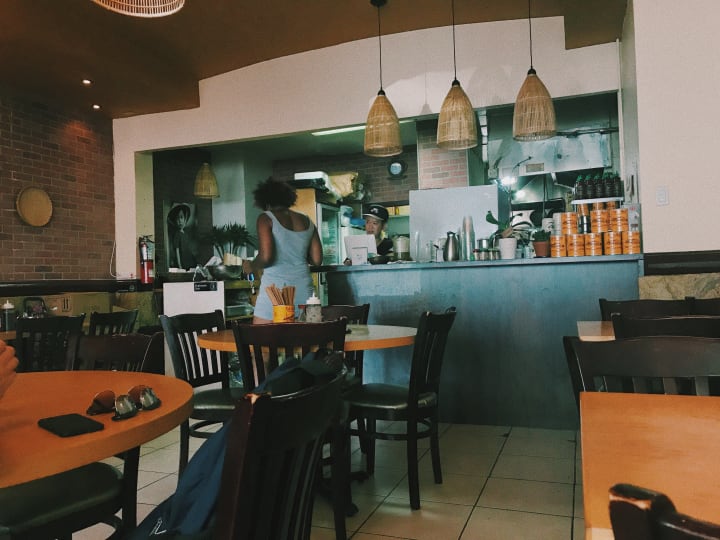 I came to Com Tam Ninh Kieu with a specific goal of trying their vegan pho, until I looked at the menu and saw that they also had vegan Bahn Mi. Coming from a Puerto Rican and Peruvian background, these are dishes that I've tried maybe once or twice before, so I definitely could not pass up the opportunity to have it again. Although, these meals are very common to eat daily in Vietnamese culture. In fact, pho is likely to be eaten for breakfast while banh mi is popular street food. Pho is usually eaten in the morning because the process of creating it takes a long time. The broth can be expected to brew for 12 hours or more. Usually, it is brewed during the night and ready to be served for the morning and the rest of the day.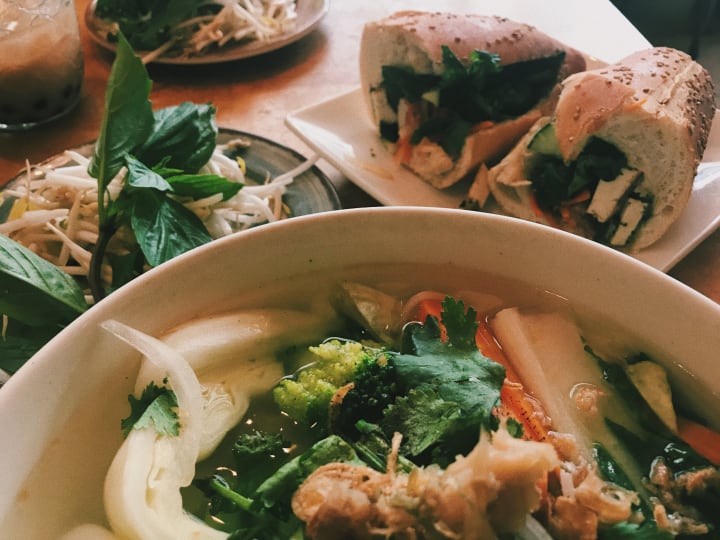 While it is typical to use a meat broth for pho, the vegan version at this restaurant uses a mushroom broth that is light and full of flavor. What made me happy even before trying this dish was the large portion that I received. It was truly a struggle for me to finish this dish on top of having the Bahn Mi sandwich, but I made sure to finish every bite.
Speaking of the Bahn Mi sandwich, I learned the hard way that I cannot handle spice like I thought I could. The sandwich featured house pickled vegetables, cilantro, cucumber, tofu, and jalapeno. My first bite of this meal was filled with instant regret as I desperately tried to calm the spice that had just enveloped my mouth with a single slice of jalapeno. It was truly quite funny, but I know for next time to ask for the sandwich without it. However, if you're into spice levels like that, I say: go for it.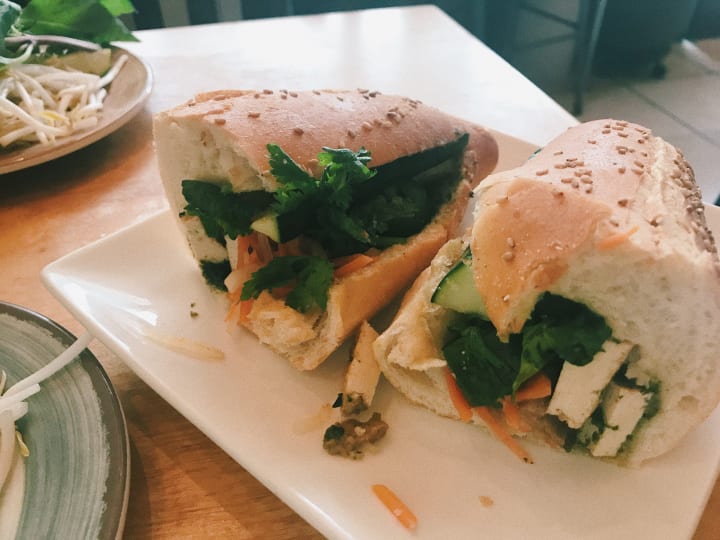 I can speak all about the fresh delicious flavors of this meal, but the best part of this whole experience was the feeling I had once the meal was over. My body felt relieved like I had just given it what it needed. I realized after the meal was over that I was so hyper-focused on the food, that I was hardly looking at my phone at all. My hands were occupied with a spoon and chopsticks, so it was hard to stay glued to the screen while eating, anyway. This meal forces you to be mindful, enjoying every flavor and being thankful for it. If you're looking for great pho and even better food for the soul, I highly recommend trying Com Tam Ninh Kieu on 2641 Jerome Ave in the Bronx.
The Bronx Vegan Eats: is a series by The Bronx Vegan that reviews vegan meals available from Bronx restaurants, bodegas, and more. The goal of this series is to highlight affordable vegan meals in the borough for other vegans to enjoy. If you liked this review, please considering tipping below! All tips will go towards funding more food adventures in the series.