The Bronx Vegan Eats: Vegan Chopped Cheese
And, yes: It's in the Bronx.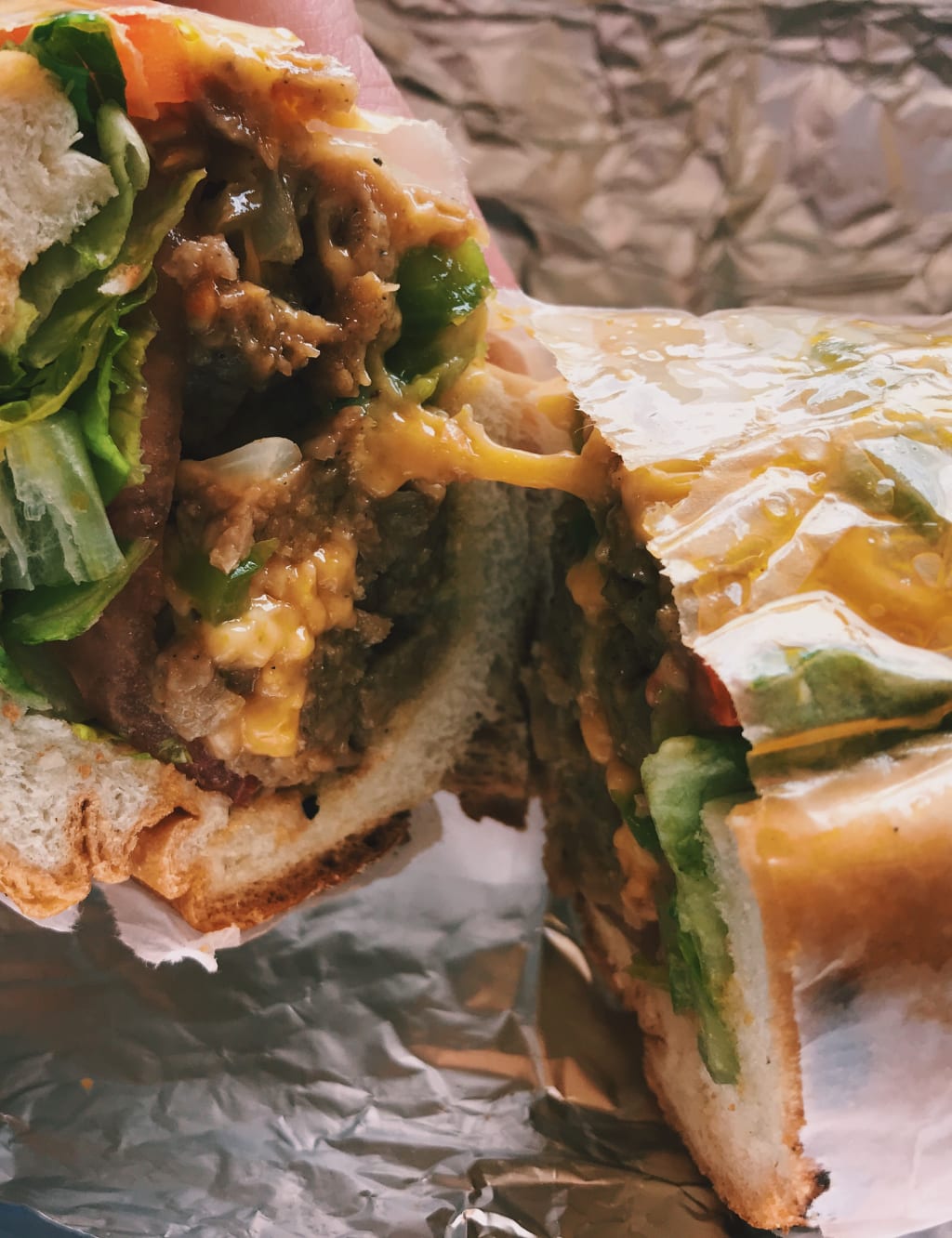 Vegan Chopped Cheese from Tasty Picks in The Bronx
Every city has its dish. Philly has its cheesesteaks. Chicago has its deep dish pizza. The Bronx, Harlem, and Queens have the beautiful, greasy sandwich that is chopped cheese. It's the pièce de résistance of any bodega you walk into and the perfect meal to satisfy your hunger. Its composition is similar to a cheesesteak: delicious meat chopped up and cooked with peppers, topped with cheese, and dressed with typical sandwich toppings like lettuce, tomato, and mayo.
With all that said, I never thought I'd find a veganized version of this so close to home in the Bronx. I have definitely seen some variations done poorly elsewhere, so my feelings about this discovery were mixed, but overall I was very excited to try it. Over at Tasty Picks (located at 89 E. Gun Hill Road), there's your typical bodega set-up with the added benefit of having some organic options available as well. There were tons of snacks to choose from, a fresh juice and salad bar, and a spot to get your deli sandwiches. Tucked into the very corner of Tasty Picks is a menu that reads "VEGAN" in a loud red and white font. This is where the beauty begins.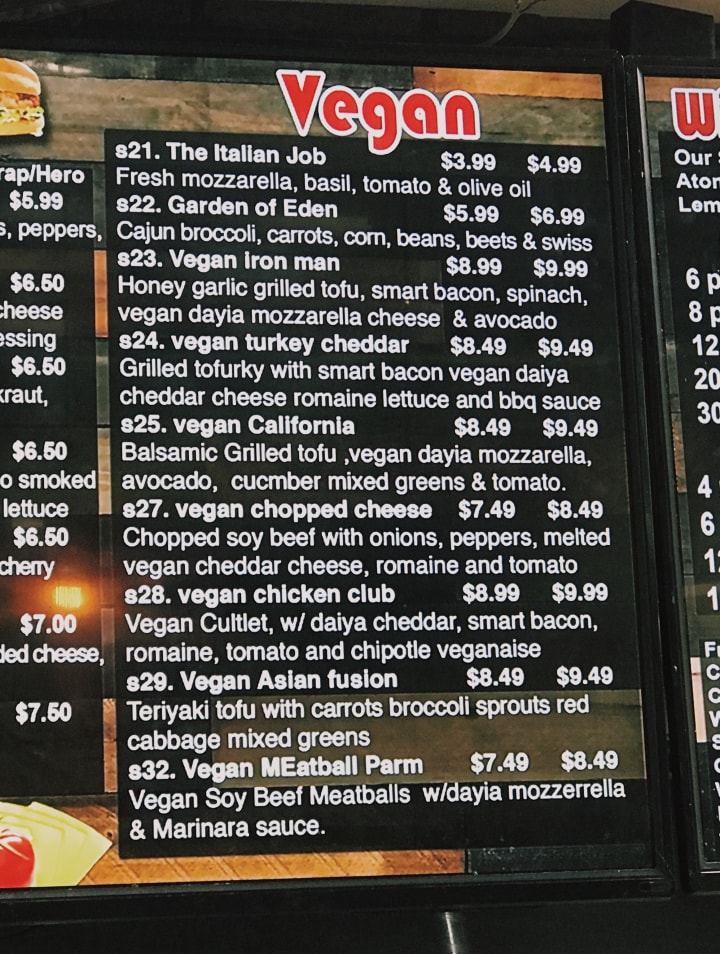 Not only is the menu filled with delicious vegan sandwich options, all of it is fairly affordable, too. Of course, I came with one objective, and it was to try the vegan chopped cheese. If you know me, you'll know that I am not a huge fan of vegan meat alternatives, so the concept of a vegan chopped cheese made me wonder if it was going to be a disaster of a sandwich. But I was pleasantly proven wrong.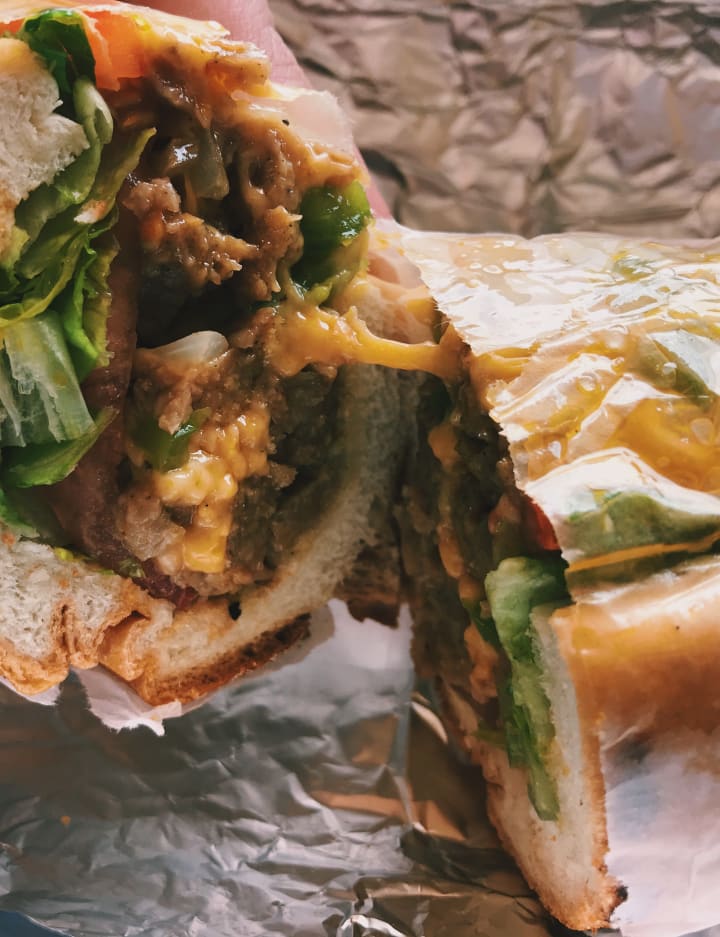 Because this particular spot has no seating room, I made my way to a local Dunkin Donuts where I was lucky enough to sit down and enjoy my meal. When I first opened this sandwich, it had that iconic greasy look and feel that let me know I was in for something good. One of my favorite things about this sandwich was that, once pulled apart, the vegan cheese actually stretched with it! A miracle only a vegan can really appreciate.
My first bites into this sandwich were packed with beautiful flavors that were just right. My problem with vegan meat is that the taste and texture are often very off, but, in this sandwich, it was perfect! Paired with onions, peppers, lettuce, and tomato, this sandwich was honestly the best. It's incredibly exciting to have found this spot, thanks to the many people on Twitter who shared this location with me. Having vegan options in familiar spaces in our borough allows for healthier options without compromising on the taste. At the time of my visit, this bodega had only had this vegan menu up for a month and was already selling out daily. By supporting this bodega and letting them know that vegan alternatives like this are very much appreciated, my hope is that it will influence other bodegas to have their go at veganizing their menu.
When I think about other tasty classic meals I'd like to see veganized in the Bronx, the first thing that comes to mind is BEC (Bacon, egg, cheese). This was my favorite fast breakfast option most mornings at school, and I miss it so much. For now, I'll remain comforted knowing that I have at least one source for vegan sandwiches that taste amazing, right in my borough.
If you're looking for an affordable classic Bronx meal with a vegan twist, I highly recommend checking out Tasty Picks. If you're in need of more tasty and affordable Bronx-based vegan meals like this one, please check out my segment called "Everybody Eats!" hosted on Veggie Mija's Instagram.