The Best Restaurants in Phoenix to Help Get You out of the Heat
Get out of the sunshine for a bit and into some of the best restaurants in Phoenix.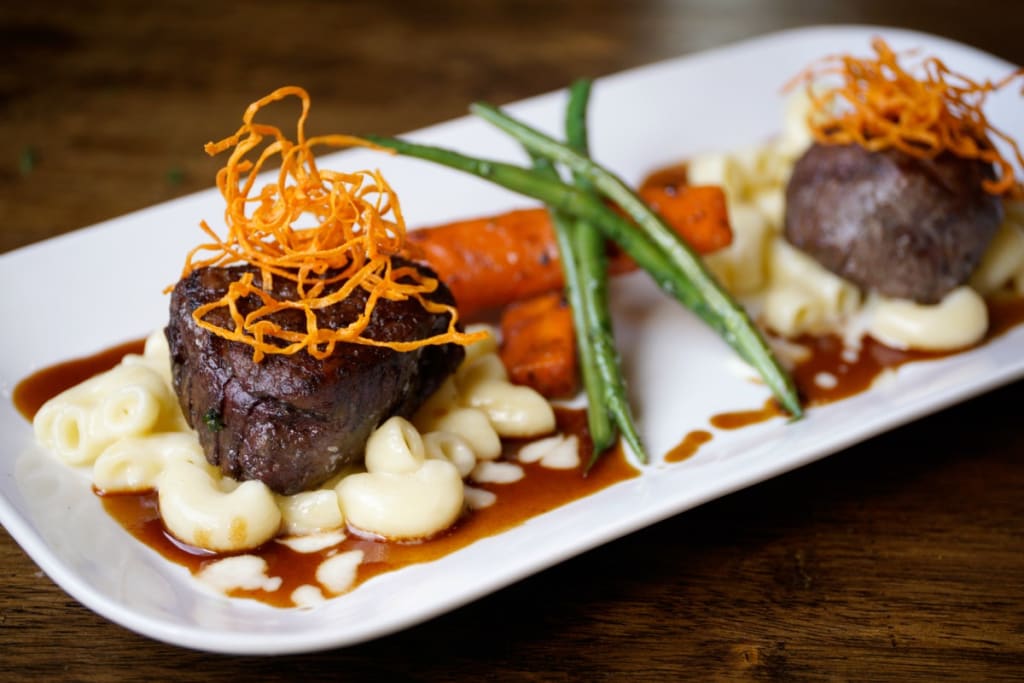 Arizona's population is growing faster than any other state not named Nevada, and its capital and cultural hub is the city of Phoenix. A city the size of Phoenix is bound to have some great places to eat, and its deep southwest location helps give it a variety of authentic options.
The Valley of the Sun sees more sunshine than any other place in the world, so the best restaurants in Phoenix are great to check out if only to beat the heat for a while. Check out some of the tastiest below, and be sure to stop in on your next visit.
Little Miss BBQ
Phoenix isn't on the same level as some BBQ spots in cities the likes of Austin and Kansas City, or even Nashville, but Little Miss BBQ in downtown Phoenix is doing all it can to get it in the conversation. At Little Miss BBQ they serve up Central Texas-style BBQ cooked in a giant smoker powered by Arizona oak.
The portions are perfect and the sides are all delicious, with the real standout being the jalapeño cheese grits. The place is always packed and closes at 4 PM, so get there early if you plan on tasting the stuff that makes it one of the best restaurants in Phoenix.
The Dressing Room
The Dressing Room doesn't look like much on first glance, located in a tiny building with a limited menu, but don't be fooled—it's one of the best restaurants in Phoenix. They menu is slim, allowing the chef's creativity to take over, creating some award-winning burgers, tacos, and salads.
The RoRo burger is already a local classic, a saucy burger served on a crispy English Muffin with sweet and spicy Russian sauce. The churro ice cream sandwich has also been turning heads, as its thick scoop of vanilla ice cream is wedged between two sugary, well-fried churros.
Restaurant Progress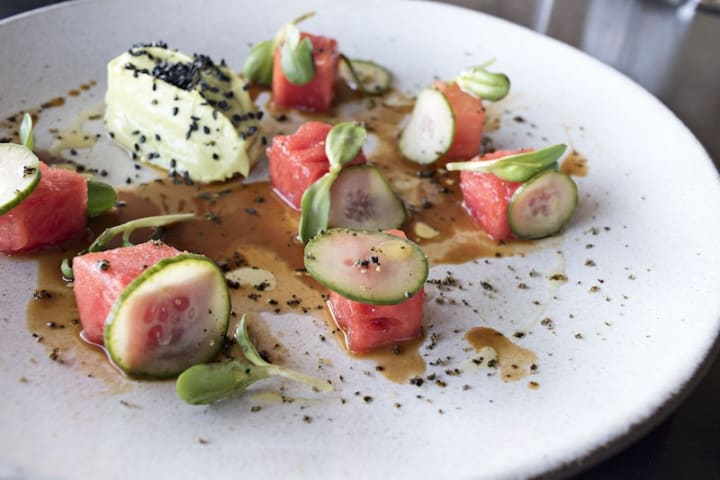 Restaurant Progress is an intimate eatery in the Melrose District, and its rotating menu of fine dining options has placed it among the best restaurants in Phoenix. It's a mostly modern American menu that changes seasonally, but always offers about a dozen different delicious options.
Everything comes on a relatively small plate and is crafted by a chef of serious talent. True foodies can't visit the Phoenix area without stopping in.
Gadzooks Enchiladas & Soup
Who doesn't love great enchiladas? Luckily for those in the uptown Phoenix area, Gadzooks is serving up some of the best enchiladas anywhere in the country. Mexican food fanatics can'r resist this place, and it has become one of the best restaurants in Phoenix behind the power of one item: the enchilada.
While the enchiladas are the star of the show here, don't sleep on their hearty soups, which all pair very well with the main dish.
Mora Italian
The dining room at Mora Italian is roomy and lively, and the menu is full of easy to read Italian fare. Everything here feels homemade, and you can really the care that goes into each dish.
Celebrity chef Scott Conant is the brains behind the operation, and the high-profile opening earlier this year has quickly launched it into the class of best restaurants in Phoenix. Despite the celebrity chef, the great food is really the big draw here.
Kai
Kai is an award-winning restaurant in Phoenix that has been recognized with the Forbes Five-Star Award, as the Coveted AAA Five Diamond Award. With a menu that is both unique and creative, indulge in the Native American culture.
As one of the best restaurants in Pheonix, Kai offers an adults-only fine dining experience with a business casual dress code. They also ask you to refrain from using electronic devices in the dining room, as it alters the environment.
Different Pointe of View at Pointe Hilton Tapatio Cliffs Resort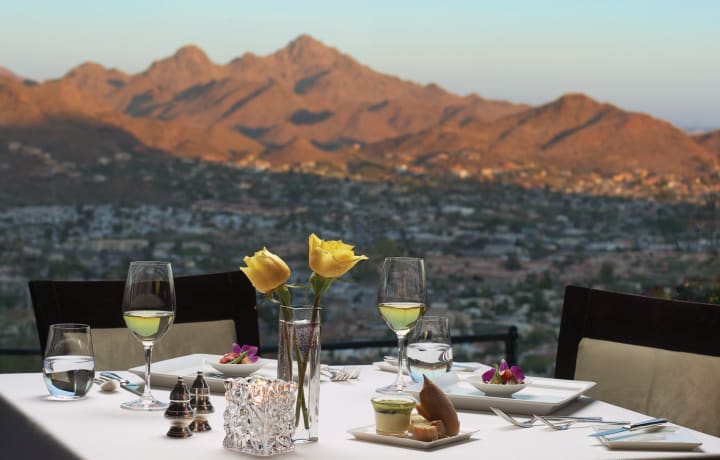 Different Pointe of View is a 30-year-old restaurant located on the Pointe Hilton Tapatio Cliffs Resort. Most prideful for their warm and comfortable atmosphere, the mahogany bar and restaurant is perfect for any occasion or celebration.
As one of the best restaurants in Pheonix, their menu includes options for breakfast, lunch, dinner, and even a special Thanksgiving Day buffet. We suggest trying their herd roasted chicken.
Rusconi's American Kitchen
If you're looking for fresh cuisine with local influences then Rusconi's American Kitchen is the perfect place for you. As a contemporary American restaurant, the menu is created with sophisticated and unique ingredients.
As one of the best places to eat in the city, their signature menu items are each cooked on their wood-burning grill for ample flavor. As a perfect casual dining spot for comfort food, you won't be able to eat here just once.
Steak 44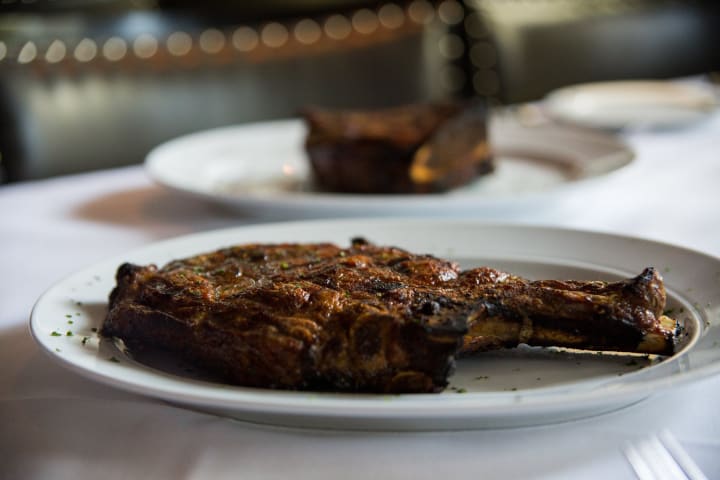 An American steakhouse such as Steak 44 is every meat lover's safe haven. As an upscale and contemporary eatery, the steakhouse provides prime steaks and fresh seafood.
Plus, its unique and elegant atmosphere is one perfect for a date night or celebratory night out. As one of the best restaurants in Pheonix, you're going to want to come here on an empty stomach. As home to some of the best steak in the city, this is a stop you need to make.
Tacos Chiwas
Finally, you shouldn't visit the Valley of the Sun without trying some amazing tacos, and nowhere does it better than Tacos Chiwas. The family owned Chihuahuan-style restaurant is a simple, no-frills taco experience. They specialize in preparing fresh food from recipes that have been passed down through the generations.
At Tacos Chiwas you order right at the counter from a small menu of burritos, tacos, and gorditas. Their homemade salsa bar is always well-stocked, helping make this simple taco destination one of the best restaurants in Phoenix.
Reader insights
Be the first to share your insights about this piece.
Add your insights