THE BEST RESTAURANT-QUALITY BBQ RIBS AT HOME!
Juice-down-your-chin, fall-off-the-bone, crispy goodness 😍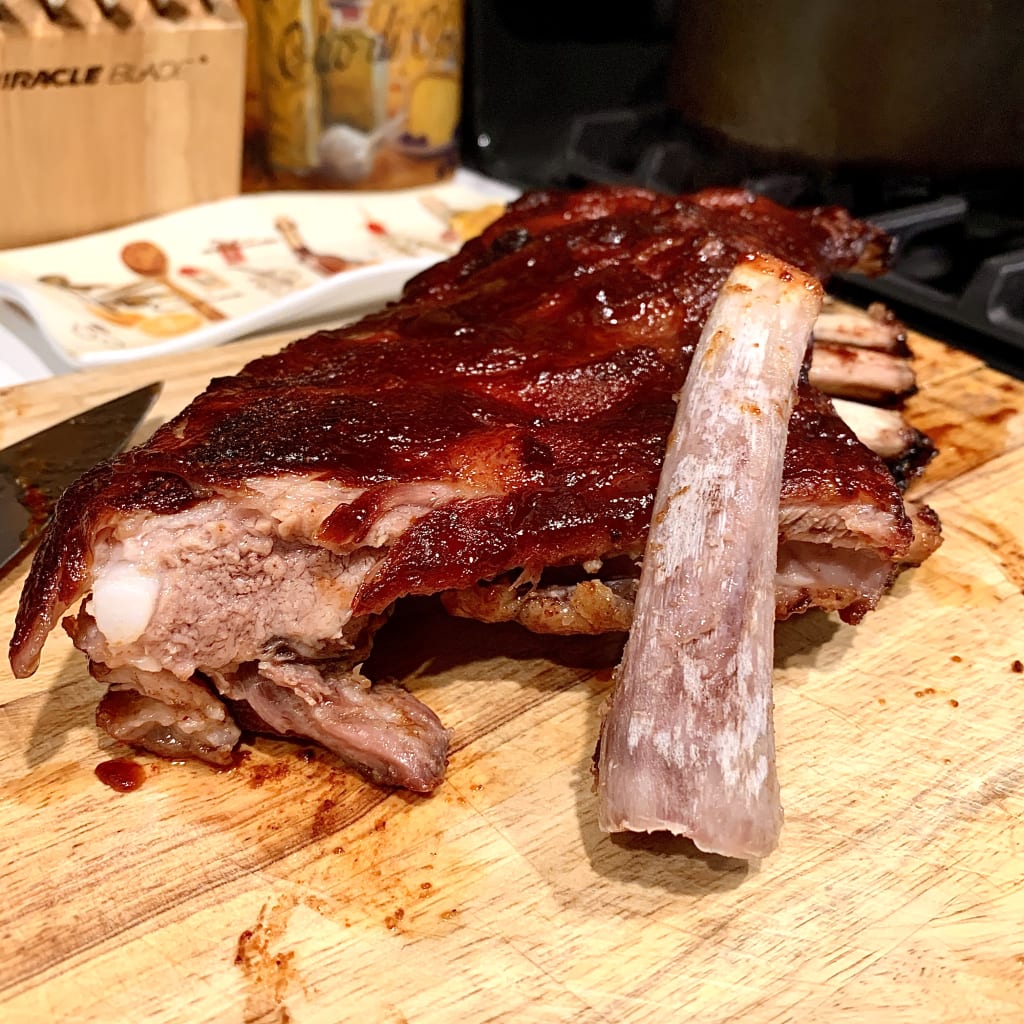 Six and a half years ago, my boyfriend made these ribs the first time he and I ever cooked dinner together while we were first dating.
Needless to say, I was instantly in love - Oh, and with Rob, too!
Up until that moment, I didn't think ribs that good could be achieved in a teeny studio apartment without all of the proper smokers, grills or restaurant equipment - but boy if I wasn't proven wrong that day!
Quickly, those ribs became one of those dishes that constantly circulated in my mind and would rear its delicious head any old time, hitting me hard with an insatiable craving - I had to have them, again and again!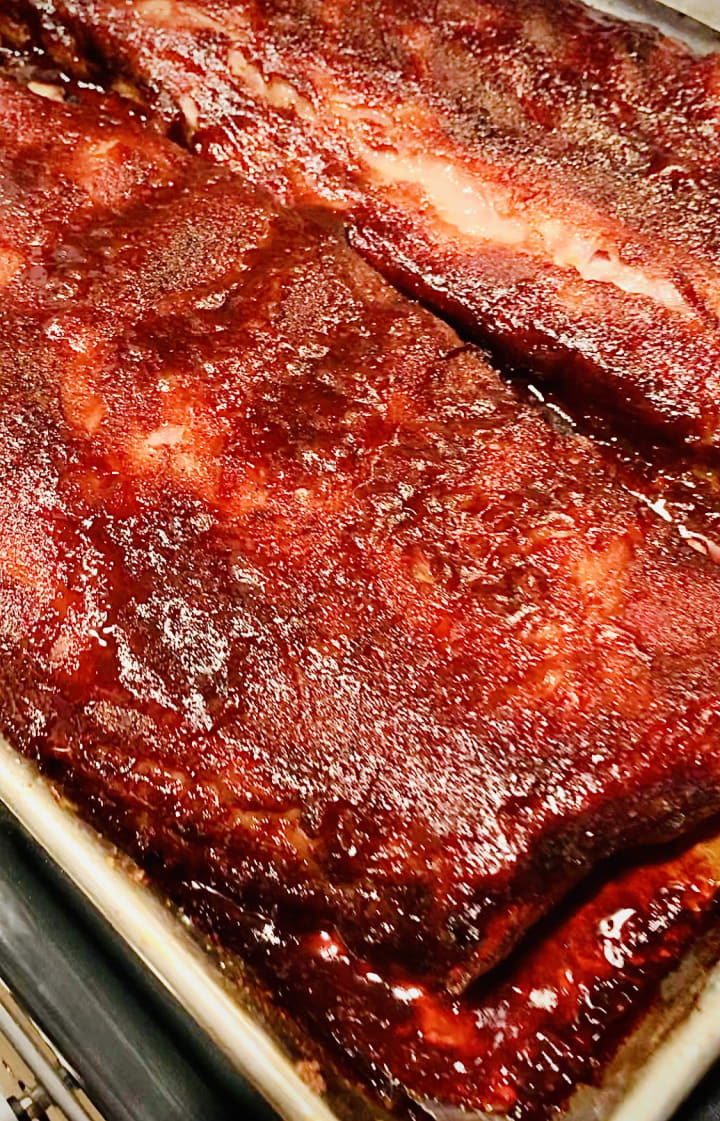 Being that Rob and I lived nearly two hours apart at the time, my impatient cravings couldn't always hold out until the next time I might see him, so it dawned on me... I should learn how to make these for myself!
So I picked his brain for his tips and tricks, and OH MAN, did he teach me well! Below is the tried and true recipe/technique I've been using ever since, and it never disappoints.
FOR THE RIBS
- 1 to 2 full racks, St. Louis Style ribs or spare ribs
- 2 C light brown sugar, packed
- 2 TBSP paprika
- 2 TBSP sea salt/kosher salt
- 1 TBSP garlic powder
- 1 TBSP onion powder
- 1 TBSP ground cumin
- 1 tsp ground black pepper
- 1/2 tsp ground chili/cayenne (optional)
- 1/2 tsp chipotle powder (optional)
FOR THE BBQ SAUCE*
- 1 C ketchup
- 1/8 C apple cider vinegar
- 1 to 2 TBSP reserved spice rub
- 1 TBSP tomato paste
- 1 TBSP Worcestershire sauce
- 1 TBSP honey or maple syrup
- 1 tsp creamy mustard
*You can substitute your favorite bottled sauce (I personally love sweet & smoky styles for a sassy tang)
MAKE IT...
Preheat your oven to 225°F. Line a half-sheet tray with tinfoil.
Remove the thin white membrane from the underside/bone side of the racks as thoroughly as you can (if you knick one side, you can usually stick your hand underneath and peel it off). Place the racks on the prepared sheet tray, meat-side up.
In a medium bowl, combine together the brown sugar, paprika, garlic powder, onion powder, cumin, salt, chili powder, chipotle and black pepper. Using a whisk or your fingers, mix thoroughly to combine.
Generously sprinkle some seasoning mix on the meat side of the ribs, patting it on with your other hand. Flip the ribs over and season the bone side as well (reserve any unused spice mix, being careful not to touch it with your meat hand. It keeps well at room temp in an air-right container for future bbq cooking).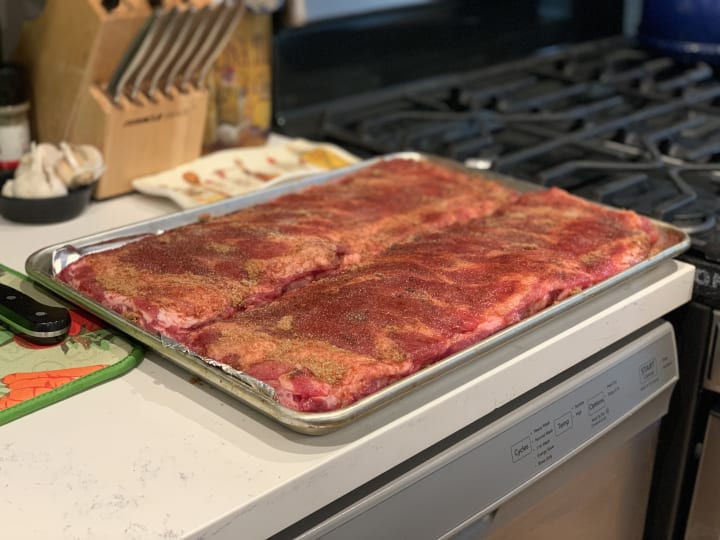 Place the ribs in the oven, meat-side down, and cook low n' slow for 2 to 2 1/2 hours.
When the ribs are in the last hour of cooking, combine the ingredients for the sauce in a medium sauce pan (Start with 1 TBSP of the spice rub, let reduce for a bit, then taste before deciding if the sauce needs additional seasoning).
Whisking occasionally, bring the mixture to a boil then reduce to a low heat, allowing the vinegar to cook out a touch, and the sauce to thicken. Once desired flavor/consistency, you can turn off the heat. If you are using bottled sauce, no heating is necessary.
Once the ribs have cooked for 2 to 2 1/2 hours, remove the ribs from the oven. Brush the bone side with BBQ sauce, then flip the ribs meat-side up. (To test if your ribs are cooking through properly, pick the rack up longways with the help of large tongs. The ribs should bend, but hold their shape.)
Brush the meat side generously with the BBQ sauce and return the ribs to the oven, meat side still up.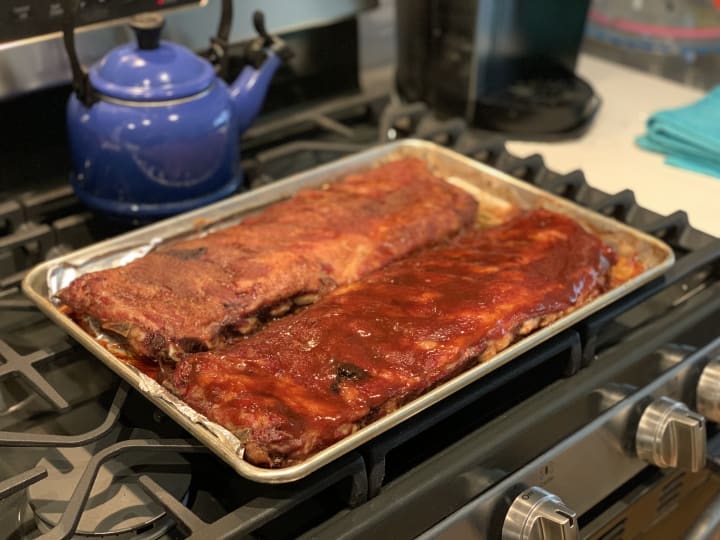 Cook for an additional 30 minutes, then crank the oven up to broil. Broil for an additional 3-5 minutes, or until a nice char/caramelization forms (alternately, if you do have an outdoor grill, you can also kiss the ribs on a high flame).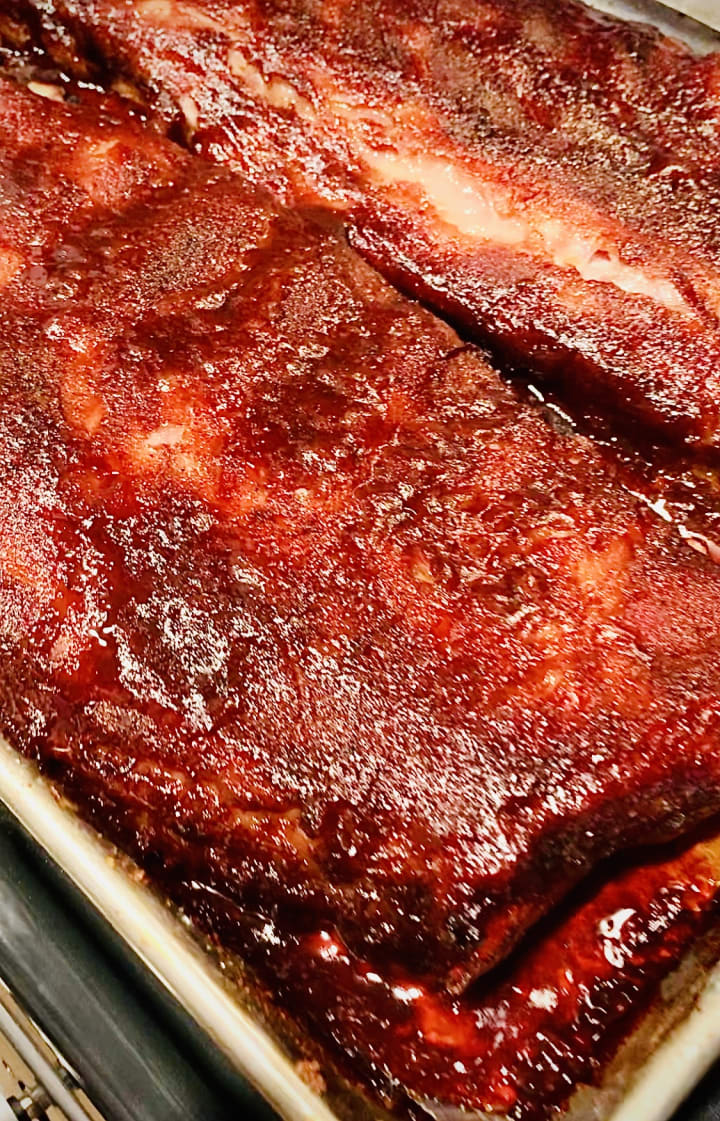 Remove the ribs from the oven and carefully transfer to a large cutting board. To portion, I find it easier to flip meat side down so you can see the bones.
Using a large chef's knife, slice the ribs right next to the bone into singles or doubles, or any size you desire.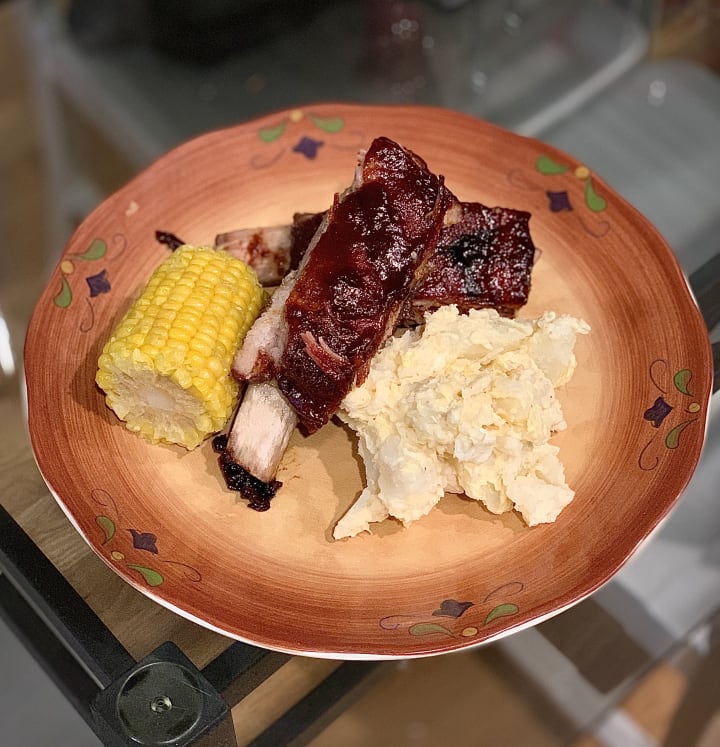 Serve nice and hot and crisp with all of your favorite bbq sides and enjoy!
(These ribs also reheat well the next day for leftover night!)
If you enjoyed this recipe, please also see my recipes for ULTIMATE FUDGE BROWNIES, COPYCAT CHIPOTLE CHICKEN BURRITO BOWLS, BAKING MILLIONAIRE'S SHORTBREAD, and THE BEST HOMEMADE MAC N CHEESE, or drop me a 💜/💵 .
Thanks!😊
@crescendoughcakes