Summer Palate
Sweet Potato, Chickpea and Turmeric Salad (Vegan, Gluten-Free)
This is the most delicious salad that ever salad-ed.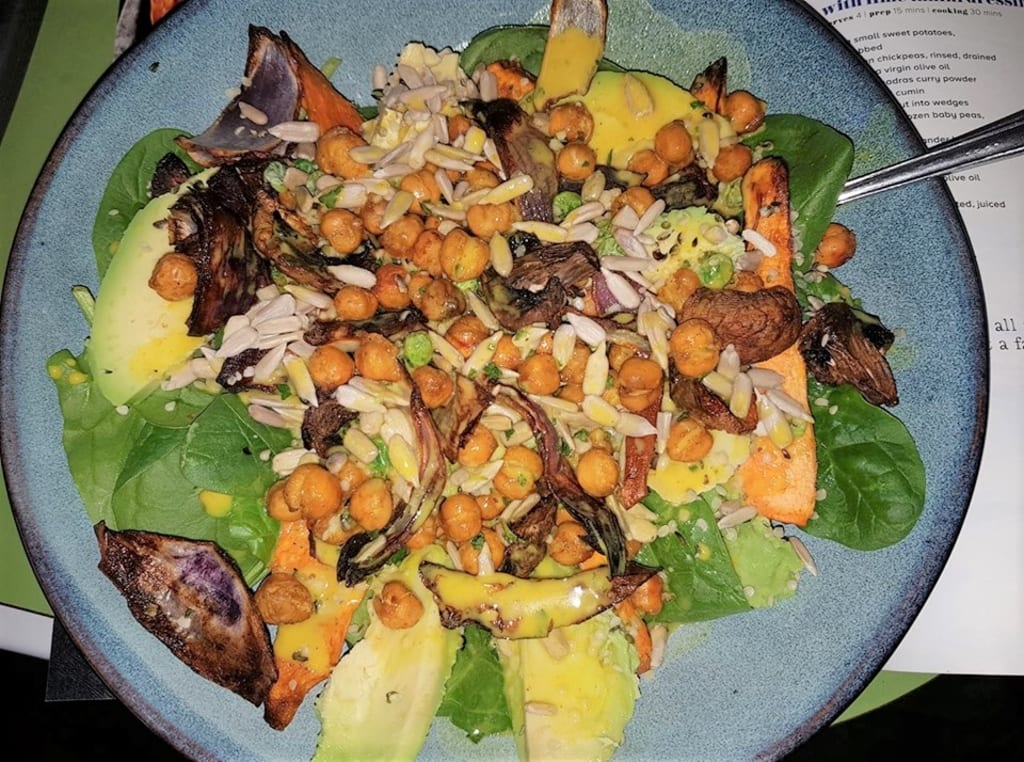 If you're after a hearty salad that's full of flavour, and will also fill you up, look no further. I've got you covered.
This salad will literally change your opinion about salad, if you're not already a salad lover. Rabbit food, be gone! This one is gourmet. It's a recipe you're going to want to revisit time and time again!
If you're conscious about your health, like me, you'll be delighted to know that this salad is dairy-free, gluten-free, 100 percent vegan, and 100 percent delicious.
With superfoods like hemp seeds and turmeric, this salad delivers a host of health benefits, such as being high in iron and protein, and also boasts anti-inflammatory properties.
Note: for the turmeric to be effective if you're eating it for its anti-inflammatory benefits, you need to add a source of fat and cracked black pepper to aid its absorption into the body. Follow this recipe to a tee and you'll have done that.
I'm not going to make this one of those annoying recipes where the author goes on to tell you their whole life story, and reminisces about that time they went on summer holiday and picked those fresh limes from their Aunt Joan's tree in South Carolina, then fell in love with the boy next door, while you have to scroll for days just to reach the actual recipe.
I know you're hungry, so let's get on with it. Here's how to make the world's tastiest salad.
Hint: to save time baking, use an air fryer.
This recipe serves two people.
Ingredients:
1 cup baby spinach leaves
1/2 an avocado
Cracked black pepper
Half a dozen button mushrooms, halved.
One sweet potato, peeled and cut into wedges
A red onion, peeled and cut into wedges
1 400g chickpeas, rinsed and drained
1 Tbsp melted coconut oil or extra-virgin olive oil
1.5 teaspoons curry powder
1 Tbsp cumin (ground)
1/2 cup baby peas
1 sprig fresh mint leaves
2 Tbsp extra virgin olive oil (extra, for the dressing)
1 Tbsp un-hulled tahini
1 lime
1/4 cup warm water
1 heaped Tbsp turmeric
A hearty squirt of agave syrup (you can also use rice syrup or another organic sweetener of your choice)
Hemp seeds, sunflower seeds, pumpkin seeds to dress.
Method:
Preheat oven to 200 degrees Celcius, if you're baking in the oven.
If you're using an air fryer, set your fryer to 25min, 200 degrees celcius. You will be stopping your fryer along the way to add more ingredients as you go. If you're not using an air fryer, ignore these instructions and use your oven.
Cut sweet potato into wedges. Do the same with the red onion.
Bake sweet potato and onion together until tender.
Drain and rinse your chickpeas, then pop them in a container and add the green peas, mushrooms, 1.5 tbsp olive oil, your cumin, and curry powder. Seal the container and shake to combine.
Add chickpea, pea, mushroom mix to bake for another 10 minutes (15 if in the oven.)
While it's baking, make the dressing.
In a food processor, combine the leftover oil, tahini, lime (rind grated finely and juiced), warm water, turmeric, a pinch of cracked black pepper, mint leaves and agave syrup. Blend until mint leaves are small enough that you don't notice them.
Once your food has finished baking, allow to cool so that it is warm, but not cold.
Layer in a bowl in this order: baby spinach leaves, everything from the oven, and your sliced avocado. Drizzle bowl with the turmeric tahini dressing, and dress with hemp seeds, sunflower seeds, and pumpkin seeds.
Prepare to be amazed, and share your food on Instagram. (Tag me if you do!) @crunchy_mony