Strawberry Bounce
I didn't used to be a morning person.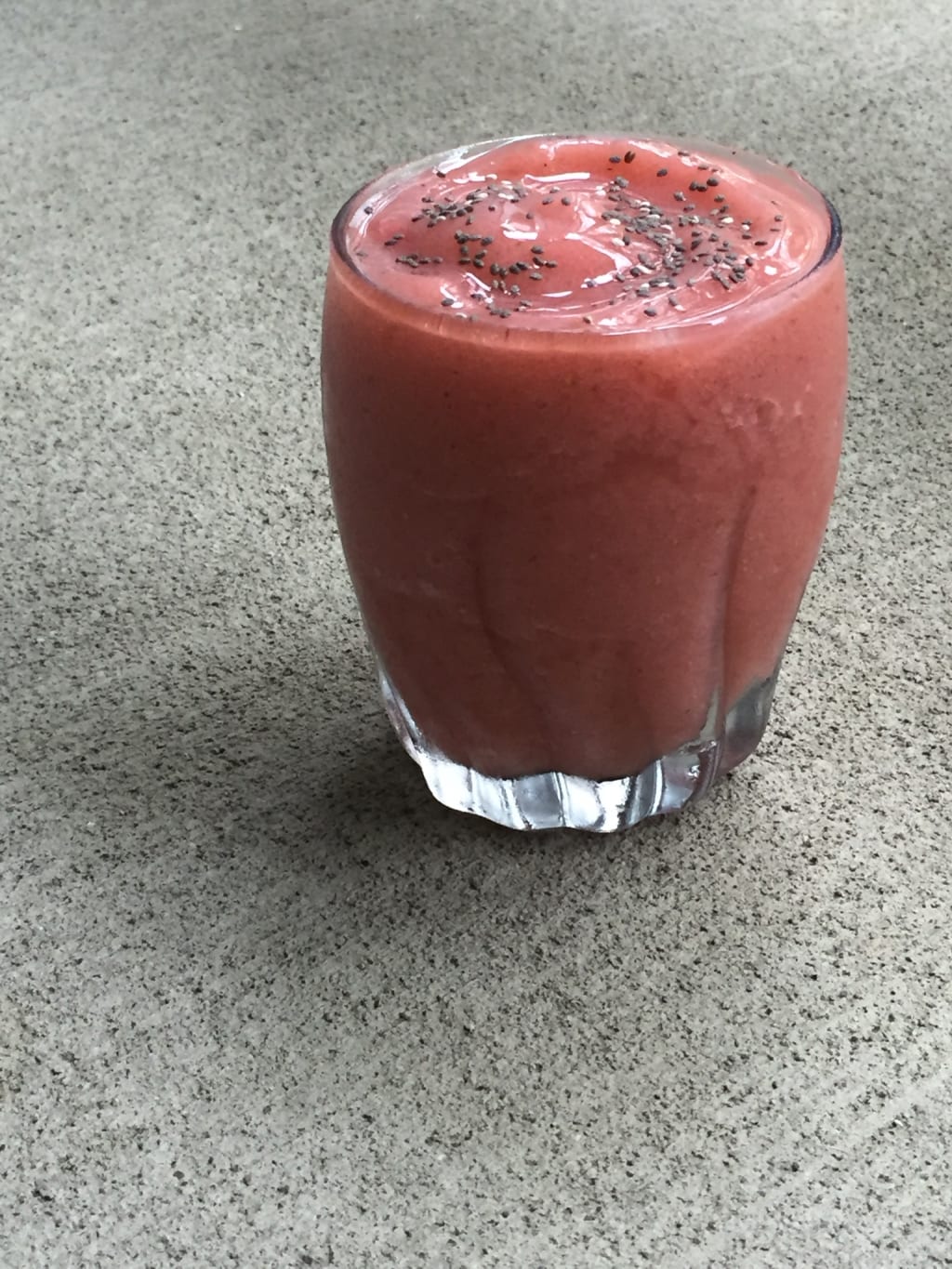 I didn't used to be a morning person. I kinda forced it on myself. I had a hard time waking up before 10 AM before. I also was working retail and had no consistent schedule, so it was hard to hold myself to any kind of standard, really. So I started giving myself little things to be excited to wake up to. Usually, it's a beverage. I have a cold brew drink on most mornings (more recipes for these coming soon), but sometimes I opt for a smoothie. This is one of my favorites. The ingredients are pretty easy to find, and if you've read this blog for any length of time, you know what I'm going to say: freeze your produce. It takes virtually no time to do, and it preps you for groggy mornings when you deserve something special but don't want to take the extra time to make it. This is easy. You just throw everything in a blender and pulse it up. Even though this is a simple recipe, it took a few tries before I got it perfect. It was a journey. Strawberry and kiwi is an elite combination on its own, but I wanted to take it over the edge and give it some subtle enhancements. I'm extremely proud of this drink, and I'm happy to share the recipe. Also, truthfully, I don't even like strawberries very much, so I took concocting this drink as a personal mission to make it balanced. I usually find strawberries too acidic on their own without the right balance of flavor to acid ratio. They're too hit or miss, in my opinion, and they don't stand alone well enough as a Good Fruit. But I'm not here to argue.
All of my produce for this was frozen, but if you're working with fresh produce and don't want to wait, you can still make this. I do not suggest adding more ice or more water though, as that would throw off the delicate balance of this drink. Truthfully...you should just do it the way I indicate here. Sometimes I have some wiggle room in a recipe, but not with this one. This smoothie is perfect in every way. I know, because I reworked it no less than ten times before I came up with this. That is not an exaggeration. The green grapes are what truly set it off. I didn't use pear in this, but both grape and pear are underrated secret ingredients that can really enhance some flavors. It just depends on what you're going for. Now, let's get to the recipe.
You will need:
5 strawberries
½ of golden kiwi
7 green grapes
1 tsp orange blossom syrup
1 tsp chia seeds
½ cup water
5 ice cubes
Blend the strawberries, kiwi (skin ON), grapes and water until the consistency is smooth. Add the orange blossom syrup and pulse it some more. Add in the ice cubes at the end and pulse it until you no longer hear the ice rattling around in the blender. Sometimes people ask me how I know the smoothie consistency is truly smooth. That's the tell. Wait until you don't hear the ice anymore. Nothing turns me off more when I'm drinking a smoothie than when a little chunk of ice interrupts my drinking experience. If someone makes you a smoothie and there's a chunk of ice in there, it's Amateur Hour, and you shouldn't allow them to make you a smoothie again. They don't respect you. Anyway, pulse in the ice. Pour into a glass and top with the sprinkle of chia seeds. That's all.