Speculaas Spiced Pear Scrolls
So, I kept the scrolls small, I almost tripled the recommended amount of spice for a LARGE scroll, and then I drenched the finished product in an oober sticky glaze…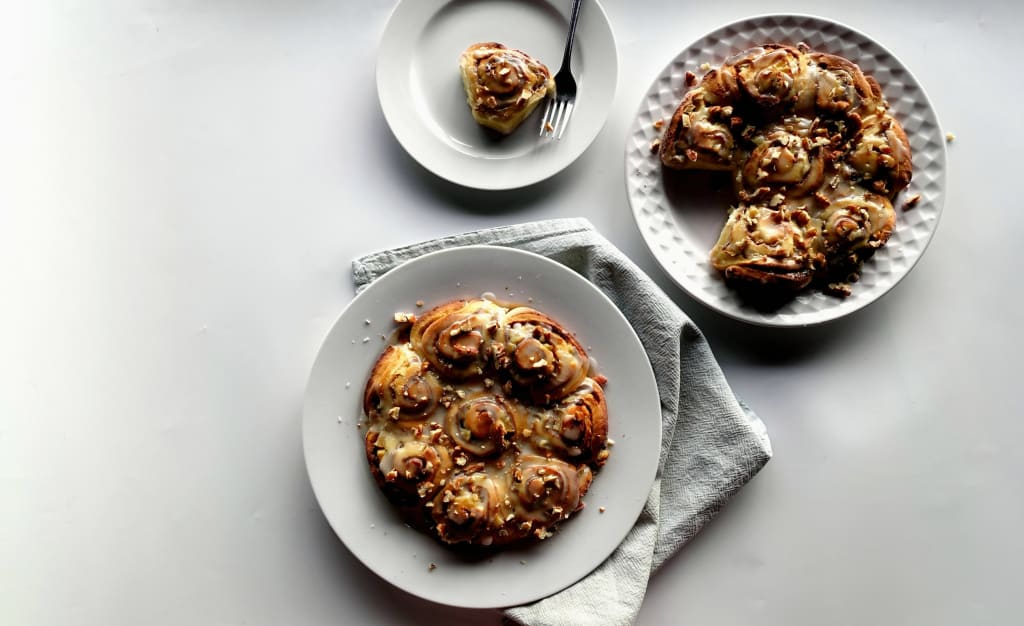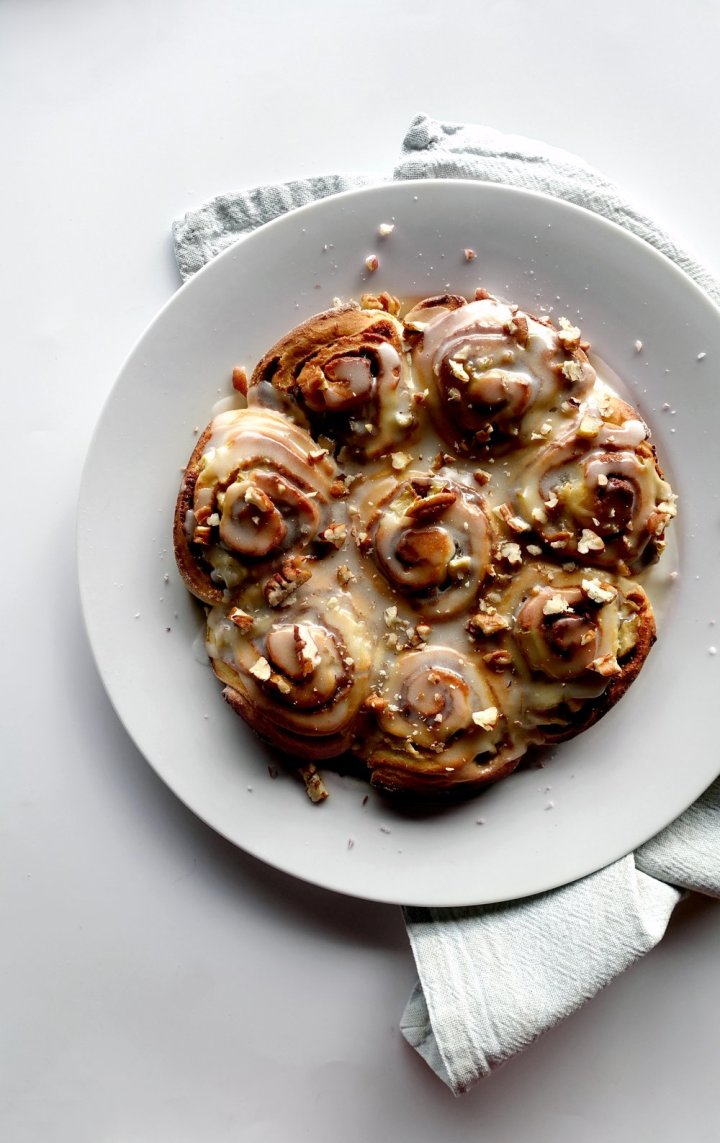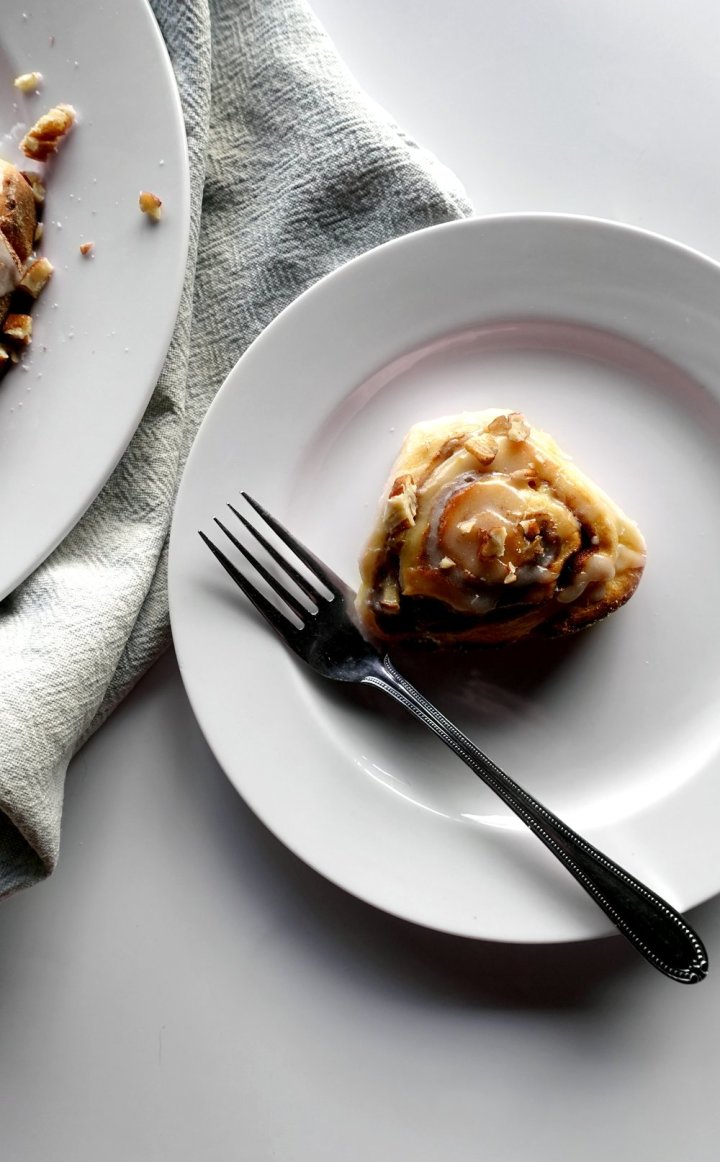 Well, last nights weather was a little wild! From about 9:00 PM we were battered with 100km per hour winds and non-stop rain. Safe to say that the puppies were not happy with this weather arrangement, and neither was I when I had to trudge 50kg of chicken feed across the sloshy backyard this morning! BUT now, as I sit snuggled under countless blankets waiting for our little house to warm up, these warm, fluffy Speculaas spiced little scrolls are warming my soul! If you've ever eaten anything containing the spice mix that is Dutch Speculaas, you know exactly what I mean, it's such a warm, homely, comforting spice, and no matter what you put it in, be it cake, cookies or pear scrolls, it's the perfect weapon to fight off those Winter blues. Last year, a family member came from Egypt to visit us in Australia, and during her time here she made what was by far the most delicious cinnamon scroll recipe I've EVER had the pleasure of eating! What made her cinnamon scrolls so great? Well, they were really small, so the bread didn't dull the taste of the gorgeous filling, which was PACKED with god only knows which spices, but there was definitely copious amounts of cinnamon in there! And then it was all drenched in a thick, gooey glaze, and I mean DRENCHED! So when I decided that I was going to bake Speculaas Spiced Pear Scrolls, I knew that Latifas little masterpieces were to be my inspiration. So, I kept the scrolls small, I almost tripled the recommended amount of spice for a LARGE scroll, yes you heard right, these little babies are packing a real spice punch! and then I drenched the finished product in an oober sticky glaze. The result? Does my spiced pear scroll recipe stand up to Latifas' originals? y turned out to be quite the treat if I do say so myself! The small chunks of pear nestled within this pear roll offer a welcome burst of sweetness in amongst the powerful Dutch spices, and the freshly baked bread makes for a soft and fluffy base on which all the flavours can be happily married. But you'll just have to bake them and be the judge of that yourself.
MY TOP TIPS FOR MASTERING THIS BAKE
#1 Your yeast is quite possibly the most important ingredient in this spiced pear scrolls recipe, so if it just isn't foaming, start fresh with new milk, new sugar, and new yeast to try again. You don't want to ruin all your hard work by using dodgy yeast.
#2 Don't pre-prepare your pears, pears begin to brown when exposed to oxygen, so put off chopping them up until just before you're ready to use them. PS: You can also keep the skins on, I did.
#3 Can't find pre-made Speculaas spice mix? Don't fret, it's not all that common. Instead, you can combine the following the made your own.
8 tsp cinnamon
2 tsp ground cloves
2 tsp grated nutmeg
1 tsp ground coriander seeds
1 tsp ground aniseed
1 tsp ground ginger
1 tsp white pepper
3/4 tsp ground cardamom
#4 The best way to cut your scroll slices without squishing them is to use a serrated knife and a gentle sawing motion. If your slices end up a little out of shape, you can always gently correct them before placing them in the baking tins. But honestly, their shape isn't oober important because they if you're baking them into pull apart loaves like me, they won't bake perfectly round anyway, they will be almost little triangle shapes.
recipe