South American Cuisine
Delicious dishes made in South American countries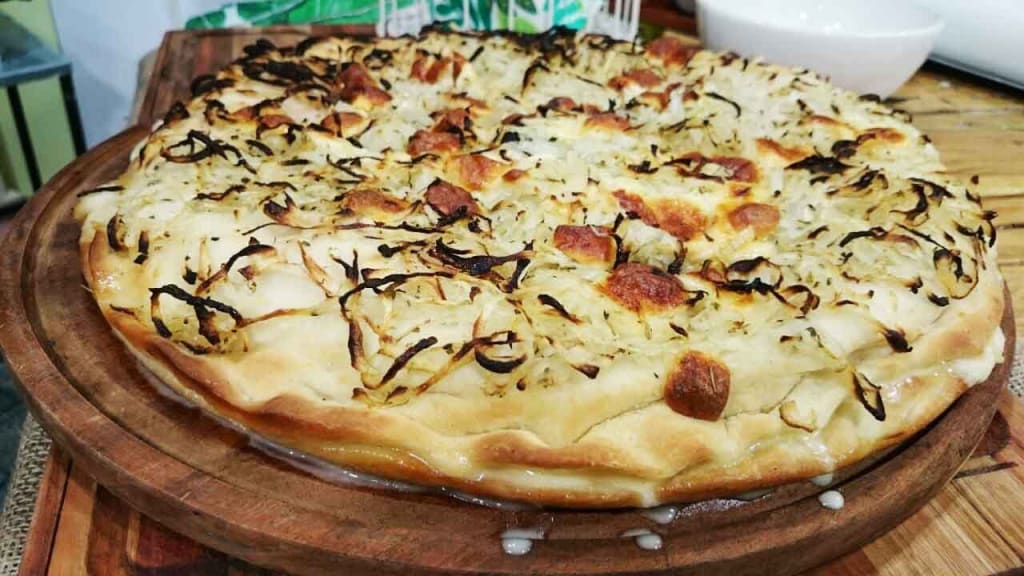 Fugazzeta
Argentina
Fugazzeta is a delectable mozzarella-stuffed pizza topped with onions. The onions are thinly sliced and can be raw or sautéed. The dough consists of milk, water, yeast, flour, sugar, salt, and olive oil. The pizza is known as fugazzeta de verdure when it is topped with sautéed vegetables like spinach and fugazzeta con jamon with slices of ham.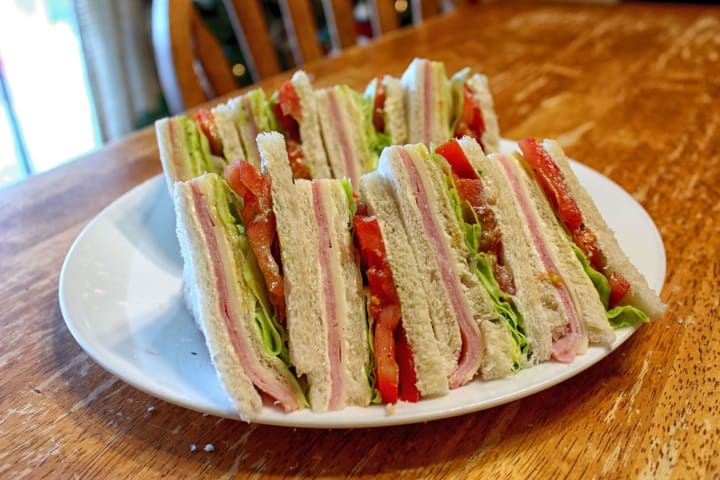 Sandwiches de miga are made with crustless white bread and can have two or more slices of bread per sandwich. The fillings can vary, but the most common kind consists of ham, cheese, and mayonnaise. These sandwiches are usually eaten as afternoon snacks and served at parties and celebrations. One common variety is the tostada a toasted sandwich de miga served warm.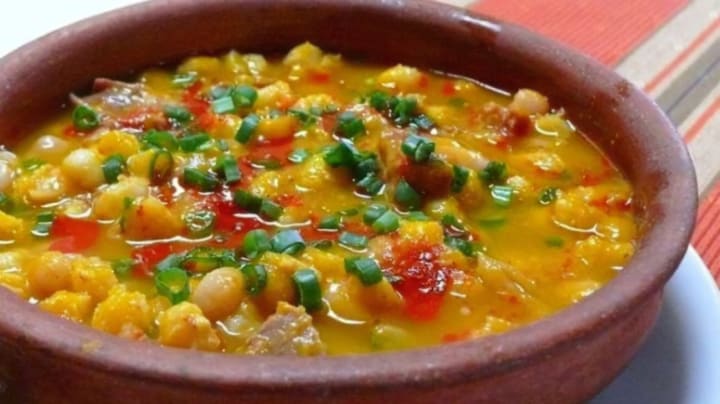 Locro is a thick stew that originated in South America before the arrival of the Spanish conquistadores. It is an authentic and traditional stew usually prepared with dry white corn kernels, meat, and vegetables. The stew consists of cuts of pork or beef, as well as offal or ribs. Some versions can include sausages and smoked bacon. Other ingredients in the stew are dry corn kernels, vegetables like pumpkin, potatoes, and yams, and different spices.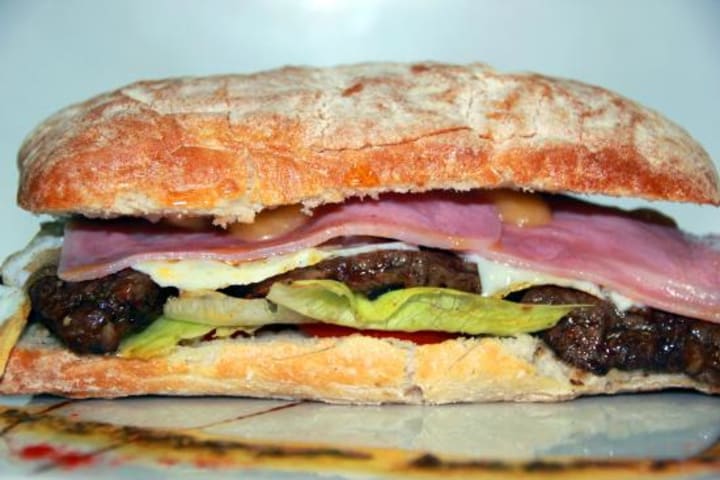 Sandwich de lomo or lomito is a large, delicious steak sandwich. It is prepared with thinly sliced lomo steak, tomatoes, onions, lettuce, mayonnaise, chimichurri sauce, ham, cheese, and a fried egg. Substitutes can include pork and aubergine slices.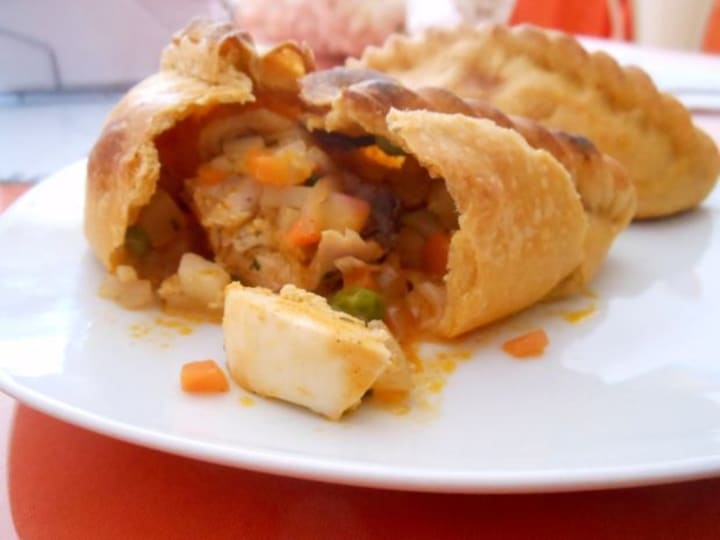 Bolivia
Saltenas is the national dish of Bolivia. These are crescent-shaped pockets of dough filled with meat such as chicken or beef. Once they've been filled, they are baked to a golden brown. The sweet pastry has spices like crushed adobo bush seeds, cumin, and oregano. When blended together these spices are known as achiote seasoning. Saltenas are consumed for breakfast or as a mid-day snack.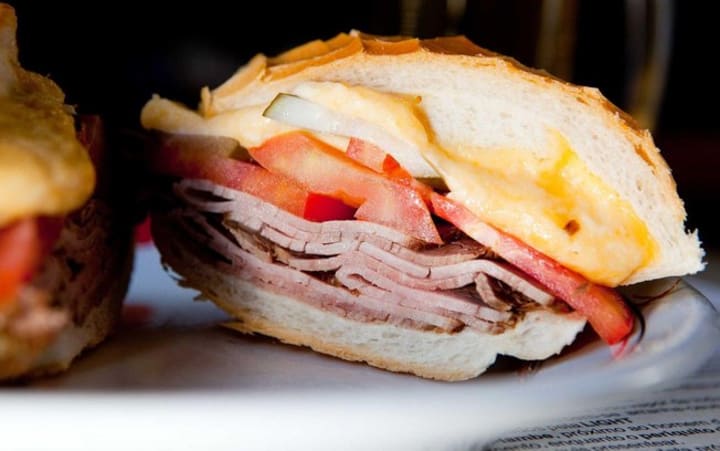 Brazil
Bauru is a classic Brazilian sandwich. It consists of a crusty bread roll with the soft bread inside removed. Then it is stuffed with melted cheese, tomatoes, sliced pickles, and roast beef. Today there are variations like using sliced ham instead of roast beef or using bread slices.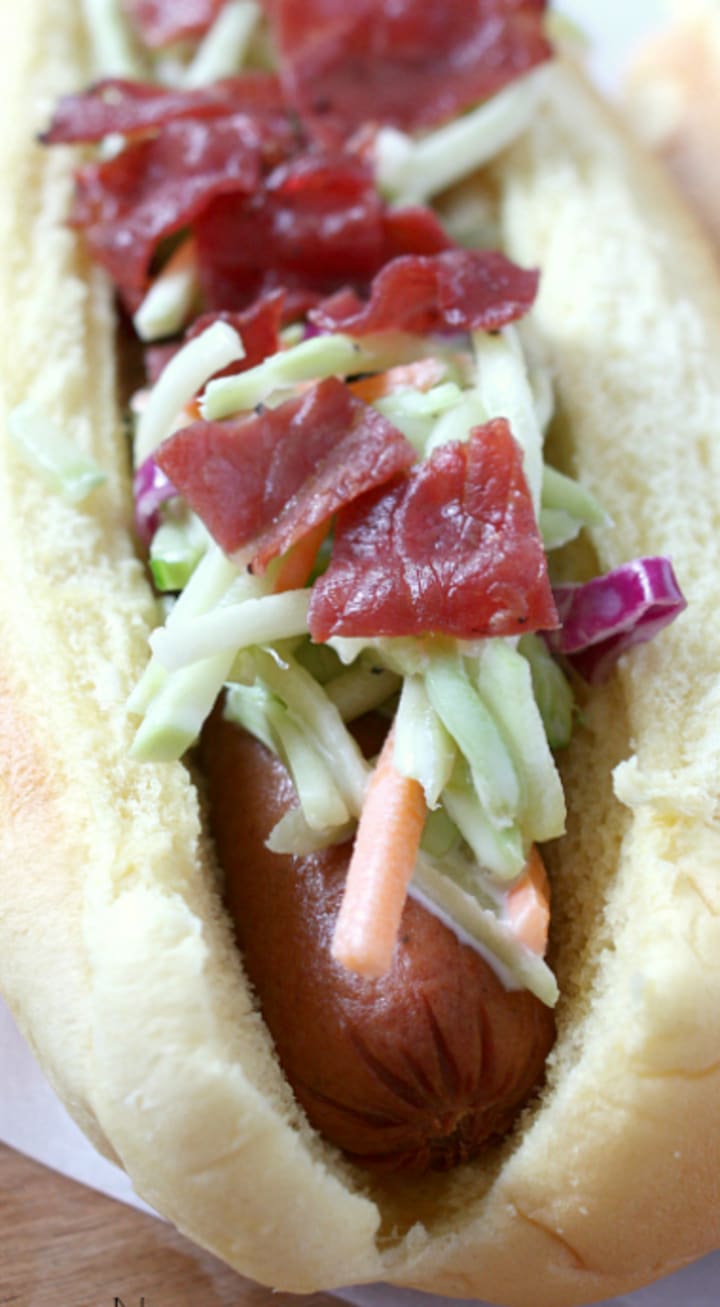 Cachorro quente is a Brazilian-type hot dog. It is prepared with a bread roll filled with sausage links, ground beef in a chunky tomato sauce with green peppers and onions, and melted cheese. The dish is usually accompanied by mashed potatoes, corn, grated carrots, or peas.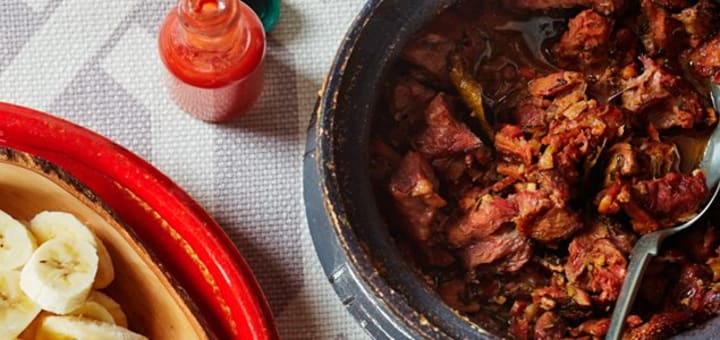 Barreado is a Brazilian dish, mostly a carnival staple dish that originated in the state of Parana. It is a hearty stew with beef, onions, tomatoes, beef bouillon, cumin, bay leaves, and fried bacon put into a clay pot with water added to cover. The pot is sealed with a ring of dough made with manioc flour and wheat flour. The stew simmers over a low flame for 12 to 48 hours, so when ready, the meat is so tender it falls apart.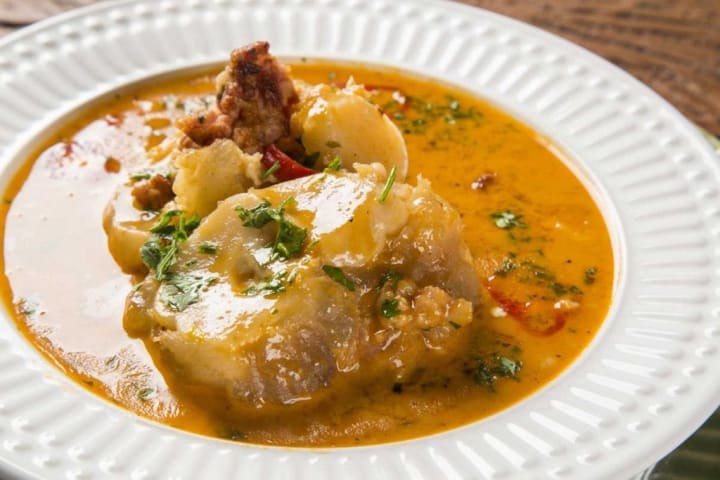 Mocoto is a popular stew made with cow's feet, beans, and different vegetables. It is most popular in the northeastern and southern parts of Brazil. It is considered the perfect winter stew.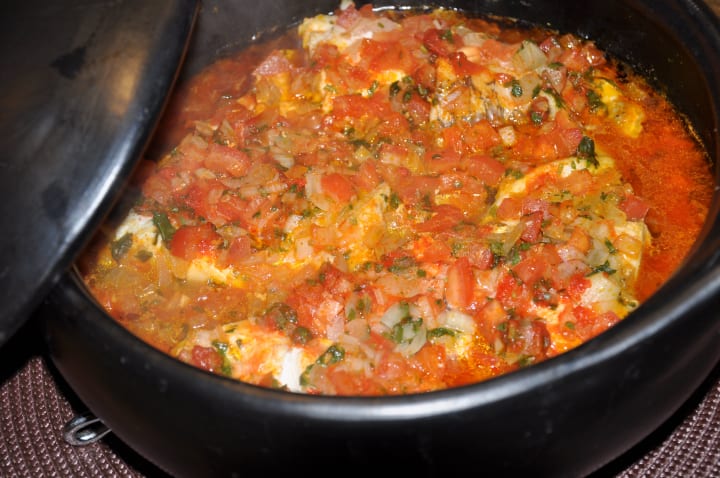 Moqueca capixaba is a traditional Brazilian stew. It is made with fish, lime juice, coriander, and vegetables like onions, tomatoes, and garlic. The stew cooks in a clay pot, and the seafood is layered with the other ingredients and simmered until ready. You can add chili peppers for extra spice. The stew is served with white rice or creamy manioc porridge.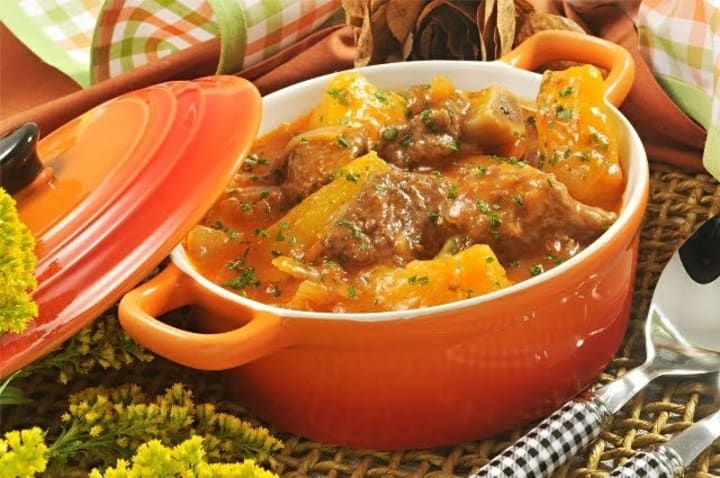 Vaca atolada is a meat dish made with beef ribs, garlic, onions, tomatoes, parsley, cassava, chili peppers, and ground coloran (urucum seed). The meat is first marinated before cooking and drenched in a thick sauce. The dish is served with white rice and fresh green salads on the side.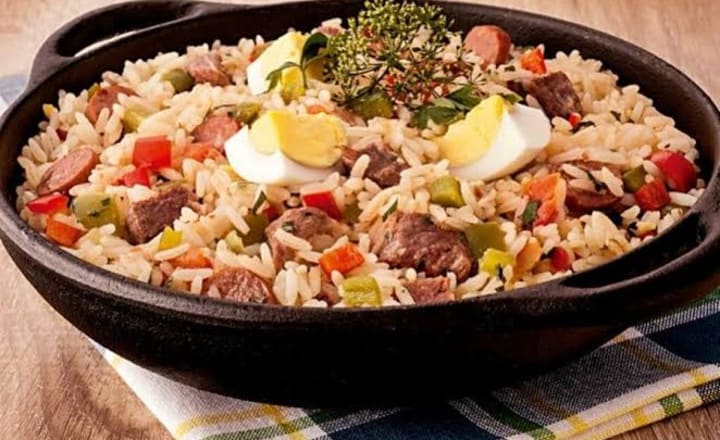 Arroz carreteiro translates to wagoner's rice. It is a hearty rice and meat dish that originated in southern Brazil. The dish was originally prepared with dried beef, but today can be made with leftovers from barbecues. Rice, onions, sausages, bell peppers, garlic, oil, and parsley are added to the meat. The dish is topped with grated parmesan.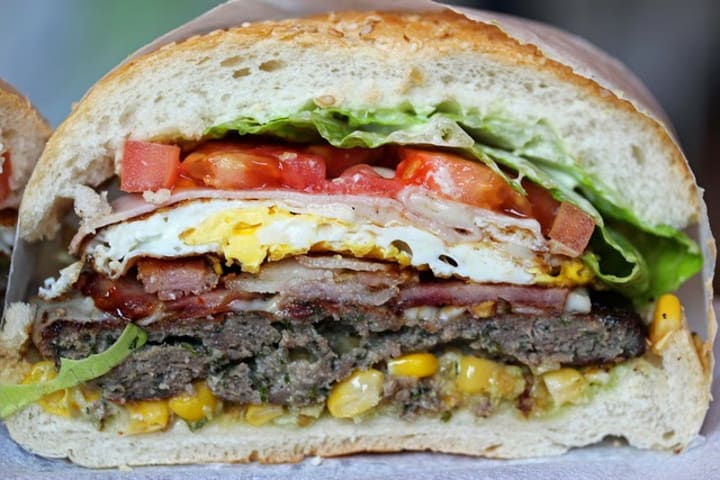 X-Tudo is a very tall burger that originated in Brazil. The burger translates to with everything or cheese everything. There are no fixed ingredients but a lot of toppings. Putting together one tall burger, you take beef patties, bacon, lettuce, tomatoes, corn, ham, melted cheese, sausages, mayonnaise, and fried potato sticks or shoestring potatoes. The giant burger is usually served on a paper tray.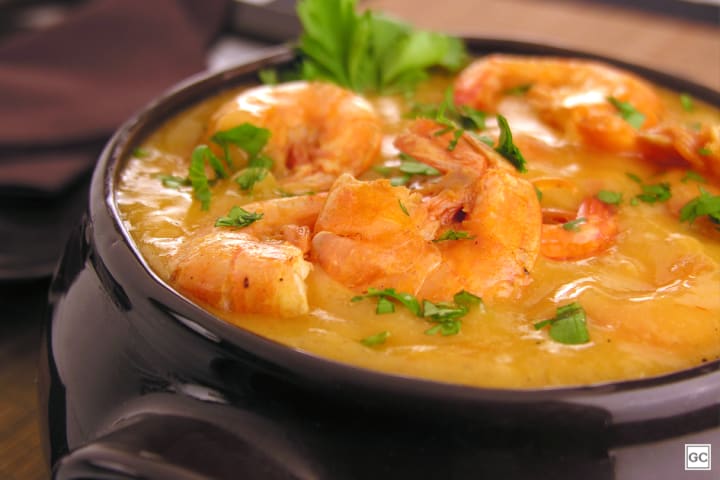 Bobo de camarao is a delicious stew prepared with pureed cassava (bobo), fresh shrimp, coconut milk, and palm oil. The dish is served with rice on the side.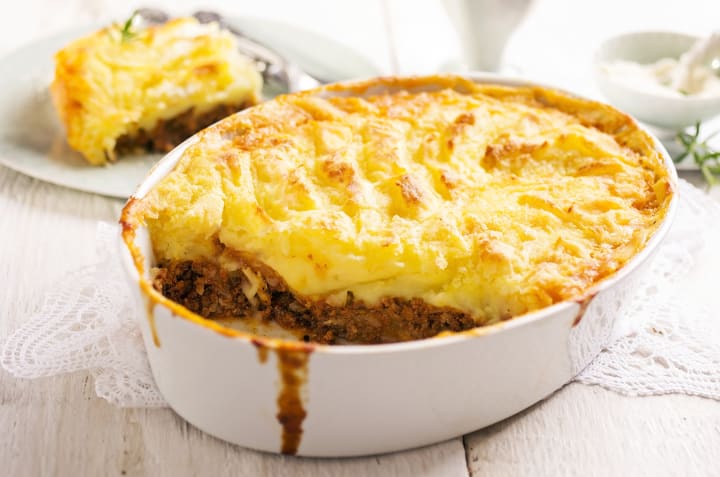 Escondidinho is a casserole that includes beef, chicken, pork, fish, or shrimp. The original dish is known as escondidinho de carne seca, a combination of dried and salted meat and mashed potatoes. It is prepared with tomatoes, onions, garlic, and spices. Then placed in a baking dish and topped with mashed potatoes and grated cheese on the top. It is baked until the top is golden brown. The dish translates to little hidden one, which refers to the meat that is hidden beneath the mashed potatoes.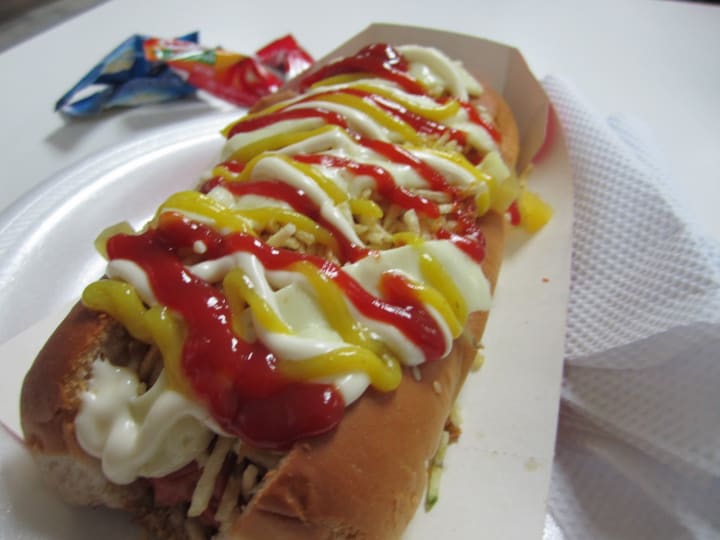 Columbia
Perro caliente is a variety of Colombian hot dogs. It is large with many toppings. The sausages are boiled or steamed. Then placed in a bread roll and topped with ingredients like pineapple chunks, mayonnaise, ketchup, mustard, raspberries, bacon, and crushed potato chips.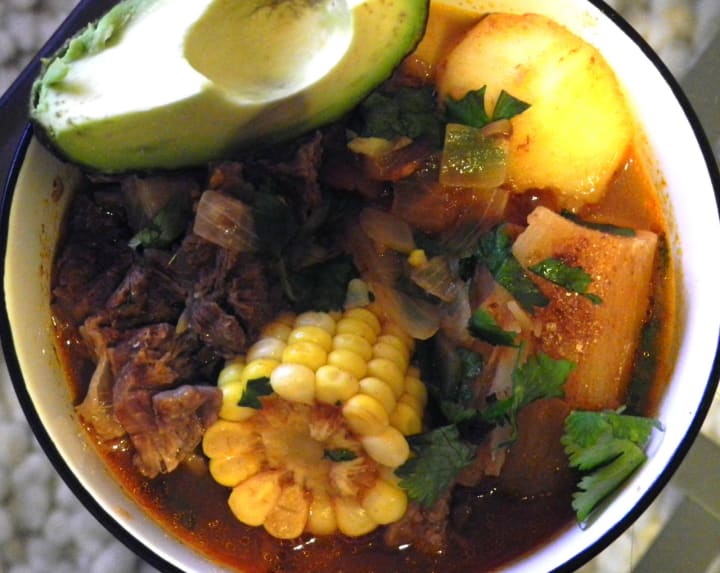 Sancocho is a chicken stew prepared with potatoes, corn, and plantains. The stew is made in one pot in a thick broth. When done, the dish can be topped with fresh coriander, onions, and a squeeze of lime juice. Traditionally the stew is served with white rice, spicy aji sauce, and avocado slices on the side.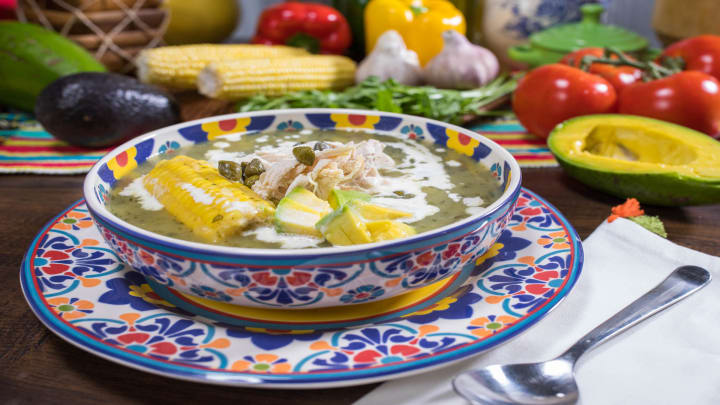 Ajiaco is the national dish of Colombia. It is a delicious chicken and potato soup with the addition of herbs and corn. Usually, three varieties of potatoes are cooked together waxy sabanera, tiny papas criollas, and soft pastusa. The potatoes are simmered in the chicken or beef broth until they break down, combining their flavors. These varieties give the soup a thick and creamy texture.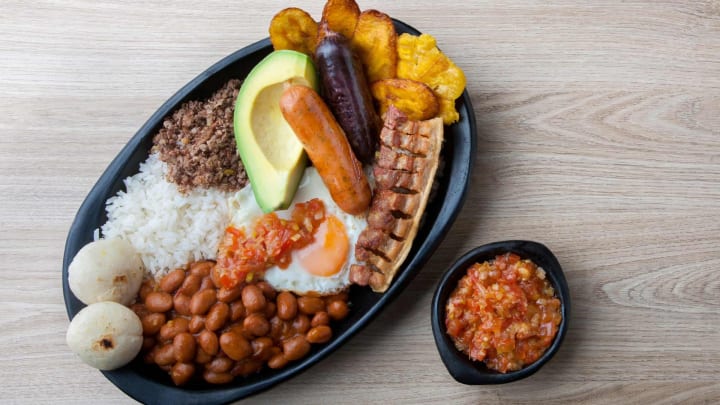 Bandeja paisa has been the national dish of Columbia since 2005. It is traditionally served on a big, oval platter and eaten for lunch. The dish consists of 13 ingredients, including golden-fried chorizo sausages with lime, hogau sauce, white rice, ground beef, plantain arepa (a thin, fried corn cake), avocado, stewed red beans, fried pork belly, and it is all topped off by a fried egg.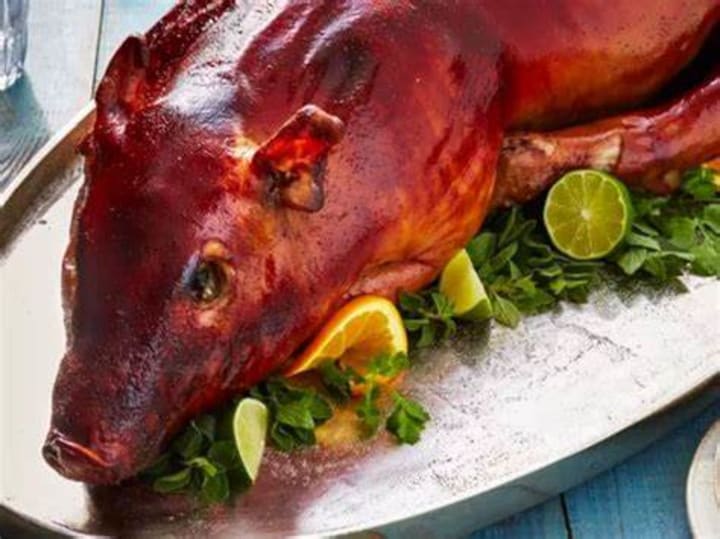 Lechona is a traditional dish made with a whole roasted pig stuffed with onions, peas, potatoes, fresh herbs, and different spices. The pig is roasted until the meat is tender. It is usually prepared for celebrations and festivities.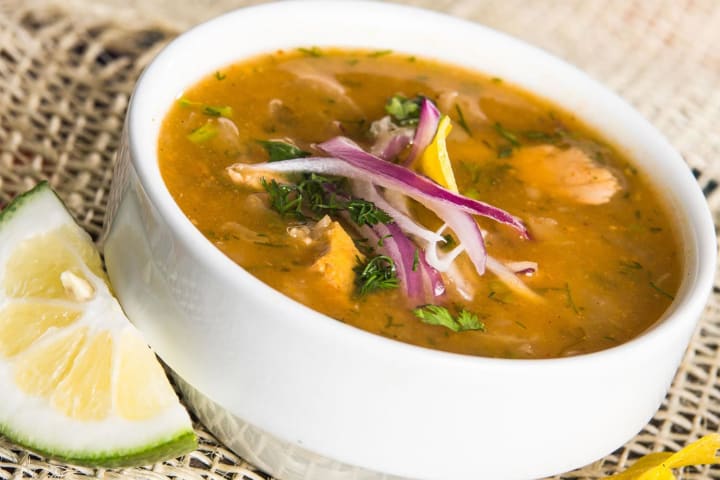 Ecuador
Encebollado is the national dish of Ecuador. This is a fish soup with many onions. It is prepared with fresh tuna meat, cassava root, tomatoes, onions, coriander, and different spices. The onions, chili, coriander, and cumin make a pungent mix and base for the soup called sofrito. Pickled onions go either on top of the soup or into it.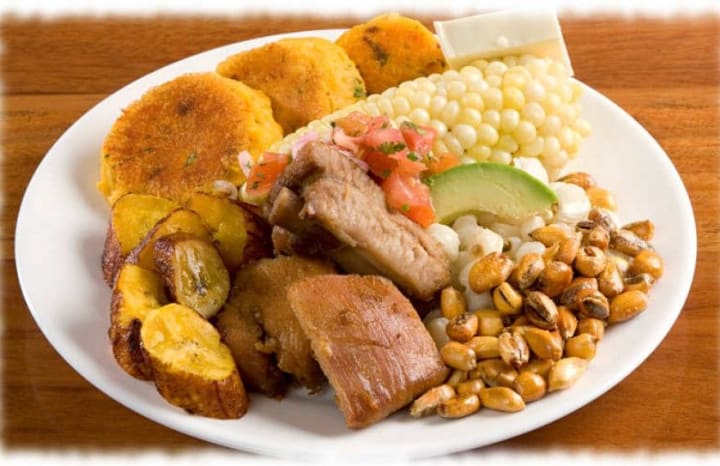 Fritada is a traditional dish that consists of diced pork boiled down in water and left to fry in its own drippings. The pork is seasoned with onions and garlic, cooking alongside. It is served with side dishes like potatoes, plantains, hominy, fava beans, or corn.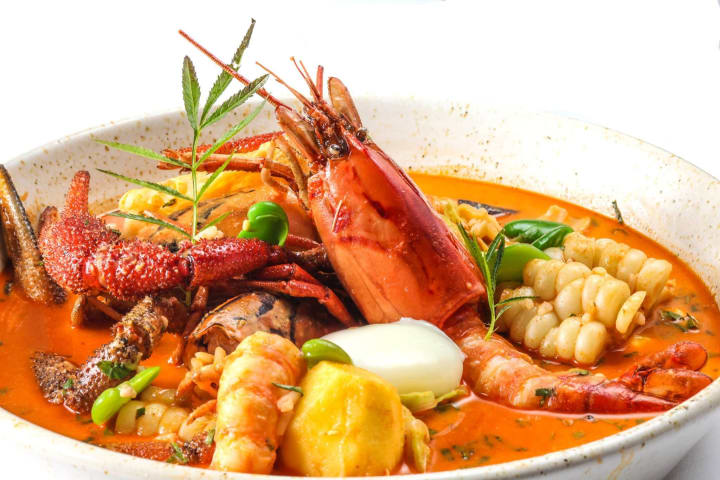 Peru
Chupe de camarones is a popular shrimp or prawn chowder. It is prepared with fish stock, fresh shrimp, onions, eggs, milk, cheese, garlic, and yellow potatoes. Sometimes rice, beans, carrots, and peas are also used. The chowder is served in deep bowls and garnished with parsley.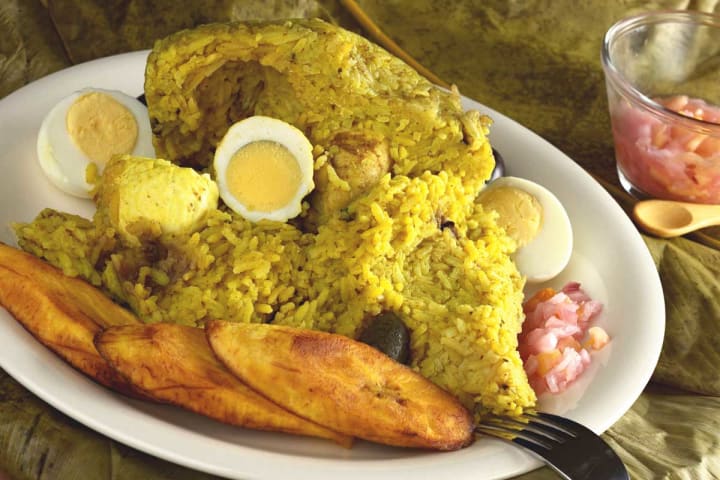 Juane is a traditional dish that originated in the Peruvian jungles. The dish is made with chicken, olives, hard-boiled eggs, and rice with spices like turmeric, oregano, and cumin. The ingredients are wrapped in waxy bijao leaves and cooked. The dish is usually paired with cassava or boiled bananas.
Tacu-tacu is a dish that mixes rice, beans, onions, and different spices. The ingredients are pan-fried. making a thick pancake-like dish. The dish might include lentils. It is served with a fried egg on top or eaten with breaded and fried meat, fried plantains, and onion-based salsa criolla on the side.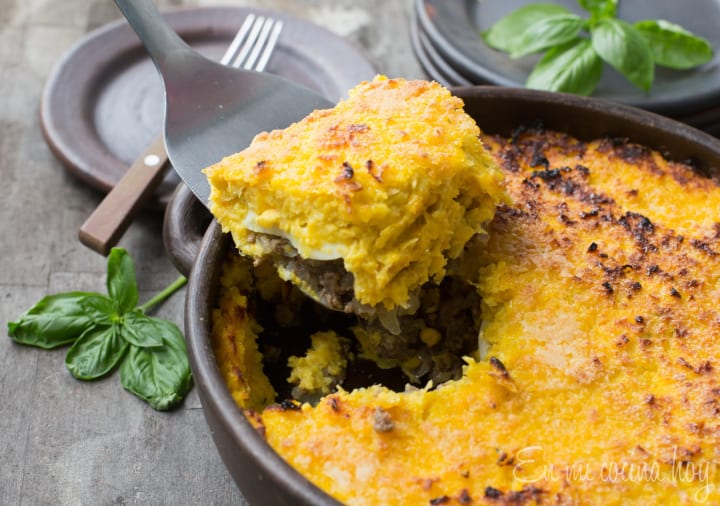 Pastel de choclo is the national dish of Peru. It is a soft and creamy casserole-like pie. The dish is made with ground beef, black olives, onions, hard-boiled eggs, and corn flour dough called choclo.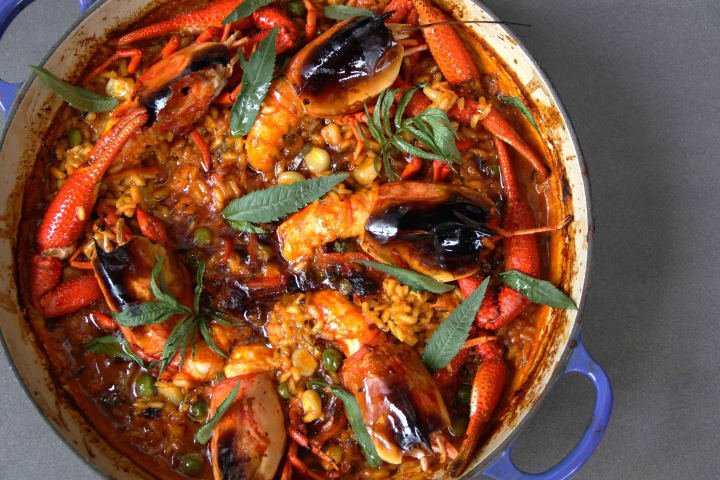 Arroz con camarones is a flavorable dish prepared with shrimp, peppers, tomatoes, and onions in a delicious shrimp broth. It is seasoned with cumin, garlic, and achiote and finely chopped parsley. The dish is served with lime wedges, hot sauce, avocado slices, or fried plantains.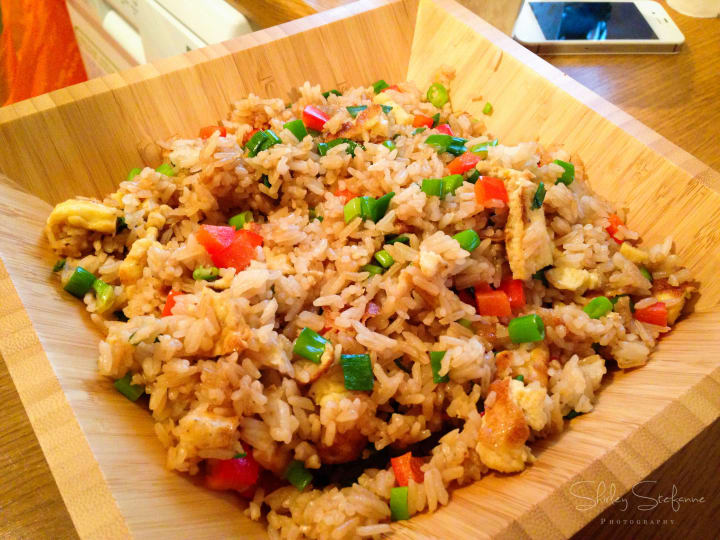 Arroz chaufa is a Peruvian dish with an influence from Chinese cuisine. The dish is made with rice that is fried with shredded chicken, salami, garlic, ginger, slivered almonds, eggs, chicken stock, soy sauce, pineapple chunks, and pineapple juice. It is usually garnished with chopped scallions and coriander.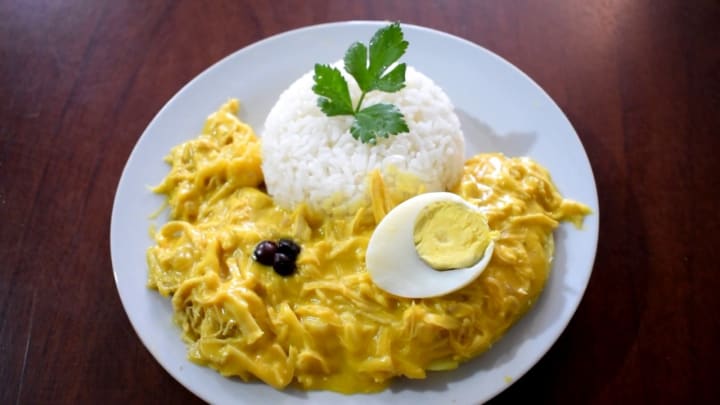 Aji de gallina is a spicy dish that consists of shredded chicken in a creamy sauce. The sauce is prepared with aji Amarillo chilis, garlic, onions, walnuts, cheese, and crustless bread, including spices like cumin, pepper, oregano, turmeric, and parsley. The dish is served over rice and garnished with black olives and boiled potatoes.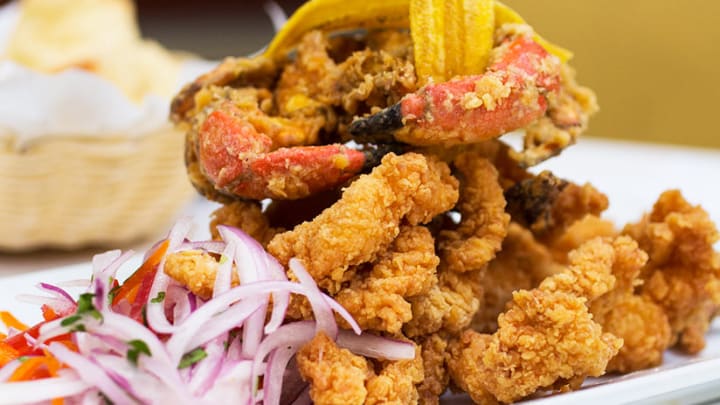 Peruvian jalea is a seafood dish made with lightly breaded and deep-fried fish, usually tuna, halibut, cod, or striped bass. It can have mixed seafood such as octopus, squid, shrimp, and scallops. The dish is served with thinly sliced and fried plantains called cahifles and topped with a tart salad of lime-marinated red onions, tomatoes, and cilantro.
About the Creator
My passions are writing and creating poetry. I write for several sites online and have four themed blogs on Wordpress. Please follow me on Twitter.
Reader insights
Outstanding
Excellent work. Looking forward to reading more!
Top insights
Excellent storytelling

Original narrative & well developed characters

Eye opening

Niche topic & fresh perspectives

Heartfelt and relatable

The story invoked strong personal emotions
Add your insights