Baa Baa Black Sheep
Delectable dishes made with lamb or mutton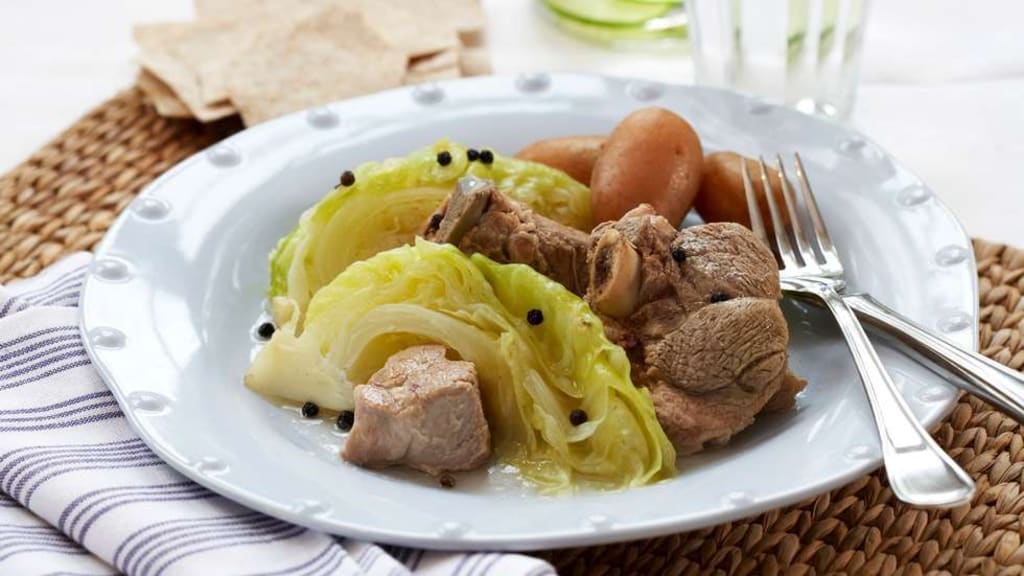 Europe
Norway
Farikal is the national dish of Norway. This is a hearty stew prepared with mutton and cabbage and served with boiled potatoes. The simple ingredients of mutton, cabbage, water, salt, and pepper are boiled together to make a favorable broth. When the stew is done, the broth is thickened with flour. Even though this stew can be eaten year-round, it is traditionally a dish served in the autumn.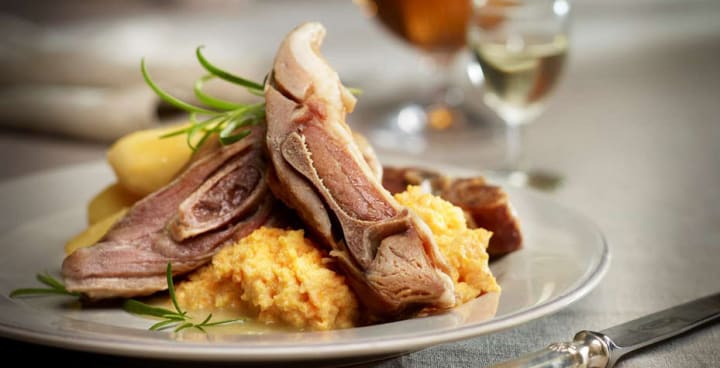 Pinnekjott is a traditional dish served at Christmas in Norway. Racks of lamb or mutton are brined and air-dried or smoked. Once done, just before serving, the lamb is cut into individual ribs. To make the meat juicy and tender, it is traditional to place the racks on birch branches and steam them till all the water evaporates. The dish is served with mashed or boiled potatoes, pureed Swedish turnip, and salads.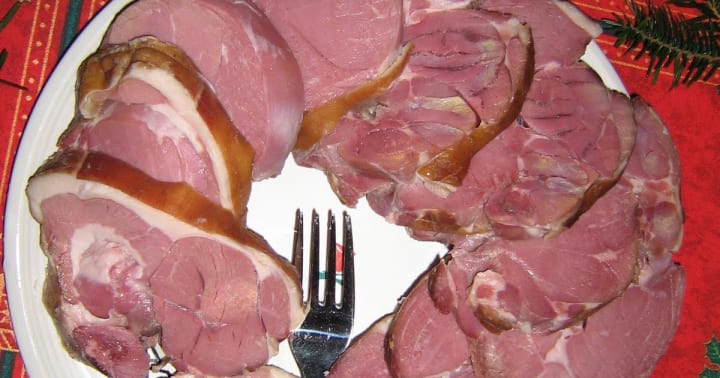 Iceland
Hangikjot is a smoked lamb specialty. A lamb leg or shoulder cut is brined or dry-salted and cold-smoked over a fire for a couple of weeks. Traditionally for the smoking process, dried sheep dung is used for fuel. The lamb is usually enjoyed at Christmas, either hot or cold. The meat is accompanied by potatoes, green peas, a white sauce, and pickled red cabbage.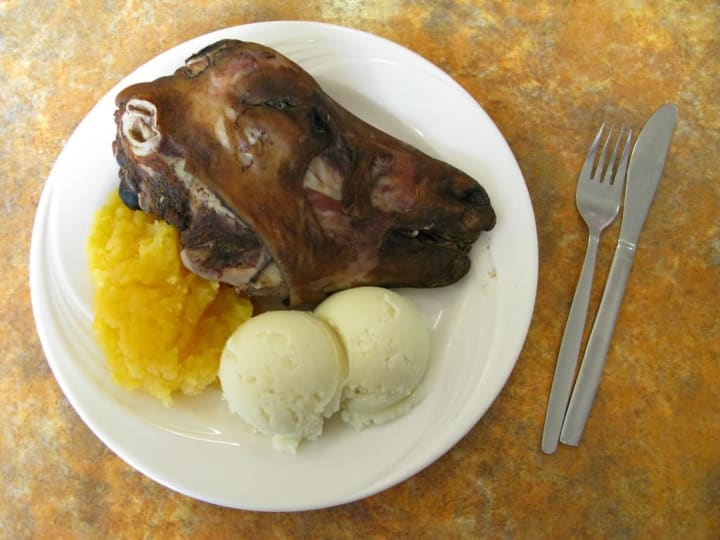 Svio is a unique dish prepared with a singed, halved, and cooked head of sheep. First, the head is cooked over an open fire to remove the fur. Once done, it is eaten with mashed turnips, rhubarb jelly, and mashed potatoes. This dish was created, so no meat goes to waste and is known to be very tasty.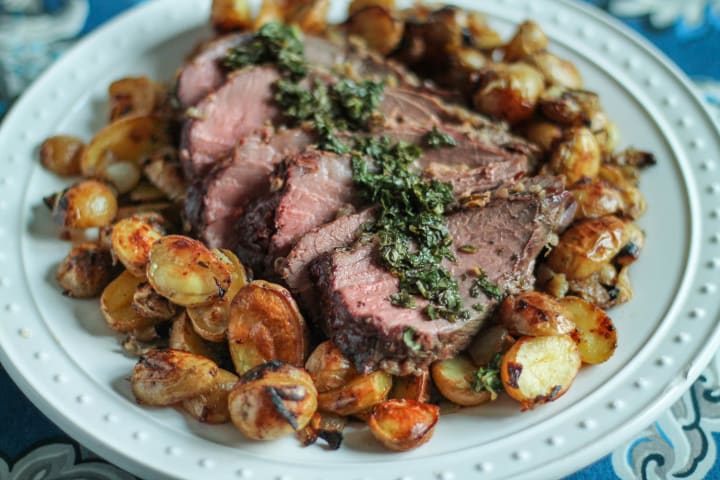 England
Lamb with mint sauce is a traditional British dish. It is made with roasted racks of lamb, garnished with mint springs, and served with a tasty mint sauce. The meat is flavored with Dijon mustard, salt, and pepper. The mint sauce consists of fresh mint, sugar, vinegar, beef broth, and minced shallots. It is often prepared at Easter and accompanied by buttered carrots and a watercress salad.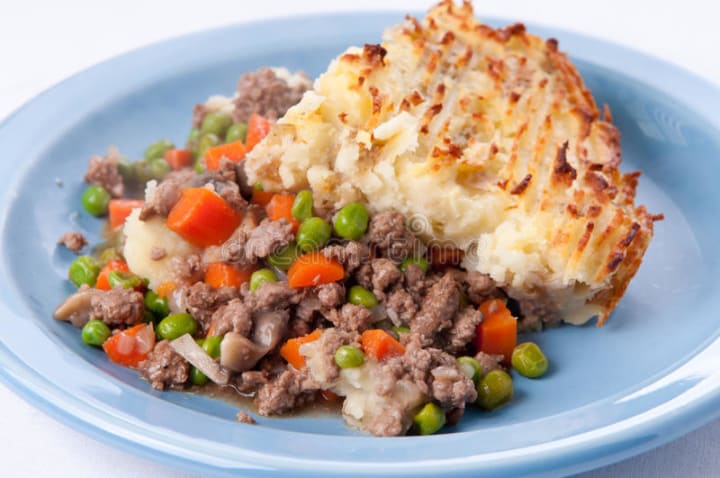 Shepherd's pie is one of the most popular comfort food in the UK. The dish is prepared with minced lamb or mutton, onions, carrots, Worcestershire sauce, thick gravy, and seasonings like marjoram, parsley, and black pepper. Before baking, the ingredients are placed in a baking dish and covered with buttery, creamy mashed potatoes. Then it is baked until the potatoes are golden brown on top and inside the ingredients are bubbly.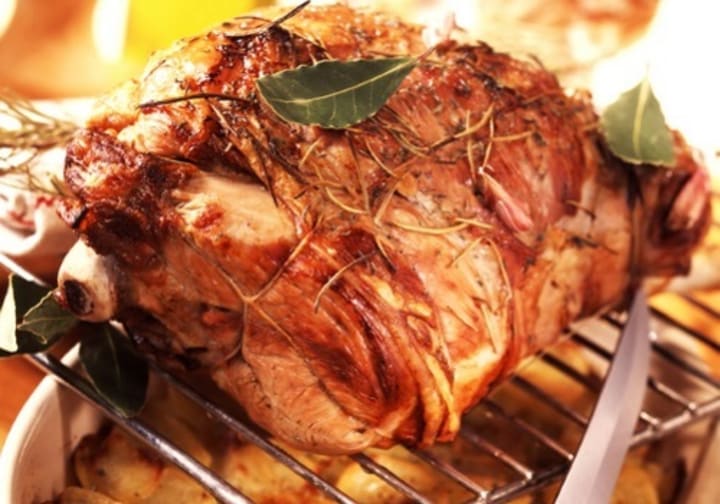 France
Gigot d'agneau pleureur translates to "weeping leg of lamb roast." This is because of the special way the lamb is prepared by placing a leg of lamb on a rack and placing it over a baking dish with potatoes and vegetables. As the meat cooks, all the juices drip down the vegetables as if the meat was weeping over them.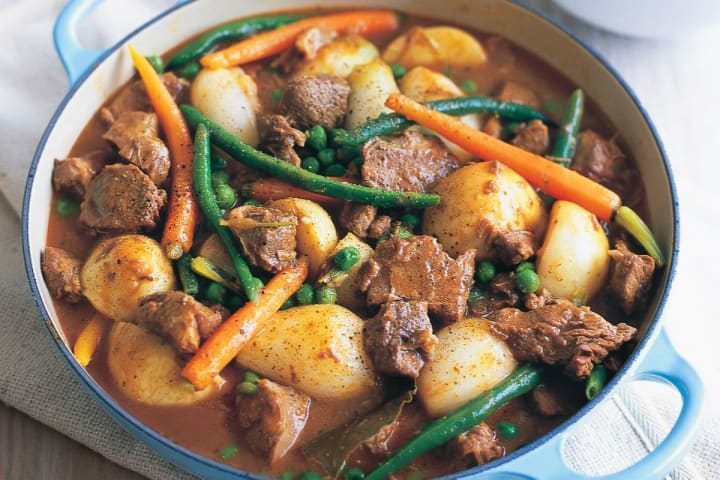 Navarin is a delicious French stew and was once a hearty peasant dish. It is made with lamb or mutton and fresh turnips. Cooked slow, it turns into a delectable stew.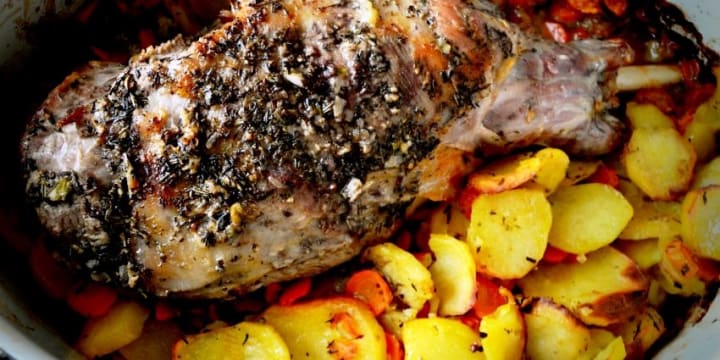 Poland
Baranina or mutton is part of traditional Polish cuisine. One of the most common mutton dishes ia pieczen barania translating to mutton roast. A piece of mutton shoulder is studded with garlic and onions and flavored with herbs like marjoram or rosemary and then roasted for a couple of hours. The roast has crispy skin on top and pinkish and tender meat inside. It is served with mashed potatoes, beets, and a vegetable salad.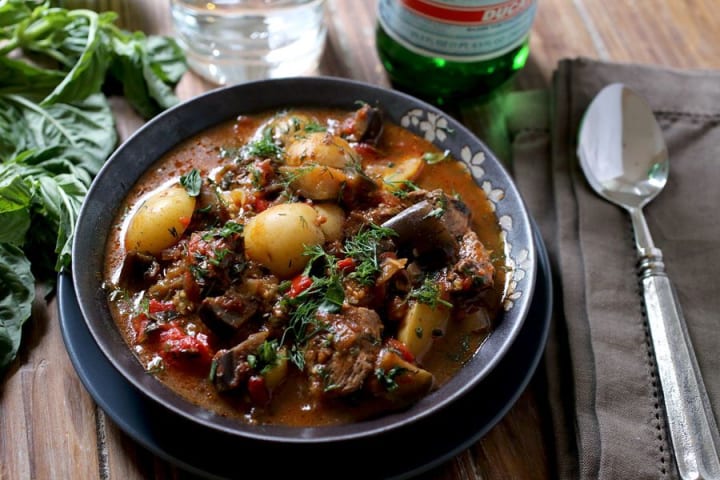 Georgia
Chanakhi is a hearty stew prepared with lamb, eggplant, sweet peppers, and tomatoes. The stew is flavored with coriander, basil, salt, and pepper. It is traditionally served in individual clay pots. This stew tastes even better when reheated the following day with all the flavors combined.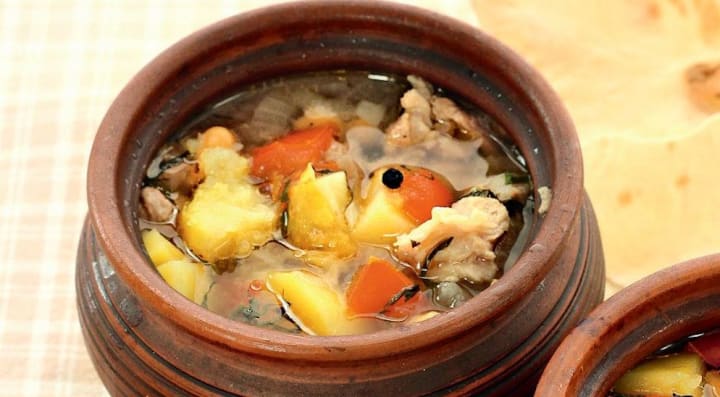 Azerbaijan
Piti is a hearty stew originating in the northern city of Sheki and prepared in a clay pot. The stew is prepared with mutton, tail fat, chickpeas, potatoes, onions, dried alycha or other kinds of cherry plum and saffron. The meat, along with the other ingredients, is simmered in piti-pots.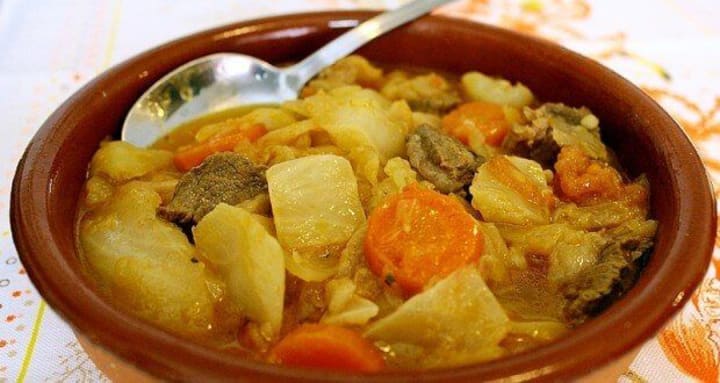 Bosnia and Hercogovina
Kalja is an old peasant dish that originated in Bosnia, Today it is also popular in Serbia and Croatia. The dish is made with lamb or sheep meat and cabbage or any available vegetables mostly onions, carrots, tomatoes, and garlic. The stew is simmered until the meat is tender. It is served with no side dishes, a dollop of sour cream, and some bread.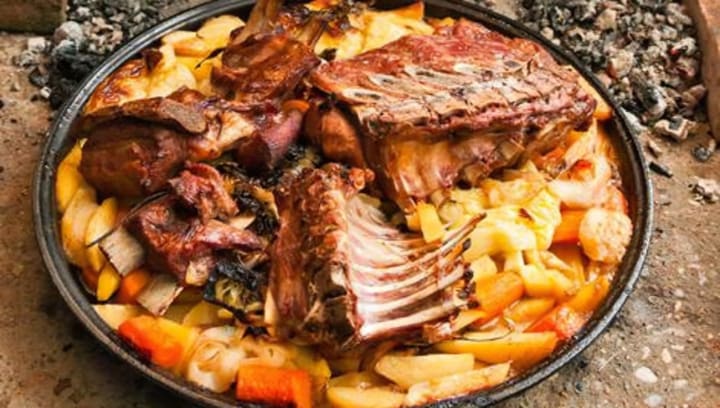 Croatia
Janjetina ispod peke is a traditonal Croatian lamb dish. The lamb is prepared under a metal, bell-like dome or lid. To make the dish, lamb is combined with potatoes, onions, tomatoes, carrots, and zucchini and then drizzled with olive oil and topped with the peke lid, placed in a fireplace, and the lid is covered with hot embers and cooked until the meat is tender. The dish is flavored with rosemary, bay leaves, mint, paprika, and black pepper. To speed up the cooking process, white wine or beer is added to the ingredients.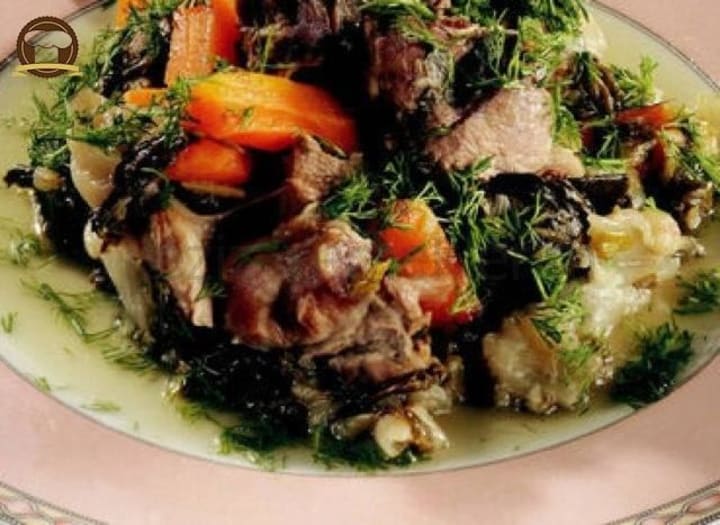 Turkey
Kuzu kapama is a traditional dish made with a leg of lamb or lamb shins, scallions, parsley, and lettuce or swiss chard. Other ingredients include onions, potatoes, thyme, dill, garlic, tomato paste, and butter. The meat is cooked with the lettuce leaves or chard until tender and served covered with greens since kuzu kapama means covered lamb. Rice pilaf can be served on the side.
Kuzu sis is a traditional type of kebab in Turkey. The dish is prepared with lamb chunks, mushrooms, green peppers, shallots, cherry tomatoes, and eggplants. Before cooking, the lamb is marinated in yogurt, olive oil, garlic, cumin, Turkish pepper paste, and black pepper. The lamb chunks and vegetables are pushed on skewers making sure that meat is alternated with vegetables and grilled until done.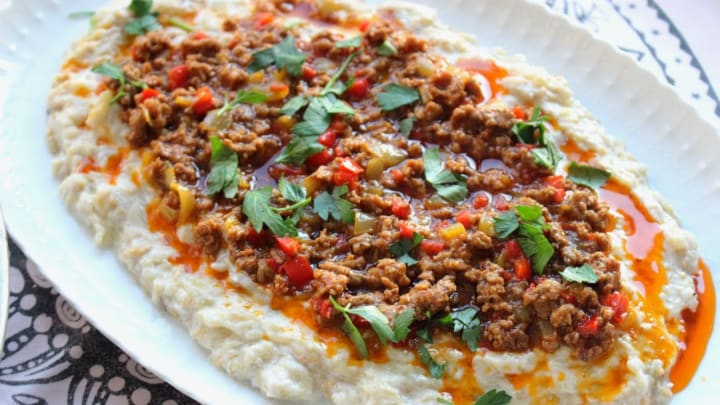 Alinazik is a kebab that originated in Gaziantep.The dish combines char-grilled and pureed eggplants mixed with garlic yogurt sauce and topped with chunks of lamb. The lamb is stewed with onions, red pepper paste, tomatoes or tomato paste, and olive oil.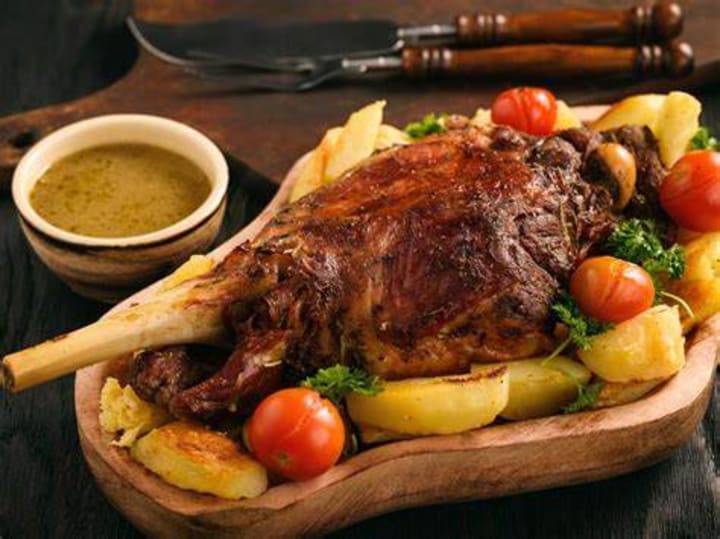 Greece
Arni me patates sto fourno is a Greek classic that is prepared with oven-roasted leg of lamb that has been marinated with olive oil and fresh herbs and potatoes. The dish is usually prepared for special occasions and served drizzled with lemon juice. Salads and bread are served on the side.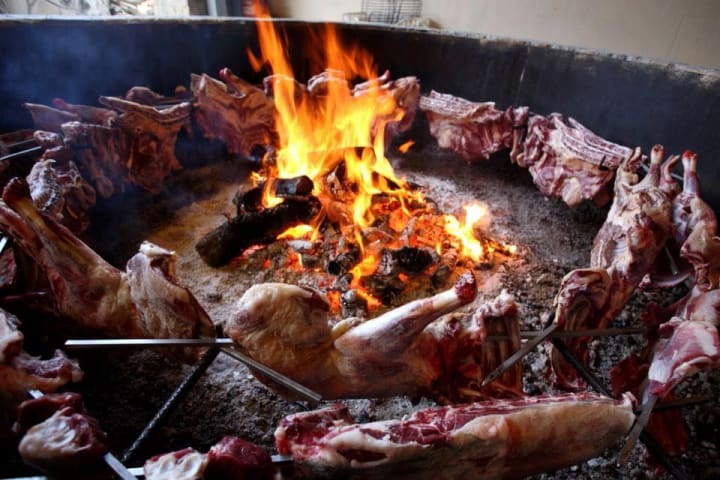 Crete
Antikristo is a traditionally cooked meat on Crete. A young lamb is cut into four pieces, salted, placed on big wooden skewers, and arranged around a fire in a circular formation. The meat cooks in its own fat and salt with heat from the flames, not the coals. It is slow cooked for up to six hours.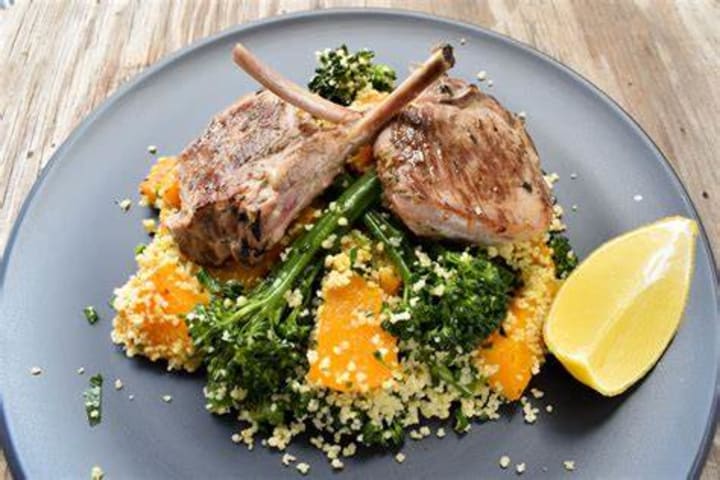 Italy
Scottadito is a traditional Italian dish from Rome and the central Apennines. The dish is prepared with barbecued baby lamb chops. The lamb chops have been flavored with olive oil, mustard, lemon juice, salt, pepper, garlic, and herbs like marjoram, mint, and thyme. The lamb chops are coated with herbs and grilled over charcoal. When ready, they are sprinkled with salt and served with olive oil, lemon juice, and mustard sauce.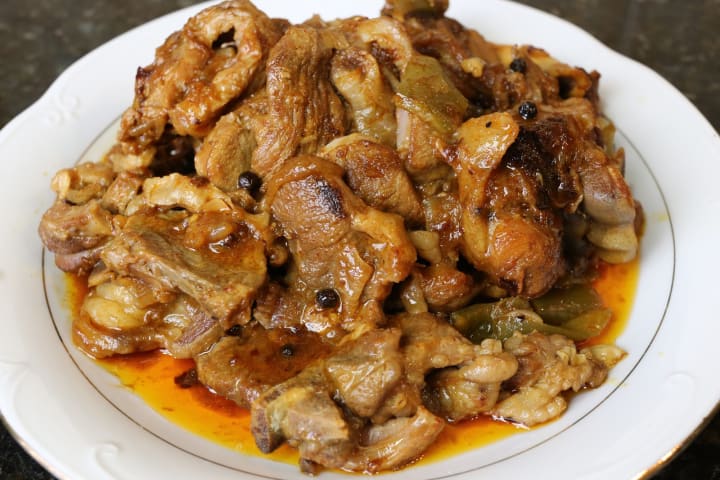 Spain
Caldereta de cordero is a thick and rich lamb stew originating in the Extremadura region. The dish is prepared with lamb and crushed garlic, red peppers, onions, paprika, and wine. It is usually served in cold weather and accompanied by mashed potatoes or red cabbage.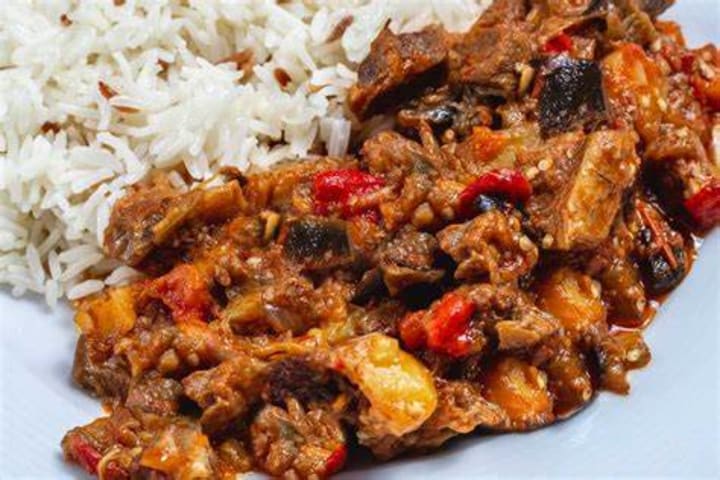 Chanfaina is a traditional Extremaduran dish. It is made with lamb and offal, and the thick stew includes breadcrumbs, blood sausage, almonds, garlic, olive oil, vinegar, and different spices. Variations among regions include peppers, rice, hard-boiled eggs, potatoes, and beans.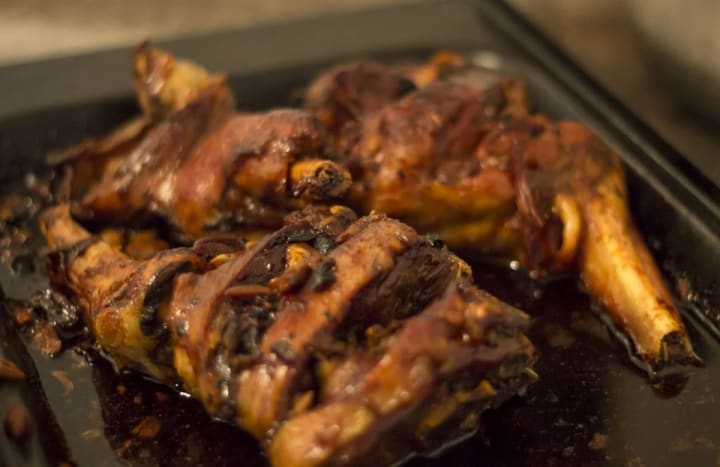 Cordero asado is a popular Castillan dish. It is prepared by roasting a whole lamb over an open fire. The lamb is marinated with lemon, garlic, and herbs like rosemary and thyme. When done it is accompanied by roasted potatoes and onions on the side. The dish is popular at Christmas.
Portugal
Ensopado de borrego is a flavorable stew that originated in Alentejo. It is made with cubed lamb, cider vinegar, potatoes, stock, lard, flour, stale bread, and flavorings like salt, pepper, cloves, bay leaves, parsley, coriander, onions, and garlic. The stew is slowly simmered until the lamb is tender. When served, the stale bread is placed at the bottom of the serving dish, and the rest of the stew is poured over it. Fresh salad is served on the side.
Chanfana is a hearty lamb stew prepared in clay pots. The lamb is seasoned with paprika, garlic, bay leaves, and piri-piri. It is then doused with red wine and cooked for hours until the meat is tender and the sauce is thickened.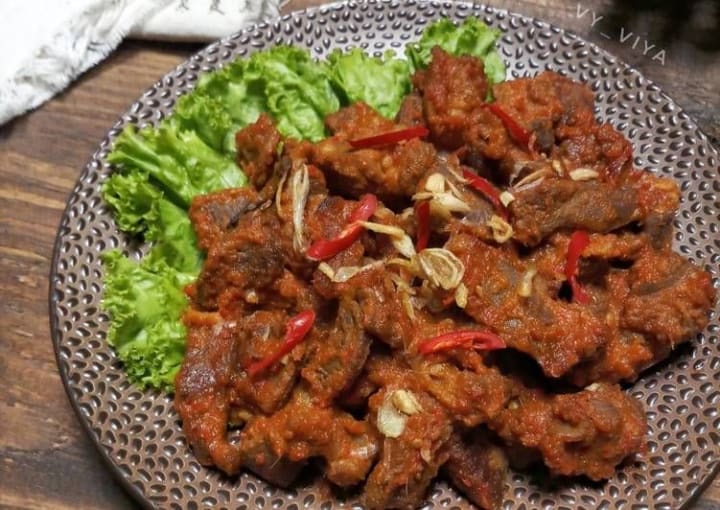 Asia
Indonesia
Krengsengan is a traditional Indonesian stir-fry dish that originated in Surabaya. It is prepared with lamb, onion, garlic, chili peppers, bay leaves, salt, ginger, soy sauce, and oil. All the ingredients are sauteed in oil, and the lamb is cut into chunks and stir-fried at the end of the cooking. Some water is added to the pan and brought to a boil and the dish is done when the lamb is tender.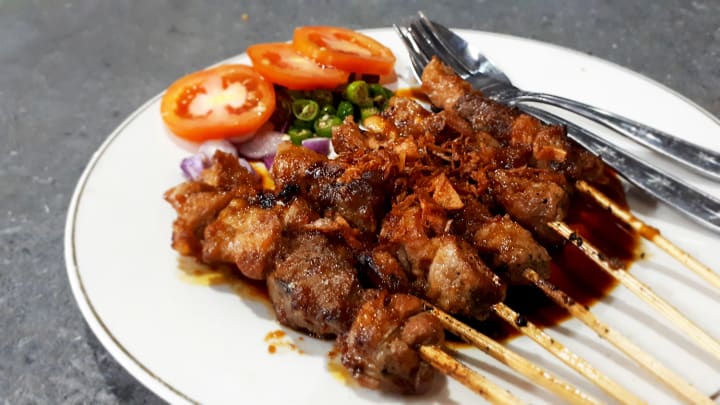 Sate kambing is a traditional dish and a type of satay that is prepared with mutton. The mutton is cut into chunks or cubes and marinated with sweet soy sauce, galangal, ground shallots, pineapple juice, and chili peppers. Once marinated the meat is placed on skewers and grilled. Then the mutton is served with sweet soy sauce, peanut sauce, or chili sauce.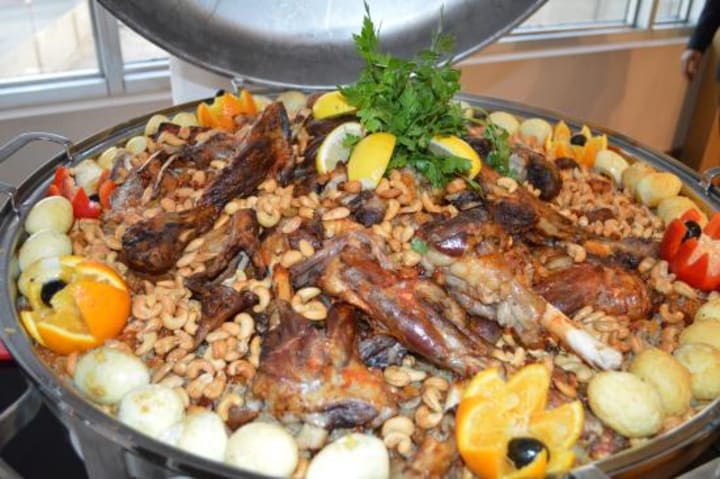 Iraq
Quzi is a dish made with whole roasted lamb and rice. The lamb is stuffed with nuts, raisins, and spices and then roasted in underground ovens. The dish is flavored with cinnamon, cardamom, and baharat, an aromatic blend of spices, and served on rice.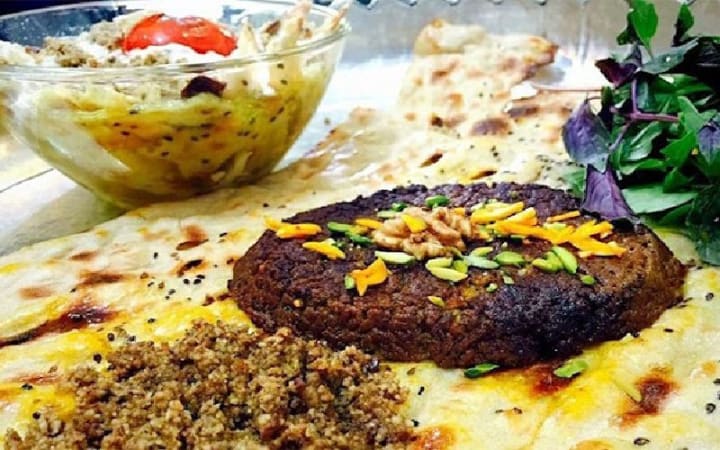 Iran
Beryani is a traditional dish that originated in the province of Isfahan. The dish is prepared with mutton, tail fat, sheep lungs, onions, cinnamon, saffron, walnuts, pistachios, almonds, mint, salt, and pepper. The mutton is cooked in a pot with the tail fat, onions, water, and oil until the meat is tender and some juices remain in the pot. Afterward, the mutton is minced with the juice and mixed with saffron, mint, salt, and pepper. The sheep lungs are chopped and cooked with water, onions, salt, and pepper, then stir-fried and minced. The minced mutton and tail fat are made into patties and fried in oil with cinnamon and saffron.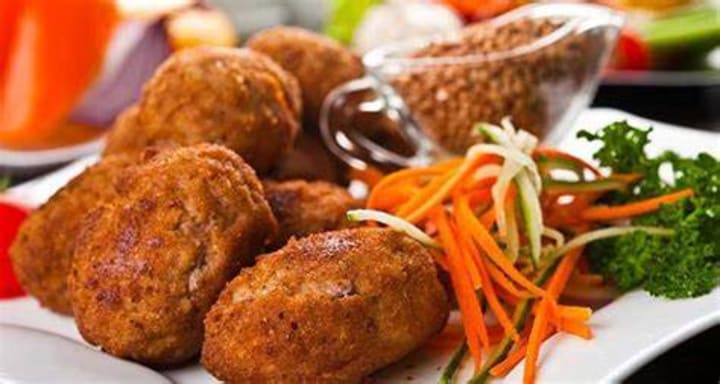 India
Galouti kebab is a traditonal Indian kebab. The dish is made with ground lamb or mutton marinated in ground ginger, garlic, cloves, papaya, black cardamom, poppy seeds, peppercorns, cinnamon, coconut, mace, chili powder, and nutmeg. After the meat has marinated for a few hours it is mixed with green chili peppers, gram flour, eggs, and coriander leaves. The mixture is shaped into round patties and fried in ghee. The patties are then arranged on a serving platter and sprinkled with lemon juice.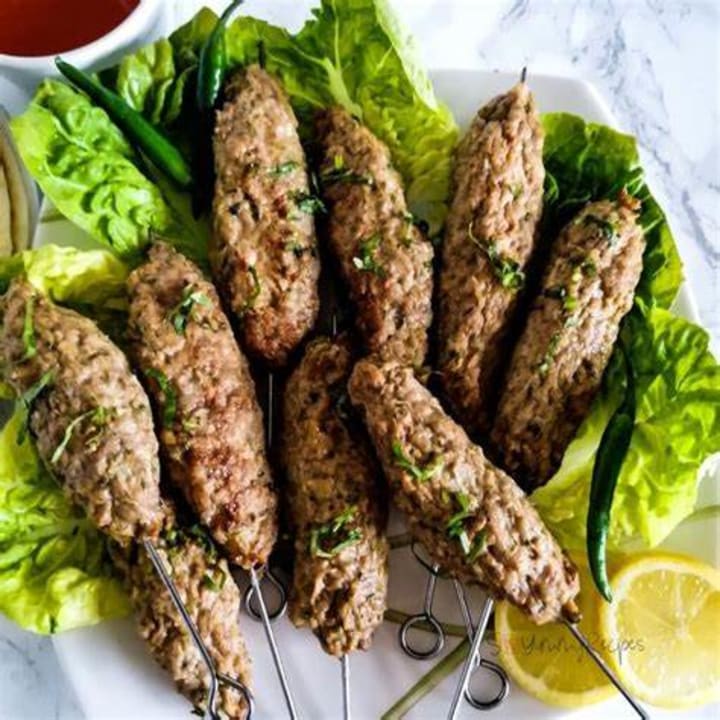 Pakistan
Seekh kabab is a delicious Pakistani kebab made with minced lamb, onions, garlic, coriander, lemon juice, yogurt, and garam masala. The meat is placed on skewers and grilled over hot coals or can be prepared in a tandoor oven. It is usually served with salads, onions, mint chutney, or flatbread on the side.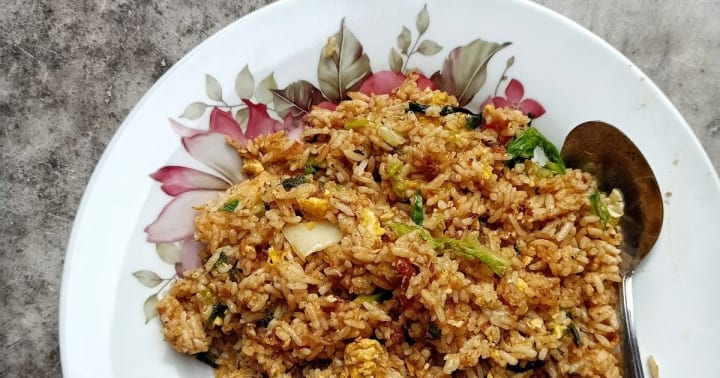 Malaysia
Nasi goreng kambin is a traditional kind of fried rice. It is prepared with minced mutton, rice, carrots, shallots, garlic, cucumbers, ginger, chili peppers, oil, curry leaves, lime leaves, shrimp paste, fish sauce, coriander, cumin, cinnamon, turmeric, white vinegar, sugar, tomatoes, eggs, and salt. The shallots, chili peppers, garlic, and shrimp paste are blended together and fried in oil. The combination is then mixed with the herbs, salt, and fish sauce. Then the mutton and rice are added to the pan, and the dish is stir-fried for a few minutes. It is garnished with tomato slices and at times a fried egg.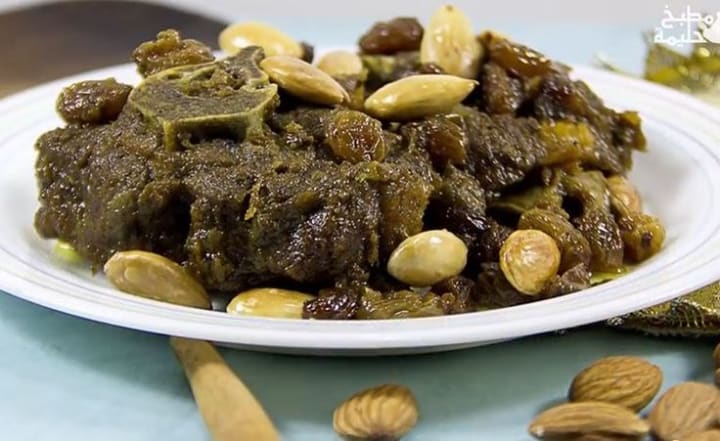 Africa
Morocco
Mrouzia is one of the most popular sweet and savory Moroccan dishes. It is made in a tangine (earthenware pot) with lamb, honey, almonds, raisins, and spices. The dish is garnished with sesame seeds. It is traditionally prepared for special events and celebrations. It is popular during the Muslim festival of Eid-al-Adha.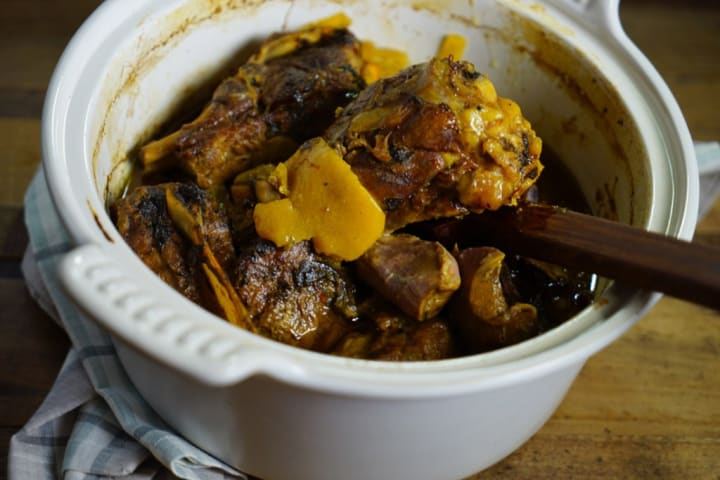 Tanjia is a specialty made with sheep meat in a clay urn and flavorings like saffron, cumin, garlic, lemons, and olive oil. It is very popular in Marrakech, where urns are filled with the ingredients, placed in the coals of a public bath, and slowly cooked overnight so the meat falls off the bones.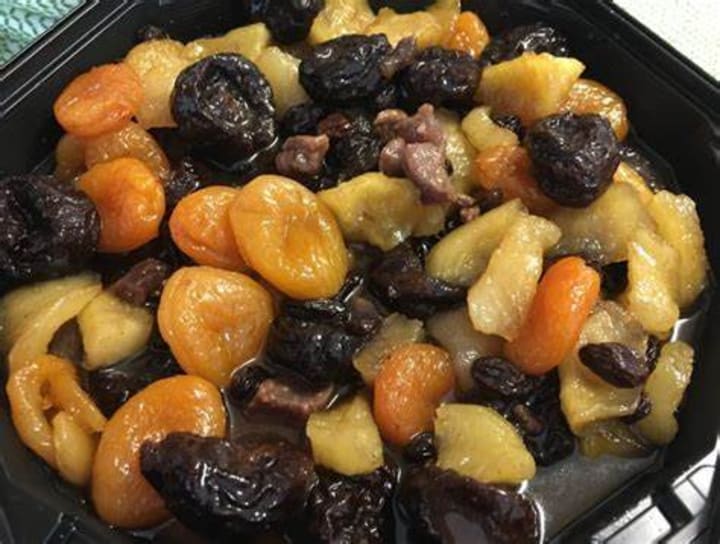 Algeria
Lham (meat) lahlou (sweet) is a dish made with pieces of lamb stewed in a sweet syrup with fruit and spices like cinnamon and star anise. The dish contains fruit like prunes, quince, apples, pears, apricot, and raisins. It is typically reserved for Ramadan.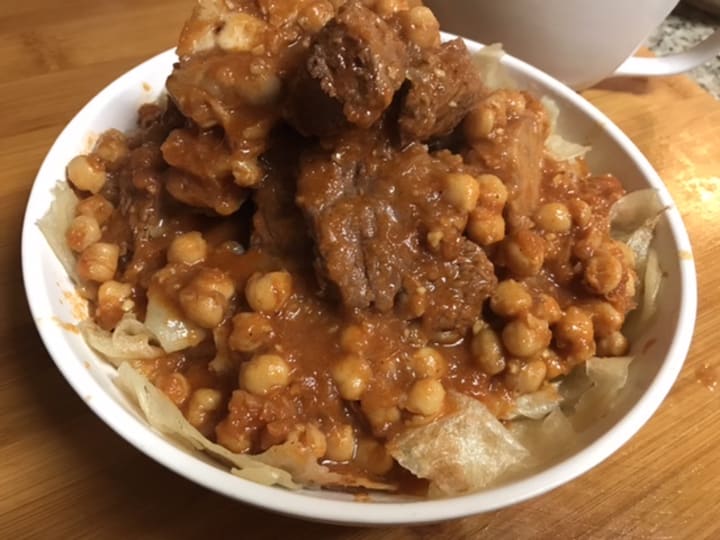 Chakhchoukha is a delicious stew made with torn pieces of thin, round flatbread, diced lamb, tomatoes, chickpeas, onions, and flavorings like cumin, ras el hanout, caraway, galangal, lavender, and red chili peppers. It is popular at festivities and celebrations.
South Africa
Sosatie is a dish that is prepared with marinated pieces of lamb. The marinade consists of onions, garlic, hot peppers, tamarind juice, and curry leaves, then the meat is skewered and barbecued on a traditional South African braai. Between each piece of lamb are peppers, apricots, prunes, and mushrooms. It is served with rice and salad on the side.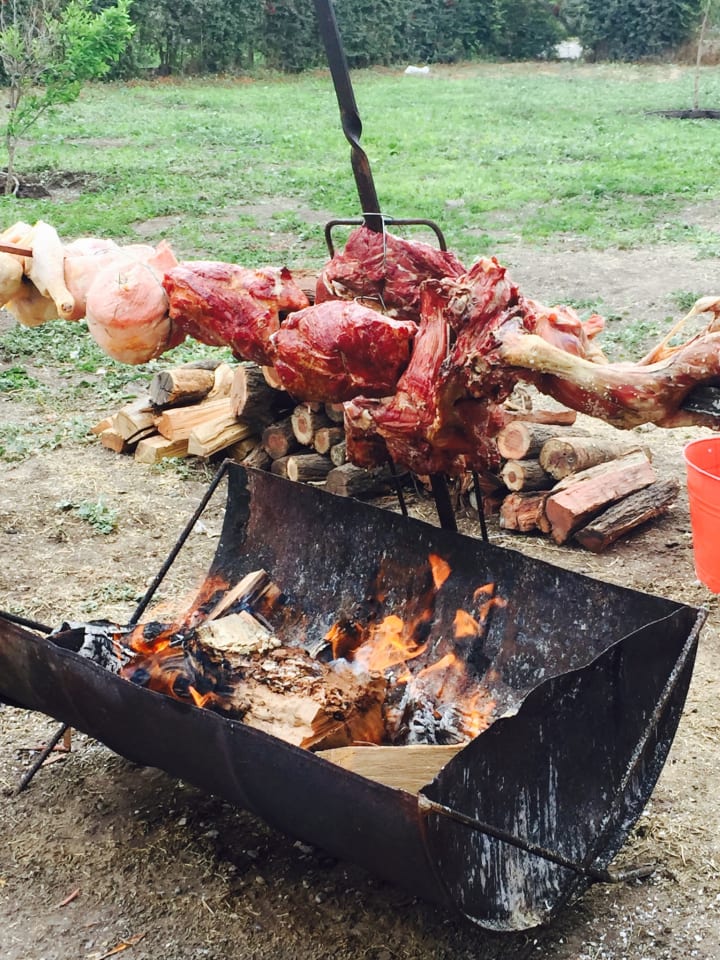 South America
Chile
Cordero al palo is a traditional lamb specialty where a whole lamb is roasted on a spit. It is slow cooked for several hours over a wood fire basting in its own juices and fat. It turns out tender and juicy, surrounded by crispy skin. While cooking, the meat can be enhanced with a mix of warm water, salt, and garlic. It is accompanied by boiled potatoes, salads, bread, and fine red wine.
About the Creator
My passions are writing and creating poetry. I write for several sites online and have four themed blogs on Wordpress. Please follow me on Twitter.
Reader insights
Be the first to share your insights about this piece.
Add your insights