Simply Samantha: Beefy Onion and Bacon Cheddar Burger
The Burger Your Spouse Will Ask for by Name!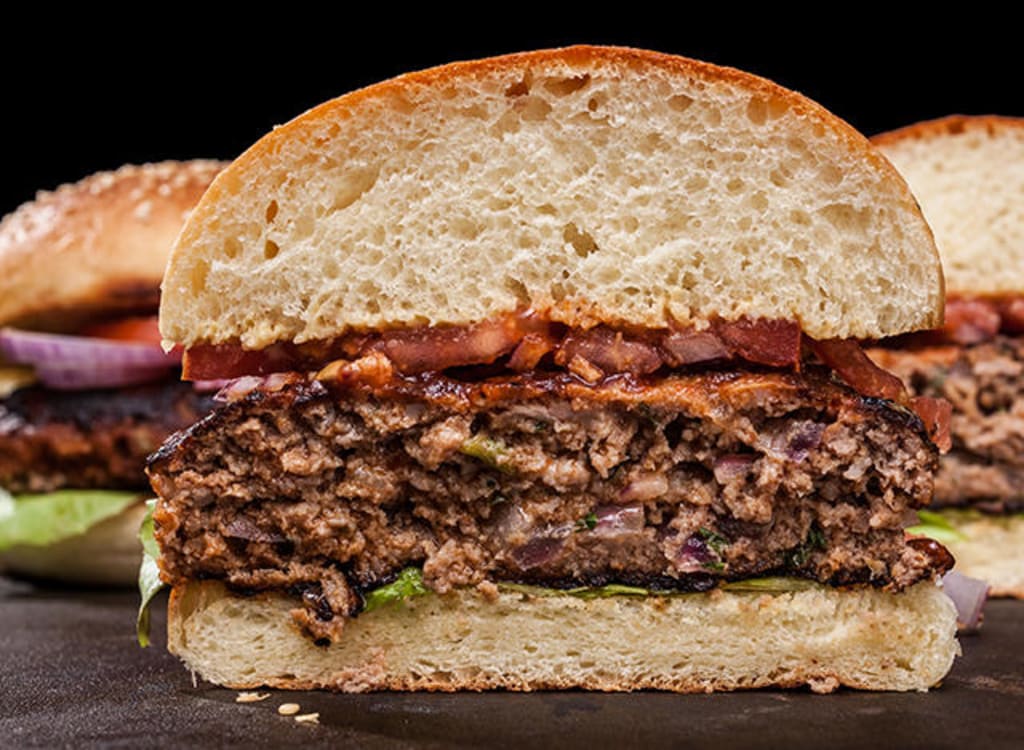 Hey guys! Welcome to Simply Samantha, where the cooking is simple, and the results are oh-so satisfying.
The first time I made these burgers for my husband I think he fell in love all over again! The gooey cheese, the great, but not overpowering, taste of onion, and the crispy bacon. What's not to love? Since I have your attention, lets begin! :)
To start off, pick whatever kind of hamburger meat you like. We normally use 80/20 for burgers, but sometimes you just have to roll with what you got, am I right? (I have tried this recipe with ground turkey as well, and it turned out great!) After you pick your meat, it's time for the seasonings and add ins! Below is a detailed ingredients list; feel free to try out other seasonings as well! This recipe, when I make it, will yield about 8 to 10 burgers. If you want more or less, just tweak the recipe!
Ingredients:
2 lbs. of ground beef (whatever mix you prefer)
½ lbs. of bacon (cut the slices in half to fit burger better)
½ cup of breadcrumbs (give or take a tablespoon, Italian or regular)
1 egg
2 packages of Beefy Onion Soup mix (I used Lipton)
1 teaspoon S+P (salt and pepper)
2 teaspoons garlic salt
2 teaspoons onion powder
2 teaspoons of chili powder (optional)
1 tablespoon steak sauce
Cheddar cheese slices (American or white American)
Directions:
Put your hamburger into a large mixing bowl and add your egg, breadcrumbs and soup mix. (The easiest way to mix this is using your hands, it's messy but fun!) **To test the consistency of the burger, form a golf ball sized ball in your hand, then pat out to desired thickness in your palm. You should be able to wiggle you fingers while holding it and it not fall apart. If it does fall apart, add some more breadcrumbs.
After the right consistency is found, add all your seasonings and mix together, add the steak sauce at the end.
To cook the burgers, I suggest using an electric skillet to cook evenly. Set your temp on the skillet to 350 degrees Fahrenheit, and add two teaspoons of butter and let it melt.
Using one half of the skillet place your burgers, and the other half you can start your bacon. Since every person's thickness will be different, then you should always double check your meat and how thoroughly it is cooked!
After all the burgers and bacon are cooked place your burgers back into the pan the warm setting of the skillet, and place your desired amount of cheese on each patty. **Putting the lid on the skillet will help to melt the cheese faster and more evenly.
After your cheese is melted it's time to assemble your burger. I suggest toasting the bun, however, its not required. Personally, I do the bottom bun, then the bacon, so it doesn't fall off the burger, then the burger, and any condiments that I'm in the mood for.
Beefy Onion and Bacon Cheddar Burger are also perfect for the grill and are made the same way as listed above! I have also have experimented with small chunks of cheddar cheese inside of the burger as well, and they turned out great! This would be a great way to feed the family on a small budget because most the time you will have everything in the cabinet and just need the burger!
I hope you enjoy this as much as my family has, and remember, don't knock it until you try it!
—Simply Samantha
recipe