Homemade Lasagna
Extra Cheesy Goodness!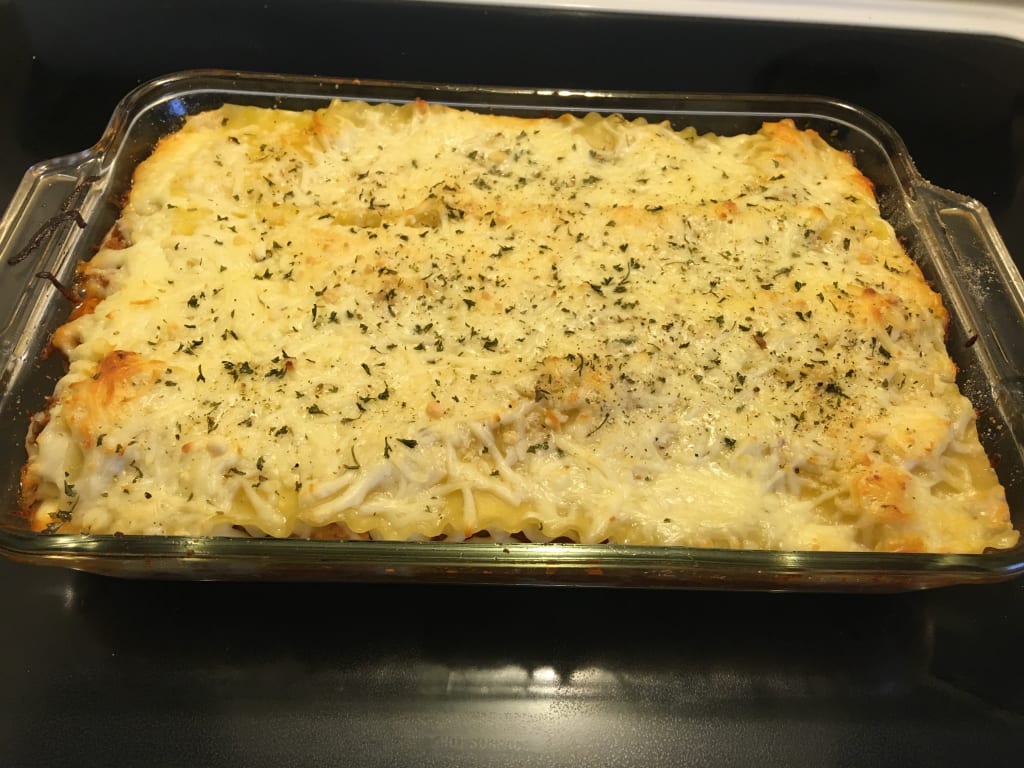 My second favorite pasta dish of all time, lasagna. (The first of course being spaghetti.) The only bad thing is my husband isn't a fan of the ricotta cheese that is usually put into a traditional lasagna. So, instead of searching for different things to replace it with, like cottage cheese, or something similar, I just left it out altogether, which my husband REALLY appreciated. It was the biggest hit with my husband, and the guys at his work loved it too. My dad enjoyed it to the point that he didn't leave two of the guys any of it to eat, and now I'm having to make another one for them this week!
My favorite type of cheese to use, especially when it is going to be melted, is mozzarella. To me, if you use something like cheddar it is just too oily after it's melted. So, when you use the mozzarella, it becomes soft, gooey goodness! And when it comes to parmesan, oh Lord, I could eat that stuff right out the jar or off the block!
I went on a whim thinking that my husband would like this, and I can tell when he doesn't like something. He will choke down one plate and then won't go back for seconds, in this instance he went back for about three or four helpings!
For me, when someone goes back for seconds or thirds, it is the biggest compliment that they could possibly give me. I thoroughly enjoy making people feel good and making them feel better.
Anyway, enough of my rambling, here are the ingredients and directions, remember, you can make anything yours by adding more spices and seasonings!
Ingredients
One box of lasagna noodles
One pound of ground beef
One pound of ground pork
One can (or jar) of your favorite spaghetti sauce (I used onion and garlic flavored)
Salt and pepper to taste
2) Teaspoons of oregano
2) Teaspoons of onion powder
2) Teaspoons of garlic powder (if you use garlic salt then use less regular salt)
4) Cups of mozzarella cheeses
1) Cup of parmesan cheese (grated or shredded)
Directions
Preheat oven to 350 degrees Fahrenheit. In a large pot, begin boiling your pasta water, and add a liberal amount of salt.
In a large skillet, brown your ground beef and ground pork (they can be cooked together). Drain them and then return to the pan. Season with your salt, pepper, oregano, onion powder, and garlic powder.
Once your pasta water is beginning to boil, turn it to medium-high heat, and slowly add your lasagna noodles. (they will cook in about 10 to 12 minutes.
Add your spaghetti sauce into your meats and cook just enough to let the sauce become warm all the way through.
Once your noodles are cooked all the way, drain them and let them cool just enough that you can touch them and not torch your fingers.
Spray a 13X9 pan with a non-stick spray, and then add three lasagna noodles to the bottom of the pan, length-wise. Add a layer of your meat mixture, then a layer of mozzarella cheese with sprinkled Parmesan on top, and continue until the top of the pan ending with a layer of mozzarella and Parmesan.
Bake at 350 for 35 to 45 minutes, or until the cheese on top is totally melted and bubbly.
Hope you guys like this lasagna as much as I did, and enjoy making it like I did. :)
Until next time, remember, don't knock it until you try it.
—Simply Samantha