Simple Halloween Treats
Easy to make treats for your friends and family. No measuring cups needed!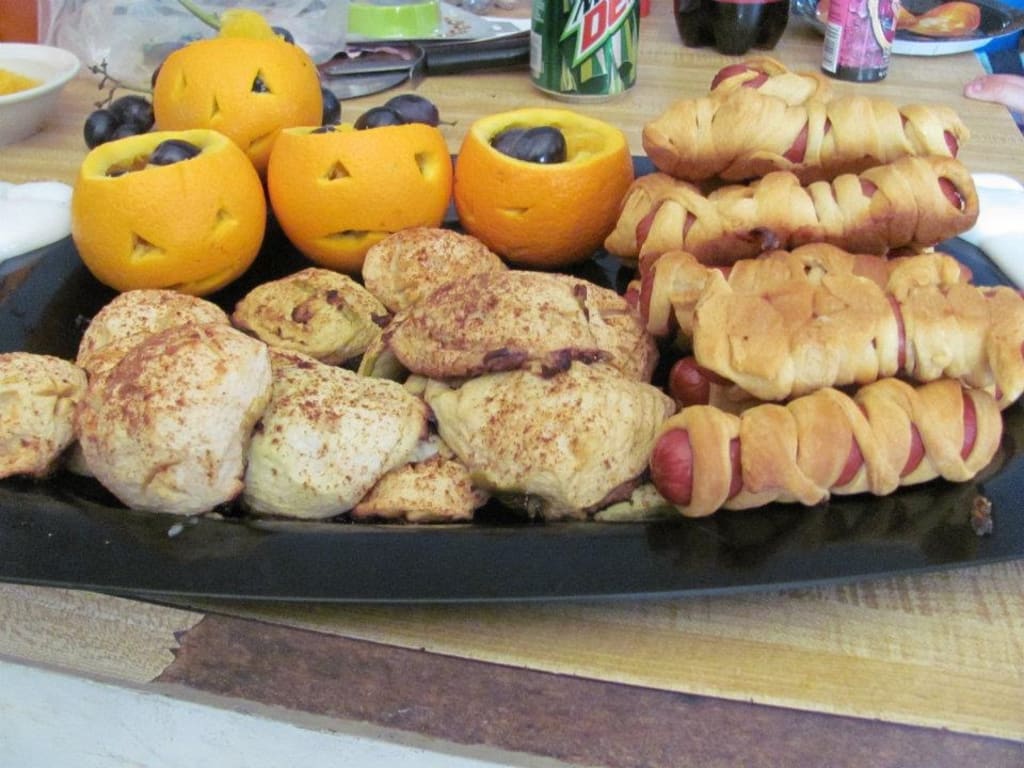 I love Halloween. When else can adults have a legit excuse to play dress up and indulge in candy and face painting without people thinking we're crazy. It allows us to have fun with our children and enjoy the beautiful colors of the changing season. It also gives us the excuse to watch more scary movies (not that I need one).
Over the years I have had many fun get togethers with family and friends for Halloween. I have found several quick, easy-to-make treats that my grown kids still like to eat, and help make to this day. These can be made in small family-sized batches, or you can go all out for that Grand Halloween Banquet you've been dying to throw. These are simple recipes with easy-to-get ingredients for any budget. Too many times have I spent hours looking for fun party foods or snacks to find that the prep time is a three step process taking way too much time. Or the ingredients are expensive or hard to find. Some things look really cute and fun, until you try to do them, and wind up screaming into a pillow to release the frustration. So please enjoy my list of simple, fun, inexpensive ideas that I have accumulated over the years.
WITCH FINGERS
Bag of Pretzel Rods
White Almond Bark
Colorful Sprinkles—different colors and sizes
Candy Corn
Wax Paper and a Spoon
First cover your working surface with the wax paper. Then melt the almond bark per the instructions. Next take the pretzel rods and dip them into the melted almond bark, keeping hold of one end. This will be the "Bone" you hold onto the finger with. Use the spoon to help coat them thoroughly, leaving approximately an inch to an inch and a half for the end. Place the coated finger on the wax paper, and place a piece of candy corn on the tip to act as the witch's nail. Then have fun with different colored sprinkles. The kids really like helping for this part. Then you just simply let them set, and you can wrap them in plastic wrap for individual snacking, or place them in a large glass jar at a party for self-serve guests.
SHRUNKEN HEADS
Apples, whatever kind you prefer
Cinnamon
Sugar
Baking Sheet and Non-Stick Spray
Peeler and or Knife
This one is really easy, and is a more healthy treat that kids don't mind eating. So you preheat your oven to 325 degrees. Spray your cookie sheet with the non-stick spray and set aside. Then you peel the apples, and cut them in half lengthwise, cutting out the tough core also. Next, using a knife or the tip of your peeler, you gouge out eyes and a mouth. X shapes work well too. When you're done giving them a face, sprinkle them with cinnamon and sugar, and place them on the backing sheet faces up. Bake for approximately 30 minutes. Time varies depending on the size of your apples. They are done when they start to get a kind of skin to them and are tender. Let cool and serve with or without utensils. They taste like warm apple pie filling without the mess.
JACK-O-LANTERN FRUIT CUPS
ORANGES
ASSORTED FRUIT, FRESH OR CANNED
I like to use the leftover apples from the bag I bought to make the shrunken heads.
Grapes and kiwi or strawberries
Knife and spoon
This is another simple one to make, although it does take a little longer, simply because you're carving the oranges. Basically you simply cut the top 1/4 of the orange off, like if you were carving a pumpkin. Using the spoon, you scoop out the inside and place it aside. Using your knife or the tip of a peeler, you cut out a simple jack-o-latern face. This is the cup for the fruit. Now you slice up your fruit into bite-sized pieces adding in the orange "guts." To simplify and save time you can use canned fruit, however I recommend thoroughly rinsing and draining, so the juices do not ooze out the face. Thats it. Simple fun fruit cups.
MUMMIES
Hotdogs or Cheddarwurst
Tube of crescent dough
Baking sheet and Nonstick spray
Knife and paper towel
Ketchup in individual packages or a bowl
Masking tape and a Marker
So this one is fun for kids to wrap their own mummies. It's the same concept as making pigs in a blanket. First you remove the hotdogs from the package, and dry them with a paper towel. This allows the bandages to stay put easier. Next pop the roll and spread out the dough. Taking the knife, you want to cut "Bandages" out. Long strips of different sizes. Then you wrap your mummy. Spaces are okay. When your mummy is sufficiently bandaged, you simply place on the baking sheet and cook per the directions on the tube.
The ketchup is your blood. I like the individual packages, because you can take the masking tape to cover the label, and use the marker to write BLOOD on them. Or you can just grab a bowl and fill it with ketchup, and make a little sign that says BLOOD and allow people to dip them.
Different dipping sauces can be used with things other than ketchup blood.
BBQ sauce = mud
Honey Mustard = puss
Ranch + green food coloring = Slime
BODY PART PUNCH
Large punch bowl and ladle
Food safe plastic glove or brain mold (dollar tree usually have them)
Rubber band
Water
2L Squirt
Hawaiian punch
Food coloring (optional)
Gummy Worms
Cups
Alcohol can be added for adult parties, and dry ice can be added for a smoking effect, but it's up to you.
Take the glove and fill with water. Place gummy worms inside the glove in different spots. If you want to add color, you can use the food coloring mixed in the water before freeing. Using the rubber bands, tie the end closed, and place it in the freezer to harden. Then just fill the bowl with equal parts Soda and juice. Remove the ice hand from the freezer, and peel the plastic off, or pull out of brain mold, and place in the bowl. More than one body part can be used. Arrange a few of the extra gummy worms around the outside of the bowl, and you're done.
Also a fun twist is to take the cups, and wet the rims and dip them into colored sugar, and add a gummy worm to the side of the cups.