Seasoned with History
A crown jewel among precious stones, The Hail Springs Inn and McKinney's Tavern, though patinated from a revered history, sparkle with unmatched brilliance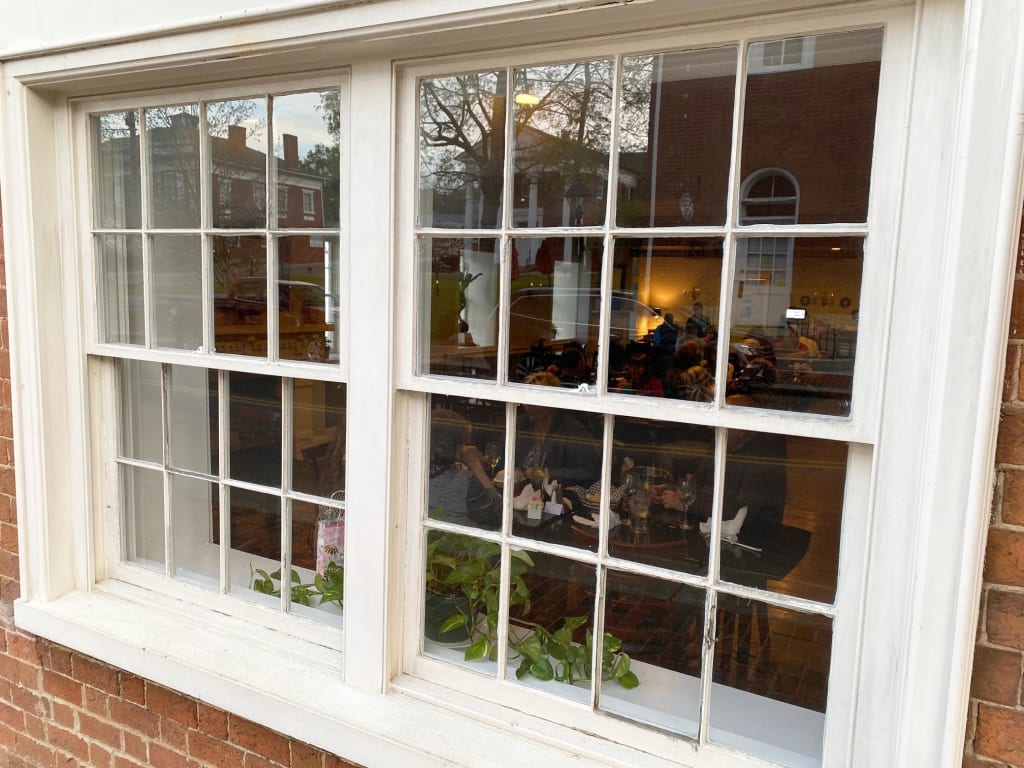 Through the split-pane window looking into The Hale Springs Inn main dining room (photo by M.S. Humphreys)
Perched on a high valley near the Holston River between Bays Mountain and Clinch Mountain rests a treasure of history and Appalachian culture that is Rogersville, Tennessee. A crown jewel among precious stones, The Hail Springs Inn and McKinney's Tavern, though patinated from a revered history, sparkle with unmatched brilliance.
Originally settled in 1775 by the grandparents of Davy Crockett, Rogersville was founded by Joseph Rogers, an Irish immigrant, who built his tavern in 1784 near the stage road to Knoxville. Due mostly to Rogers' efforts, the North Carolina General Assembly chartered the town of Rogersville in 1789.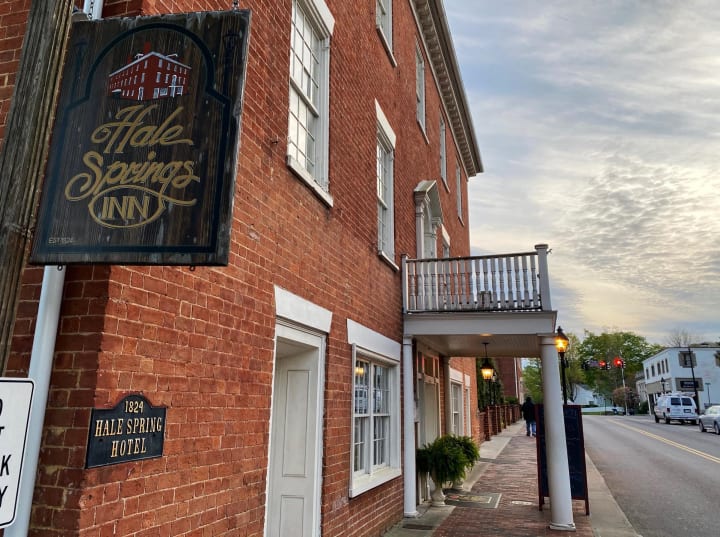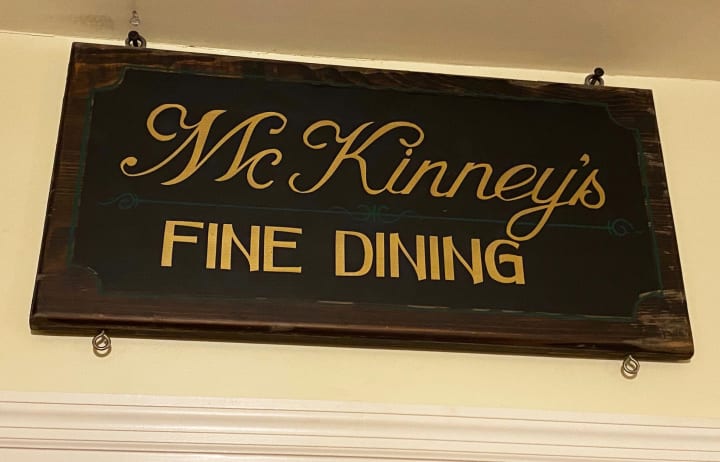 Rogers Tavern enjoyed no competition for nearly four decades until local lawyer and businessman, John McKinney built his tavern and inn directly on the stage road as an alternative to Rogers Tavern. Since McKinney founded his inn in 1824, it has stood through a storied past. President Andrew Jackson, James K. Polk and Andrew Johnson, from nearby Greeneville, have stayed in its rooms. Jackson even addressed the people of Rogersville from the Inn's balcony that overlooks Main Street. Like most of East Tennessee, Rogersville was largely Union sympathetic during the Civil War. The Hail Springs Inn once served as the headquarters for the Union Army and quartered Confederate officers after the Confederacy regained the town at the Battle of Big Creek.
When the Hail Springs Inn closed temporarily back in 1998, it was the oldest continuously operated hotel in Tennessee. With such a rich history, it is hard not to be intoxicated by the spirits that haunt this guest house and watering hole even before you belly up to the bar in McKinney's. If you still fancy a drink though, Caitlin and the other bartenders artfully make whatever you are throwing back five nights a week from a fully stocked bar and a wide selection of wines.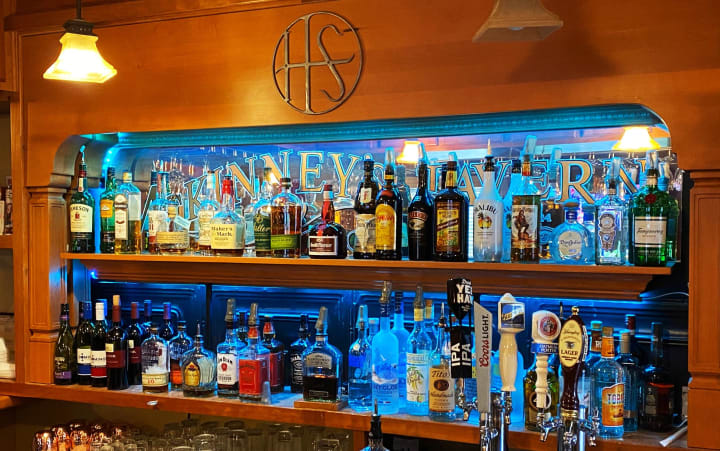 In the Tavern, you can have dinner right at the bar or in the colder months, next to the oversized fireplace on antique farm tables makes for a cozy spot. Start off with a unique appetizer like warm bacon blue cheese sauce with homemade pork rinds or fried crawfish tails. For the main course, choose from nightly specials like prime rib or pork tenderloin or order from the menu a regular favorite like blackened mahi and rice or crawfish mac and cheese. On any given night, and especially Friday and Saturday nights, the Tavern is a gathering place for hardy souls to share conversation and warm spirits.
For a more intimate setting, take your partner, friends or family to the main dining room. There, a scattering of heavy wooden tables set for two, four or six rest atop colorful rugs warming aged, chestnut floors. Two oversized fireplaces frame the back wall and rippled, split-pane windows look out to the historic Kyle House across the street or the Hawkins County Courthouse, the state's second oldest. Friendly and knowledgeable wait staff like Sierra will cater your experience here while you enjoy your meal listening to live piano music from a local pianist.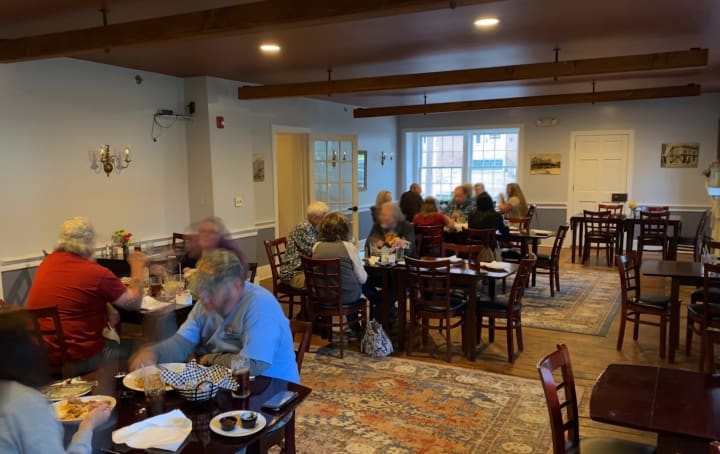 The website of the Hale Springs Inn calls to everyone to "come as you are," for a fine dining experience and though they recommend reservations, it isn't required. Still, the Hale Springs Inn and McKinney's Tavern draw a daily lunch crowd Monday through Friday from 11 am to 2 pm as well. While Rogersville's brick sidewalks boast hundreds of shoppers to the town's galleries and boutiques, the Inn's Sweet Tooth Café lunch menu pays homage to local business and history. Break from Rogersville shops and a walk through history with a southern sweet tea paired with Mitchell's Tavern BBQ Puff, Powell House BBQ Pulled Pork, Jane's Antique Paninni or the Crocket Springs Caesar Salad among many others.
It is more pleasing to the palate to enjoy a great meal while staring out a bubbled window to imagine a band of weary travelers heading west, stepping off the stage for a meal and a night's rest or to dream of Andy Jackson standing on the balcony addressing a throng of lookers on. It's enhancing to the spirit to sip a Tennessee whiskey in the Tavern where Andrew Johnson's ghost sits by the fire and imbibes from a bottle of the same, the flavor he was known to love a little too much. We live in a time of pandemic, but this place has seen more than a few. Who was staying here and what was the talk within these walls when Archduke Franz Ferdinand was assassinated, and it seemed the world would be at war? Imagine how this establishment survived the great depression and think of how the management participated in the community efforts during WWII.
The Hale Springs Inn and McKinney's Tavern rise to greatness for their gastronomical achievements alone, but these fine dishes are sweeter and more savory when they are seasoned with deep history and these drinks are more intoxicating when they are mixed with the stories of our nation's youth and maturation. Many have come and gone in the nearly 200 years since John McKinney first envisioned his competitive establishment, but The Hale Springs Inn and McKinney's Tavern have their own spirit that continues generation to generation perfecting the experience for its guests.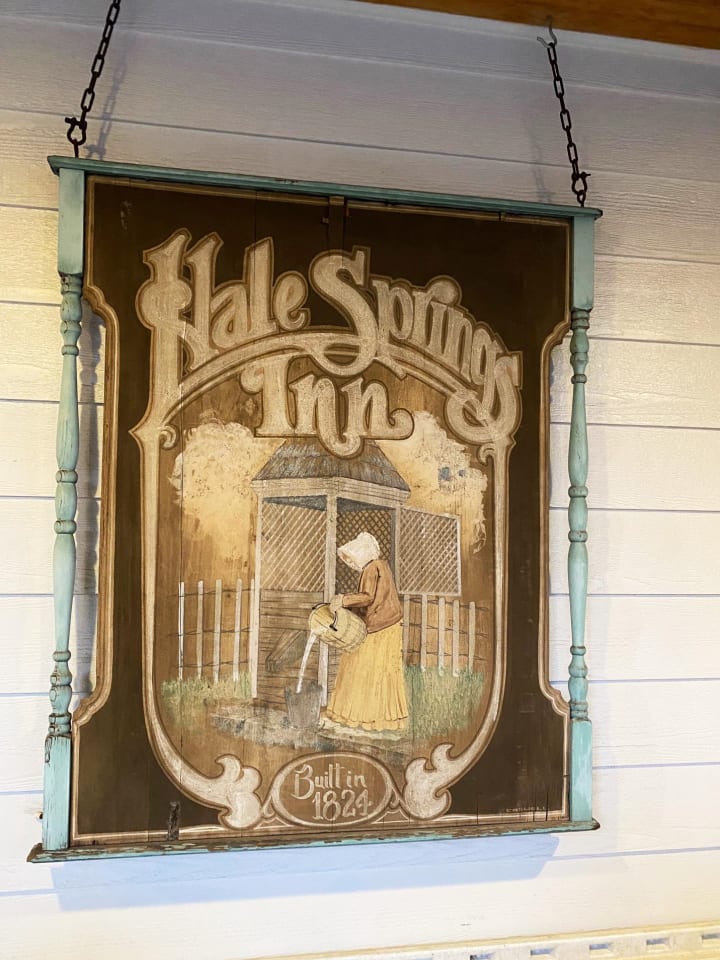 About the Creator
M.S. Humphreys is The Bantering Welshman, an East Tennessee native, author, journalist, storyteller, marketing specialist, husband and step father. https://www.instagram.com/thebanteringwelshman/ and http://www.banteringwelshman.com
Reader insights
Be the first to share your insights about this piece.
Add your insights