Reviewing Imperia Caviar
A delicious caviar at a relatively inexpensive price point.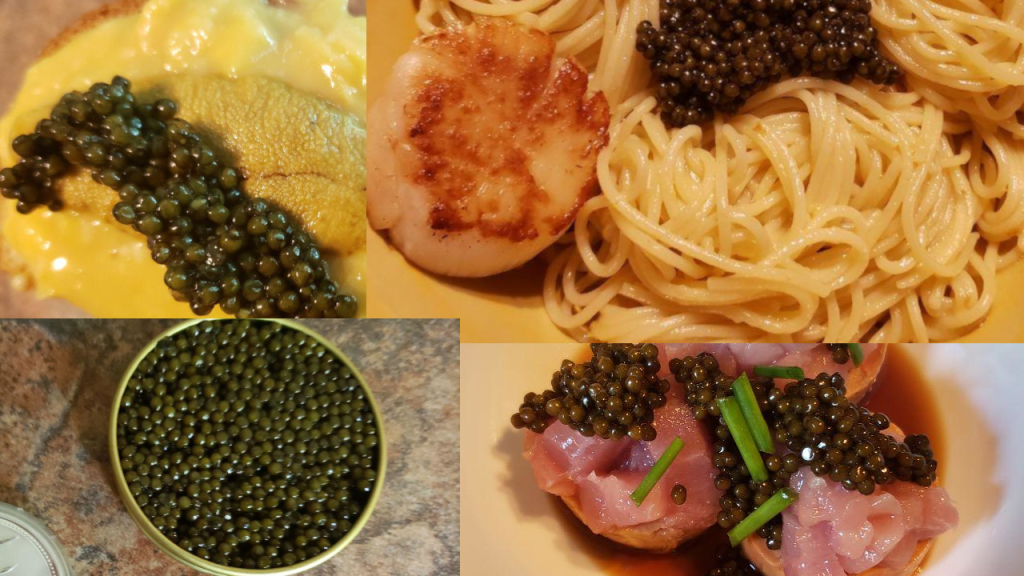 A combination of dishes I made with caviar and other ingredients
Social media algorithms are interesting. Large amounts of combined personal data from numerous individuals is aggregated in order to target ads and other posts. Sometimes these algorithms are way off and sometimes they're spot on. It may feel like an intrusion into our lives, and to an extent it is, but at least the same time, it's almost like having a 24/7 concierge service that constantly provides recommendations.
Facebook's algorithms might have me down pretty well. Sometimes I do get trash suggestions, but I get a lot of suggestions related to food and alcohol. I'm a major foodie, not that I really care for the term. I like to eat. I respect quality food. To me, price isn't what matters, but rather quality. Something doesn't have to be expensive to be good, but a lot of good things are expensive. Caviar is one of those food items that happen to be fairly expensive, but also really amazing.
So I was happy when Facebook's algorithms connected me with Imperia Caviar. I haven't had caviar that often, so I can't really compare the quality of their selection to other products, but I was more than satisfied. Usually Imperia has two different caviars available, the Royal Ossetra and Kaluga hybrid. When I first ordered from them, I tried both. I can't really say which one I liked more. They both were bright and briny. I tried it a lot of different ways, and honestly just eating it plain is the best, but it also made a nice addition to a number of other meals I tried making.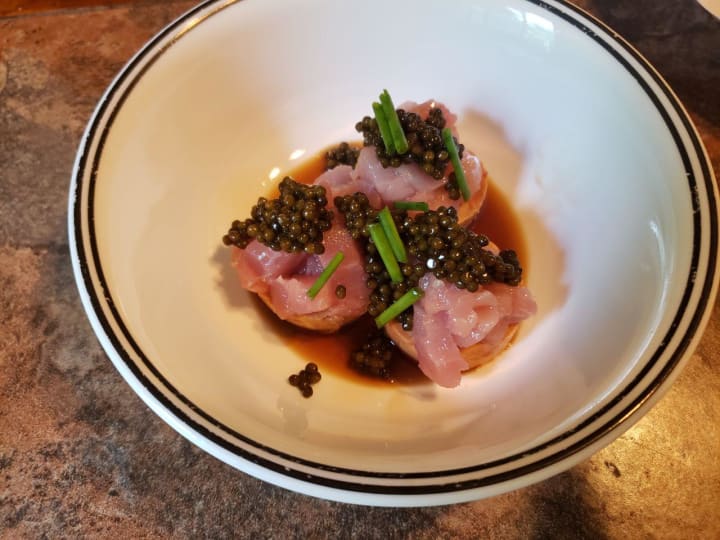 I did feel a little bad about spending a lot of money on a luxury item, but I also consider making and eating good food to be a form of self-care for myself. Imperia also offers some nice deals periodically, which further cuts down on the price of the caviar. I'd definitely suggest waiting for one of their 20% extra deals. They also have a referral program which lets you accumulate points towards future purchases, while giving a discount to anyone who uses the code. Hopefully over time, if I become a large enough social media influencer myself, I can cut the majority of the price tag off when making future orders.
They also offer a number of gift bundle options. They're not bad, but honestly price wise I just prefer to get the tins of caviar by themselves. And even by itself, a nice tin of caviar makes an excellent gift. They also offer larger tins. I've never needed it, but they have a tin that's over 1kg for parties.
Sustainability
Sustainability is important, both for protecting the environment, and so that we can continue to enjoy what we have, for generations to come. Imperia makes a point of being sustainable. One reason why caviar is so expensive is because many species of sturgeon are endangered, so Imperia relies on farming to ensure that wild populations of sturgeon aren't harmed.
I did reach out to the company at one point for more information, and to offer a suggestion that they start offering smoked sturgeon. I haven't managed to convince the company to start carrying it yet, but maybe one day. Sturgeon meat has to be preserved right away or it'll go bad, which is why one of the only ways to get the meat is to get it smoked.
Final Thoughts
Social media suggestions can be a pain, and they can push us into buying things we normally wouldn't. But every once in a while we find a gem, thanks to these suggestions. That was definitely the case with Imperia. I'm glad I found the company. And while I can't order caviar all that often, I'll definitely be getting it from them again. Facebook's algorithms have also suggested a number of other companies, and I might try some of them one day, but for now I like the combination of sustainability, quality, and price that comes from Imperia.
The other companies just don't seem to align with interests quite as much, which is one issue with algorithms that try to use search and interaction history. And some other suggestions are just so far off the mark that I have to wonder if the algorithms are completely bugged. For this reason I much rather search for product reviews by people I trust and who have similar interests to my own.
Further Reading
I definitely like to eat, but I also like to talk about food. In addition, food blogging gives me a way to feel slightly less guilty when I spend a lot of money on high end foods. So when I first ordered caviar from Imperia, I also ordered some other ingredients and wrote about my experience.
I did mention social media algorithms and their reliance on personal data in this article. Personal data and its worth is an interesting topic. At first glance, it seems that our own data has a lot of value. And in some ways it does. But without aggregating our own data with thousands, if not millions, of other people, that data has very little use.

Daniel Goldman
Visit my homepage. I am a polymath and a rōnin scholar with interests in many areas, including political science, economics, history, and philosophy. I've been writing about all of these topics, and others, for the past two decades.
See all posts by Daniel Goldman →