Reduced Tomatoes? Millennial Hunter Gatherer's Ultimate Roast Tomato Soup-Sauce
What, you may ask, is Soup-Sauce? I'll tell you.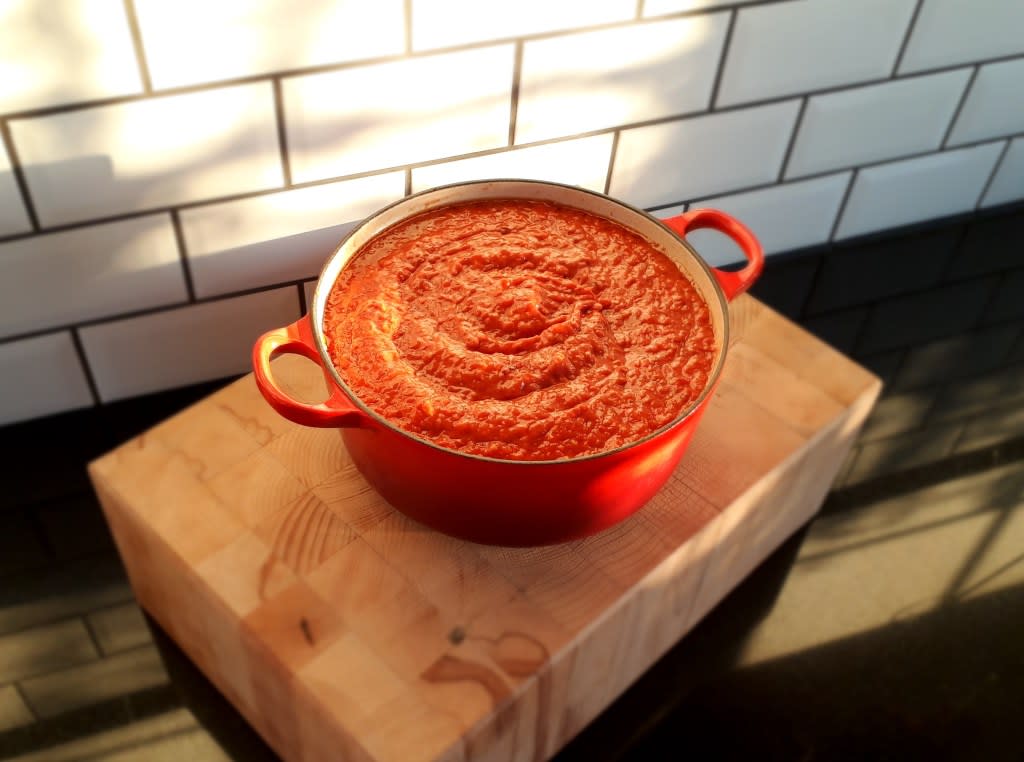 Sweet, tangy, and oh-so thick.
What, you may ask, is Soup-Sauce? I'll tell you. It is a soup that is so rich, thick and flavoursome that you're not just limited to eating it out of a bowl using a spoon, but it can also be used as a pasta sauce, on a homemade pizza or in a lasagne. In fact, any recipe that you might open a tin of chopped tomatoes for, consider this instead to give delicious depth and complexity of flavour.
You might have caught sight of this fabulous haul on my social media. Each punnet was just 25p, down from £1, and I gathered up 17 of them.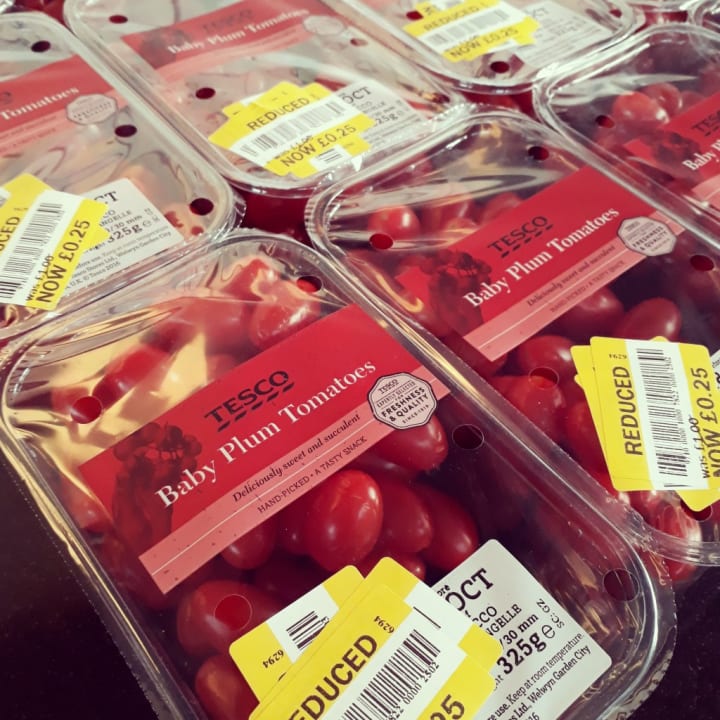 What to do with such a glorious treat? Apart from a few that get snaffled by hungry passers-by at home, there is only one answer for me, and that is Roast Tomato Soup-Sauce.
It's amazing, and if my freezer stocks get low then I start to feel distinctly uncomfortable. I just have to make some more.
You can use any tomatoes you like for this. I like to look out for plump, ripe, vine tomatoes for big flavour without too much chopping (check out Lidl in mid-late April, they often have a deal on Vine Tomatoes at this time, and you might see me struggling across the car park with a couple of giant outers) but using cherry plum tomatoes gives an incredible sweetness that is perfectly complemented by the savoury roasted garlic.
If you have any other type of tomatoes lurking in the fridge, chuck them all in. Especially those insipid 'salad' tomatoes that you're regretting buying last week, it's the kindest way.
The recipe below couldn't be simpler. I've written it using 2kg of tomatoes as you'll be hard-pressed to fit many more in a standard oven, but it's easy to adjust the quantities based on what you have.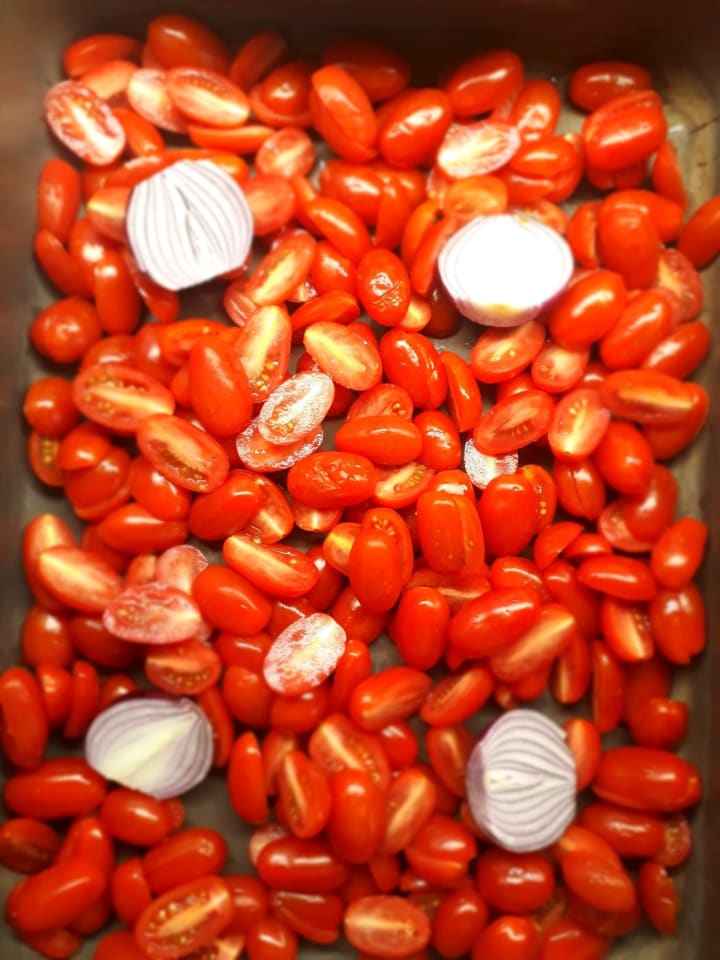 Ultimate Roast Tomato Soup-Sauce
Ingredients
2kg tomatoes, the riper the better, halved
2-3 red onions, halved
1 bulb garlic, halved across-ways (so that each clove is cut through)
Oil, for roasting
Method
Preheat the oven to 160C
1. Arrange the tomatoes, onions and garlic, cut face up, in a roasting tin. Drizzle with oil, paying particular attention to the garlic. Roast for 40-50 minutes, depending on the size of your tomatoes.
2. When the garlic is cool enough to handle, squeeze out the flesh from each clove.
3. Blend the roasted tomatoes, onions and garlic in a blender, or use a stick blender in a large saucepan. It can be completely smooth, or retain some texture, as you prefer.
That's it. Eat immediately, reheat later, or freeze. Now see below for a world of tomatoey loveliness.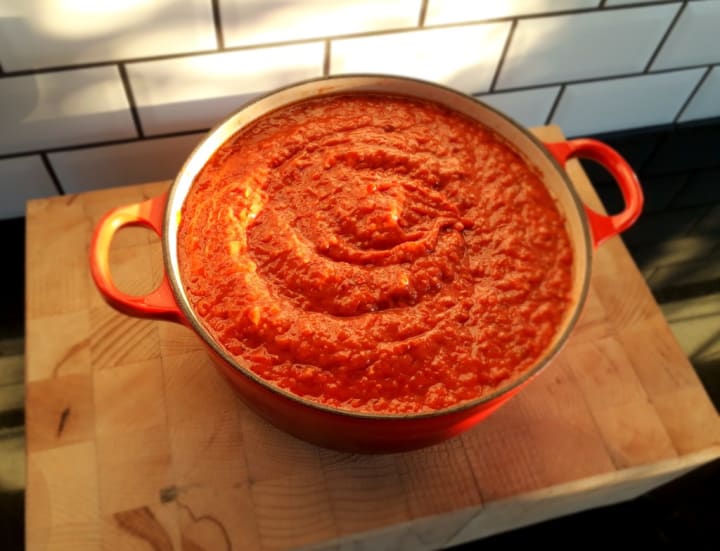 Soup or Sauce?
That's your basic recipe, now let me show you what you can do with it.
Soup: Depending on the juiciness of your tomatoes and your personal preference, you may like to thin the soup down after blending. Use good vegetable or chicken stock, and reheat gently whilst stirring. If, like me, you prefer a really thick soup, then the basic recipe will make around 1.5l (three big bowls), thinning it down will, of course, stretch it further. I always thin this soup if I'm taking some in a flask for a winter's day out, otherwise it's a little difficult to drink!
Sauce: Use as is for a simple but powerful tomato sauce to go with pasta, or combine with roasted Mediterranean vegetables and sprinkle with grated Parmesan
Ingredient: Have this sauce ready in the freezer to speed up a homemade lasagne or pizza. Simply add to your cooked meat or veggies for a new take on the ragout for a lasagne, or smooth a scant ladle-full onto your pizza base before adding the rest of your toppings.
Hunter-gathering tip: This recipe will stand alone, but who doesn't like experimenting? If you happen across some woody herbs such as rosemary or thyme then roast a sprig or two with the tomatoes. Dried herbs can be added before blending, or leafy herbs such as basil are lovely sprinkled on top when serving. You can also try adding a teaspoon of balsamic vinegar before reheating gently, but make sure it's the good stuff: Balsamic vinegar is one thing you definitely don't want to scrimp on.
Leftovers? Roast Tomato Soup-Sauce is ideal for reheating the next day or for freezing.