Recipe: Banana Bread 130 calories per slice & Whole Wheat Pancakes 77 Calories per one
Recipe: Banana Bread 130 Calories Per Slice & Whole Wheat Pancakes 77 Calories per one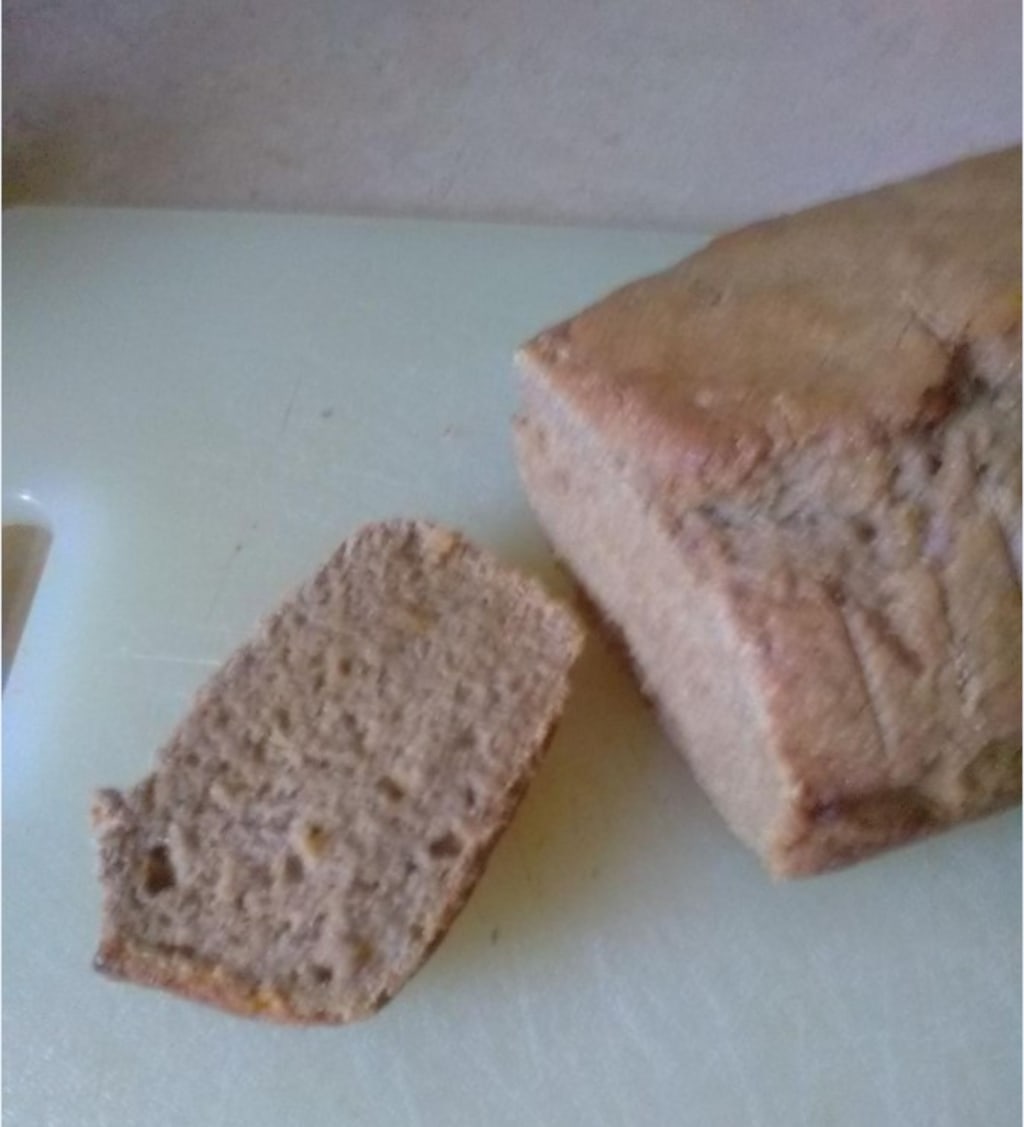 Banana Bread
In Large bowl I added the dry 1st which was
1 1/2 Cups Whole Wheat Flour 600 Calories total
2 Teaspoons Double Acting Baking Powder
1/8 Teaspoon Salt or you can sprinkle in
1/2 Tablespoon Ground Cinnamon
3/4 Cup Brown Sugar= 540 Calories total
I mixed all together then I added
1/4 Cup Unsweetened Applesauce= 25 Calories total
1 Tablespoon Lemon Juice= 3 Calories total
1 Egg= 70 Calories total
3 Very Ripe Bananas= 315 Calories total
After thoroughly combined & mixed. I preheated oven 350. I lined a Loaf Pan with Tin Foil & Butter Sprayed it & added the batter to it. Tapped it lightly on the counter to ensure even distribution of the mixture. Baked for 1 hour. I didn't add any butter instead used Applesauce. I'm a calorie counter so I got 12 slices the total loaf was 1553 Calories that's 130 calories per slice. Anytime you bake something & it calls for Baking Powder &/Baking Soda always add an acid such as Lemon Juice,Lime Juice,Orange Juice,White Vinegar or Apple Cider Vinegar 1/2-1 Tablespoon. It interacts with the Baking Powder and or Baking Soda to make it rise more.You can't really taste it either.Also if you want to add to this recipe chopped Walnuts or Chocolate Morsels you can. I'd do 1/2 Cup for each. You can also make a simple glaze to drizzle on it take Powdered Sugar 1 Cup & I've used Orange Vanilla or Tang Water Enhancer a few squirts & a little water to thin it out about 1-2 Tablespoons. REALLY good. Also you can instead of Bananas add 2 shredded Carrots/ Parsnips/ 1 1/2 Cup worth if you use Parsnips don't add any Cinnamon it's spicy enough. To the Parsnip add Dried Cranberries 1/2 Cup & Salted Pistachios 1/2 Cup.
WHOLE WHEAT PANCAKES 77 Calories per one:
In a Medium mixing bowl add the dry 1st:
1 Cup Whole Wheat Flour 400 Calories
1/8 Teaspoon Salt or sprinkle in
1 Teaspoon Double Acting Baking Powder
Mix all together very well to incorporate. Then add
1 Tablespoon Lemon Juice
1/4 Cup Vanilla Yogurt 90 Calories
1 Egg 70 Calories
1/4 Cup Unsweetened Applesauce 25 Calories
1/4 Cup Cold Water
2 Tablespoons Sugar Free Syrup this is your sugar added to the pancake batter. 30 Calories (To me it tastes better than Stevia. You can if you like add Granulated Sugar 8 Teaspoons which would be 120 Calories additional which would be 92 Calories per Pancake or use 1 Tablespoon Honey 64 Calories which would be 85 Calories per Pancake )
Mix all together until thoroughly combined and mixed. Then in a Medium Skillet spray with Butter Spray set it to Medium Low & drop 1 Tablespoon at a time,spread out with back of spoon to make a 6" diameter circle.How to know when to flip is when you notice the edges are looking done.It doesn't get bubbly on top not sure why,because mine didn't. Then flip to get the other side cooked.It takes about 2 minutes per side or so. You should get 8 total pancakes. Their light & thick unless you smash down with spatula to flatten a little & they taste just like McDonald's Griddle cakes,I swear by it.
Total Calories is 615 per Pancake which is 77 Calories. Unless you are using Granulated Sugar which would be 92 Calories per one this includes the Sugar Free Pancake Syrup or Honey which is 85 Calories per pancake & this also includes the Sugar Free Syrup. You could also top them off with Sugar Free Jelly of your choice if you prefer.
recipe
About the author
Hi I love to cook & bake & take care of my pets. I also enjoy making hand made wire jewelry.
Reader insights
Be the first to share your insights about this piece.
Add your insights