Pussy Natural Energy Drink Review
"The best tasting energy drink on Earth"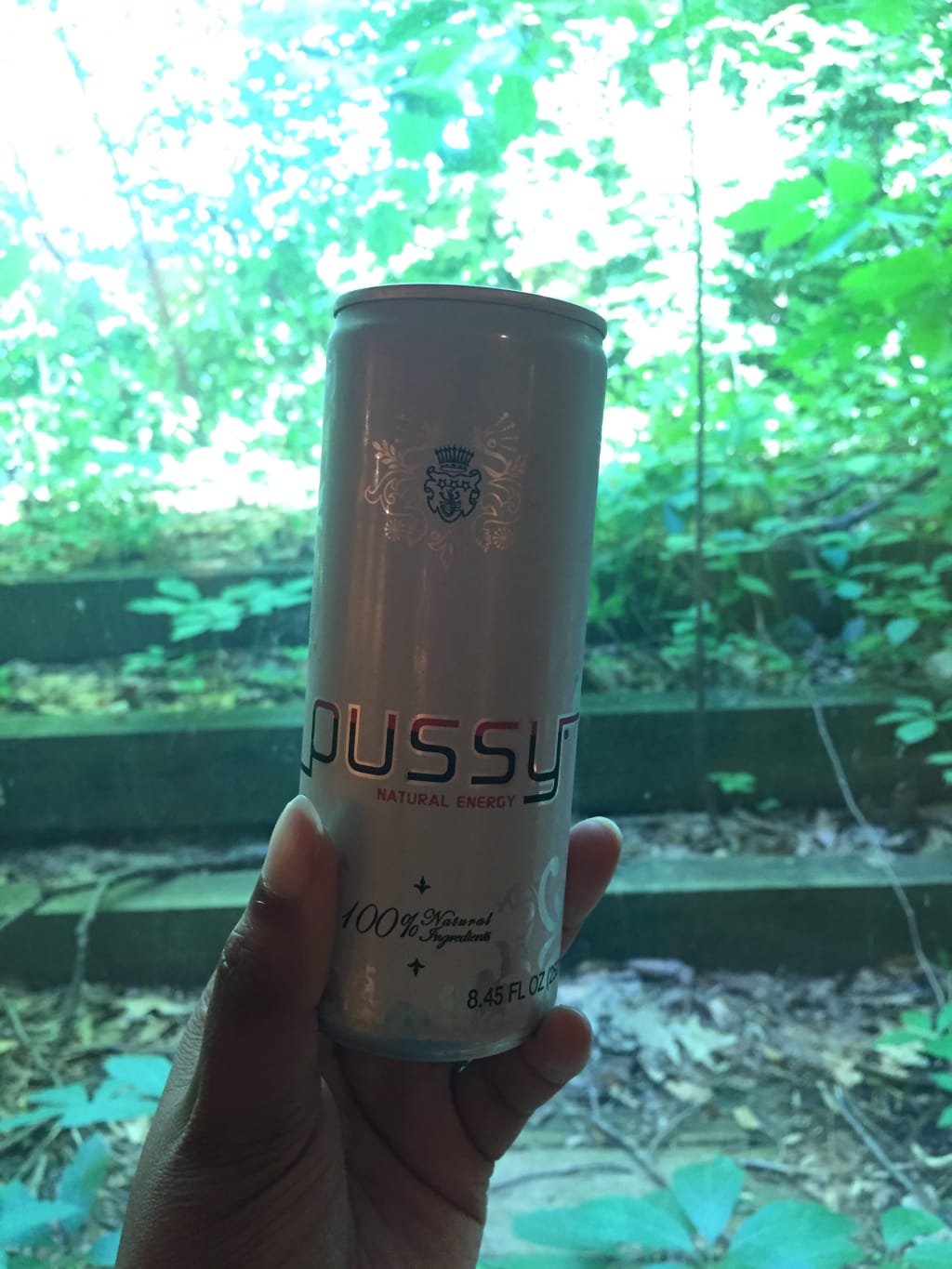 Let me start by saying that if you're looking for a bunch of genitalia-related puns please look elsewhere. This is a serious review blog where sexual desires are repressed and beverage-related thirst runs rampant. No horniness allowed. Now that we've gotten that out of the way, let's talk about Pussy.
Pussy Natural Energy Drink is marketed as being "the best tasting energy drink on Earth." Most energy drinks taste like shit, we all know this. Even when an energy drink flavor is good, it's still an energy drink at its core and the core taste is disgusting. We drink them anyway because we are a people glutton for punishment and a lot of us are addicted to the hopeless heart-racing feeling of having "energy" as we glide through a work day we resent while doing tasks we aren't paid enough to do.
The website for this beverage, (bravely called pussydrinks.com), asserts that Pussy is vegetarian, vegan and halal, with all natural ingredients designed to give a steady flow of energy rather than a synthetic burst with a crash to match. Although the name and accompanying hashtag for the product (#GETOUTRAGEOUS) are used for shock value to an almost eye-rolling degree, the drink is really fucking good. Is it the best energy drink on Earth? I'm inclined to say yes. I've tried a lot of other energy drinks, and, as I've said before, they mostly taste like shit. I've tried Cocaine energy drink back before it was illegal in my state, the varying array of Monster and Red Bull flavors, the list goes on. I've never had an energy drink that tasted like this. It's made with white grape juice and Brazilian limes with a very light rolling carbonation. It's a smooth drink, not harsh on the throat. It's not that type of carbonation you get when you open a crisp cold can of Coke and can hardly breathe through your nose when you lean in to take a sip. It's not harsh and it's unassuming. I know there's always a conversation about chemicals, and whether or not they're bad for you (I mean, come on, they are), but there are no chemicals in this. There's milk thistle and guarana, both herbs that have been used for natural hangover cures. I wasn't hungover when I drank this, but I'm curious to know whether or not it would help with hangover side effects.
This drink tastes exactly like lychee fruit. If you haven't had lychee fruit then it tastes like a lighter, less syrupy version of the liquid from canned fruit cocktail—but carbonated. The first time I took a sip I yelled, "This tastes good as fuck!!" I wasn't in public but I like to think it would've made a great advertisement for the drink. A perfect 10 second commercial of me looking into a camera wide-eyed just screaming the facts. It really is good as fuck. It's sweet without being overwhelming, but it's flavorful. It's not a light sweetness that makes you feel like it's a diet drink. It's a full flavored drink but it tastes adult? It's like if Welch's White Grape juice was just a little less sweet, with carbonation and like... a little something else added. And caffeine.
I don't think I mentioned it, but Pussy is a UK energy drink (I had no idea they got so racy across the pond). The drink was first developed in 2005 and based on the timeline the website provides detailing their rise to fame (?), they were featured at Hugh Hefner's birthday party in 2006 and promoted at the Cannes Film Festival the same year. In 2008 it was featured on Gordon Ramsay's show called F Word, then in 2012 it was served at a James Bond Skyfall party? OK. None of those things go together but somehow they all make sense.
The energy isn't overpowering. There's a warning on the can that it's a high energy drink, and I did get a little overzealous with the condiments when I was having lunch later that day, but I didn't feel like a train that had somehow jumped the tracks and was headed for a brick wall. Maybe that description was extreme, but anyone who has had a Red Bull past 9pm knows what the fuck I'm talking about.
Eventually, my energy tapered off, but I couldn't pinpoint exactly WHEN it tapered off. I didn't get that exhausted feeling where I suddenly just desperately needed to lay down a few hours after I'd been flying high. I have absolutely no idea when the effects of the energy drink stopped. There's usually a red flag waving when I can feel the last spurts of energy being used to grease the wheels of that energy train headed for the brick wall. I didn't feel it. I've had a couple cans of this by now, and I always look at the clock when I drink it, remember the time, and tell myself that I'll make sure to take note of when I start to crash. The crash doesn't come. I just end up being productive for hours, feeling like my normal self. Then I'm eventually like, Oh yeah!! I drank that energy drink!! How do I feel? And I feel normal. I don't recommend this drink if you need that kick in the ass type of feeling where you're racing against the clock and need to feel like every single nerve in your body is shaking. I know sometimes we all need to feel that. This is something I'd recommend to people who just want to feel like their normal selves but more productive. Like, how you'd want to feel in a perfect world, where you just HAVE energy and you don't have to grovel and beg for it. I will absolutely continue drinking it and my honest to God rating is 10/10. Pussy is sensational.